ShortList is supported by you, our amazing readers. When you click through the links on our site and make a purchase we may earn a commission.
Learn more
OPPO Find N2 Flip: 5 things to know about the latest foldable phone
The phone giant's first foldable to make it to the UK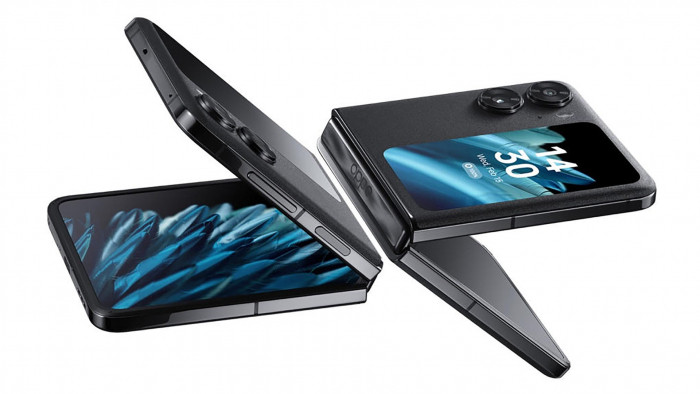 You may have seen foldable phones from Samsung before. You may have seen one or two from Motorola. But OPPO? While it has made a couple of foldables, the OPPO Find N2 Flip is its first to get a release outside of China.
It looks like Samsung should be worried, because the OPPO Find N2 Flip is a slim, light and feature-packed foldable that undercuts its own Samsung Galaxy Z Flip 4.
We are yet to give it a first-hand test as the phone has just been announced. But here are five of the key facts you need to know about the OPPO Find N2 Flip...
---
1. OPPO rocks the classic clamshell charm There are two basic kinds of foldable phone. One opens up like a book, perfect for content guzzlers who basically want a tablet on-the-go. The OPPO Find N2 Flip is the other type, the clamshell.
It takes us back to the early 2000s when phones like this were the style icons of the high street. Such a design also makes the Find N2 Flip far more pocket-friendly than the geek-tastic book-style foldable.
2. It closes the gap (literally)
Folding phones as we know them today have been around for about four years. However, it took them a while get to the OPPO Find N2 Flip and its "no gap" hinge.

This is where there's no visible air gap between the bits of the phone when it's closed up. That's important, as you don't want bits of dust and grit lodging themselves in there. OPPO has actually offered this "no gap" tech in foldable since 2021's Find N1 and the recent Find N2. But these were book-type foldables, not flippers.
3. You can use it like a camcorder
The Flexi hinge isn't just useful for (roughly) having the footprint of the phone when you go to put it in your pocket. Using what OPPO calls the FlexForm Mode, you can open up the hinge and hold its position between 45 and 110 degrees.

This lets the OPPO Find N2 Flip sit up by itself, which is a godsend for photography and video capture in a bunch of scenarios. You can use it for faff-free Timelapse videos. No need for a tripod. Use it for group portraits when you don't want one of your friends to miss out on a shot. And you can use a hand gesture to remotely fire the shutter.
The hinge also makes it far easier to shoot dynamic footage at below head height, simply because you can hold the thing in different ways.
4. It's a double dual — screen and camera — phone The OPPO Find N2 Flip has two rear cameras – a classic zero-fat camera array — and, more notably, two screens. There's an unusual 17:9 display next to the cameras, letting you see crucial bits of information without opening the phone up.
As well as showing notifications, OPPO offers micro-apps that can be used here, including a timer, voice recorder and calendar checker. This screen is 3.26 inches across, much larger that the screens of classic clamshell designs like the OG Motorola Razr V3.
On the camera front, you get an ultra-wide and a powerful 50MP primary camera, with the same Sony IMX890 sensor used in the OnePlus 11. We get some Hasselblad software smarts too.
5. The crease crisis may be over
OPPO claims the Find N2 Flip suffers from the 'crease crisis' much less than the competition. This has traditionally been one of the drawbacks of foldables — sure, they're neat, but eventually the centre of the screen looks tired and creased thanks to all those open and close actuations.
This one apparently stays looking fresh even after 216,000 open/close moves according to testing by TÜV Rhineland. We'll have to see how this one pans out in the long run, but it's a promising promise.
The OPPO Find N2 Flip will be available from March 3 for £849, and can be pre-ordered today.
The Wantlist: more cool tech and other stuff that we love right now.
Related Reviews and Shortlists