ShortList is supported by you, our amazing readers. When you click through the links on our site and make a purchase we may earn a commission.
Learn more
Kendrick Lamar on his meteoric rise and being called the saviour of hip-hop
Kendrick Lamar saw his first dead body aged five. That's not an easy thing to get over. But that's what you get growing up where he did – in Compton in the Nineties. Some people go one way, but a few go the other. And at 17 he quit drinking, quit smoking weed and set about honing his talents: lyrics that weren't just personal, but poetic.
It didn't take long for people to take notice. Namely, hip-hop king Dr Dre, who took the fellow Compton rapper under his wing. Kendrick signed to Dr Dre's Aftermath label in 2011, called out everyone from Drake to J Cole on Big Sean's Control, and earned four Grammy nominations with his 2012 debut good kid, m.A.A.d city. So it's no surprise Kendrick crops up on Compton, Dre's first album in 16 years. And when Taylor Swift laments the fact she isn't best friends with you (and then asks you to guest verse Bad Blood), you're certainly doing something right. Meeting him, the first thing you notice (OK, other than his short stature) is the 28-year-old's calm demeanour. He laughs a lot, without the intensity you might expect after hearing a song such as The Blacker The Berry, a racially charged track off his second album To Pimp A Butterfly. The same album a critic called "The Great American Hip-Hop Album". Lamar may be small, but he's packing an almighty punch.
See our list of Best Hip Hop albums of all time

God put these special powers in me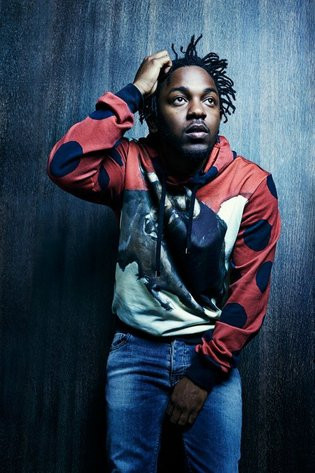 In March you surprised the world by dropping To Pimp A Butterfly a week early, yet hours later it was yanked from iTunes. Was it a ruse?
It definitely wasn't on purpose. I like my things to be on schedule. But something glitched with iTunes and they released it too early. The frustrating part was they leaked the clean version, that was weird. There was some weird stuff going on there.
You seemed pretty calm about the whole thing. Although the CEO of Top Dawg, Anthony Tiffith, tweeted: "I WOULD LIKE 2 PERSONALLY THANK @Interscope FOR F*CKING UP OUR RELEASE."
[Laughs] Yeah I'm like that. Once the music's out, there's nothing you can do about it.
What do you make of surprise albums in general? We've had Drake, Beyoncé and recently Dr Dre...
Man, Beyoncé did that [laughs]. Beyoncé is the queen and the king of that. She really changed the game. I think it's a cool dream for now but it's something that will probably wear off eventually. A lot of artists think, "All right, no promotion," but zero promotion won't work for an artist that's not Beyoncé or Drake.
The black-and-white cover artwork for TPAB is very powerful. The men in the picture are your friends from Compton, right?
Yeah. They're in the King Kunta video, too. That's a real ill cover to me; it's one of my favourites. There's a lot of different meanings behind it. One that I can give you is really taking somebody out of their own environment, out of Compton, and bringing them over to the world.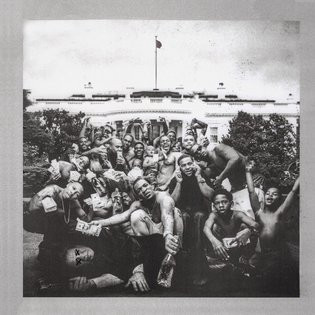 What was it like growing up there?
I was actually born in the last hospital in Compton; it got burned down right after. But growing up there was fun, man. There were things going on around you but you were in an environment where you saw it every day, and you start to think everybody lives like this. So you just focus on the positive things: playing basketball, football, going to the movies, because you're numb to the negative things. It was real unpredictable.
Is it true you harboured dreams of becoming an NBA player?
Yeah [laughs], every kid wanted to play ball. That was our escape route. That was what we wanted to do.
You also had a slight stutter when you were younger, which is hard to believe now…
It's still in my music, you just gotta catch it. I realised it makes up how I sound. Me stuttering as a kid plays into my cadence on a track, how I'm able to say certain things – it's why it's catchy. Though it's funny how things work out. Stuff you get picked on for [at school] actually helps you and sh*t [laughs].
Do you remember the first lyrics you wrote?
That's a good question. I think I do. [Lamar starts rapping. We've listened and listened, and this is what we think he says]: Today's a new day, Go and get the chop out the suitcase/We ride on top but we drop it just like a toupee/Who say the kid ain't hot, boy I'm soufflé [trails off]. [Lamar gestures to childhood friend and manager, Dave Free, who's sitting with us] I wrote it at his house.
Free: That's dope you even remember.
Lamar: I was 14. It was a freestyle I did over a Juelz Santana beat. That sh*t was trash [laughs]. But it was hard because all I was doing back then was mimicking the people I liked.
Who did you look up to then?
Jay Z, Nas of course, 2Pac, DJ Quik, other West Coast artists like E-40.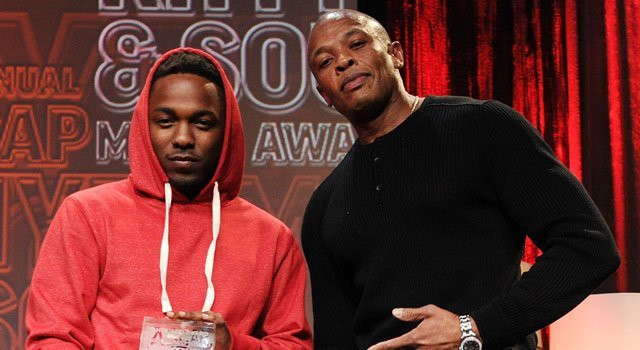 In contrast to Compton's first superstars, though, you took a novelist approach: less girls, guns and being a gangster, more Catcher In The Rye. Is it important to not just sell a lifestyle?
The crazy thing is I didn't grow up on what you would call 'conscious rap'. I grew up around gangster rap. But in a sense, gangster rap is conscious rap because it's just as political as a person on the news. Who says 50 Cent rapping on Get Rich Or Die Tryin' isn't conscious? It's conscious because he's speaking fluently from his neighbourhood. So I grew up on gangster rap but I wanted to put my twist on it rather than glorifying it. I think that's what made me different to NWA or [Ice] Cube.
To be fair, To Pimp A Butterfly isn't the easiest album to listen to…
You're right [laughs]. I wasn't in the space creatively to make any other type of record. I didn't have the urge to. You've got three singles on good kid, m.A.A.d City: Swimming Pools (Drank), Poetic Justice, and B*tch, Don't Kill My Vibe. This time, I said to myself: "I don't want the catchiness." I want people to live with [the album] and dissect it for a long time.
When you released i, people hurled "this isn't proper hip-hop" insults at you. Did you pay attention to that stuff?
No I didn't [laughs]. I already knew what message I wanted to get across. [The album] isn't for the masses to listen to, it's for a group of individuals who don't know how to carry themselves through life. Those [people] who are dealing with issues; suicidal issues.
You seem to be working through a lot of your own issues, too.
Negativity and stress is something I carry around. You deal with it your entire life and you become immune to it, or you live off of it. So I always say i [with its feelgood chorus "I love myself"] is one of the best records I've ever written because it put me in an uncomfortable space. I never thought in a million years I would write a record like that, but I did. I needed to.
How difficult is it talking about things like depression in the macho world of hip-hop?
Showing that type of vulnerability as a man is tough. I said some crazy things on this record. There's a lot of songs that won't come out because I've got a fear of people hearing them.
You also reflect on identity, racism and shootings in the US. Do you feel a certain responsibility in your music?
I do, whether I want to or not. I wish it wasn't there [laughs], but it's just a given. A lot of my friends have kids, but their fathers are in the penitentiary. So the least I can do is show them you can do something other than what we know. It's not about giving them money every month. It's about being somebody a kid can look at and think, "OK, I can do something different."
J Cole recently said if anybody's going to "put an end to this sh*t, the gang rivalsand stuff in LA", it'll be you. What do you make of that?
That's a lot of responsibility. I definitely think that God put something in me that I'm not even aware of, I know it's there and I know it has the power to not only conquer what's going on in LA, but also a little deeper and further than that. I just don't know when. So respect to J Cole, for sure.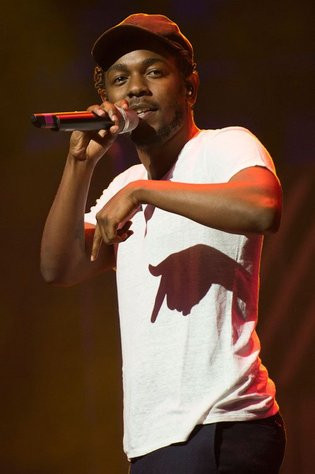 You live in a condo not far from where you grew up, yet you're in Taylor Swift's video with several Victoria's Secret models. Do you sometimes think, "What the hell is going on?"
I'm trying to figure it out still. That's why I've got people like Dr Dre, Snoop Dogg and those guys around. They've been doing that balancing act for 20, 30 years now. I'm just on my second album, so I don't have an answer yet [laughs]. They give me good advice.
OK, back to Taylor for sec…
She's my home girl.
Did it all start with Swift lip-synching Backseat Freestyle?
[Laughs] She reached out and expressed how much of a fan she was. She knew all my raps so I knew it was true. We got in the studio, vibed out and she produced a record. Then a week later she says, "We gotta shoot the video." So I'm like: "Cool, let's shoot that motherf*cker." I'm thinking it's just going to be a regular video. I get to the set and I see these beautiful women, big production and I think, "I gotta step my game up."
There are a lot of women in that video. Any favourites?
Jessica Alba. That's my girl. She was my favourite girl before the video but I just missed her. So Jessica Alba, if you read this: introduce.
Diplo called his feud with Swift one of the "biggest mistakes" of his career, telling a magazine, "I know a lot of stuff about her. And I'm scared." Is that the vibe you got?
Um, she's a sweetheart, man, but I know personally how things work: the people that are the most laidback, the most confident, they're the ones you need to watch. Not the person who's walking in the building and boasting: "I got this, get out the way." She's nothing like that and it shows. But she definitely has the backing behind her…
So are we going to see a Kendrick Lamar pop album?
Me, a pop album? I don't know what the future may bring, maybe when I'm 50 years old [laughs].
And there's your J Cole collaboration. Do you know when it'll be finished?
I don't [laughs].
I've been told to get specific dates…
Ha ha. Honestly? Right now I'm going to do what makes me feel good.
To Pimp A Butterfly is out now
(Images: David Venni, PA, Rex)
Kendrick will be performing at Reading & Leeds Festival, 28th - 30th August 2015. Tickets: Reading or Leeds.
Related Reviews and Shortlists