ShortList is supported by you, our amazing readers. When you click through the links on our site and make a purchase we may earn a commission.
Learn more
Metallica's Lars Ulrich talks modern rockstars and Hygge: "It's so outdated to act like a f*ckin' dickhead"
Metallica drummer Lars Ulrich teaches you how to live more Scandi Hey Lars. You're in Copenhagen, where you grew up. Does it feel like home?
I'd say home is an even split between here and San Francisco. San Francisco is where I live and where my kids go to school, but Denmark is where I was born, where I'm from and where my roots are.
Do you have any Danish traits, or has California blasted them out of you?
A couple of things. As a Dane, you really feel like you belong to a tribe. When I came to America, I felt like everyone was in it for themselves. Everyone was trying to get ahead of everyone else. In Denmark, you never think you're bigger or better than the next person. Trying to get too far ahead of the other guy, it's almost frowned upon. I've always loved that sense of being in it together. So there's that, and then a love for pickled fish, roasted onions and strange sauces on hot dogs.
Have you ever forced a herring on [Metallica singer] James Hetfield?
I don't know if forced is the right word. Maybe encouraged. We actually made two records here – Ride The Lightning and Master Of Puppets – so we have spent a significant amount of time in Denmark over the years. We use Copenhagen as a base city when we tour Europe, and the band feels very comfortable here. They love the Danish pace of life. And yeah, we sneak the occasional piece of pickled fish in, when nobody's looking. Absolutely.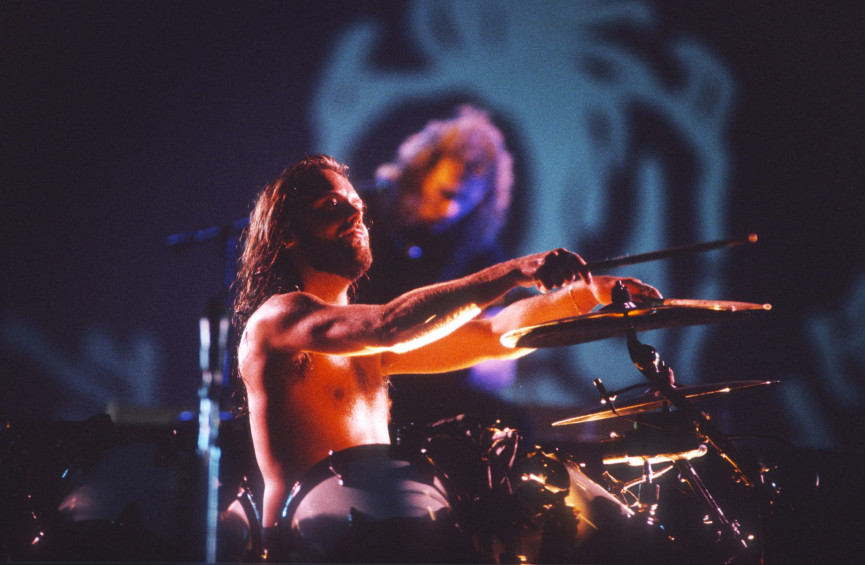 What's one Lars Ulrich-approved must-do activity in Copenhagen?
One?! I would encourage you to bike around in the deer park. It's 10-15 minutes from the city centre, and probably the most beautiful place on Earth. Anytime we're here we rent bikes and roam around in the park and frolic with the deer.
Noted. How hygge is your house?
My wife Jess and I put a lot of Danish stuff – candles, vases, little carpets, trinkets – around. But hygge doesn't just come from objects. It's a state of mind. You welcome people into your home, chill out, have a glass of wine, light some candles, play a game, wrap yourself in blankets, sit outside and talk a lot about nothing. In the US it's very trendy now – we get asked to "come over for Hygge Night" by our friends. And there are articles in The New York Times about it. Maybe it's being milked slightly, but it's been in the fabric of life here for as long as I can remember. It's ingrained in me.
In the 37 years that Metallica have been a band, how has the 'rock star' archetype changed?
The debauchery doesn't happen to the same level as it did in the Sixties, Seventies or Eighties. Younger people are much more sensible. We were rebelling against our parents, against our society, The Man. The younger generation don't have that to rebel against.
Has rock music suffered as a result?
I've always appreciated an element of danger in my rock'n'roll. But, ultimately, the world is a better place because younger people today are global citizens. They're more aware of what we gotta do to keep this planet on course. We're better off with a more in-tune youth as the next generation. And it just seems so outdated, to act like a f*ckin' dickhead.
You're somewhat of an art collector. What's one piece in your home that would have us ask, "WTF is that, Lars?"
A close friend of mine, who's primarily a painter, went through a period of making sculptures out of trash. He'd end up with about 17 sculptures called 'Hyde Park London Summer 2006' or whatever. I've got a few, all through the house – you can see the cans, bottles, waste paper, candy wrappers. They're three to five feet tall, and some have robotic elements and look like living shapes, or aliens.
Band tees are a big trend right now. Does the appropriation of heavy metal iconography in high-street fashion annoy you?
I don't have much of an opinion. The more the merrier. I'm not precious in that way. If people want to wear one of our T-shirts because they think that's cool for five minutes, I'm not gonna talk anyone out of that. If the high-street shops decide to sell Metallica T-shirts, maybe it'll lead someone to check out the music or come see a show or set themselves free or whatever. That's all well and good with me.
Finally, I don't mind telling you that I'm pretty good at desk drumming whenever a good song is on. What's my next step to drumming in arenas?
Uh, drumming on your knees? Your thighs? Then from the thighs, you're going straight to the stadiums, man.
Metallica recently released the remastered version of out-of-print The $5.98 EP: Garage Days Revisited
(function(d,s,id){var js,fjs=d.getElementsByTagName(s)[0];if(d.getElementById(id))return;js=d.createElement(s);js.id=id;js.src='https://embed.playbuzz.com/sdk.js';fjs.parentNode.insertBefore(js,fjs);}(document,'script','playbuzz-sdk'));

(Image: Getty)
Related Reviews and Shortlists