ShortList is supported by you, our amazing readers. When you click through the links on our site and make a purchase we may earn a commission.
Learn more
John Boyega talks Breaking, and how he'd like Finn to return to Star Wars (Exclusive)
Interview: ShortList sits down with John Boyega to talk about his latest film.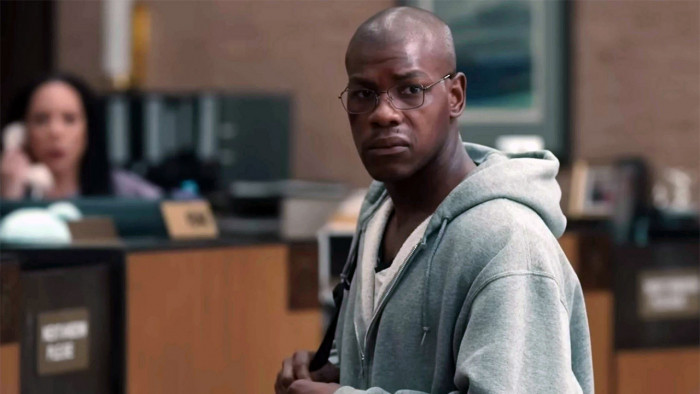 John Boyega takes on his biggest transformation yet in critically-acclaimed hostage thriller Breaking, released in the UK this week. He swaps the blockbuster hero role the world has come to know from him for, as Finn in Star Wars, and shaves his head to become the polar opposite: the inconspicuous, unassuming and quiet ex-Marine, Brian Brown-Easley.
Breaking is based on shocking true events. Brown-Easley was a real person, an American veteran left in dire money troubles after the government fails to pay him the disability benefits he is due. He meets nothing but bureaucratic blocks, which sink him into financial ruin. Depressed and desperate to be heard, he takes matters into his own hands by calmly walking into a bank, holding it up with a bomb threat, and taking it hostage until the state's financial failings are fixed.
But this is not your average heist flick. Though the knife-edge tension is palpable, and the stakes higher than a million-dollar bank job, Brian is softly spoken with his hostages and, because of his demands, arguably the most polite bank robber ever committed to screen.
It's a powerful performance, led entirely by Boyega's understated and gripping portrayal of a man with no options left. It is also one of the final films to feature Michael K. Williams, who appears in the posthumous release as the hostage negotiator, a fellow military veteran who sympathises with Brian.
ShortList sat down with Boyega to discuss the immersive nature of this role, the undeniable swag of Michael K. Williams, and the way he'd be open to returning to the Star Wars universe as Finn. Once a hero, always a hero…
--- ShortList: Your performance in Breaking really stayed with us. Tell us about Brian and how you crafted that really subtle portrayal of the real-life man…
John Boyega: It started with the script. I read the script, and I was emotionally affected by it. First of all, I didn't know that this happened, and that it happened so recently in a major city that everybody knows about: Atlanta. I was like, 'How did we not get this news?'
Then, it was just about the way this character is written, the way in which it gives an actor the opportunity to hit different types of emotional range. I was excited at the prospect of shaving my head bald, transforming and portraying this really interesting and very important piece.
As you mentioned, Brian's a real person, and the events of the film actually happened. What real-life research you did?
JB: Abi [Corbin, writer] had access to documentation that a normal civilian wouldn't, not only around the case, but around Brian as a man and as a person, so you get to know the facts. We had a lovely opportunity to speak closely with Brian's ex-wife and she talked about his personality traits, the softness of his voice, his likes and his dislikes.
There were a lot of similarities there - he was a nerd like me, he liked sci-fi stuff. I was informed well by the documentation as well as the people who actually knew him, so I'm grateful to Abi and to Kwame [Kwei-Armah, writer] and the whole team that was a part of the process in order for me to have the right kind of perspective to portray Brian.
The whole movie is incredibly intense. What was that intensity like to shoot?
JB: It's weird. Intense, yes, but incredible. It was lifting; freeing. There was something powerful and exhilarating for me as an artist to play someone so different to me, but also to get to know the character in such a short time, and to feel like you're living in it.
I wasn't in my head, thinking about how I looked or what kind of facial expression to pull. It was more about living as Brian. Then, when you leave the project, people tell you they loved you in it, but in your head, you're thinking, 'Oh bloody hell, I wonder what I was doing?!"
Was it stressful then, to live as Brian?
JB: No, it wasn't. I'm always grateful as an actor to work in general. It was definitely a challenge, but the support was immense.
How did you relax after shooting those kinds of scenes?
JB: My best friend Asia was staying with me in a house in LA at the time, and my other friend Cory was there as well, so we were all in the house together.. It was this intense exercise of being in the bank during the day, and then coming home to your mates and being normal and making burgers and fries together.
I needed that because it helped with the process of just taking off Brian after a long day, leaving him in that bank, and then going back to being JB and chilling. What was your most memorable moment from filming in that bank?
JB: Definitely the moments that I had with Michael K. Williams - me and him exchanging different types of ouds and oils, and moments quietly watching Nicole Behari, who for me is one the best actresses out there, and witnessing talent. People from catering would come in and say, 'I don't usually do this but I watched you on set and I really liked your performance.' That was really motivating.
This is also one of Michael K. Williams's final roles. With him playing the hostage negotiator, did you get to work together much, because by the nature of the film, you're separated - you in the bank, and him outside?
JB: We actually did. We had a creative process in which the actors would actually come in and read the off-lines. So, when I was on the phone, Michael wouldn't be on screen but he wouldn't be far away, so that I could see him and connect. That way, you can see the same sense of intensity with their energy.
What was he like to work with?
JB: Brilliant, professional, charming, and conversational - a mental stimulant. And he always had swaggy clothes. Every day everyone was like, 'What's Michael going to wear this day, man?' He'll always come with the swag and professional mentality. There's an easiness about talent that makes you ask an actor, how do you do it? He was one of those actors.
What do you hope audiences take away from the film?
JB: A new perspective, especially for audiences who, like myself, don't have any family members who serve, that may have not been exposed to that experience. That, and a continuous culture of veterans being seen. This story being seen is important to me because, especially being out in the States, you meet quite a lot of veterans who come up to you and say, 'I watched that movie and that's my story,' or, 'That's my father's story.' For them to be seen is very important.
Audiences around the world will know you best as Finn in Star Wars. The sequel trilogy may be finished, but Finn is still alive in that world. Would you ever be up for reprising him in the Star Wars universe?

JB: Definitely, I think Finn could show up in video games. I'm still an active Star Wars Battlefront player, and I do play as Finn. So I see him more expanded into that universe, where maybe we'll get some interested comic book writers, especially from Lucasfilm, who can expand on Finn's arc, post-The Rise of Skywalker. That'd be very, very interesting.
Breaking is available on Digital Download on 27 March 2023.
Related Reviews and Shortlists