ShortList is supported by you, our amazing readers. When you click through the links on our site and make a purchase we may earn a commission.
Learn more
Everything you need to know about bourbon, according to the experts
From the cocktails to drink to the versatility of the spirit, this is what you need to know...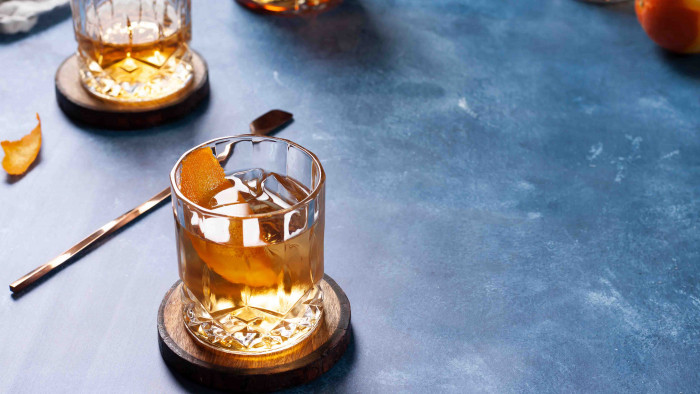 When you tell someone you are a whiskey drinker, the first response is usually: "ooh, what type?" And that's where answering can get a little tricky.
Single malt or blended? Irish or Scottish? Or are you more of a rye or bourbon person?
Even 'distilling' whiskey into these categories does it a disservices, as we found out recently, speaking to an expert in the trade.
Take bourbon: it's just liquor made from fermented mash grains. There can't be that many nuances to it, right?
Wrong. So. Very. Wrong.
It turns out Bourbon is unlike any other global whiskey variety due to how and where it is produced.
"Depending on the mashbill, the oak used in the barrels, the location of the distillery in the United States making the bourbon, the placement of the barrel on the specific distillery grounds and more, the taste of the final product changes," says Liam Sparks, Prestige Manager for Sazerac UK, a company which produces over 450 spirit brands - including Sazerac Rye, Buffalo Trace and Eagle Rare.
Sparks has spent two decades in the drinks industry, working in a variety of roles from bartender to numerous sales roles in the UK and Ireland, brand development and brand advocacy and education.
His current role is is a combination of all that experience – combining luxury retail, On Trade 5*, specialists, advocacy and education.
He's the perfect person then to help us on our bourbon journey, then. Here we chat to him about bourbon, the way he likes to drink the spirit and, of course, the cocktails we should all be trying...
--- ShortList: How would you describe bourbon to someone who has never touched the stuff?
Liam Sparks: It's sweeter than other global whiskey varieties. By law, to be classified as a straight bourbon the whiskey's mashbill (aka: the grain makeup/recipe) must contain 51%+ corn. This high corn content results in a sweeter taste profile.
The additional grains in a mashbill also greatly impact the final taste profile. For instance, if there is high rye content in the mashbill the whiskey often has a spicier taste due to the rye.
Buffalo Trace Distillery's flagship bourbon – Buffalo Trace Bourbon – is a low rye bourbon, making it a great introductory product if you're new to the category or wanting to try something new.
SL: What makes bourbon such a good cocktail base?
LS: There are a couple of things that make Bourbon a really good cocktail base. Firstly, because the mashbill needs to contain a minimum of 51% corn so there is obvious sweetness within the flavour profile. You can then take this base, mix with bitter ingredients and lengthen with ice/water to deliver beautifully balanced cocktails.
Secondly, the versatility of bourbon allows many different styles of cocktail to be made e.g mashbill, age or ABV/alcohol percentage. SL: What is your go-to bourbon cocktail?
LS: I tend to have a couple – a well crafted Old Fashioned would be my standard got to, but on the odd occasion when I want something really spirit forward, I love a Sweet Manhattan.
SL: What would be the bourbon cocktail you would recommend to people new to the spirit?
LS: For someone brand new to the category, I'd recommend a simple Highball, like a Buffalo Trace and ginger ale - flavourful, clean and refreshing. However, a classic bourbon cocktail is always a solid introduction to the spirit.
A few of my favourites are:
Old Fashioned – one of the top-10 most popular cocktails in the UK. A simple cocktail, but well made it highlights the flavour profile in the whiskey in all its glory.
Whiskey Sour – The addition of lemon juice, perfectly balances the sweetness of the bourbon, along with the seasoning of the bitters. I also love the viscosity that a Sour delivers.
Paper Plane – A perfect bittersweet cocktail using equal parts Bourbon, Aperol, Nonino Vermouth and lemon juice. (This is a modern variation on the classic "Last Word", created by Sam Ross for The Violet Hour in Chicago, 2008.)
SL: Are there any new ingredients mixologists are using with bourbon to bring out the taste?
LS: I think the sheer number of new vermouths on the market are encouraging bartenders to play around with classics like the Manhattan, they can also explain the appearance of modern classics like The Paper plane appear on cocktail menus.
SL: Finally, on the rocks or neat?
LS: Both! It really depends on the bourbon and there is no "wrong" way to drink it. If I am drinking something with a lower alcohol percentage, I am more likely to drink it neat. If the bourbon has a higher alcohol percentage, or if its uncut, unfiltered (meaning straight from the barrel with no filtering or water added), I am more likely to sip it on the rocks as the melting ice can bring out more nuanced flavours in the whiskey.
Buffalo Trace is set to open Buffalo Trace Distillery London, a first-of-its-kind American whiskey experience at 32-33 Long Acre, Covent Garden. You can pre-book a tour of the distillery now.
If you want more information on any of the spirits mentioned, then head to Sazerac's official site.
Main Image Credit: Getty Images
Related Reviews and Shortlists