ShortList is supported by you, our amazing readers. When you click through the links on our site and make a purchase we may earn a commission.
Learn more
Devialet serves luxury with 24-carat gold plated true wireless earphones
Aspiration wireless earphones for the classier kind of headphone shopper.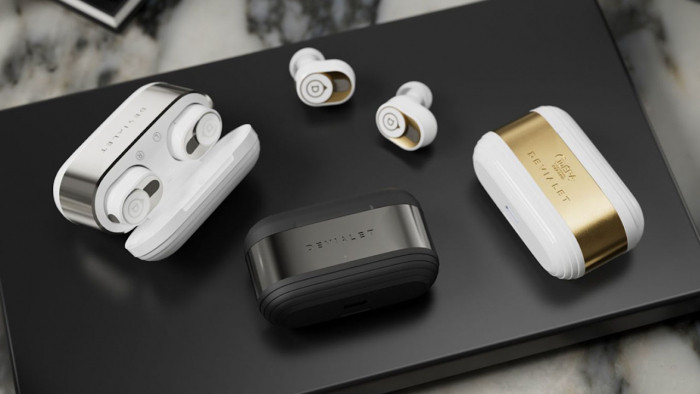 It often seems we have true wireless earphones coming out of our ears, no pun intended, but the Devialet Gemini II are a little special.
There are next-level true wireless earphones, ones that will set you back £349 / $450 USD for Matte Black and Iconic White and £549 / $649 USD for the Opéra de Paris edition. That's right, these are earphones tied into the actual opera house in actual Paris. Classy.
But what else makes them so special? The Devialet Gemini II use a "brand-new" 10mm titanium-coated driver, the titanium presumably used to reduce unwanted driver flex, in order to minimise distortion.
Devialet claims the Gemini II "deliver an even bigger sound experience in our smallest package yet." You may know Devialet for its immense Phantom wireless speaker, one of the best-sounding wireless lifestyle speakers out there, famed for its deep, powerful bass.
These earphones support Qualcomm aptX, to ensure the Bluetooth stream from your phone doesn't drop the ball on sound quality either.
Devialet Gemini II features
The Devialet Gemini II are also well up to speed on the tech outside of pure sound quality. They have adaptive noise cancellation, meaning the power of the ANC can scale up and down to match ambient conditions.
Devialet also says these earphones use something called Internal Delay Compensation, which apparently improves the efficacy of the cancellation by factoring in the "delay generated by a noise cancellation loop". Sounds advanced.
There's also wind-busting tech, which is very important for active noise cancellation earphones like these, as they use a series of microphones to work out exactly what sounds they need to blast.
The Devialet Gemini II last five hours off a charge. Factor the charge case's battery in and you have 22 hours of playback on tap before you need to plug anything in.
This case is also where the Opéra de Paris edition makes its mark. Where the normal pair's charging case has a band of aluminium around its middle, the Opéra de Paris version has 24-carat gold plating. There are also gold accents on the actual earpieces.
Worth an additional £200? That's up to you.The Devialet Gemini II are available to buy now.
Related Reviews and Shortlists