ShortList is supported by you, our amazing readers. When you click through the links on our site and make a purchase we may earn a commission.
Learn more
20 productivity apps that you'll actually use and stop wasting so much damn time
Harness that tech to the maximum 1. Todoist
Available on iOS, Android: https://en.todoist.com/
Price: Free (Premium available for £28 per year)
Best for: Giving your brain a break
Todoist is a task manager that wants you to dump those 'Oh damn, I need to do X' moments into its super simple platform and forget about it (for now).
It organises your life into Inbox (stuff you need to sort), Today (the stuff you need to do right now) and Next 7 Days (you get the idea), integrating across your preferred calendar app and giving you notifications that are useful rather than annoying.
The process of adding thoughts and tasks to lists and projects is beautifully intuitive, with the app's clever language system understanding that if you type 'every Monday', it should set up a reminder every Monday without you having to tap through a bunch of menus.
A real hero feature is the Smart Schedule, pointing out moments in your week to set aside for those tasks that have overrun or cropped up last minute. Give it a go and see how much stress it can take out of a busy week.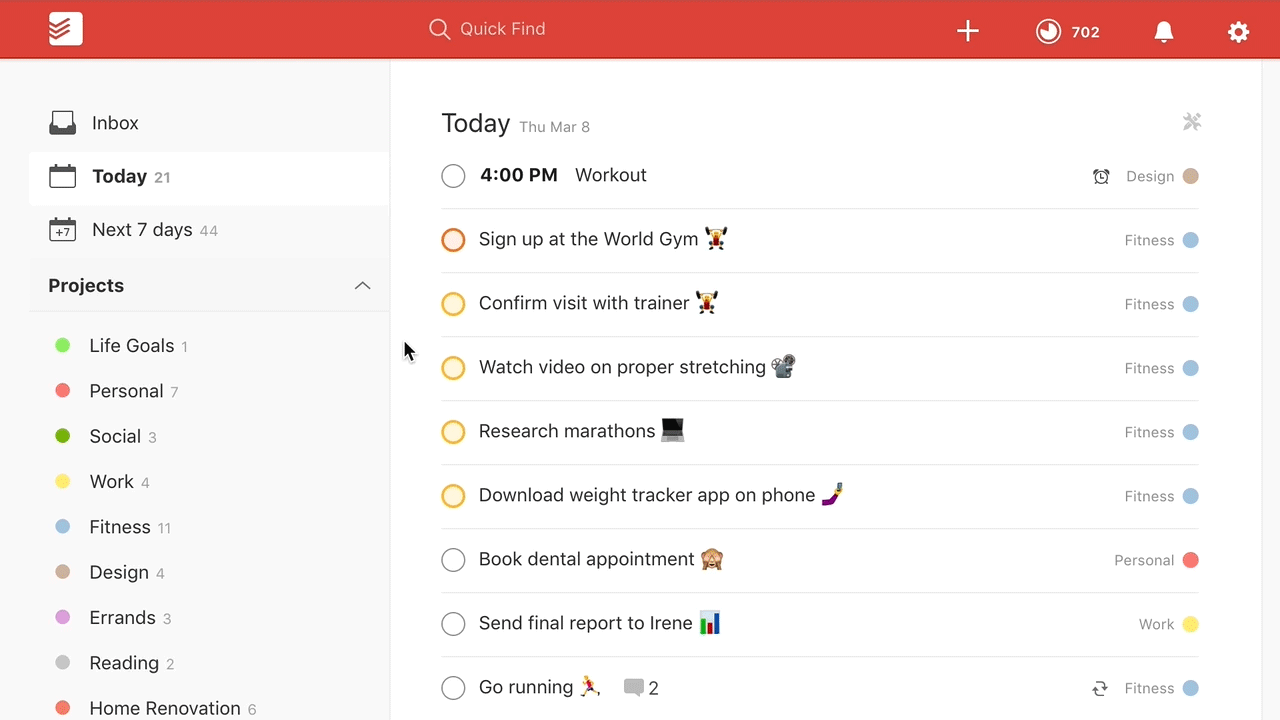 2. Google Keep
Available on iOS, Android:https://www.google.com/keep/
Price: Free
Best for: Multi-platform personal organisation
An all-round productivity champion, Google Keep's simple post-it note layout hides a plethora of seriously useful features: jot down one-off ideas, full essays, photos, audio recordings or tick-box lists; 'pin' priority notes to the top of the app's layout; set up a reminder to give you a nudge when that thing needs submitting; archive everything when finished.
The anally retentive will be overjoyed that each item can be assigned a label and colour, making it easy to search through weeks of doodles and detail. Linked to a Google account it comes into its own, allowing you to update and edit your notes across your phone, tablet and Google Chrome web browser. Job(s) done.
3. Duet
Available on iOS:https://www.duetdisplay.com/
Price: £9.99
Best for: Turning your iPad into a second monitor
You don't want a list of 20 'to-do' apps, do you? You want to discover neat productivity tools like Duet, that transforms your iPad into a second monitor for multitasking alongside your existing screen.
Whatever your multi-screen needs, Duet is a neat way of saving serious cash on a second monitor for your office set up. It doesn't have to be Apple-to-Apple either, connecting your iPad or iPhone to your Windows or Mac laptop or desktop. It won't do your work for you, but it'll give you a better view of it.
4. Otter
Available on iOS, Android:https://otter.ai/login
Price: Free (subscription for more minutes of transcription)
Best for: Transcribing your life
Words take ages to write down. Otter looks to improve your productivity by listening to anything you want – lectures, interviews, idea sessions – and transcribing them into shareable, searchable notes.
If you work in a space that requires more talk than typing, then Otter is worth playing around with. In addition to the impressive transcription features, you can tag your own voiceprint to distinguish yourself from other speakers, share notes and transcripts with collaborators, highlight key quotes or moments to come back to, and link with the app on other platforms – everything you've ever wanted an audio app to do. Give your thumbs a well-earned rest. 5. Daylio
Available on iOS, Android:https://daylio.webflow.io/
Price: Free
Best for: Identifying your productive patterns
Productivity isn't just about forward planning, as Daylio demonstrates. By logging your daily mood and activities with a few taps on colourful icons, Daylio starts pumping out stats and logs of what's making you tick – and what isn't.
The more time you spend with Daylio, the more interesting the insights: turns out you feel your best the day after the five-a-side kickabout, so why not pick up another team sport for your Monday night; video games only have a positive impact on your mood over the weekend rather than midweek; every time you see your mate Tim you're actually left in a pretty positive mindset. Nice one Tim.
It's up to you to apply the data that Daylio pumps out, but it could provoke the productive change you've been searching for.
6. Tide
Available on iOS, Android:https://tide.moreless.io/en/
Price: Free
Best for: Staying focused at work
Ever come across the 'Pomodoro technique'? No, nothing to do with yoga. It's a system to help your brain stay focused, seeing you concentrate on tasks for periods of 25 minutes or so, followed by a five-minute break to stare out the window. Without those regular breaks most of us burn up into an unproductive mess by lunch.
Tide uses this principal to help you have a productive day. Set the timer, pick from a stack of backgrounds and white noise effects, and get to work. When the timer is up, stop for your break, rinse and repeat.
Add a heap of tools for helping you improve your sleep, and you've got yourself a brilliant 'wellness' app that actually works. Now, have we told you about how a vegan diet can aid your… where are you going? 
7. Notion
Available on iOS, Android:https://www.notion.so/
Price: Free (subscription opens more features)
Best for: Organisation powerhouse for pros
Notion does what many other apps in this collection do, but in one potent packet. Need to collaborate on a project that'll see you moving media, to-do lists, itineraries and messages back and forth? Notion will allow you to create super-customisable projects, with folderless organisation that any muppet can follow.
Syncing across apps and the desktop version is slick and instant, making it a legitimate choice for anyone wanting a productivity centre for a small professional team without having to fork out hefty monthly subscriptions – although paying a small subscription allows for limitless uploads and neat admin tools. 8. Fabulous
Available on iOS, Android:https://thefabulous.co/
Price: Free
Best for: Getting a healthy headspace
Fabulous uses the science of routine to make you more productive. Kind of.
Are you a bad morning person? Do you struggle to concentrate on tasks? Have you failed to keep every fitness goal you've ever set? Fabulous will give you a gentle digital nudge toward forming habits that can help you hit manageable goals – from improving your sleep to keeping a level head on the morning commute.
The suggested exercises like short guided meditations, reminders to drink water and Lycra-free stretch routines won't feel like much at first, but over time you'll clock the impact these small measures have on your week. And if it doesn't work, there's always beer, right? 
9. Evernote
Available on iOS, Android:https://evernote.com/
Price: Free (with business subscription)
Best for: Tried and tested functionality
Evernote has been helping people stay productive since 2008, evolving from a free note-taking platform to a professional work tool.
Without subscription, Evernote is a dependable notebook, idea jotter and media manager, letting you type, snap or scrawl content into its pages, syncing with cloud storage seamlessly. There's also a neat handwriting reader, a function that'll allow you to take a photo of notes you've written on paper and transcribe for you (so long as your handwriting is semi-legible).
If you start throwing money at it though (£4.99 per month for 'Premium', £109.99 per year for 'Business'), it becomes an office life-saver: Premium lets you edit PDFs on the fly, forward emails to your notebooks and make presentations from the app, while Business adds fancy collaborative features and heaps of security. No matter how much you spend (or don't), it's a brilliant tool. 10. Blinkist
Available on iOS, Android: https://www.blinkist.com/
Price: Subscription ($12.99 per month, $79.99 annual)
Best for: The reader who hasn't got time to browse
You're a busy guy, with stuff to do (your fantasy team isn't going to pick itself, is it?). You haven't got time to read the latest releases. Blinkist wants to help you out, producing 15-minute summaries (written or audio 'blinks') of thousands of books you should know about.
The idea isn't for you to cheat your way through pub chats or office conversations with a wafer-thin knowledge of subjects (though you could use it for that), but rather introduce you to that title you never knew you'd love. You can get short profiles on fiction, or an increasing number of non-fiction titles grouped into genres and specialist categories. Think of it as a podcast app that's about to fuel a major reading habit.
11. Any.Do
Available on iOS, Android:https://www.any.do/
Price: Free
Best for: A pure, smart to-do list
Any.Do keeps things simple by being smart, all within a beautiful, clean interface. Link with your preferred calendar app and other devices (even Alexa, Slack and Chrome) and then start adding the stuff you need to make happen. Any.Do will then tell you what's coming up today, tomorrow, this week and beyond, in a manner that's easy to navigate and explore. It's a seriously good-looking app.
Colour-code things for work and life, group items that are critical or chilled, reschedule stuff on the fly and become a master of your time. 12. Forest
Available on iOS, Android: https://www.forestapp.cc/en/
Price: Free
Best for: Freeing yourself from your phone
Forest wants to liberate you from your phone by growing cute little trees: set the amount of time you'd like to put your phone down for (a few minutes or a full two hours), pick the sapling you'd like to grow and you're off. If you don't exit the app in that time, you'll be rewarded with a neat tree to plant in your digital forest and rewards like seeds for new tree types. Exit the app during that time, however, and your plant will wither and die. Brutal.
Yes, it's silly. Any grown adult should be able to leave their phone alone for more than 15 minutes without requiring an incentive. And yet you can't, can you? Give this a go, reclaim some time away from your handset, and bask in the warm fuzzy knowledge that the Forest app team actually helps plant real trees in partnership with the Trees for the Future charity. Well done lads. 13. Loffee
Available on Android: https://play.google.com/store/apps/details?id=com.aqeb.loffee&hl=en_GB
Price: Free
Best for: Supplying an offline work soundtrack
We work better with music. We're not sure why, but stick an ambient playlist on and we'll pump out the most tedious of reports with a smile on our smug little faces.
Loffee is a beautiful little app that puts a catalogue of stripped back, clean lo-fi tunes in your pocket, without requiring a data connection. Pick a genre or mood, plug in your headphones and you're set, as track after track blends seamlessly for chilled work sessions. It's not about to replace your Spotify subscription, but it's a superb, minimal music alternative that will get you in 'the zone'. 
14. Just Press Record
Available on iOS:https://www.openplanetsoftware.com/just-press-record/
Price: £4.99
Best for: Transcribing short ideas
No, Just Press Record isn't going to let you dictate and transcribe your next novel. Its clever language recognition software is brilliant for turning your brain farts, inspired moments and midnight epiphanies into short written notes with minimal fuss.
Yes, you may have to tweak the notes it produces out once it's worked through your recording, but if you're lacking a pen, paper or the inclination to take up a keyboard, it's a life saver.
15. Awesome Calendar
Available on iOS
Price: £9.99
Best for: A multiplatform, smart calendar
There are a lot of calendar apps out there. Heaps. We've looked. Awesome Calendar does a lot, a lot better than most others.
Sync it with your Apple, Google or Microsoft accounts, and then start adding all the stuff cluttering your life: to-do lists; photos of that wine you loved and should probably buy again; a weather report for that long weekend you're heading on. Then set up schedules, alarms, notifications, share things with your colleagues and family, import that itinerary from the office, do all the things that's going to see you get your life back on track and thank us for introducing you to the calendar app that changed your life. 
16. Mindly
Available on iOS, Android:http://www.mindlyapp.com/
Price: Free (£4.49 for unlimited version)
Best for: Creative mind-mapping
Some people don't work well with lists and tick boxes. They're too static, too dull. Their brains prefer ideas grouped by association, projects broken down into type and relationship and a bunch of other things you wouldn't understand. Which is where Mindly comes in.
Mindly lets you link ideas and notes in a system of planets and orbits, elements and sub-elements, that has to be seen and tweaked to be fully understood. If flat notes and long lists haven't been stimulating productivity, give this a go. 17. TripIt
Available on iOS, Android:https://www.tripit.com/
Price: Free
Best for: Organising travel without the hassle
Travel planning can be a right pain. Not holiday travel – that's just a question of how much time should be killed in the airport Wetherspoons. Anyone who's had to organise a work trip for five colleagues will know the pains of discovering that many fully functioning adults can't remember a flight number, departure time or their last name no matter how many times you email them.
TripIt takes the stress out of managing the details of a travel plan, allowing you to forward all confirmation emails of flights, hotels and transfers to the app, which then centralises all the details in a master itinerary. You can then make adjustments that updates everyone's app, leaving them with no excuse should they turn up late and miss the flight. 18. Paras
Available on Android: https://getparas.com/
Price: Free (initially, $5 per month long term)
Best for: balancing your tasks
Paras is another solid to-do productivity centre, housing your lists, calendars and collaborative projects – but it has a nifty AI brain.
The longer you use Paras, the more it will come to understand your tasks and projects and the time required to complete them. It will then start to prioritise your workflow for you, nudging you on that assignment that will typically take a week to complete the week before you remember it's due.
If you're inspired by data and numbers, you'll enjoy the insights that Paras gives into your work routine. 
19. IFTTT
Available on iOS, Android:https://ifttt.com/
Price: Free
Best for: Making stuff happen automatically
'If this then that' helps connect the stuff in your digital life that doesn't currently want to connect. Want Amazon Alexa to interact with your Gmail calendar? Need your Instagram to Tweet a picture rather than post a link? Want Dropbox to email you new files when they're added? It's done.
Sure, IFTTT takes a bit of time to set up, but once you get the bug of thinking about the digital routines and processes currently burning up time in your day, you'll be glad you asked this little system to coordinate your app life. 20. Slack
Available on iOS, Android:https://slack.com/
Price: Subscription model
Best for: Taking your work life with you
Slack is vast. It can do pretty much everything you could want a collaborative work space to do, and more – SO much more. There are apps within apps, more notifications than you know what to do with and new features are added almost every week.
For some, adding Slack to your phone might kill your productivity, keeping you plugged in to the endless chatter of work projects and task updates. But if you need to work on the go, to make adjustments to workflows and monitor where teammates have got to on projects, Slack is the grand ruler of productivity platforms. 
(Main image: Getty)
Related Reviews and Shortlists