ShortList is supported by you, our amazing readers. When you click through the links on our site and make a purchase we may earn a commission.
Learn more
Best Mission: Impossible stunts: 11 greatest, revealed
Ethan Hunt's best gravity-defying feats - all in one place!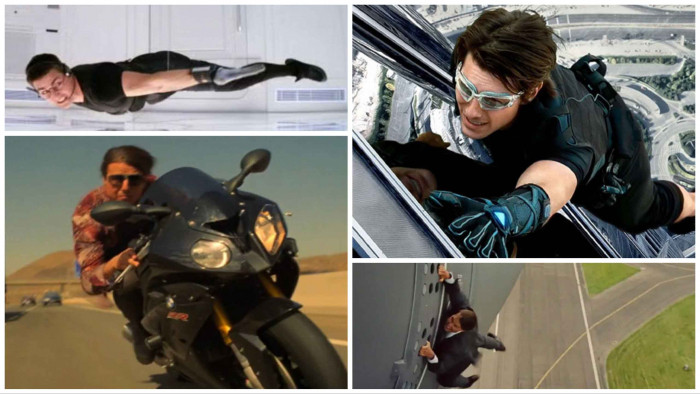 Which is the best Mission: Impossible stunt of all time? It's a question that we can rarely ask when it comes to movies or even entire film franchises, as only a handful of stunts manage to leave a lasting impression.
However, if you look back through the Mission: Impossible back catalogue, you can bet your adrenaline rush that each film delivers a jaw-dropping spectacle within the first few minutes.
To celebrate the release of the seventh Mission: Impossible movie, Mission: Impossible Dead Reckoning Part One, we've selected our all-time favourite Mission: Impossible stunts below.
Tom Cruise has already made headlines for his latest movie, Mission: Impossible Dead Reckoning Part One- where he does a daring motorcycle jump off a cliff. The stunt is breathtaking, but it's just one of many he has performed.
Don't forget that whether you love or loathe Tom Cruise, he's one hell of a committed performer. He famously performs the majority of the stunts himself without the help of CGI or a double. This fact alone adds an extra layer of awe to the remarkable stunts featured below.
The best Mission: Impossible stunts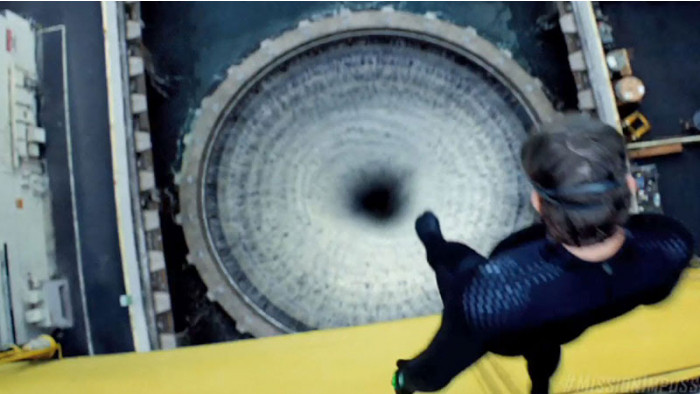 1

. The Underwater Scene – Mission: Impossible - Rogue Nation (2015)
In this thrilling scene, Ethan Hunt faces the daunting challenge of infiltrating a secure vault submerged underwater. The mission seems straightforward enough, swap out vital personnel data. However, there's a twist that elevates the stakes to a whole new level of intensity. The only access point to the vault is through a massive underwater tunnel. To add further complications, any presence of metal within the tunnel triggers alarms, leaving no room for air tanks.
This remarkable sequence has gained significant recognition, and for a good reason. Tom Cruise took on the extraordinary feat of holding his breath for an astonishing six minutes to pull it off, undertaking rigorous training sessions with professional divers.
During filming, Cruise flawlessly executed the scene, capturing every moment of heart-pounding underwater action. Yet, what truly amplifies the tension of this sequence is the realisation that it's not just Hunt fighting for his life, it's Cruise himself.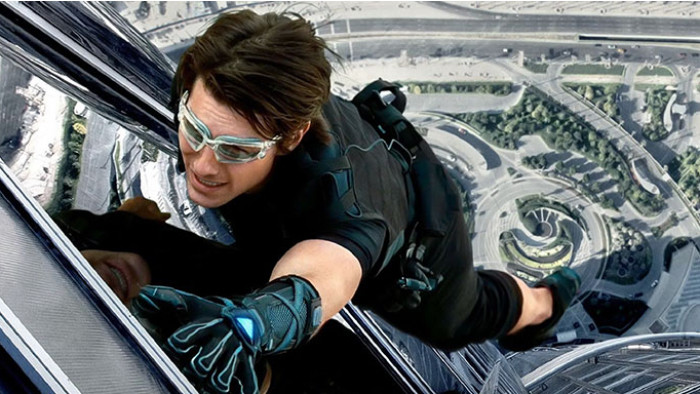 2

. The Burj Khalifa Climb – Mission Impossible - Ghost Protocol (2011)
At the time Cruise filmed this scene, the Burj Khalifa was the tallest building in the world at a dizzying 828 metres (2,716.5 feet) and 160 stories. But that didn't stop him from insisting on carrying out this stunt by himself without the help of a stunt double.
In this unforgettable sequence, Hunt undertakes the vertigo-inducing task of scaling the side of the magnificent structure, armed only with a pair of high-tech suction gloves. His mission is to reach the 130th floor undetected and as if the sheer magnitude of that task wasn't daunting enough, he must then navigate his way back down and return through the window he entered from.
According to sources, Cruise was strapped into harnesses at various points throughout the stunt – which required special permission to literally drill into the Burj Khalifa. One unexpected side effect of the harnesses was that they'd cut off Cruise's circulation, so they had to film the scene as quickly and efficiently as possible.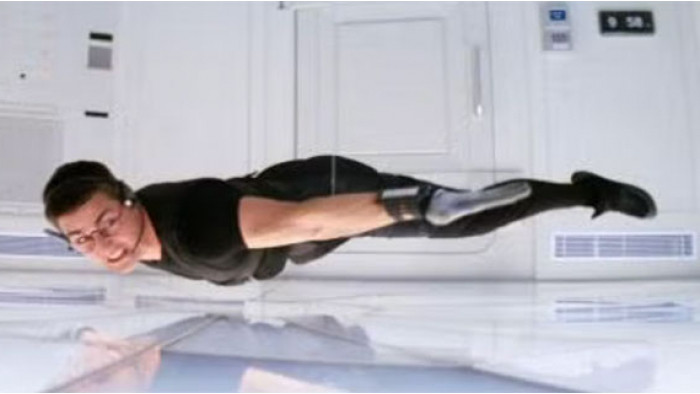 3

. The Langley Vault Heist – Mission Impossible (1996)
This vault heist might be one of the most iconic stunts in the history of cinema, let alone just the Mission Impossible franchise.
With impeccable precision, Ethan Hunt descends into a supremely secure control room at Langley, suspended just inches above the floor. Beads of sweat form on his forehead, threatening to trigger the moisture detection system. The room teeters on the brink of exposure as someone attempts unauthorised access at the most inopportune moment.

Granted, it's not as daring or dangerous as other stunts, but it's edge-of-your-seat tension and we can't get enough of it. It's obvious Hunt will succeed but it's the hallmark of a truly great stunt that we're left wondering – but will he? This stunt really did set the bar for the rest of the Mission Impossible movies.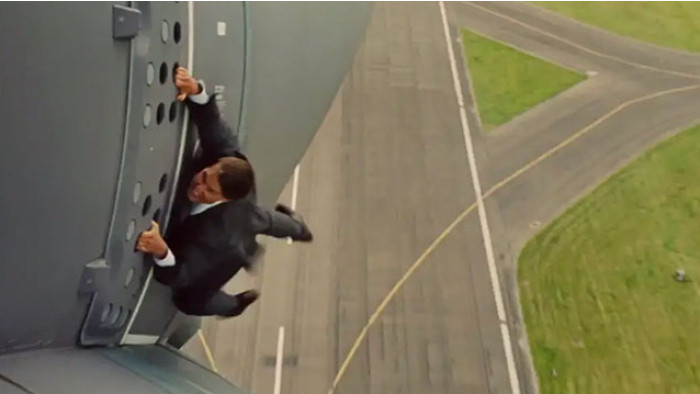 4

. The Plane Hang – Mission: Impossible - Rogue Nation (2015)
The Mission: Impossible - Rogue Nation movie opens with Agent William Brandt (Jeremy Renner) setting up a mission to intercept a plane. However, when the team faces a setback in accessing the plane's system, Hunt steps in to save the day. He clings to the side of the plane, forcefully ripping off a door to gain entry.
And yes, you guessed it again. It really was Cruise hanging from the side of the plane with minimal safety measures. According to reports, this stunt was shot over a series of either different takes and the plane was pushed to an altitude of 5,000 feet at a pronounced angle so the stunt was possible.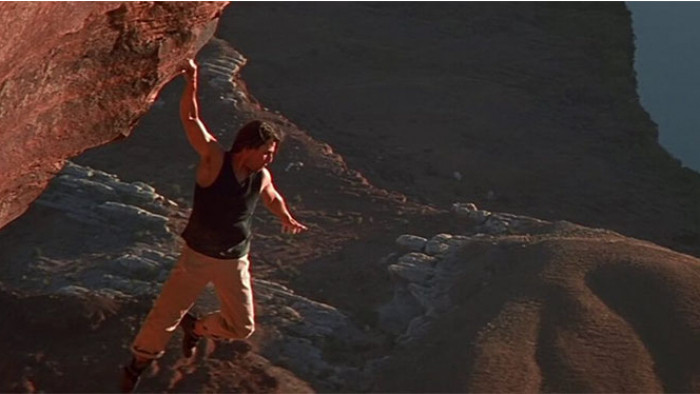 5

. The Free Climbing – Mission Impossible 2 (2000)
Tom Cruise has acted in (and not to mention produced) many incredible blockbusters. But he also has plenty of other talents, one of which is climbing, and that came in handy for the opening scene of Mission: Impossible 2.
In this awe-inspiring stunt, Hunt fearlessly ascends a mountain without the aid of safety cables, only to find himself gripping the precipice with a single hand, leaving us breathless.

According to reports, Cruise didn't actually free climb himself and there were lots of ropes that got edited out. But it's still a testament to his dedication that he was up on the side of that cliff face filming the scene, even if there was a bunch of climbing gear and a stunt double up there with him.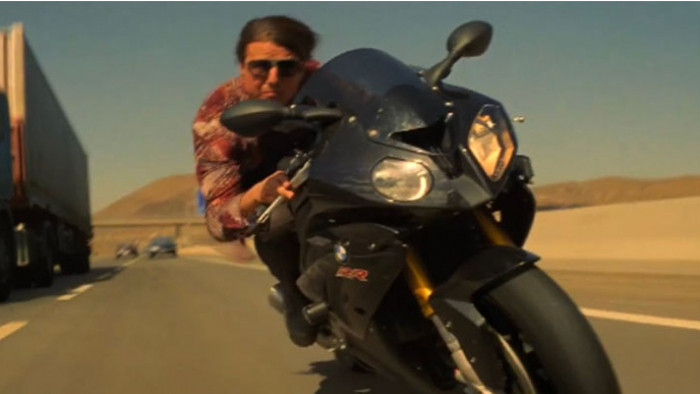 6

. The Motorbike Chase – Mission: Impossible - Rogue Nation (2015)
If your heart races at the sight of exhilarating car chases, then Mission: Impossible - Rogue Nation from 2015 is the movie for you.
This memorable motorbike chase begins with Ethan and Benji chasing Ilsa Faust in a BMW, but the car is upended so Hunt goes ahead and hops on a motorbike instead. What follows is an extraordinary display of high-octane action, widely regarded as one of the franchise's most exceptional chase sequences and considering there are plenty more, that's really saying something.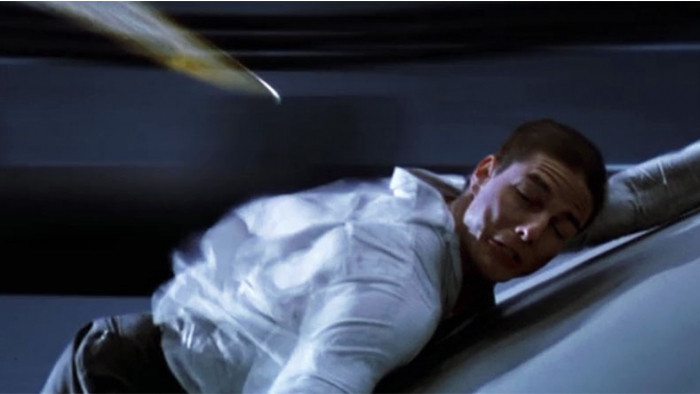 7

. The Chase on the Train – Mission Impossible (1996)
Prepare to witness one of the grandest, most audacious, and breathtaking stunts in the first Mission: Impossible film, a clash between a train and a helicopter.
In this scene a helicopter is chasing the train so the bad guys can escape. Hunt stops them by jumping on the speeding train and managing to attach the helicopter to it, all just moments before it hurtles into a tunnel. It was one of the most far-fetched and daring stunts in the first movie that really set a precedent for all of the films that followed.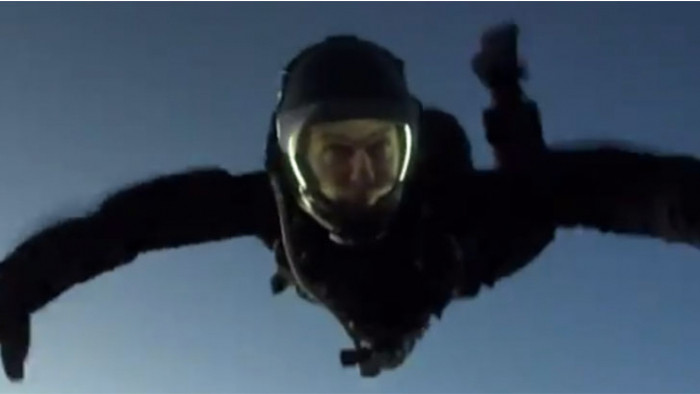 8

. The Halo Jump – Mission: Impossible - Fallout (2018)
A halo jump is military speak for a high altitude skydiving jump (or officially, high altitude, low open jump), which essentially means you've jumped from a plane and you're dizzyingly high in the sky. The halo jump in Mission: Impossible - Fallout is one of Tom Cruise's most impressive stunts and it's so thrilling to watch because it was filmed as one continuous take.
In the Mission: Impossible - Fallout story, Hunt must jump out of the plane to save Walker (Henry Cavill). As if the inherent tension of such a high stakes jump wasn't enough, the scene is further intensified by the presence of an impending storm.
And in case you're wondering, yes, it was Cruise himself up there, undertaking the entire feat. According to reports, it took over 100 skydiving jumps to nail that one scene because Cruise had to qualify different altitudes. Fascinatingly, this stunt involved actually making equipment that didn't already exist, like the light up helmet so Cruise's face is visible at night – this had to be certified by the Royal Air Force.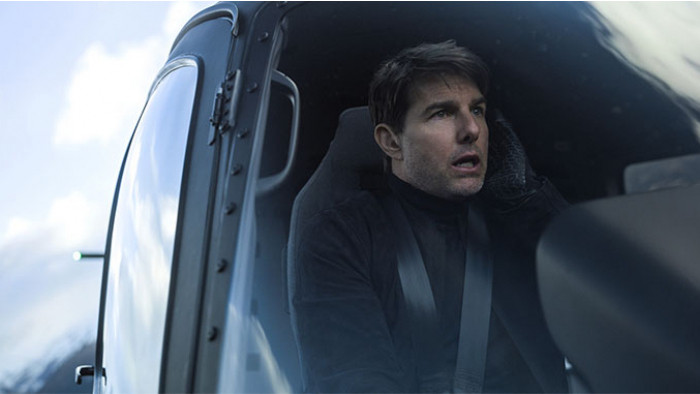 9

. The Helicopter Chase – Mission: Impossible - Fallout (2018)
Another great stunt, another instance of Cruise hanging from a moving aircraft. In this nail-biting scene, Hunt falls onto the cargo the helicopter is carrying and must dangle below a helicopter and then use only a rope to climb into the cockpit, where he has to subdue the pilot so he can fly the helicopter himself. Throughout this breathtaking ordeal, the helicopter whizzes through narrow valleys, dodging obstacles by the narrowest of margins.
According to those working on the film, this was an extremely high-risk scene. If Cruise had fallen on the cargo differently, he would have been seriously injured. But that wasn't all, he was only hanging on with a single safety line and when he reached the cockpit, it really was him flying the helicopter – because of course Cruise is also a certified pilot.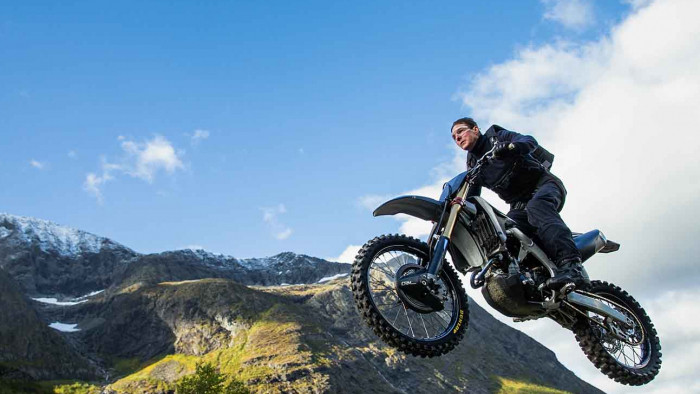 10

. The Motorbike cliff jump - Mission: Impossible - Dead Reckoning - Part One
This one isn't a spoiler for the latest movie as a behind-the-scenes look at how it was performed was the first thing that was released to promote the film! And why not? The stunt is another stunning achievement by Cruise, where he rides a motorbike off a massive cliff, lets go of the bike in mid-air and falls to the ground without a hair out of place. All this and it was done on Day One of the shoot! Oh, and repeated SIX times.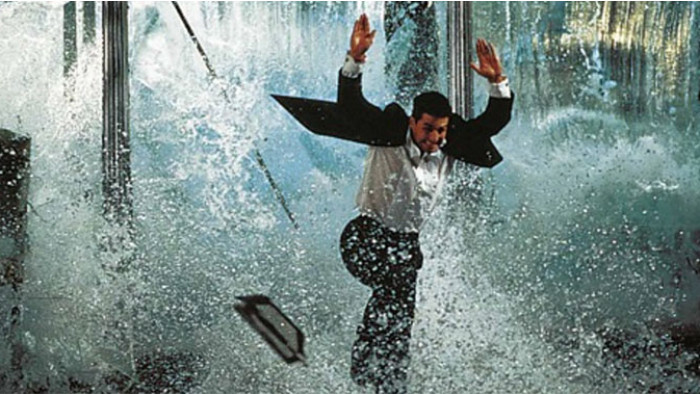 11

. The Fish Tank Explosion – Mission Impossible (1996)
While it may seem relatively modest compared to the other jaw-dropping stunts in this list, the exploding fish tank scene still exudes such an incredible level of drama.

For those who need a refresher, Ethan takes out a piece of gum that's also a bomb and throws it at one of the huge fish tanks in a fancy restaurant causing a spectacular explosion.
This stunt is particularly entertaining to rewatch because Cruise has been vocal about the fact there was a lot of miscommunication about timing when shooting this scene. During an appearance on The Graham Norton Show, Cruise spoke about this, expressing his desire for an explicit countdown - only for the stunt director nonchalantly responded: "I don't know. Sure. Around then. When you hear the explosion, just go."
Have we missed your favourite Mission: Impossible super spy antics? Add yours in the box below. And be sure to upvote the ones you love so the list below is the ultimate ranked guide to the best Mission: Impossible stunts of all time.

Related Reviews and Shortlists