ShortList is supported by you, our amazing readers. When you click through the links on our site and make a purchase we may earn a commission.
Learn more
Superhero movies have dominated the box office for years, but an endless list of duds have taught us making a good superhero game isn't as easy as slapping Superman on the box.
Thankfully, we've moved on from a time when a usually lazy video game tie-in would launch alongside every comic book film - as our list of the best superhero video games through the ages proves.
Video games are more than able to attract a massive audience on their own, but a smaller number than you'd think are considered to be above average.
That said, the best superhero games are among some of the best games ever made, and these days a new Spider-Man game from Sony, like the one arriving this week, is as much of a big deal as a new MCU film.
In the season of Marvel's Spider-Man 2, we were feeling reflective enough to look back at the best superhero games we've had the pleasure of loading up.
If you spot your favourite in there, be sure to give it a vote.
Best superhero games Batman Arkham Asylum was a game-changer. In a world of crushingly mediocre movie tie-ins and cash grabs, Rocksteady showed us a licensed action game could not only be good, but one of the best we'd ever played.
The two follow-ups might have given us bigger environments to bat about in, but some still regard the claustrophobic maze of the original's titular asylum as the best setting of them all. It meant it was never long before you bumped into one of the Dark Knight's many foes, while the more confined space was perfect for showcasing the balletic combat and gadget-based stealth. One of those games you wish you could play for the first time again.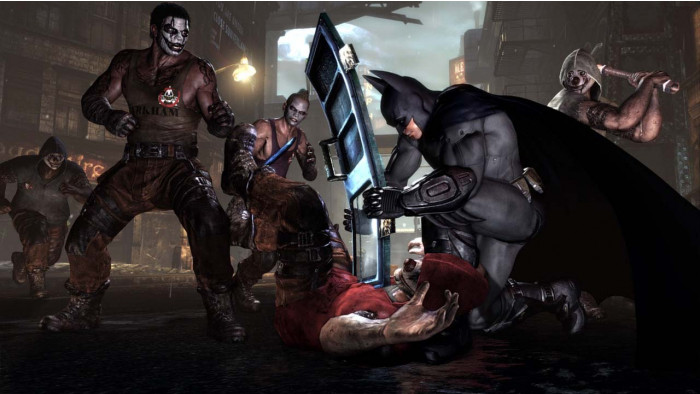 Arkham Asylum laid the foundations for the thrillingly rhythmic combat system that Rocksteady would run with for all three games in its incredible Arkham trilogy, but in Arkham City it gave us the ultimate Batman fantasy. Taking place in an even more crime-riddled walled off region of Gotham, the second game went open-world in some style, allowing Bats to grapple and glide his way across the moonlit sky and attack gangs of thugs from above. Mark Hamill reprised his role from the first game as the voice of the Joker in one of the best versions of Batman's nemesis we've seen on screen or the page, an all-time performance that culminated in *that* ending. If you've played it, you'll need no reminding. Movie tie-in games are, by and large, unforgivably crap, but if there's one standout exception, it's surely 2004's Spider-Man 2. Closely following the plot of the even more acclaimed Sam Raimi movie, you played a Peter Parker trying his best to juggle being a good student with keeping New York safe from his villainous once-mentor.
Spider-Man 2 was a trailblazer of open-world game design and featured superb web-swinging mechanics that would only be topped by Insomniac much later. These days you're definitely better off playing the PS4 series unless you really want a retro fix, but there's no denying that Spider-Man 2 is one of the most important superhero games ever made.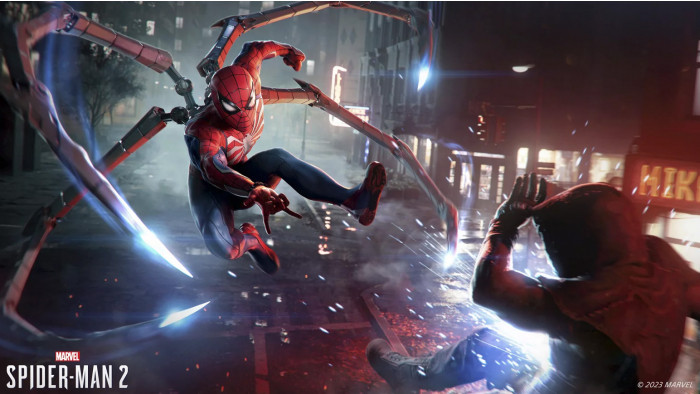 Spider-Man has a hit and miss history with games, but when Marvel Spider-Man came out, the all-conquering PS4 got the Spidey game the console deserved. Its maker Insomniac then did it again with the excellent Spider-Man: Miles Morales and now its hit the absolute jackpot with Marvel Spider-Man 2.
This PS5 exclusive uses the next-gen console to create smooth gameplay, jaw-dropping graphics and its swift load times mean that you don't have to wait long to get into the swing of things. Insomniac gets pretty much everything right in this game. Satisfying swinging? Check. A combat system that was like a more elastic version of the Arkhamgames? Check. A superbly realised Manhattan to explore - plus many more New York boroughs to invest time in? Check. A Peter Parker and Mike Morales you're happy to spend time with when not wearing the suit(s)? Yep, it has that too, and a great story to boot, packed with villains that take and an age to beat but it's so satisfying when you do defeat them.
Marvel's Spider-Man 2 wasn't the first game to make you feel like the web-slinger, but as an all-round package it's hard to top.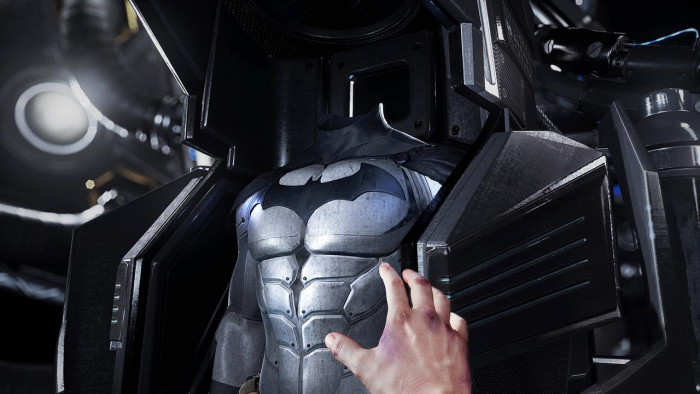 Virtual reality has the power to let you be anyone you've ever dreamed of being, and let's face it: most people want to be Batman. A spinoff of the mainline Arkham games,Batman: Arkham VR was a brief but brilliant experience that let you see the world through the eyes of the World's Greatest Detective and, crucially, fling Batarangs in first-person - though sadly not at anyone, with the gameplay being entirely puzzle-based.
You could make a good argument that a proper Batman simulator would involve combat, but Rocksteady recognised the limitations of what was still early VR tech, and instead focused on creating an immersive Gotham to dive into and solid gadget mechanics. Mainly, though, it let you look in the mirror to see Batman staring back at you.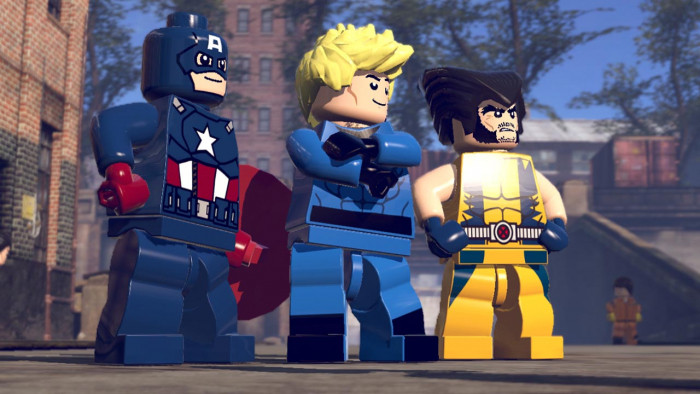 The Lego games have tackled many a comic book license, with mixed results, but Lego Marvel Super Heroes was definitely one that got it right, bringing together nearly 200 characters from the Marvel universe in a brickified open-word New York that was just great fun to wreak plastic havoc in.
It has all the spectacle of an Avengers film, but also some of the most chuckle-worthy gags in all of the Lego games. MCU films have gotten pretty good at acknowledging how silly all this superhero business can be, but Lego Marvel Super Heroes really went to town on it.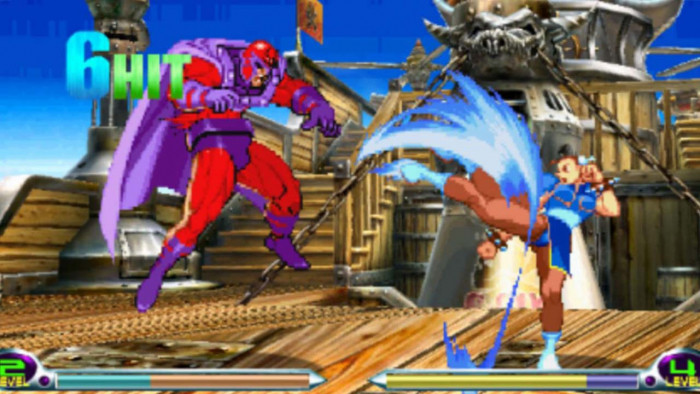 If you'd ever spent time daydreaming about Mega Man having a scrap with Wolverine, this was the game for you. Featuring a more than 50-strong roster of playable fighters from the Marvel universe and Capcom's enviable back catalogue, Marvel vs. Capcom 2 is one of the most beloved crossover fighting games of all time.
It introduced three-on-three bouts for the first time in the series, adding another layer of strategy, and gave each character three different assist types and the ability to tag in another team member at any point. As the last Marvel game Capcom released while it held the license (a follow-up wouldn't arrive until more than a decade later), this was one hell of a last hurrah.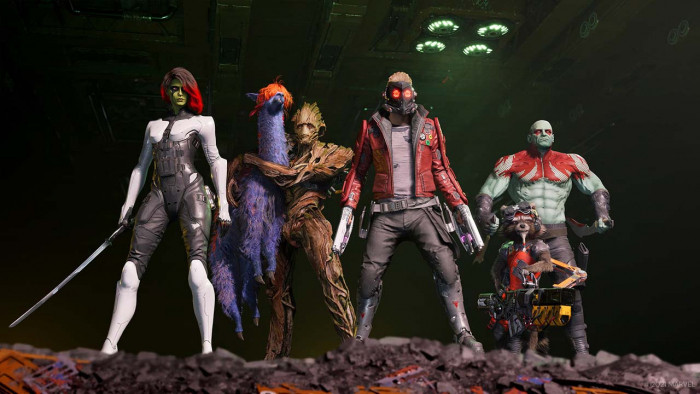 Square Enix didn't make the best impression with its Avengers game, so nobody knew what to expect from the company's next crack at the Marvel license, which would this time focus on the Guardians of the Galaxy. We certainly wouldn't have predicted an entirely single-player adventure that was absolutely packed with charm and some of the funniest writing of any game we've played in recent years.
The combat was fun enough, but the reason to play this one is for the story, and to go on an intergalactic adventure with a ragtag bunch of mercenaries that we might even prefer to their MCU equivalent.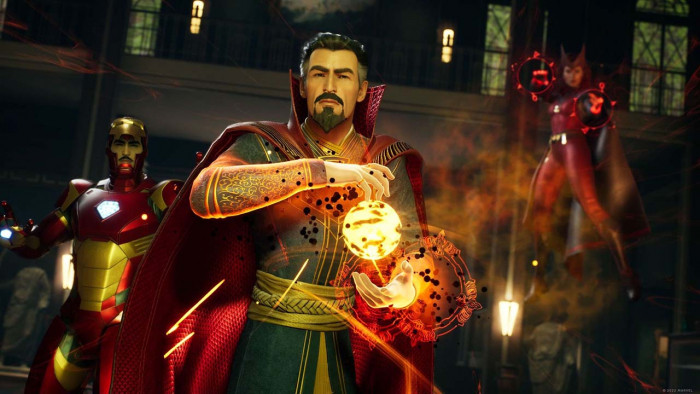 A turn-based superhero game shouldn't have worked. After all, nobody wants to wait to punch some goon off the planet. But the criminally underrated Marvel's Midnight Suns pulled it off and then some.
A tactical RPG from the makers of the XCOM series, Midnight Suns merged turn-based combat with an ingenious deck-building system that made battles compelling and fun. When you aren't fighting, you hang out at a base called the Abbey where the likes of Iron Man and Blade are always available for a spot of birdwatching or fishing in the grounds. Yes, really. Sure, Marvel's Midnight Suns is a great tactics game, but it's really about the spandex-wearing friendships you make along the way.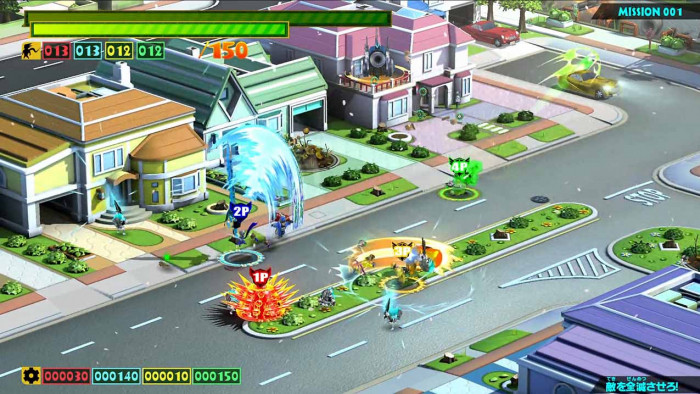 The only non-licensed game in this list is also the most creative, and possibly the most divisive to boot. From legendary studio PlatinumGames, The Wonderful 101 had players control a horde of colourful superheroes from above, with the goal of each level being to gather as many heroes as possible in order to solve puzzle and take down massive enemies. Initially a Wii U exclusive before it was later ported to other platforms, you controlled your superhero army using the GamePad, using the touchscreen to draw symbols that would launch different attacks. For some this novel control scheme was just too awkward to be fun, but those with patience were rewarded with an action game like no other.
Related Reviews and Shortlists