ShortList is supported by you, our amazing readers. When you click through the links on our site and make a purchase we may earn a commission.
Learn more
Samsung Galaxy Fold review: 7 things to know before buying
The Galaxy Fold isn't for everyone but once you use it, you're hooked.
The world should have gotten access to the Samsung Galaxy Fold sooner. It was all ready for release the middle of 2019, then a number of journalists found fault with the fold on early samples of the Fold.
Cue a hasty rethink, a few tweaks to the screen and a slight delay. All of this should have been bad news for Samsung. But its calm, considered approach to fixing the problem didn't seem to put off people wanting it, instead it ratcheted up the public's excitement who seemingly couldn't wait to get their hands on the device (and we recommend heading to Samsung KX in London's Kings Cross to try the handset out for yourself).
Since release, the Galaxy Fold has sold out - Samsung has had to increase its inventory. Considering the hefty price that comes with owning a piece of cutting-edge tech (around £1,900 contract free) that's some feat.
But sometimes people just want something original and that's exactly what the Galaxy Fold offers - it's a unique phone that pushes the boundaries of technology. It doesn't always succeed but it has a damn-good time trying.
Here are 7 things to know about the Samsung Galaxy Fold before buying it.
1. You'll get addicted to folding it Seriously, we just couldn't stop. The hinge on the Samsung Galaxy Fold is a sturdy thing and it feels great switching from the candy-bar version of the Fold to its small tablet-like form factor. There's no audible click or anything like that, but once you open it, like a book, it is hugely satisfying. As is snapping it back into 'phone' mode.
There was an initial feeling that we might break the thing, but there's a decent durability factor here and that feeling soon disappears. This isn't a handset that's waterproof, or anything like that, though. You do have to be careful with it. Given its price, you almost certainly will be.
Size wise, it's 160.9 x 62.8mm x 15.7-17.1mm when closed. Open it up and that screen increases to 160.9 x 117.9 x 6.9mm. This makes it one of the thickest phones around when closed, think the size of two phones stuff together. Fat isn't bad, just different. It feels bulky in the pocket but it's also way thinner than other phones (width wise).
When closed there is a 4.5-inch (1680x720 pixels), open and it becomes positively tablet-like at 7.3-inches (2152 x 1536 pixels).
2. It's the best phone for Instagram It makes sense given the screen size when unfolded, but we were blown away by just how good Instagram looks on the Galaxy Fold. The timeline of images stretches the entirety of the screen and the extra real estate the Fold form factor makes for a fantastic browsing experience.

Understandably, it's the same with Google Photos - the increase in screen size means you can show off your images more. For those who already use a small 8-inch tablet, this experience won't feel too different but if you are phone only, then get ready for a big, welcomed change.
The extra screen size is also great for browsing the web and things like Twitter - making a video call on WhatsApp was great, too. It almost makes you want to use the handset unfolded all of the time...
3. It's underwhelming when folded ...and that's the precise reason that the Galaxy Fold is rather underwhelming when you have to fold it again. We found the front display just that little bit too small and fiddly to use. We really liked the position of the fingerprint scanner on the side but we just couldn't get on with using the phone like this.
We found replying to messages fine and navigating to the call screen no problem, but trying to email someone this way was a chore.
It's worth noting the Fold has six?! cameras so this means that you can take shots when it is in this mode, but it didn't feel quite right using the camera this way - we preferred to flip it open and use the larger screen to frame our shots. Camera-wise, though, it may feel strange taking pictures with it but the quality is fantastic.
These are cameras of the highest quality with a 12MP main camera on the rear, accompanied by a 16MP ultra-wide and 12MP telephoto. On the front there is an 8MP selfie cam (with cool depth sensing tech) and the cherry on top is a 10MP selfie cam on the 'cover' of the Galaxy Fold.
4. It's the best non-Kindle Kindle we have used Having used many a tablet before, reading on the Galaxy Fold should have impressed us as much as it did but the form factor means that this is a fantastic phone for browsing the web and using the Kindle app.
There was a great feeling getting the phone out and flipping it open like a book to read what was on our Kindle. It's genuinely one of the first times using a gadget - other than donning a VR headset - where we felt we were in a future that's been promised to us, for so long, by sci-fi movies.
Comics look fantastic on it, too - using the Comixology app and reading up on the latest Hulk busting adventures was an absolute joy. The device comes into its own when used like this, as well as when you play games on it.
5. Gaming is fantastic - as long as the games are compatible Table Top Racing is a favourite of ours on the small screen but we've never actually played it on a tablet-sized device before, and we were utterly impressed. The Fold is fantastic for gaming. The unfurled screen isn't too big so it never feels cumbersome when playing - and the Super AMOLED display is a bit of a jaw dropper.
It doesn't always come up smelling of roses, though. There are some compatibility issues. We managed to wean ourselves off of Football Manager as the handset isn't compatible with it. And when it comes to watching things such as Netflix, not all of the screen is used - you get some black bars because of the shape of the screen - it's not perfect for 16x9 movies and shows.
The inside camera layout does feel like it gets in the way of the viewing experience, too. It's not a deal breaker, but noticeable that it's there when using it as a multi-media device as the screen has a strange cut in it to house the cameras.
That said, the Galaxy Fold is a powerful thing. It's got a Snapdragon 855 processor, 12GB RAM, 512GB storage and a massive battery - seriously, the thing lasted for day without worrying about charging.
It's also 5G compatible so if you can find that one metre square in London that currently offers that super speed, then this is the device for you.
6. The crease is visible, but not always There is definitely a noticeable crease in the screen but we don't care. It never got in the way of what we were doing with the device. Yes, in certain lights it catches your eye more but it is a small price to pay for a phone that has a proper folding screen - let's let that sit in. Just think of the the tech that has been produced to get us where we are that we can have screens on our phones that fold like this. For that, we can give Samsung a pass.
The screen is also covered in a sort of plastic that cheapens the look a little but, again, it's there to protect the screen. It is this plastic that early reviewers tried to peel off, thinking it was just a temporary screen protector. Samsung has added big warning when you first turn on the device to warn you not to try and peel the plastic off.
We did not try and peel the plastic off.
7. Think of it as a folding tablet and not a phone Thinking of the Galaxy Fold as more of a tablet that folds into a compact shape, than a phone that folds into a tablet completely changed our perception of the Galaxy Fold. As a phone, it is fine. It's strangely awkward to use the thing as an actual phone and when seen it folder, it actually reminds us of handsets of old.
Open it up as a tablet, however, and the device (literally) transforms into the handset of the future. The multi-tasking you can do thanks to the extra screen is fantastic. As you can see from our image - we managed to browse Twitter, read a book and search Google at the same time.
For any sane person this is not recommended, but it shows just what you can do on the Fold.
Samsung Galaxy Fold review: The Verdict
As a first iteration and a real genre breaker, the Samsung Galaxy Fold is a majestic device. It's certainly not perfect and there is room for real improvement in the inevitable Fold 2 - something we should actually see in February at a big event Samsung is holding.
Its price will be a huge hurdle for many. But we can actually understand the expense. There is no other phone like this on the market (we're yet to see the smaller, but still amazing Motorola RAZR and the Huawei Mate X has been conspicuously absent since it was announced).
Samsung should pat itself on the back for bringing real innovation into a stuffy and, quite frankly, boring phone market.
Now, don't mind us, we're about to flop on the sofa, flip open the Fold, and compare our feeble lives with those on Instagram in the best way possible.
ShortList Recommends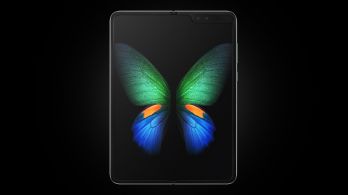 Samsung Galaxy Fold
£109 (a month)
The Samsung Galaxy Fold is not for everyone - the steep price prohibits this. But if you can afford it, then you will get the most unique smartphone on the planet, with super-speedy 5G and a handset with real 'wow' factor. There are niggles, but these soon disappear when you unfold the device.
Get now from EE
Related Reviews and Shortlists