ShortList is supported by you, our amazing readers. When you click through the links on our site and make a purchase we may earn a commission.
Learn more
Hands on: Oral-B iO toothbrush review - 5 things to know
Everything you need to know about Oral-B's new electric toothbrush.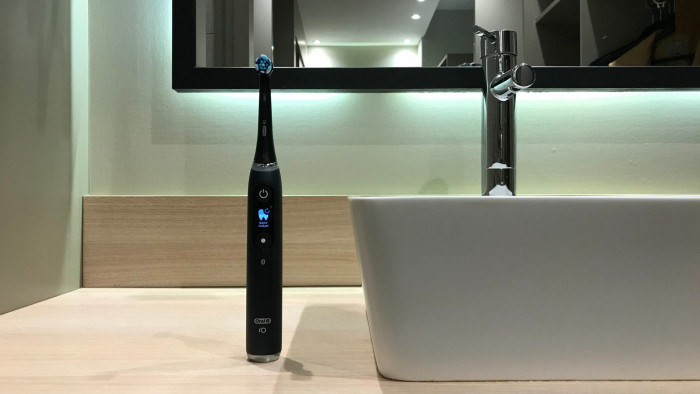 We're all guilty of not looking after our dental health as much as we probably should, which is why Oral-B has spent the last six years trying to develop an electric toothbrush that makes 'fun'.
The result of those six years in development is the Oral-B iO - an ultra sleek toothbrush that uses AI technology to help you get the most out of your brushing routine, while also teaching you how to do it better.
Having first been launched at CES earlier this year, we got a chance to be some of the first in Europe to try out the toothbrush. Unfortunately, the accompanying app wasn't quite ready for us to try, but we did get a chance to have a look at what the interface will look like and the sorts of features customers will get to play around with.
Below you'll find our initial thoughts on Oral-B's new offering, and whether we really think it'll make a difference to your morning routine.
The Oral-B iO will be available from August 2020, though we don't yet have a price.
1. Green means good job Oral-B toothbrushes have included a sensor for a while that flash red when you're applying too much pressure. However, they often found that it meant users weren't pressing as hard as they should be. To rectify that the Oral-B iO now has a bimodal sensor that turns green when you apply just the right amount of pressure. It's a feature that quickly draws you in and you can't help but want the light to be permanently green.
To ensure you also brush for the designated time, the display will show a big frowning face if you stop before the threshold, which will then turn happy once you reach two minutes. If you're a sucker for such things, you can also change the colour of the light with options including pink, orange, yellow and turquoise. However, it's only pressure and timings that you have to consider for good oral health, it's also making sure you brush every corner of your mouth. It's fairly standard now for electric toothbrushes to monitor what area of the mouth you're brushing so as not to miss any, but Oral-B have taken this a step further. Using what it calls AI technology, with the help of sensors in the brush, the app follows as you brush the inside, outside and tops of your teeth.
You're scored each time for your brushing and can even get monthly insights into your brushing coverage and scored on how often you reached the right pressure. You're inundated with data designed to make you a better brusher, which is likely to do one of two things - motivate you, or overwhelm you - you probably already know which one you are.
2. Speedy charging The toothbrush is charged through a wireless, magnetic charger that is rounded and only slightly larger than the base of the toothbrush. The connection to the toothbrush is firm so it's not going to fall if you happen to nudge it while moving around the bathroom.
Oral-B also promises that the toothbrush charges within 3 hours and will last up to 2 weeks. In theory it means that if you always keep it standing in the base, you'll never get caught without charge. The other bonus of the two-week charge is that if you set off on your summer holidays without the charger, you won't be without a toothbrush a few days in.
3. Sleek and slender The new Oral-B iO series is said to have been inspired by precious and semi-precious stones so there are three colours available - a simple white, a black onyx and rose quartz. We got to try out the black colourway and it definitely looked very sleek. It was slim, lightweight and the small, rounded head made it easy to manoeuvre when brushing out teeth.
It's also the first Oral-B brush to have an interactive OLED display that gives real-time feedback and encouragement (as mentioned above). The display is bright, easy to read and intuitive to use. The colour-changing sensor light and the wireless, magnetic charger all add to the final, polished design.
4. A brush that whispers The marketing around the Oral-B iO promises a brush that "whispers" as in contrast to some of the older models, which are a little too loud for first thing on a Monday morning. And, it is pretty quiet. Don't expect silence, you can still hear a small whirring as is expected, but it's certainly one of the quietest electric toothbrushes we've experienced.
The Oral-B iO uses a magnetic drive to create micro-vibrations of the bristles so that the clean is less aggressive (even on intense mode). During demonstrations of the brush, a marble-sized 'pearl' could even be balanced on the moving brush head. This new drive is also meant to ensure that energy isn't lost as it travels to the head and you're less likely to hurt your teeth if you do catch them with the backside of the toothbrush head.
5. It's not all about the teeth As you'd expect from a company called Oral-B, the toothbrush - and especially the accompanying app - are designed to teach you about the health of your whole mouth, not just your teeth. There are reminders to change your brush head, and prompts to add tongue cleaning, flossing and rinsing, too - so there's very little thinking on your part.
Instead you simply use the app and are rewarded with smiley faces and 'medals' when you do a more extensive routine. There are seven modes in total including tongue clean, gum care and sensitive as well as 11 medals to win in total all of which are designed to encourage you to do more than those basic two minutes of brushing. There's even a slightly awkwardly named 'kissable' medal that is designed to encourage you to do regular tongue cleans. According to the experts at Oral-B, regular tongue cleans remove bacteria making your breath naturally fresher and you more 'kissable'. There are also some more standard challenges including a fresh breath medal and one simply titled 'Plaque Fighter'.
There's certainly lots of additional features here, which will likely be reflected in the price. We're not sure we'd get much regular use out of the medals, though we did appreciate the reminders at the end of each routine. What we really found motivating, and the reason we'd keep picking up this toothbrush, was that smiley face and green light. They may be relatively simple tools but everyone needs a little encouragement first thing in the morning.
Related Reviews and Shortlists