ShortList is supported by you, our amazing readers. When you click through the links on our site and make a purchase we may earn a commission.
Learn more
iPhone 13 Pro review: big on battery, brilliant on specs
Apple's latest handset is packed to the brim with features you will actually use.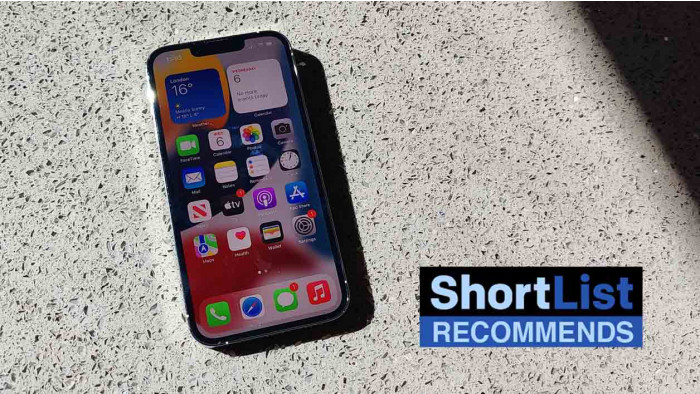 You wouldn't know from the name of the device (or the device itself), but this is meant to be something of a 'tock' year for Apple. While the iPhone 12 was a significant upgrade to what came before, the iPhone 13 is for all intents and purposes an iPhone 12S. Well, it would be if this is the Apple of old but it's not - which is why the iPhone 13 is such a brilliant handset.
Looks-wise there are no significant changes (it's added a bit of girth) but everything from the camera to the battery has been overhauled.
We've been playing with Apple's latest handset for a little while now - here are 5 things to know about the iPhone 13 Pro.
1 It's part of an ever growing iPhone family The iPhone Pro 13 joins a raft of new iPhones - with Apple hoping that it's now got a wide enough breadth of models for most users to choose from. There's the new iPhone 13 Mini (5.4-inch screen), the iPhone 13 and the iPhone 13 Pro (6.1-inch screens) and the iPhone 13 Pro Max (6.7-inch screen).
With regards to the iPhone 13 Pro, it's got a 6.1-inch Super Retina XDR display (same as the iPhone 13 but with added 'ProMotion' - more on this later), so if you are looking at the differences between the iPhone 13 and 13 Pro, then you need to look at its camera setup, which offers a 'Pro' camera system that comprises a Telephoto, Wide, and Ultra Wide lens on the back.
2 The iPhone 13 Pro's build quality is superb Yes, there is still a notch (it has been shrunk a little bit) but there really is something about the build quality of the iPhone 13 Pro that both feels and looks premium. The aforementioned screen is a delight to use. The ProMotion display is a fancy name for a 120Hz refresh rate - something that high-end phones have adapted for a while now. The bigger refresh rate works fantastically well for fast-moving games and movies, making sure there's next-to-none judder in the entertainment you consume on the device. You'll even notice it (or not notice it, we should say) when swiping through myriad apps on the iPhone 13 Pro - even if you are the fastest scroller in the West, this phone won't be playing catch up.
Also, we have to mention just how bright the screen is. Apple is quoting that it's 25% brighter than the iPhone 12 Pro in direct sunlight and we have to agree - this is the best phone we have tested when it comes to battling sun glare, even the autumnal starkness of light didn't stop our enjoyment of using the iPhone 13 Pro outside.
Then there's the chassis - made from 'surgical-grade stainless steel' (we wouldn't recommend using it in an operating theatre, though) and the tough ceramic back makes for a beautiful-looking and incredibly durable handset.
3 The iPhone 13 Pro is ready for your close-up In the last few iPhone iterations, Apple really has upped its camera gain - using both hardware and software to compete with the likes of Google's Pixel range which has always been seen as a high watermark in this area.
The camera is really what differentiates the iPhone 13 with the iPhone 13 Pro. On the 13 Pro you get an extra lens on the back. In total you get: a telephoto with 3x optical zoom, an ultrawide (120° field of view) and a wide-angle lens (all 12MP).
The highlights are the TrueDepth system that adds a nice punch to your selfies and the macro features - you can get as close as 2cm to a subject and it all works beautifully. Add to this 4K filming and improvements in low light (and that's not even in Night mode), especially when using the ultrawide camera, and what you have is a delectable box of photographic goodies.
The best thing about this year's models, camera wise, is that you don't need to buy the Max for the best camera system - as it is identical on the iPhone 13 Pro.
4 Battery is a beast on this thing The Apple iPhone 13 Pro has a quoted 11% larger battery than its predecessor and boy does it show. We rinsed the handset as much as we could doom-scrolling Twitter, playing far too much Call of Duty: Mobile and shooting 4K videos with as much passion as Chris Nolan with an IMAX camera and we still had around 25% of battery life before we went to sleep.
We obviously used that up with TikTok, instead of getting some sleep, but it just shows how good the iPhone 13 Pro's battery is.
We, like you, have moaned about Apple's battery capacity in the past but we really can't grumble here. And if you want more, then head to the iPhone 13 Pro Max, which has upped the battery to a jaw-dropping 18.5%.
Yes, the battery has added a few millimeters around the phone but it really isn't that noticeable - unless you try and put an iPhone 12 Pro case on the thing, as it won't quite fit.
5. There's plenty of power under the hood The iPhone 13 Pro is a powerhouse, thanks to the A15 Bionic chip that's inside. This is the beating heart of the phone which makes it super speedy but also makes sure the handset doesn't balk at the idea of things like Cinematic Mode, which is an impressive new video feature that automatically shifts perspective like you are shooting a proper movie, works as seamlessly as it does.
And then there is iOS 15 - an iterative update but an assured one, and one you probably have on your iPhone right now. Highlights for us are the Focus feature which worked well making sure the outside world didn't ruin things for us, by blocking all but the most important notifications. Apple Maps has been upgraded but we still shun it for Google Maps, while the weather app has been vastly improved. Add to this the ability to easily share video and other media while on a FaceTime call and this is one slick software update.
Apple iPhone Pro 13: Final Verdict Apple has created its best all-round phone yet with the iPhone 13 Pro. The software is decent enough to stop Android users complaining, while the hardware is exceptional in pretty much every area. Add to this some superb camera features and a battery life that will never embarrass you and this is a superb handset that comes at a price - but one well worth paying.
The Apple iPhone Pro 13 is out now. Our review unit was supplied to us by Vodafone, which is offering a guaranteed £360 when you trade in an iPhone 11 Pro or Pro Max using Vodafone's Trade-In Tool.
Related Reviews and Shortlists