ShortList is supported by you, our amazing readers. When you click through the links on our site and make a purchase we may earn a commission.
Learn more
Google Pixel Fold review: 5 things to know about Google's first foldable
Google's firs foldable phone has bags of promise...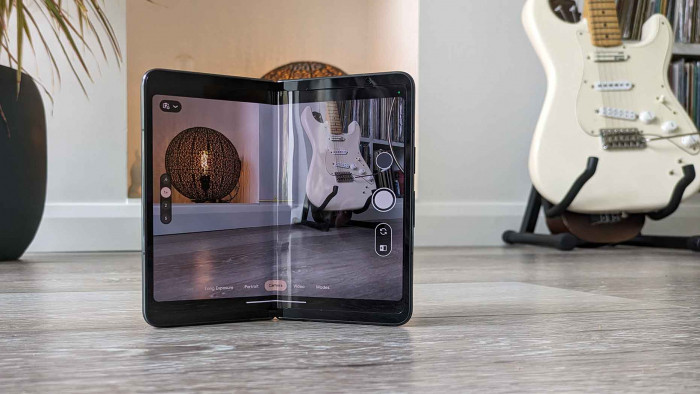 With Samsung now on its fifth iteration of the Fold and device manufacturers such as Motorola, Honor and Oppo offering foldable devices, all eyes were on Google and its big product announcement at its last I/O in May 2023.
The tech giant didn't disappoint, showing off the much-rumored Google Pixel Fold, its first foldable that certainly looked the part with its giant display and thin chassis.
Even though this is the first foldable from Google, expectations were high. With so many others offering handsets that have now gone through years of tweaks and refinements, Google would have to offer something special; a premium handset that would match a premium price that starts a £1,749/$1,799.
ShortList has been lucky enough to have its hand on a number of foldables over the years and we've had the Pixel Fold for a number of weeks now. Here are 5 things to know about the Google Pixel Fold...
---
1. Build quality is decent There is a lot to love about the look and feel of the Google Pixel Fold. Google has worked hard to make sure that the handset looks great in whichever format you use it.
Use it in the folded position and while it does feel bulky compared to a non-folding phone, its 12.1mm thickness is thinner than Samsung's latest Fold (13.4mm).
Boy is it heavy, though. It feels premium in the hand because it is one solid device that weighs in at 284g, some 30g heavier than the Fold 5.
Unfold the thing and it's beautiful. There are two types of foldable devices - ones that ape the flip phone form factor and ones that act more as tablet replacements, opening up like a book. The Google Pixel Fold is the latter and when you unfurl that 7.6-inch screen, it really is impressive.
Flip the Fold over and the obsidian colour of our review unit was stunning to look at and really added to the premium look of the device. A porcelain variant is also available.
We would give the look of the device full marks - we are big fans of the polished alloy hinge, the way it pretty much closes with no gap - if it wasn't for the camera bump.
It's a similar-looking camera bump that can be found on the Pixel 7 range but where it looks nice on a slimline handset, it just adds extra bulk to this foldable. On the flip of this, Google is boasting that the camera range is the most powerful to be found in a foldable but we would have preferred a slimmer look on the back.
2. The screen(s) stun The screens on the Google Pixel Fold are fantastic, as long as you don't mind a bit of a bezel. On the front is a 5.8-inch panel. I was impressed that Google has managed to keep the aspect ratio (17.4:9) of the front pretty much the same as a conventional phone. This isn't the case for the Fold devices which are quite a bit slimmer with their folded screen size.
Unfold it and the aforementioned 7.6-inch display is ready and waiting for games and movie to be played on it. It's a lovely-sized screen that is quite square in its proportions (6:5 ratio).
This does mean you are going to get black bars for movie watching and there is a bezel to contend with as well. The screen does makes a lot of sense for split-screen apps and the like, though.
I was a little disappointed that the folded screen doesn't completely fold back to be a flush 180. This means that there is a little bit of a dent in the folded out screen, making the middle crease stand out. It felt like I could push the screen back a little more, but this is a very expensive device and I didn't want to break the thing.
There are a few warnings in the box about how to handle and take care of this foldable - no more than you get with other foldable devices - but it does prove that these need to be handled with more care than a standard handset.
But, forgetting that: it's a superb panel, offering HDR10+ and 1450 nits peak brightness - whatever you are viewing on this thing will look decent. Also, Gorilla Glass Victus is on board, the toughest phone glass around, that should see off most scratches and bumps. There's a protective film on the glass as well that needs to stay on there - strangely it doesn't cover the entire screen so don't go eating crisps while over the screen as it will almost certainly attract crumbs in the edges.
3. Some apps are optimised but we want more One thing I was sure before reviewing the Google Pixel Fold was that I would be happy with the OS. Having Android 13 on board with no skin on top is always the dream but I was also interested in what Google was going to do with making use of the bigger screen.
For the most part, it didn't disappoint. There are a number of apps optimised for split-screen or the big screen. The Google-made ones look best. Gmail, Photos, Calendar and the like all stun and make perfect use of the bigger screen. YouTube was decent, too, but Android 14 promises even more additions to make it work better on a split screen.
Interestingly, Ring looked fantastic on the Pixel Fold - the screen gives you a massive doorbell-eye look at the world around your home.
But there's work to do with other third-party apps - Facebook looked rougher than normal, with no way to use it other than portrait and, for some reason, Google Maps was jankier than I was hoping.
But the big screen doesn't just mean you can embiggen the apps you normally use - it also means that you can have two apps up at once (just two), so doom-scrolling X (RIP, Twitter) while checking your emails is now a thing.
And games looked fantastic. Call of Duty: Mobile really benefitted from the real estate, as did Rocket League Sideswipe.
4. Camera is king (a bulky one at that) As mentioned, I am not a fan on the bulky camera bump on the Google Pixel Fold - it just doesn't make sense to add another 3mm of chunk to what is already a big, heavy device.
Saying that, it does mean that Google has some breathtaking camera specs on board here. They aren't quite Pixel 7 Pro quality but it's close.
For the main camera you get a 48-megapixel sensor, f/1.7 aperture, nifty autofocus and optical image stabilisation (OIS). Couple this with a 5x optical zoom lens that's packing 10.8MP, f/3.1, PDAF, OIS and a wide-angle 10.8MP, f/2.2 lens and it's impressive.
What I did like is that you can take pictures no matter how you are using the phone. Folded up and it's like any handset, with quality in the rear and a punch-hole selfie-cam in the front. Unfold and you can make use of the massive screen to compose your images and videos. You can even fold just half of it and it makes for a great stand to take photos from.
There is also a camera in the top-right of the big bezel, which is a nice touch as you can do video calls with the thing unfolded, too, which is a big bonus.
The key to these been the best cameras, though, lies in the software enhancements. Anyone who has a Pixel device will know what I am referring too: there's Real Tone functionality that sorts out skin tones, Photo Unblur that mends your blurry images and some impressive astrophotography and night shooting options. And the erasing of objects from images is still a really fun thing to do.
5. Battery and performance: one outshines the other The Google Pixel Fold has the same chip inside as the 7 Pro, Google's own Tensor G2 chip. It's easy to see why Google stuck with the chip, even with the bigger screen it offers up a really smooth experience.
Thanks to the high refresh rates and zippy performance, the Pixel Fold was a joy to use. We didn't get any of the glitches that some other reviews have been reporting. If anything, our qualms are about the things that the Pixel Fold offers but just not enough of - like apps that make use of the bigger screen and software that is seamless with the switch between the big and small screen.
There were a few blips with apps deciding to stop working unexpectedly - WhatsApp for us was one of the buggiest - but these weren't frequent enough to stop us enjoying the handset and certainly feel like they could be sorted with a software update.
While the Tensor G2 chip is impressive for the most part, it does feel like it struggles to keep up with the size of the device, with the Pixel Fold getting rather warm on numerous occasions.
This was seen in the battery life, too. First up, I have to applaud Google for its decent adaptive battery technology that is found on the Fold. For the most part, it meant that the battery would hold up till pretty much the end of the day... but not everyday. It wasn't like I was doing wildly different things on the device, but the battery life seemed to change depending on the day of the week.
It's clear that the Pixel Fold needs a bigger battery than the (combined) 4800mAh that's on board.
the good news is that the 30W fast charging worked a treat (normal charging is 21W), but you are going to have to 'treat' yourself to an adaptor to do this as there isn't one in the box. There are wireless charging capabilities at least, charging the Pixel Fold at a much more leisurely 7.5W.
Google Pixel Fold: Final Verdict On looks alone, the Google Pixel Fold is a killer device. For the most part, it's exactly what a foldable should be: a device that works both brilliantly as a phone and as a tablet. The two screens are designed well for their purpose and the bigger screen when folded makes it feel just like a phone (albeit a heavier, chunkier one).
While the squarer screen does make movie watching a little awkward, and we aren't the biggest fan of the bezel, it is a joy when using split-screen and full-screen apps for productivity. And boy do games look good on it!
There are niggles, though. Most of these should be able to be fixed in software updates. We would love more compatible apps and the switch between phone and tablet needs to be a little more seamless. Sorting out the bugs needs to be a priority, too.
There is something about the Pixel Fold, though, that has impressed me. It's a feat of mobile engineering that points to where the future of phones is going.
Like its rivals, however, this foldable is an expensive curio piece that will be a must-have for some and for others a peak into a device category that they will buy into a few years down the line.
If you are in the latter group and deciding to play the waiting game, then I reckon Google will have the perfect device for you, in time.
The Google Pixel Fold is available to pre-order now from £1.749.
Related Reviews and Shortlists