ShortList is supported by you, our amazing readers. When you click through the links on our site and make a purchase we may earn a commission.
Learn more
Google Pixel 7 Pro review: 5 things to know
Google does it again with a fantastic flagship that's packed with smarts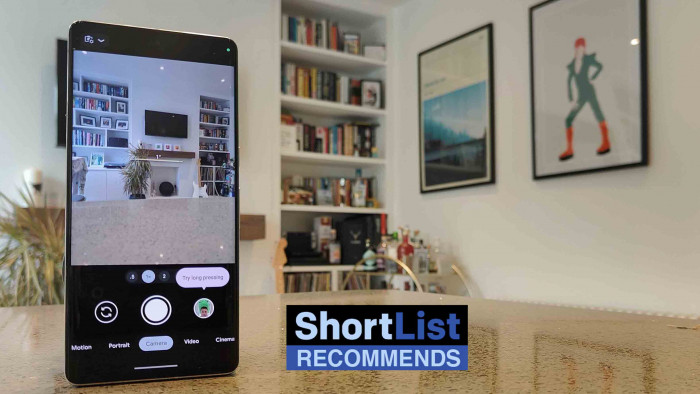 There is always some excitement when Google releases a phone. And for good reason: the smartphone maker gets it (almost) right when it comes to hardware. Couple this with Google's hardware being the purest way to experience Android OS on a phone and what you have is a pretty powerful package.
The excitement for the Google Pixel 7 range, however, has been bubbling for months now - this is down to the tech giant actually announcing the phone some six months ago at Google I/O.
Now it is here, was the wait worth it? Well, with the Google Pixel 7 Pro, Google has kept many of the style flourishes that can be found in the Pro 6 - the sleek camera bar on the back is still present - but it has improved things on a number of fronts, including the display, camera functionality and AI smarts.
ShortList has spent a few weeks with the Google Pixel 7 Pro - here are five things to know about the device…
---
1. Design is refined, refreshingly so Let's face it, it's hard to make a visual stamp in the phone market, when you are - for the most part - dealing with a rectangle made of glass and metal but Google has done a decent job with the Pixel 7 Pro.
It's a sleek, smart smartphone - one that keeps the impressive-looking camera array on the back of the device which feels like it belongs there, unlike normal camera bumps. This band blends nicely into the aluminium frame that separates the display from the back of the device.
The handset we tested was the one with the Snow finish. It's glossy and certainly has that high-end feel.
We weren't given a case for the Pixel 7 Pro and while we wouldn't want to discourage showing off the back of the thing, it is a little slippery as it is made from the same glass as the front.
There were a number of times we put it on the side of a couch and it made its way to a, thankfully, cushioned floor.
Right at the bottom of the device are two slim speaker cutouts. These flank the USB-C slot. Volume controls are on the right-hand side as is the SIM tray slot.
2. The display is massive and primed for TV watching Google has added a 6.7-inch screen to the Pixel 7 Pro. Those who already have its predecessor will be right at home with the display as it is the same size as before.
Brightness has been upped, though, to 1500 nits. There is an adaptive brightness option as well, which worked fantastically well in our tests - we were rarely pushed to use the manual slider.
You can also play with the colour on the screen, too, choosing between natural and the visibly more vivid adaptive.
Resolution on the display is QHD+ (1440p) but if you want this you have to go in the settings as it does 1080p as standard. Switch this up and you do notice a difference but it is a bit of a battery sapper.
The display has a variable refresh rate that tops out at 120Hz. Again, if you want to tone this down then you can switch off the Smooth Display functionality.
There's also a nice option to increase the touch sensitivity on the device. This is needed if you were to put a screen protector on the thing. Gorilla Glass Victus is on board but if you have butter fingers then you may want to opt for this.
As we teased in the title, the Pixel 7 Pro is perfect for binge-watching. The display offers rich colours and is compatible with HDR 10+. What this essentially means is that colours pop on what you are watching and shadows are much more refined. This really does make a difference whether you are streaming on your commute or just slouching on your sofa.
3. Performance is punchy Google has added a fancy new chip into the Pixel 7 Pro. Its Tensor G2 chip has been designed to make sure that speed is of the essence when doing whatever it is you do on your phone.
For us, this was a mixture of gaming, doom scrolling, photo uploading and general hot-spotting in and around London.
Anything we threw at the phone was done at speed and while we did notice a little bit of warming when it was doing more high-intensive tasks, it never let us down.
The engine is decent and so is the paint job as Google Pixel 7 Pro comes with Android 13, which is a delight to use.
A big part of this is something called Material You - essentially this melds the colour of the background of your phone to things like the colour of your app groupings. It makes for a great-looking experience and really adds to the sophistication of this device.
Aside from the look, features such as voice typing have been improved thanks to AI.
The chip upgrade is really shown off, though, when you open up the camera app.
4. The camera is great but it's the software that improves your photos The Google Pixel 7 Pro has a decent array of cameras, as well as the imaging tech powering them.
The Google Pixel 7 Pro has a triple-camera system on its rear. You get a 50MP lens and a 12MP ultrawide camera, as well as a 48MP telephoto lens. And the front-facing camera is a 10.8MP lens.
Google has really upped its macro photography, with something called Macro Focus. It hasn't forgotten its massive zoom feature either, with Super Res Zoom available on the phones.
Both of these worked a treat. You don't need to jump through myriad features to find it, just point the phone close to the subject matter and it pings up.
With the Super Res Zoom you need a steady hand but the results are decent, thanks to Google's hefty AI processing.
Software wise, there are a load of features on offer, including: Magic Eraser, Motion Mode, Photo Unblur, Night Sight, and a ton of HDR and 4K features when it comes to shooting video - as well as something called Cinematic Blur which brings bokeh to video.
The Magic Eraser is not a new feature but it's still fun getting rid of people in the background of your photos, while Photo Unblur works well to get rid of unwanted camera shake.
It's features like these which help you improve your photography pretty seamlessly.
5. Battery is bigger and (slightly) better It's the age-old thing with battery life on phones, while it is always being improved, more powerful displays and processing means more energy sapped.
That is not to say that the Google Pixel 7 Pro doesn't have a decent battery life. We rinsed the thing with full display sharpness, watching movies and filming them too and it still lasted the full day, thanks to a fairly large 5000 mAh battery.
Google has added some features into the phone to help with battery reduction - including the rather severe sounding Extreme Battery Saver mode. Pop this on and features are reduced, but you should get a few days' use out of the thing.
Google's new chip certainly helps in this department, too, as the phone regularly stops apps that you aren't using and is trying to modify things in the background to balance the battery out.
Google Pixel 7 Pro: Final Verdict Google has done it again with the Google Pixel 7 Pro. This is a smart, sophisticated phone filled with brainy AI and features that consistently help not hamper you. Oh, and it's a great-looking device too.
Whether it's finessing your photography or providing superb audio and visuals for streaming, this is the Android phone to beat.
The Google Pixel 7 Pro starts at £849 / $899. And it's available in Snow, Obsidian and Hazel. If you pre-order up to 17 October then you will also get a Google Pixel Watch LTE.
Related Reviews and Shortlists