ShortList is supported by you, our amazing readers. When you click through the links on our site and make a purchase we may earn a commission.
Learn more
Amazon's latest tablet is perfect for those who have gone 'all in' with Amazon. If you are a Prime customer, use Prime Music and read your books through the Kindle app then this is utterly for you.
The 10.1-inch screen is gorgeous and there is enough grunt in the processing to make sure that if you are playing games on the thing, or browsing with multiple tabs up then it won't buckle under the pressure.
Interested? Well, here are 5 things to know about the Amazon Fire HD 10 Plus...
1 It certainly has Plus points Amazon may well be more known for its low-priced tablets. Its Fire HD range has always been a functional tablet that does what you need it to, but if you are looking for a device that can replace your laptop now and again, then Apple's iPad range was always more desirable.
This is why the Plus is significant here. The Amazon Fire HD 10 Plus packs in some impressive specs, with the hope that it can entice the more business-savvy tablet users to its device, while not forgetting the ample amount of media consumption you can do on the thing.
On board are 4GB of RAM, up to 64GB of storage (expandable to 1TB) and a decent 1080p display - this certainly isn't a 'best in class' screen, and there is no HDR on board, but it was fine for everyday use.
2 The optional extras make it really compelling While the tablet on its own is a good buy, there are some extras that really change what you can do with the device. Amazon is going almost modular in its approach here. There is wireless charging on board, but you have to buy a separate stand. Put the tablet on the stand in landscape mode and you have essentially created your own Echo Show - a video version of Alexa that can show you alarms, calendar, your security cam feeds and the like.
There is also a bundle option available that comes with Microsoft Office and a Bluetooth keyboard, proving this is a tablet that means business.
3 Its design is functional, not beautiful Amazon hasn't really changed the way it has designed its tablet, so there are no shocks with the design of the Amazon Fire HD 10 Plus. It's a black rectangle, with an all-screen front with a camera in the middle (when looking in landscape mode).
The bezel is fairly chunky, but while the back is plastic, the charcoal grey look makes it feel pretty premium. The ability to upgrade the storage is a real boon, too.
When it comes to buttons and ports, they are all situated on the bottom of the device, with an on/off button, volume rocker, USB-C charger and 3.5mm jack. Well, we think it's the bottom - Amazon has geared this tablet to be used mostly in landscape mode, so when it is in this position all of the controls are on the right.
There's a 2MP camera on the front and a 5MP one on the back, which are fine for video calling and the like. There are also Dolby Atmos speakers on the tablet that were far richer and louder than we were expecting and battery life was decent at around 10 hours. You will have to give it a few hours to charge, though, which felt a little slow to us.
4 The software is slick but lacks Google Amazon has decided to go on its own with the software on the Amazon Fire HD 10 Plus, something it has done with all its tablets. It uses Fire OS, which is based on Android, but don't come here expecting some Google love. There is no Google Play access, as Amazon really wants you to use its software.
This is pretty noticeable when you load up the tablet for the first time and are offered a '30 days of Audible for free' trial screen... then Kindle Unlimited... then we were prompted to read and watch things that are part of your Prime membership. There's no doubt that this is a shop face for Amazon as much as it is a tablet for productivity.
The actual OS is really clean. There's a search bar at the top (powered by Amazon Silk) then three categories: For You, Home and Library. Underneath this are a number of pre-installed apps as well as the Appstore.
There is also a quick link to the Amazon Devices section of the tablet which is a really neat way to see all of your Alexa-enabled smart things in one place and acts as a control panel for the lot of them.
Alongside the myriad Amazon apps is Microsoft Office - which makes sense given one bundle will give you a year's access to the software suite. Head to the app store and some favourites are there - including Netflix, Disney Plus and Spotify. Interestingly while the likes of Zoom are on board (even though Amazon has its own Zoom-like service), Slack and some more work-relevant productivity apps are not - this includes Google Docs, Sheets and, well, Google anything.
5 Alexa works well and is constantly improving
Alexa is on board the Amazon Fire HD 10 Plus and it works as well as you would expect. Alexa is pretty ubiquitous now and it's likely you have an enabled device in your home. It works the same here, once you allow voice control.
It really does come into its own, though, when you are using the tablet as an Echo Show-like device, which makes that optional stand all the more enticing.
Amazon Fire HD 10 Plus: Final Verdict The Amazon Fire HD 10 Plus is another solid tablet effort by Amazon. This is the most advanced tablet the company has released and while it may not feel that way from a design point of view, it does from a performance one.
At £179.99 / $179.99 is very cheap (for the 32GB version, add another £40 to double the storage capacity) for what it offers. Even when you take into consideration the add-ons - £60 / $60 for the bluetooth keyboard and Microsoft 365 for a year, £40 / $40 for the wireless charger stand - it's still a decently priced tablet and one that can take on many guises - and cheaper than an entry level iPad.
While we can see you using it a lot more as an Echo Show-like device with the stand, than a productivity powerhouse, the options are there and really make this the most multi-faceted tablet Amazon has released.
Buy now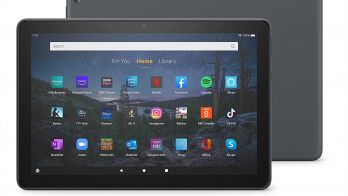 Amazon Fire HD 10 Plus
£179.99
The new Amazon Fire HD 10 Plus is available to buy now.
Buy now from Amazon
Related Reviews and Shortlists