ShortList is supported by you, our amazing readers. When you click through the links on our site and make a purchase we may earn a commission.
Learn more
This is every movie and show coming to Netflix in March 2023
This is everything that's coming to Netflix in March...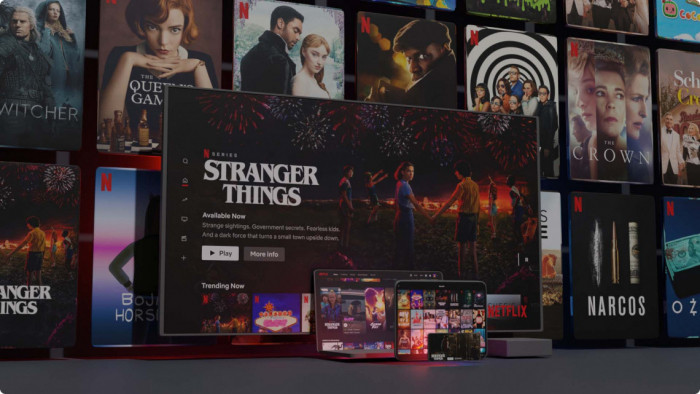 It's now March which means that Netflix has a whole batch on new shows and movies coming to the service.
It is not easy to figure out all the new things coming to Netflix in March and beyond, given how the site uses clever algorithms to serve up what its AI bots think is the best content for you.
This can be a little skewed, though. Say you have been on something of a horror binge or really fancies to watch a whole load of 90s romantic comedies, the shows and movies that will get recommended will change.
Netflix has allowed a peak behind its content curtain, with its New & Popular section. But even this is limited to the movies and shows it really wants to advertize: and it's always going to favor Netflix Originals over things that it hasn't created itself.
That's where we come in: this is This is everything that's coming to Netflix in March 2023, both on the US and the UK site.
As always, if you want a curated look at the best things to stream, then head to our What To Watch guide. If you want to know EVERYTHING, then head to the list below...
---
This is everything that's coming to Netflix US in March 2023 1 March
TV
Cheat
Wrong Side of the Tracks season two
Diary of a Prosecutor season one
Forged in Fire: Knife or Death season two
Gecko's Garage – 3D volume two
Little Angel volume two
Movies
Tonight You're Sleeping with Me
Big Daddy
Burlesque
Easy A
The Hangover
The Hangover: Part II
The Hangover: Part III
The Hunger Games: Mockingjay – Part 2
Love Destiny: The Movie
Magic Mike XXL
National Lampoon's Animal House
Neon Lights
Open Season
Open Season 2
The Other Boleyn Girl
Rango
Seven Years in Tibet
Sleepless in Seattle
Spirit: Stallion of the Cimarron
2 March
TV
County Masameer season two
Framed! A Sicilian Murder Mystery season two
Sex/Life season two
Monique Olivier: Accessory to Evil
Karate Sheep season one
Masameer County season two
Movies
Love at First Kiss
Thalaikoothal
This is Where I Leave You
3 March
TV
Next in Fashion season two
4 March
TV
Divorce Attorney Shin season one – new episodes Saturday
5 March
TV
Chris Rock: Selective Outrage
6 March
TV
Unlock My Boss season one – new episodes Monday
Ridley Jones season five
7 March
Movies
8 March
TV
MH370: The Plane That Disappeared
Movie
9 March
TV
10 March
TV
Have a nice day
Nike Training Club fitness videos
Outlast
Rana Naidu
The Glory part two – new episodes Friday
Movies
Luther: The Fallen Sun
Fujii Kaze: Love All Serve All Stadium Live
Jolly Roger
14 March
TV
Ariyoshi Assists season one
Bert Kreischer: Razzle Dazzle
15 March
TV
Ikebukuro West Gate Park season one
The Law of the Jungle season one
Money Shot: The Pornhub Story
IWGP: Ikebukuro West Gate Park season one
Tiger and Dragon season one
16 March
TV
Shadow and Bone season two
Barbie: Skipper and the Big Babysitting Adventure
Movie
Still Time
The Chronicles of Riddick
Dragged Across Concrete
Kick-Ass 2
Pitch Black
Riddick
17 March
TV
Agent Elvis
Dance 100
Maestro in Blue
Sky High: The Series
Pul Pul Molcar season two
Movies
In His Shadow
Noise
The Magician's Elephant
20 March
TV
Gabby's Dollhouse season seven
Movies
21 March
TV
We Lost Our Human (interactive)
22 March
TV
Invisible City season two
The Kingdom season two
Waco: American Apocalypse
23 March
TV
The Night Agent
Movies
Johnny
24 March
TV
Love is Blind season four
Movies
Chor Nikal Ke Bhaga
28 March
TV
Mae Martin: SAP
InuYasha season four and five
29 March
TV
Unseen
Wellmania
Emergency: NYC
30 March
TV
From Me to You: Kimi ni Todoke
Unstable
Big Mack: Gangsters and Gold
Movies
Kill Boksoon
Murder Mystery 2
31 March
TV
Copycat Killer season one
Henry Danger season four and five
Teenage Mutant Ninja Turtles season two
Movies
Diary of a Mad Black Woman
Henry Danger season four and five
Teenage Mutant Ninja Turtles season two
This is everything that's coming to Netflix UK in March 2023 1 March

TV
Cheat
Wrong Side of the Tracks season two
Back to Life series two
Diary of a Prosecutor season one
Merkel
Return of the Wild: The Bear Man of Buncrana
Gecko's Garage – 3D volume two
Little Angel volume two
Movies
Tonight You're Sleeping With Me
Bring it On: Worldwide #Cheersmack
2 March
TV
County Masameer season two
Framed! A Sicilian Murder Mystery season two
Sex/Life season two
Monique Olivier: Accessory to Evil
Karate Sheep season one
Movies
Fall
Journey to the Center of the Earth (2008)
The Unholy
3 March
TV
Next in Fashion season two
In the Name of God: A Holy Betrayal
Split at the Root
Movies
Love at First Kiss
Here Love Lies
4 March
TV
Divorce Attorney Shin season one – new episodes Saturday
5 March
TV
Chris Rock: Selective Outrage
6 March
TV
Unlock My Boss season one – new episodes Monday
Ridley Jones season five
8 March
TV
MH370: The Plane That Disappeared
Movies
The Clovehitch Killer
Faraway
9 March
TV
10 March
Have a nice day
Nike Training Club fitness videos:
Outlast
Rana Naidu
The Glory part two – new episodes Friday
Movies
Luther: The Fallen Sun
Jolly Roger
14 March
TV
Ariyoshi Assists season one
Bert Kreischer: Razzle Dazzle
15 March
TV
Below Deck season six
Ikebukuro West Gate Park season one
The Law of the Jungle season one
30 Greatest Moments: Adele
Money Shot: The Pornhub Story
Keeping Up With the Kardashians season 12
Million Dollar Listing: New York season five
The Real Housewives of Beverly Hills season seven
Movies
16 March
TV
Shadow and Bone season two
Movies
17 March
TV
Agent Elvis
Dance 100
Maestro in Blue
Sky High: The Series
Movies
In His Shadow
Noise
The Magician's Elephant
21 March
TV
We Lost Our Human (interactive)
22 March
TV
The Kingdom season two
Waco: American Apocalypse
23 March
TV
24 March
TV
Love is Blind season four
29 March
TV
30 March
TV
From Me to You: Kimi ni Todoke
Unstable
Movies
Kill Boksoon
Murder Mystery 2
31 March
TV
Copycat Killer season one
Related Reviews and Shortlists