ShortList is supported by you, our amazing readers. When you click through the links on our site and make a purchase we may earn a commission.
Learn more
The writer of Channel 4's Pure tells us why OCD isn't about being a neat freak
Writer Kirstie Swain tells us about her hit new show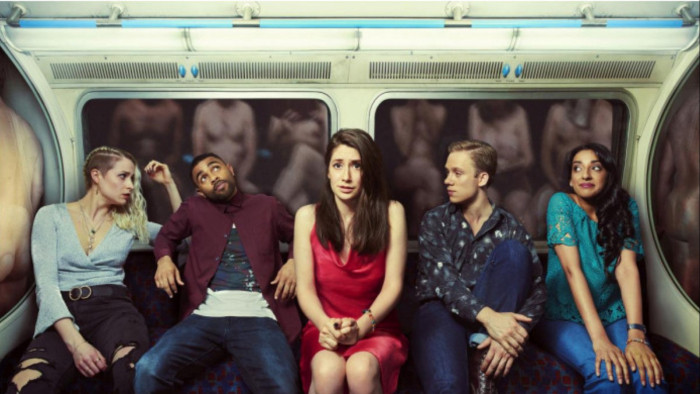 Channel 4's new comedy-drama Pure, charts the life of Marnie, a Scottish woman who, when her intrusive, graphically sexual thoughts become too much for her at a family party, decides to try to escape her own mind and move to London on a whim.
After panicking that she's a sex addict, she eventually realises she has a form of OCD, and the series follows her new world as she comes to terms with it, and the (amusing) obstacles that happen along the way.
Screenwriter and stand up comedian Kirstie Swain adapted the screenplay from a memoir of the same name by Rose Cartwright, who wrote about her own struggles with the condition. Despite Marnie's intrusive thoughts being overtly sexual (you might get a shock in the first episode, the visuals don't hold back as you see what Marnie envisages) and weirdly funny, the show gives a real insight to the many forms OCD can take, and the relief when she realises what she has after attending a support group can give out a positive message with regards to talking about mental health.
We spoke to Kirstie about the project and what she hopes the show can do to create humour around a difficult topic:
What attracted you to this project and how did you get involved?
Years ago I had an anxiety attack in Sainsbury's trying to decide what to have for dinner. A proper I'm-too-hot-who-am-I-where-am-I-I-can't-feel-my-tongue style anxiety attack in the World Foods aisle clutching a packet of microwavable rice. Sticky jasmine, if you're wondering. Didn't buy it. I've always been an obsessive worrier, chronic over-thinker and pathological doubter so it was that aspect of the memoir that really resonated with me. Having an anxiety disorder can affect not just the way you relate to yourself but everyone else around you. It was a great way in to a relationship show about someone who overthinks relationships due to a chronic anxiety disorder. It was also a massive 'fuck you' to anxiety on behalf of my younger self.
How did you get into writing for TV?
I've always wanted to work in television. Getting a job in Curry's would have been quicker, easier and had better hours, but if I'd done that then I couldn't get my own back on people who have wronged me by basing characters on them and putting them on the telly. I kind of fell into doing scriptwriting. I'd always loved writing stories, but it was normally in the form of horse-themed short stories and wanky anxiety poetry. It wasn't until I got a job at a corporate video production company that it occurred to me that scriptwriting was an actual job people could do. I don't know where I thought TV programmes come from. They let me have a bash at a script then suddenly I found myself writing a short film for the Scottish Government starring a guy from Take The High Road. It's a retro Scottish soap. Think: Emmerdale meets Trainspotting with more sheep. After that I started writing stuff for myself and entering it into competitions. I had a bit of success with that so I naively quit my job and moved to London to try and be a writer. That's when I got a place on the BBC Writers Academy and got my first writing credit on Holby City. CUT TO: now.
What do you think people can learn from the show regarding OCD?
That it's not just about being tidy, washing your hands or worrying you've left your straighteners on. That intrusive sexual thoughts are not arousing, they're disturbing and deeply affect someone's daily life. That OCD can take many forms and this is just one of them. That you're not "a little bit OCD" just because you don't believe in the three second rule. Does it disorder your life? No? Then shoosh.
Did you speak to other people as well as Rose Cartwright with OCD for the show?
We spoke to mental health charities like OCD Action and Mind and also to experts and therapists who work with OCD patients. We wanted to be respectful and true to the condition and the people who suffer from it, but at the same time we were making a TV show so at some point you have to go, that's enough research, I just need to write a story.
What would be your advice to people who think they might have something similar to Marnie in the show?
Talk to someone. OCD can be such a silent existence, but there's a lot to be said for the power of saying it out loud. Tell your GP or talk to a friend. We don't talk enough about mental health but if we'd remove some of the shame around it. Shame is cycle. By keeping it a secret you're pedalling that wheel. Channel 4 has a list of support organisations on their website where you can find information and advice if you've been affected by any issues featured in the programme.
How do you bridge the gap between mental health and humour in your writing? And why do you think this is important?
Comedy has the power to find joy in pain. We could have made a really bleak version of this show where a young woman with a mental disorder moves to London to wince and cry in her school friend's cupboard, but who'd watch that? Humour was so important to making PURE. Laughter gives hope. It breaks a subject open. It releases the tension. It's like lancing a boil or squeezing a spot, but less messy… unless you piss yourself laughing. It was never our intention to make mental health the butt of the joke. It was the set up.
You can watch the whole series of Pure, here.
Related Reviews and Shortlists