ShortList is supported by you, our amazing readers. When you click through the links on our site and make a purchase we may earn a commission.
Learn more
Mario Kart Live: Home Circuit review - 5 things to know
Mario Kart IRL is an absolute joy, offering the ultimate in home comforts.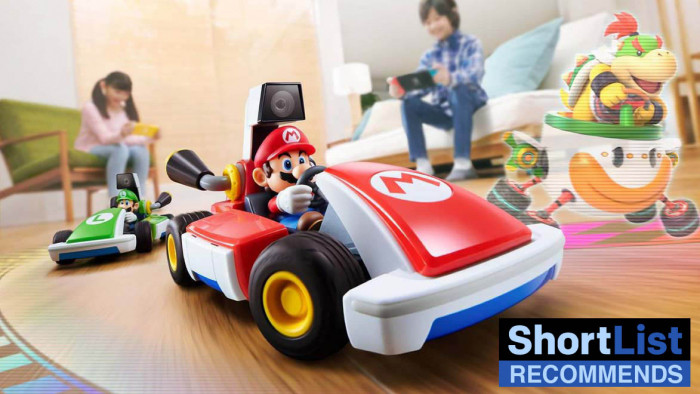 The Nintendo Switch is, right now, laughing in the face of the next gen. While the PS5 and the Xbox Series X and S are totting up their pre-order numbers, Nintendo is proving that you don't need mind-blowing specs to turn gaming heads, just bloody good fun.
At a time when we are all spending a lot more time at home, Nintendo could haven't chosen a better time to launch Mario Kart Live. Swapping 'circuit breakers' for Home Circuits is fine by us and MarioKart Live is the type of game you dream about as a child to play at home. A game that takes your real-life world and augments it with your favourite characters.
Nintendo has done this in a deceivingly simple way: a plastic kart with a camera on, some cardboard gates and a free download of the game. So, just how does it make it so cool?
Here are 5 things to know about Mario Kart Live: Home Circuit.
---
1. Mario Kart Live keeps it simple Setup of Mario Kart Live takes no time at all. It's worth getting the kart on charge straight away to avoid any tears. The vehicle is well made, made of plastic and rubber with four soft-ish hollow wheels. Above Mario (or Luigi, depending on which one you go for) is a camera that's part of the kart so there's no way it can come off.
We did think that the kart may not be able to withstand that many knocks and tumbles but it certainly passes the 'excited four year old that likes to pick things up and throw them' test with flying colours.
The other things in the box aren't quite as sturdy. Taking a leaf out of the Labo book, the gates are made of cardboard. They are easy to set up but you do need to weigh them down with something as one hit with the kart and they topple over.
But that's the fun of Mario Kart Live - it's expected that you get as many things as you can to act as obstacles on the track. If your living room doesn't end up like one of the tracks of Micro Machines then you are doing something wrong.
Once the kart is charged (it can take up to three hours, for 90 minutes' play) and the game downloaded (a free download from the Nintendo Store) then synching up to the Switch takes seconds and the fun really does begin.
2. Mario Kart starts slow and that's a good thing At first we thought that the Kart part of Mario Kart was a little slow but it's all part of the build-up of the game. It is also there to get you used to playing an AR version of the game
For Mario Kart veterans, you will be pleased to hear that the AR overlay makes you feel like you are in a proper Mario Kart game, but you will be staring at Mario driving around as much as the Nintendo Switch screen to begin with.
This is not because the controls are confusing - far from it. Rather, you will be in awe in seeing a small Mario Kart rush around your room and beyond. This soon wears off and your eyes are then firmly fixed on the screen.
In fact, for the first half hour or so we just had a lot of fun racing around the house and seeing everything from a Mario-eyed view. It's only halfway in when we realised that the view on the screen - of a digital version of the Kart and the view of your house is a lot like the camera angle from The Shining, when Danny Torrance races around the hotel on his trike.
We were tempted to put the Shining soundtrack on in the background but thought against is as it would ruin the wholesome fun we were having.
Once we stopped dicking around and put out the gates around the room (all facing the right way), then the games begun. And it is slow to start, as you are getting used to how controls work and the circuit you've set up.

Actually, if you just watched the kart throughout then it would still seem a little slow but Nintendo has done a brilliant job of making this not the case when you are playing the game.
3. It works on carpets and you don't need a massive room Our biggest worry, other than trying this out in a three-bed semi in Bromley and not the palatial apartments showcased in the myriad Mario Kart Live adverts, was that our carpet would ruin the experience but it's not the case - so don't panic about that.
It does leave some tire marks but they are temporary and we expect it may suffer from a slightly bigger, er, shag but it didn't impede our playing.
The size of our room isn't massive and this didn't stop the fun either. The hope is that you have around 3 metre squared to play in, so most living rooms should be able to handle this.
Putting the gates out is as simple as it sounds and there are even some border markings you can add to your track. Don't worry about making it look pretty, though, most of the action is layered by AR so no matter how plain the course, it will still be fun.
4. The AR is amazing Nintendo has done a stand-up job of recreating Mario Kart in your home. Taking essentially four bits of cardboard and an (albeit well-made) plastic racing car it utterly transforms the experience when you stare at the Nintendo Switch screen.
The markers come alive, the course is painted over and there are obstacles galore, power-ups aplenty and Koopas after you. There is a lot going on, possibly more so than on a normal Mario Kart game and for good reason: it keeps you guessing and makes it feel like Mario is whizzing around the track, even though he isn't going that fast.
The kart does speed up when you go over a power up, but this isn't a Scalextric-style thrill ride for those not looking at the Switch screen - it's amazing how responsive everything is and how it really does feel like Mario Kart.
5. You might want to find a friend There is no getting around the fact that the price of Mario Kart Live is going to make some think twice about buying it - at least buying it as not part of a birthday or Christmas present. So you may struggle to find mates right now who have the game, but it will be a game that is worth playing with more than one Kart.
That isn't to say that the one-player mode isn't fun - it really is. There are some 27 tracks to play around with, but unless you constantly change the physicality of the course, then they are essentially reskins of the same course.
The Time Trials are a lot of fun, but you will be aching to get a mate round and battle agains them - as that really is the true spirit of Mario Kart, live or not.
Mario Kart Live: Home Circuit Final Verdict
Nintendo has done it again with its ingenuity - creating a fantastic game that makes your house fun, at a time when we all need to find enjoyment in our own surroundings.
Taking all the wonderful aspects of Mario Kart and transposing them into the living room with (mostly) brilliant results is no mean feat but Nintendo has done it, and done it in style.
Available now!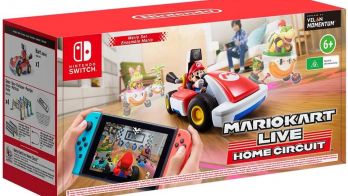 Mario Kart Live: Home Circuit
£99.99
Welcome Mario and Luigi to your home with this fantastic 'live' version of Mario Kart that works with the Nintendo Switch.
View now on Amazon
Related Reviews and Shortlists