ShortList is supported by you, our amazing readers. When you click through the links on our site and make a purchase we may earn a commission.
Learn more
Honor Magic Vs review: 5 things to know about the foldable
The latest foldable to enter the fold, reviewed.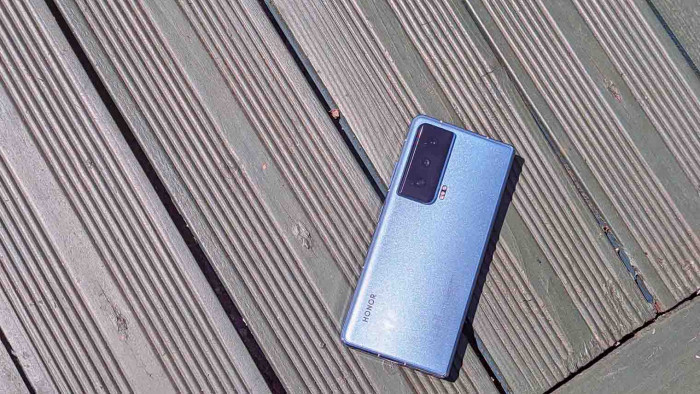 There is always a turning point in the life of a new gadget category and that is usually comes down to affordability. Until now, the foldable market is one that has been available to the elite few - those that don't mind spending a snip under two grand to have a flagship phone in their pocket that unfurls into a tablet.
The Honor Magic Pro VS hopes to change that. Its price is still high, at £1,399 but it is still one of the cheapest foldables around.
We have been lucky enough to play with the device for a few weeks now and, for the most part, are impressed with what we have seen.
Here are 5 things to know about the Honor Magic Vs...
---
1. The Design The Honor Magic Pro Vs is a lovely looking handset, with the premium finish I have come to expect from a foldable phone.
This one is unfurls like a book which means that you can use the device like you would a normal phone, with a 6.45-inch 21.3:9 120Hz display on the front. Unfold it, though, and a 7.9-inch 10.3:9 90Hz is ready and waiting for all your big-screen needs.
It is a little thick when unfolded but not uncomfortably so, but when you do open the thing up it's pretty majestic looking. The crease (which you get on the display of ALL foldables) isn't that noticeable and the big screen has plenty of room for apps and widgets.
It is weighty, though, at 275g. While this adds to the premium feel of the device, those who want their phones to be svelte may want to look elsewhere.
The back of the handset is punctuated with a large camera bump, which houses three lenses: a 54MP main camera, 8MP telephoto and a 50MP wide angle.
2. Gap? What gap? With many foldables on the market, there has been a notable gap between the screens when the handset is folded. Not only does this look unsightly, it's an utter magnet for pocket lint and the like.
This isn't the case with the Honor Magic Pro Vs. Close the thing and you get a very appealing 'closed shut' sound and there is no gap between the screen. The benefits of this mean that you don't get anywhere near as much dust or debris, so there's not that constant wiping of the bigger screen that we have found with other phones like this on the market.
This complete closure means that you don't have to be so delicate with the handset, compared to say the Samsung Galaxy Z Flip 4. That's not to say that I was just chucking the thing into a bag and walking away, but there was no fear that when I put it in my pocket, I would end up harming the handset.
It also makes the Honor Magic Pro Vs one of the most-desirable looking foldable phones when folded. I tried the phone in Cyan, which is an Honor store exclusive colour. It's a fantastic colourway and adds the premium look and feel of the device.
3. Google is on board Now, you may think that Google being on board is a no-brainer but that isn't the case with some brands. Take Huawei, it's still not allowed to pre-install Google's extensive app range or use its Android software. Honor doesn't have this problem, with the Google Store on the device and it's running on Android.
I do prefer an OS as close to pure Android as possible but you don't really get that on the Honor Magic Pro Vs. It really seems to be pushing its own apps, with many of them pre-installed on the device, while I would have like a little more customisation options, especially given the bigger screen when the device is folded out. I did like the multiscreen bar, though, and the ability to use apps in split-screen mode.
There were some apps that would just shut down, though, when we tried to switch from big-screen mode to normal phone mode which was frustrating as I was flipping between the two phone modes quite a lot when commuting, getting on and off trains etc.
This is definitely a handset that made me more productive, though, thanks to the multi-screen option... well until I started watching Netflix on the thing and got a little bit addicted to the bigger view.
4. Screen quality is fantastic While I am impressed with the screen quality of the Honor Magic Pro Vs, there is a small caveat. The Hz rate for the smaller screen and the bigger screen is different. You get a full-fat 120Hz on the small front-facing screen but this is reduced to 90Hz for the bigger screen.
Did it make a difference? Well, not to us. There is such a powerful chip inside the Honor Magic Pro Vs - it is powered by a Qualcomm Snapdragon 8 Plus (Gen 1) processor, with 12GB of RAM and 512GB of storage - which means that this is a super-smooth device to use and I had no judder or glitches when switching between apps, firing up games and watching movies.
It was the movie watching I liked best. While the square-ish screen does mean that you get bars at the top and bottom when viewing certain things, the addition of HDR 10 made the picture really stand out.
It's a great feeling to be able to 'magic' up a bigger screen when you want to play games or watch shows on the device - something that never grew old when I was using it.
5. Battery is big... but so is the phone A big phone needs a big battery and that is exactly what you get with the Honor Magic Vs. The handset comes equipped with a 4,900mAh battery. In real-world parlance this meant I got about a day and a half out of it before it needed charging.
This is impressive, I was always confident that there was battery left still in the tank if I missed that all-important overnight charge and that was with me messing around with movie watching, Twitter doom scrolling and photo editing.
Charging is done by the Honor 66W SuperCharge, which can get the phone to full in about an hour. This takes the sting out of the lack of wireless charging on board.
Honor Magic Vs: Final Verdict This is Honor's second stab at a foldable phone and the first to be released outside of China. It's a great-looking device, with a no-gap hinge and a really impressive and sizeable main screen.
The software on board doesn't quite match up quality-wise with the looks of the handset but this is certainly a foldable that holds its own in what is an expanding market.
Related Reviews and Shortlists