ShortList is supported by you, our amazing readers. When you click through the links on our site and make a purchase we may earn a commission.
Learn more
Honor 90 review: 5 things you need to know
90% of the high-end phone experience for 50% of the cash?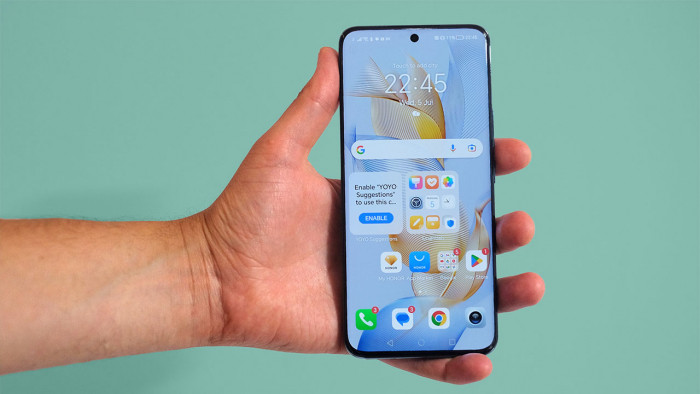 The Honor 90 is one of our favourite styles of phone. We call them the Androids-that-don't-cost-that-much-but-seem-like-they-do kind. Catchy, right?
It's provides some eye-opening specs at the kind of cost compatible with these days, when many of us are worrying about money more than we used to.
The Honor 90 is available with 256GB storage for £449, or £499 with 512GB of space. That's around half the price of a flagship Android.

But is it really any good to use? We've been rolling with the Honor 9 this week as our main phone, and here are the bits that have stood out.
---
1. 200MP Camera: More megapixels than sense The Honor 90 has a super-high resolution 200MP main camera. That's more megapixels than the average pro-grade camera.
Sure, the phone bundles a bunch of these pixels together to increase light sensitivity just like other phone cameras. However, after taking the Honor 90 on a photo excursion we were pretty impressed by the experience.

It's a snappy, responsive shooter, and all those megapixel help when you use the baked in 2x zoom mode. While there's no optical zoom camera, it eradicates that clear sense you're looking at a digitally zoomed image.
Here are a few pics we took with the Honor 90: 2. A design magician The greatest trick mid-range phones can pull is in making you forget you are not using an ultra-pricey smartphone. Honor has done so here with a smart use of glass we don't often see at this sort of price.
Its front panel is curved glass. Why? It's a design style that looks a million bucks, one that used to separate the ultra-expensive phones from the proles. Curved glass also makes a phone feel a lot thinner, as it tapers the body right where it connects with your hand.
The back is curved glass too, but with a rather different style. It's textured, lightly sparkly stuff that has a much softer, lower-friction feel than the front. The finish also completely obliterates reflections and is 100% immune to those greasy fingerprint marks. Its sides are plastic, but at this price you have to expect the odd concession.
3. A Santana smooth OLED Getting an OLED in a phone of this level is nothing new. However, the Honor 90 manages to get damn close to the experience of an even higher-end phone.
This has little to do with the bits OLED screens are best-known for too. Pretty much all OLED have awesome colour and flawless contrast because they use what are known as emissive pixels. That means each pixel is its own separate light source. Millions of tiny torches. Its higher-than-average 2664 x 1200 pixel resolution is nice, but not world-changing. So where's the hit?
The Honor 90 really shines with its maximum brightness and its silky 120Hz smoothness. Our ultimate test for screen brightness: does it make the screen clear when you are outside on a blazing sunny day? Honor's 90 passes, easy.
It menus also scroll with the same silky smoothness we saw in the frankly devastatingly pricey Huawei P60 Pro. A tiny bit of judder can ruin the smoothness of one of these high refresh rate screens. Will the phone still be this slick after we've filled it with dog pics and the entire run of Gilmore Girls in 1080p? No guarantees.
4. Ready to game? Yep

For this sort of price you can't expect absolutely everything. The Honor 90 has a mid-range Qualcomm Snapdragon 7 Gen 1. And not just that, but the "Accelerated Edition".
Looking a little deeper, this must means it revs a tiny bit harder than the normal version. A marketing gimmick? Kinda, but what we really want to know: can it Fortnite?
Fortnite is one of Android's trickiest games, and one of the most popular even though it has been booted out of Google Play. You can play it in the game's 60fps mode, not just the basic 30fps. Does it always hit 60fps? Not nearly, but you are typically looking at frame rates in at least the high 40s.
5. Fast charging The Chinese phone giants like Honor show the rest of the world how it's done on fast charging. Despite being moderately price, the Honor 90 charges at up to 66W. That's more juice than the average ultrabook laptop can take. And 21W more than the Samsung Galaxy S23 Ultra.
Honor says it gets you to 20% in five minutes, 45% in 15 minutes. Speedy. However, you don't get a charge adapter in the box, and your old blower's plug is highly unlikely to get you anywhere near that pace.
The official line is this is better for the environment, and cuts down on e-waste. But you will have to fork out around £25 for a 66W SuperCharge adapter to see the Honor 90 at its best.
Honor 90 final verdict
The Honor 90 is a sound and sensible buy if you find the Samsung Galaxy S23 series too darn pricey, and want more storage than the otherwise pretty compelling Pixel 7.
In classic "bargain phone" fashion, you get a polished big-screen experience at the right price. We think the Pixel 7 pips it for image quality despite all those megapixels. But that ultra-bright OLED screen, curvy glass look and fast charging make for a sweet combo.
Related Reviews and Shortlists