[Words: Matt Ayres]
For those who know that vinyl really does sound better, Record Store Day is pretty much Christmas.
Independent music shops around the world will be celebrating on Saturday 16 April by hosting in-store gigs, stocking rare records and generally reminding everyone why we still need physical shops packed with brilliant music, rather than relying on pre-made Spotify playlists and leaked tracks uploaded to YouTube.
With all sorts going on up and down the UK, we've cut through the noise and located the most ear-pleasing events happening around the nation.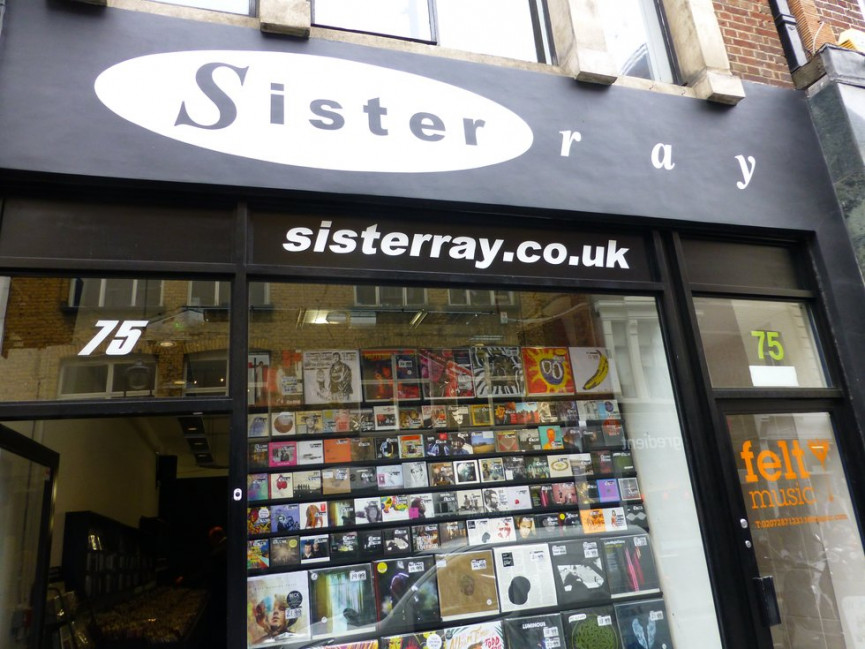 London
Music collectors in the big smoke are predictably spoiled for choice this weekend. Most of the capital's disk floggers have their own audio-themed agendas of in-store gigs, DJ sets and giveaways. Start the day by getting your mitts on a goodie bag at Sister Ray – the first 100 people through the door get one, including headphones, vinyl and accessories courtesy of Richer Sounds. One other lucky punter at the Berwick Street institution will win themselves a Riga turntable.
Elsewhere, Container Records host a delicious mix of DJs from its shipping container in Brixton, Banquet Records flog their legendary assortment of rare punk LPs in Kingston, and London's up-and-coming artists play on shop-based stages around the city including Turnstyle Records, Pure Vinyl and Brill Café.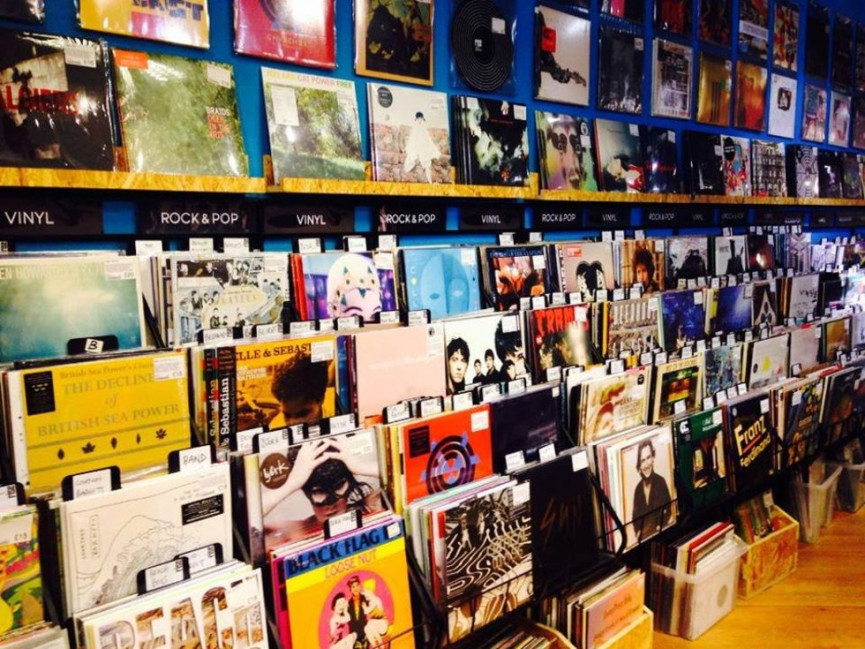 Bristol
As a proud bastion of independent music in Bristol, Rise are keeping it in the family by letting their staff and loyal customers take control of the DJ decks. There's also live music in the downstairs café area: The proudly independent folk at Rise have curated a neat little line-up of local and touring acts including Nerina Pallot, Flowers, Shelter Point, Chuman and Skeleton Frames.
Patient punters are invited in for coffee and breakfast at 6am before being let loose among the vinyl racks at 8am.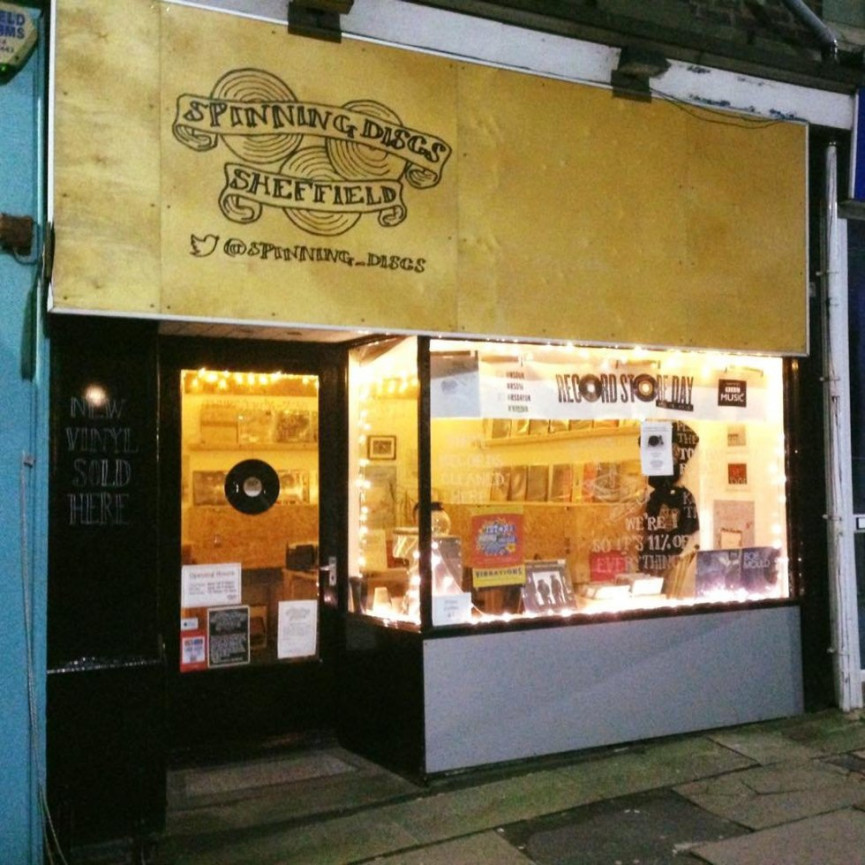 Sheffield
Community spirit is at the heart of Record Store Day, something that the lovely bunch at Sheffield's Spinning Discs hasn't forgotten. They're inviting their neighbours at The Bhaji Shop and The Tramshed to supply customers with celebration-worthy food and drink – rifling through all those record crates is thirsty work, after all. It all takes place just down the road from Spinning Discs at a fellow hipster hangout, wearefolk.space.
Across town in Walkley, fellow Sheffield shop Tonearm Vinyl hosts its own collaborative shindig with Walkley Beer Co. Here you can raise your bottle to some of the best bands and DJs in town while getting involved in giveaways by local indie label Tie Dye Tapes.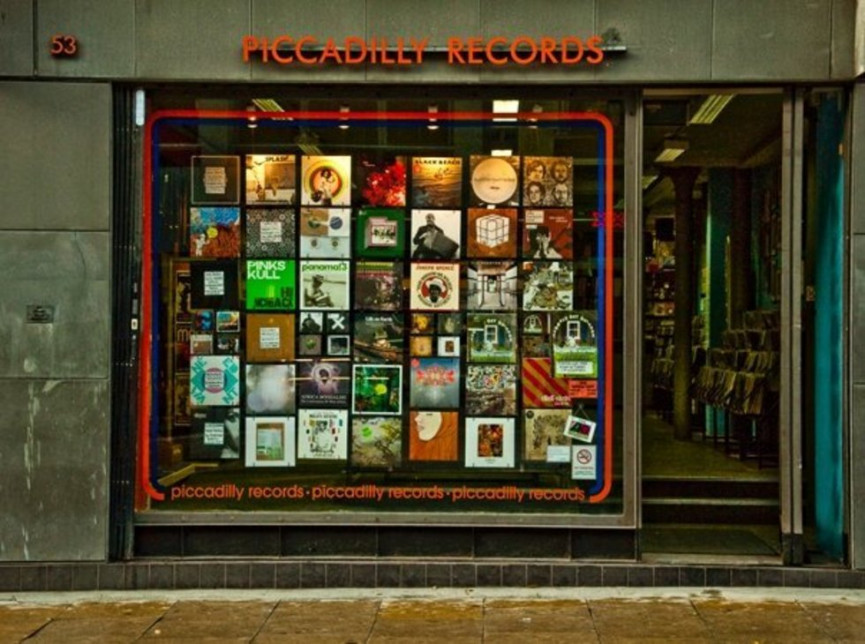 Manchester
Getting into groove of Record Store Day in Manchester is easy thanks to Eastern Bloc and Endless Music: both shops have invited local DJs to spin banging tunes throughout the day.
A visit to Piccadilly Records is also essential. As well as hosting DJs from 12-6pm, its got face-painters turning shoppers and staff into David Bowie's most iconic personas, from Ziggy Stardust to Aladdin Sane. Fans of the decades-old shop can pick up a page turner in the form of The Piccadilly Records Book, which is being sold for a mere tenner on the day.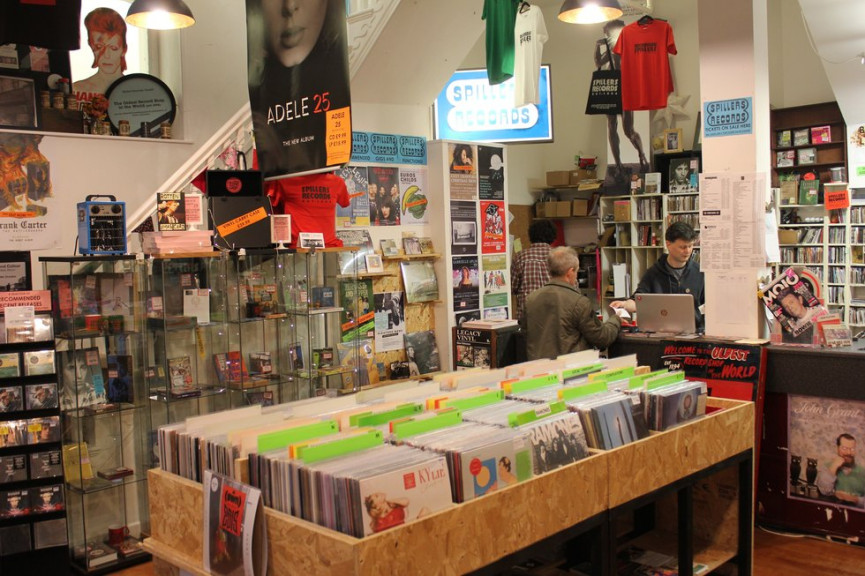 Wales
Diverse in Newport is hosting a line-up of local bands, Derrick's Music in Swansea is giving away a Rega RP1 turntable, and Spiller's in Cardiff is the oldest record shop in the world (not to mention a treasure trove for collectable Welsh vinyl).
It's also worth heading to Head, the new kid on the block among Cardiff's record shop roster. Another one of those priceless Pete McKee turntables is being raffled off here, and they've got a sterling selection of live music too.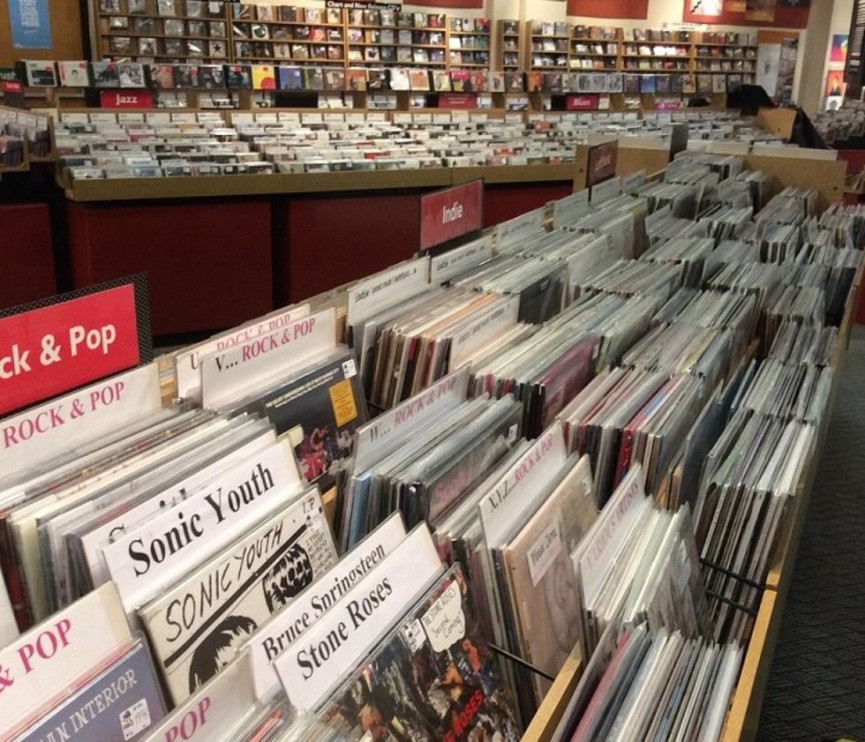 Leeds
Jumbo Records has Leeds' most alluring line-up of live music for Record Store Day 2016, with a full-on gig taking place against the backdrop of blissed-out vinyl hoarders. Artists playing include C Duncan, Allusondrugs and Recreations.
Special offers and freebies are up for grabs, too, so get down to the St John's Centre from 8.30am and show some love to this true Northern powerhouse.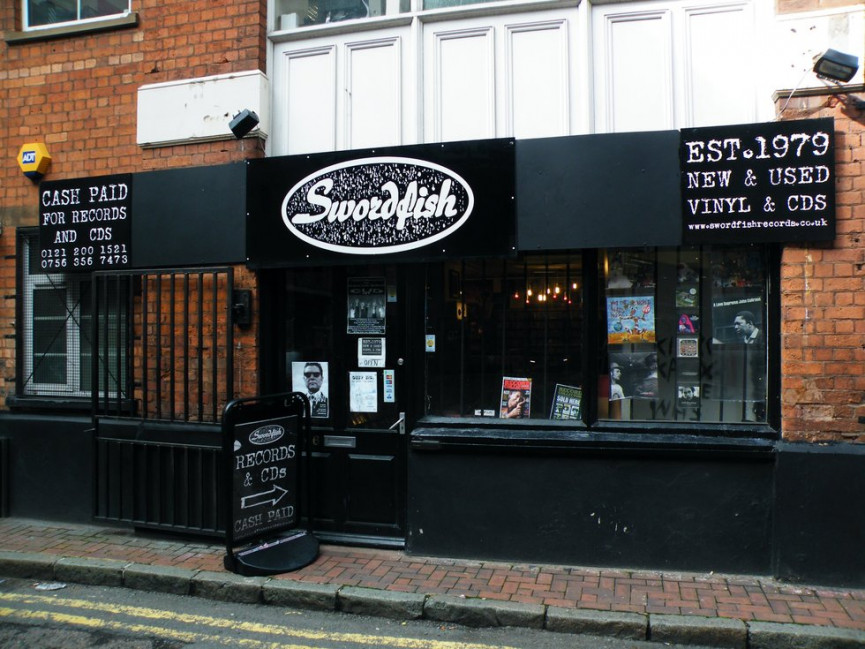 Birmingham
Brummies will probably want to head straight to Swordfish Records and browse its ocean-spanning array of Record Store Day exclusives. If you're hardy enough to make the front of the queue before the shop's 9.30am opening, the friendly staff here promise free coffee.
After you're done geeking out over picture disks and gatefold sleeves, it's worth making the commute over to Coventry where Frank Harvey is giving away turntables and headphones in one of this year's biggest RSD prize draws. Top prize is a limited edition Rega RP1 turntable designed by artist Pete McKee. Your new purchases would look pretty sweet spinning around on that bad boy.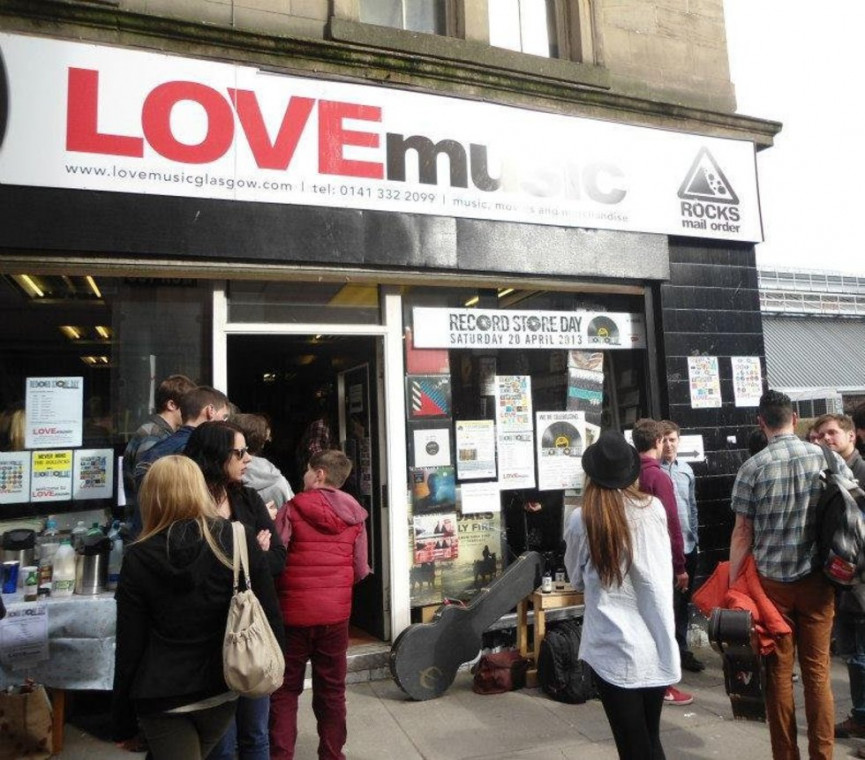 Scotland
Love Music in Glasgow sets the bar high for Record Store Day celebrations in Scotland, promising live music, DJ sets, cake and free tea. Fellow Glaswegians LP Records come pretty close, with their own mini-festival of performers to entertain patrons throughout the day.
Over in Edinburgh, VoxBox Music are having a double party: it's their fifth birthday. Tons of live bands will soundtrack the celebrations, and you'll also be able to bag some exclusive RSD swag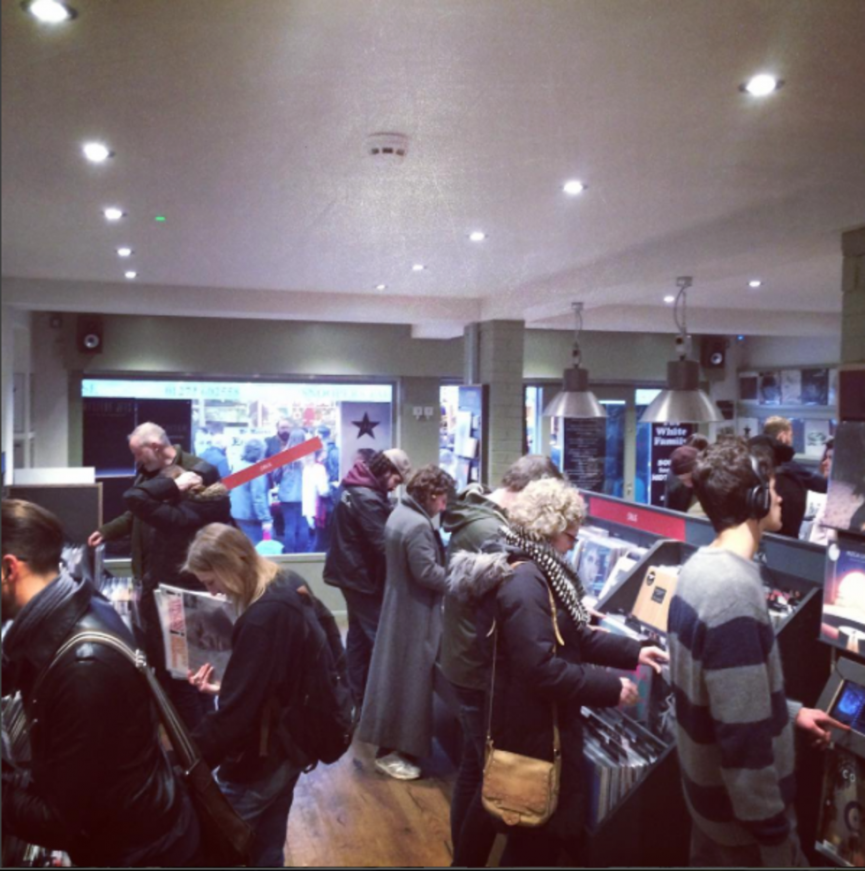 Brighton
Resident Music is the place to be in Brighton. If you're queuing early for this year's exclusive releases, wake yourself up with a live set by Hannah Peel and her Music Box at 8am.
Once you're suitably stocked up on records, get on over to Brighton Dome, where Resident are teaming up with promoters Spectrum for a day-long festival. Local favourites on the bill include Tigercub, Gang and Normantonton Street. Apparently there's a 'record creche' on hand at the venue to keep your morning purchases safe. Genius.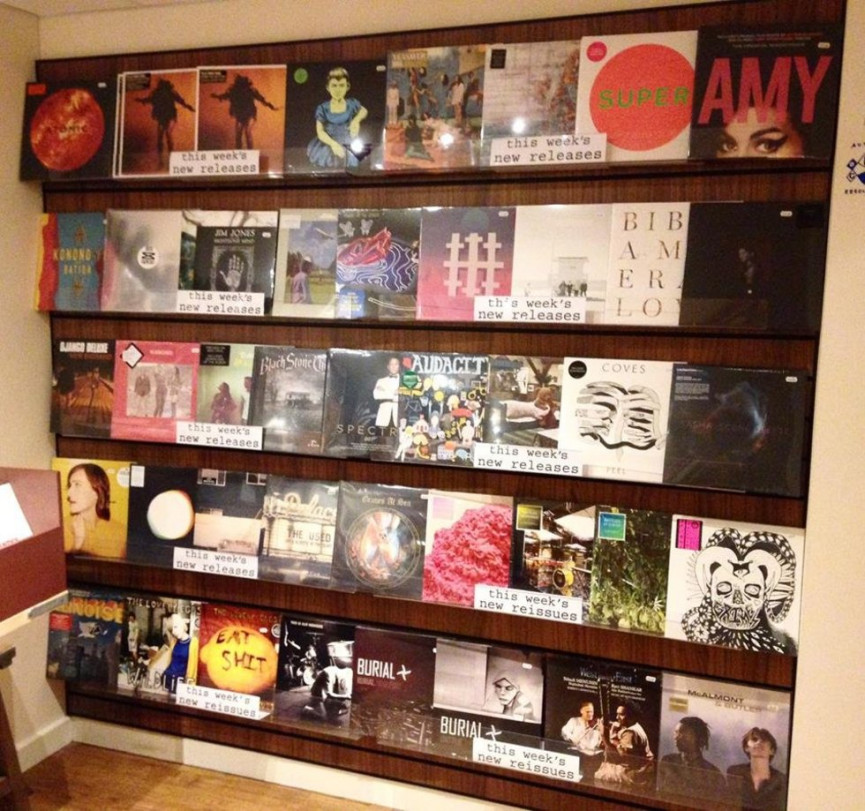 Cambridge
We Brits love a good queue, and Relevant Record in Cambridge is no exception. It's first come first served here on Record Store Day, but arriving early doesn't mean shivering in the streets for hours. The record shop-cum-café has a ticketing system in place, meaning you can warm up with a cuppa at 6am without losing your place among the vinyl hunting masses.
Live music from noon means it's worth sticking around after you've bought your records, although you might prefer to check out one of the other shops taking part: a bus ride to nearby Buckden means you can make the most of The Vinyl Revival Store's vintage record selection and free beer. You heard. FREE BEER.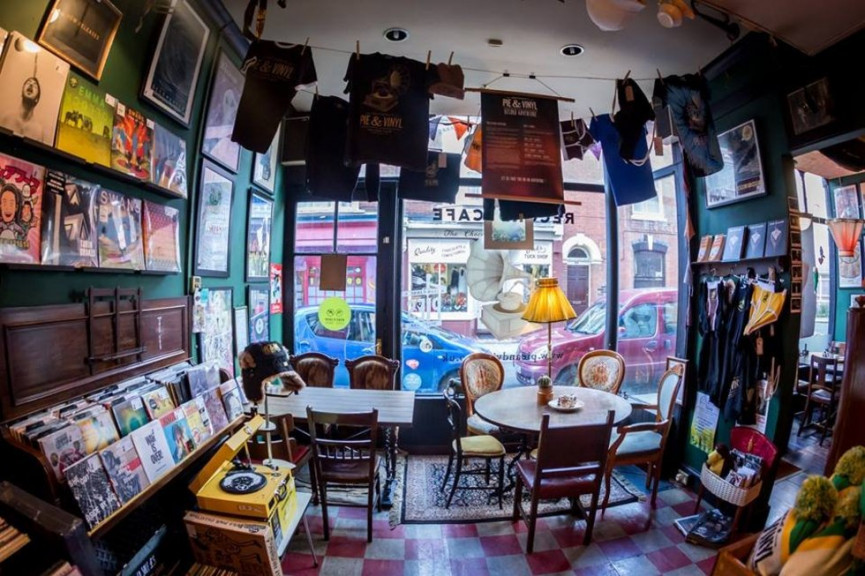 Portsmouth
What's not to love about Pie and Vinyl in Southsea? These champions of all things round and tasty are putting on one of the best Record Store Day celebrations in the country: a delectable two-day feast of music, headlined by the mighty Band of Skulls.
Not content with keeping the noise contained within the walls of their esteemed record café, Pie and Vinyl is taking the party to the streets, specifically Castle Road. Other local traders will be getting involved by selling street food, vintage clothes and (obviously) records.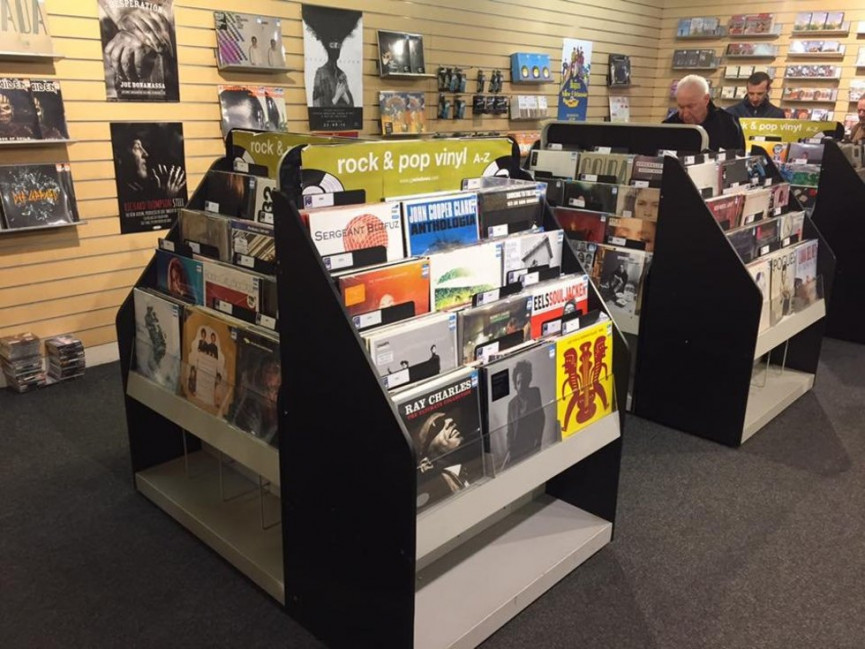 Newcastle
Contrary to the name, JG Windows isn't a double glazing specialist: its actually one of Newcastle's most respected music stores, selling everything from instruments to EPs.
All kinds of hijinks will be happening here on the 16th, including live music outside the shop from 10am until 4pm, plus competitions where you can win amps, speakers and one rather expensive turntable. Not to mention the small matter of a free bacon or sausage sandwich for the first 20 people through the door. Jimmy Nail would be proud.