ShortList is supported by you, our amazing readers. When you click through the links on our site and make a purchase we may earn a commission.
Learn more
GCHQ have finally cracked Frank Sidebottom's secret coded messages
"Why does my nose hurt after concerts?"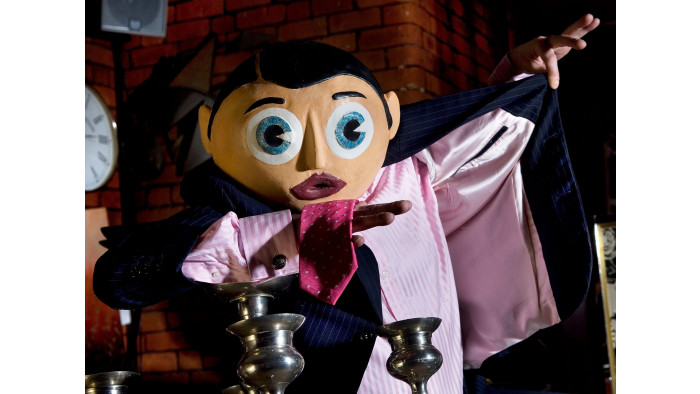 Enigmatic cult comedy character Frank Sidebottom was known for many things – not least wearing a giant papier-mache head at all times. Many fans will also be familiar with his 'secret codes' – messages that he put in album artwork and on the covers of newsletters, zines and football programmes.
And finally, nearly ten years after creator Chris Sievey's death, it looks like they've been cracked by none other than GCHQ itself. 
Many of you will know of Sidebottom from Frank, the 2014 film inspired by the character. Frank follows Domnhall Gleeson as an aspiring musician who finds himself part of a pop group led by enigmatic big-head-wearing Frank, played by Michael Fassbender. Co-written by Jon Ronson, the film was originally a true-to-life account of his time in Sidebottom's band in the late 1980s; it later morphed into the fictional depiction we all know and love. 
He was an enigmatic and fascinating character in reality, too, as his penchant for leaving coded messages probably attests. 
GCHQ got their hands on the codes after Steve Sullivan, director of a new documentary about Sidebottom, decided to try to crack them.
"My own attempts to crack it proved absolutely futile," Sullivan told the BBC. "I spent a while just looking at them going, 'What could he be saying, what could this mean?'"
"But it was impossible to crack them, and it was entirely plausible that there wasn't a code there and that he was just winding people up."
But even they seemed unable to crack the code – until one of Sievey's children revealed that the outer row was full of random symbols, leaving just the inner row to work out. 
"By letting his kids add nonsense into the message, it deliberately obscures the chances of anybody - even top mathematicians - being able to crack it. So I reported back to GCHQ that the outer ring is a red herring and then had an email one day saying, 'Right, we've cracked it during a light-hearted training exercise'," Sullivan says.
And in a ridiculous twist of fate worthy of Sidebottom's uniquely surreal humour? Sievey's code grid was found the day after the codes were finally cracked.
"It was almost like he was going, 'There you go, now we've all had our fun, there's the explanation'," Sullivan concluded. 
Image: Getty
Related Reviews and Shortlists