ShortList is supported by you, our amazing readers. When you click through the links on our site and make a purchase we may earn a commission.
Learn more
"I've eaten pure fat as a meal": A former World's Strongest Man reveals all
Including the specifics of consuming 12,000 calories a day Hi Eddie. How's it going?
Good, thanks. I'm at Manchester Airport right now. Off to Portugal with my wife and kids. First holiday in seven years.
You're 6ft 3in and 29 stone. I'm guessing plane travel isn't hugely enjoyable.
I don't fit into normal-sized seats. I've snapped mates' sofas in half, I've broken restaurant chairs. So, yeah, flying can be frustrating. It's cramped, the food's crap, it's hard to keep hydrated. It's a good job I've got my kids with me this time, because I'll just put them either side and take up half of their seats. But I've been to Australia in economy, and that was horrendous. You drop a few painkillers and try to zonk out, but it's still a nightmare.
Do you get recognised when you're out and about?
Oh, I can't even go to Tesco any more, mate. I'm already noticeable because of my size, but since winning World's Strongest Man [in 2017], it's got worse. Even just now, going through security, the airport staff all wanted a photo.
Do people ask you to lift them up and arm-wrestle them?
People want you to crush them, to sit on them. You even get people wanting to buy your underwear. Loads of weird stuff. I don't ever do it. There are strongmen that have done that, though. It's lunacy to me. Do you have any rituals or superstitions when you're lifting?
I just go into my own little dark zone. You have to think really horrible thoughts when you're going into big lifts. When I pulled the 500kg deadlift [in 2016, setting the current world record], I imagined both my kids were trapped under each side [of the barbell] and I had to pull the weight off them. That's a unique thing: not many people are able to flick that switch on and off. I did some filming recently with Anthony Joshua, and he has the same thing – he's got this switch he can flick to turn into a killing machine.
Is it true you lost your vision temporarily after that deadlift?
Yeah. I collapsed backstage and the paramedics were straight on me. My blood pressure was through the roof. I had symptoms of concussion for two weeks afterwards. And, yeah, I lost my vision for a while. Years ago, my eyeball actually came out of my skull while I was lifting. I had to force it back in with my hand, and then I carried on training.
Nice. You've started branching out into acting recently, with a small role in last year's Transformers movie. Was that a good experience?
Erm, I'd say it was an experience. I wouldn't say it was a good experience. I did three days filming and it turned out they didn't use much, which happens a lot in the film industry. But it gave me a good insight into what I'm getting into. It's hard work. I'd love to star in a film, though. Playing the hard nut is the obvious choice, so what I'm practising in acting lessons is everything but that – drama, comedy, romance. Everything except the villain.
Who's your all-time favourite big-screen bad guy?
Schwarzenegger in the Terminator movies. He's my inspiration. You've got a Terminator tattoo on your forearm. Did you show it to Schwarzenegger when you met him in 2015?
I didn't have it then. But I'm due to do some filming with Arnold next year – I can't say anything more about it at the moment – so, I'll show it to him then.
Schwarzenegger became Governor of California, and The Rock is being badgered to run for president. Have you ever considered going down that career path?
Yeah, of course. I've dominated Strongman, I'm trying to get into acting and, ultimately, I'd like to go on to politics and give something back to the people.
Finally, what are you going to be eating on the plane?
I'll just get a few wraps and some nuts. I don't force-feed any more. When I was training for World's Strongest Man, I had to get 12,500 calories per day. Now I probably eat 8,000. That's enough to keep me ticking over.
What's the worst thing you've eaten during training?
I've eaten pure fat. As a meal.
How do you keep that down?
If you add a bit of mustard and hold your nose, you can eat anything.
Strongman: My Story by Eddie Hall is out now
(Main image: Rex/other images: Getty/AllStar)
Latest
Health & Fitness
The best meal replacement shakes: from Huel to Jimmy Joy
Health & Fitness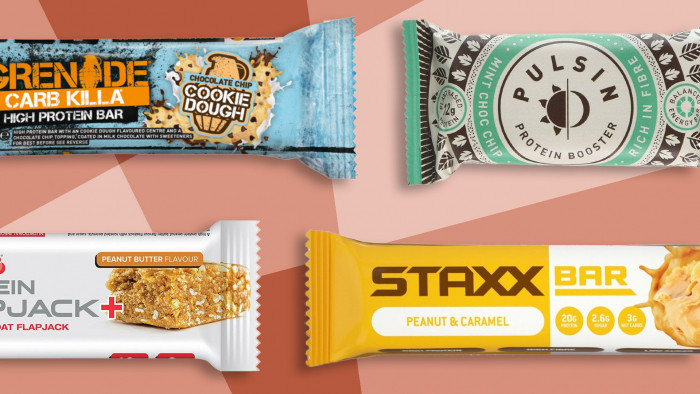 Best protein bars 2020: fuel your fitness
Related Reviews and Shortlists