ShortList is supported by you, our amazing readers. When you click through the links on our site and make a purchase we may earn a commission.
Learn more We all know now more than ever how special it is to be able to spend time outdoors. That feeling of a long hike, bike ride or run simply can't be beaten and is the perfect antidote to these trying times.

When embarking on an outdoor adventure, it's essential that you have with you the right equipment, and when it comes to your choice of smartwatch, HONOR has got you covered.
UPDATED: You now have the chance to win an HONOR GS Pro along with the brilliant HONOR ES Watch in our exclusive competition. This brilliant smartwatch bundle is worth over £300. Just click here for more details and to find out how to enter.
HONOR is a company obsessed with design and creativity, offering unforgettable experiences with the technology it creates and this can be seen in the stunning HONOR GS PRO smartwatch, compatible with both Android phones and iPhone.
The HONOR GS PRO is built to withstand whatever the world throws at it, and then some. It's a smartwatch for those looking to enrich their lives while embarking on their latest adventures. Whether that's through its intelligent fitness tracking, top-class navigation or detailed data about whatever surroundings you find yourself in, it's a smartwatch that is your ultimate outdoor companion.
Here are 5 things to know... 1. The HONOR GS PRO is built to withstand the toughest of environments

When we say tough, we mean TOUGH. The HONOR GS PRO has been put through some arduous testing to make sure it can withstand pretty much any environment it's in. In total, the smartwatch has gone through 14 different MIL-STD-810G tests. These tests are of United States Military Standard and comprise temperature-humidity-altitude resistance, salt spray, sand resistance and humidity resistance.
Before it could pass HONOR's rigorous testing procedures, the smartwatch had to withstand temperatures as low as -40°C and as high as 70 °C. It went through 96 hours of salt spray and 240 hours of humidity testing. So when HONOR says it can withstand the toughest of environments, it really means it.
2. The HONOR GS PRO has been designed for those with a sense adventure

As well as being one tough cookie, the HONOR GS PRO has a number of design flourishes that are ideal for those of you who are urban adventurers and adventurers at heart. The exterior, for a start, is rugged. It's been crafted with mechanical precision to survive those aforementioned tough environments.
Its ruggedness is complemented with a fantastic amount of personality and a wide range of creative, stylish watch faces, that will match your look to whatever outdoor adventure you are having. 3. The HONOR GS PRO has a battery life that won't let you down
25 days. That's how long the HONOR Watch GS Pro can last on a single charge if you are a typical user - and it will last an impressive 14 days if you put it under heavy usage.

When you are out and about, with the outdoor GPS mode on, then you will still get a fantastic 100 hours' battery life. In short: you don't need to worry about running out of battery when on your adventures
4. No matter what your sport, the HONOR GS PRO is there for you
With over 15 professional workout modes and 85 customised workout modes, it really doesn't matter what your sport of choice is, the HONOR Watch GS Pro will be there for you. If you are a skier, then you'll be pleased to note that this smartwatch can track the following: the number of runs, distance, trail time, maximum speed, maximum steepness, vertical ascent and descent, altitude, heart rate, and calories burned.

And it's not just sports tracking, the HONOR Watch GS Pro has everything you need for a comprehensive view of your health. Whether you want 24/7 heart rate monitoring, full sleep tracking, or to monitor your blood oxygen level, the HONOR Watch GS Pro has you covered. 5. The HONOR GS PRO is your ultimate outdoor guide
There are some fantastic feature flourishes that really make the HONOR GS PRO an essential smartwatch for the outdoors. One of our favourite features is something called Route Back. While the GPS is there to help pinpoint where you want to go on an adventure, Route Back helps you get back to your original position with ease. Even if you have gone down the road less travelled, this really is a fantastic feature.
And it's not the only one. The HONOR GS PRO is bursting with data to help you plan your day's adventures. From sunrise and sunset times, bad weather alerts and tidal information, it really has it all.
You can also answer calls through the HONOR GS PRO. Thanks to its built-in speaker and microphone you don't have to whip out your phone to answer calls even, which is great news if you are cycling or climbing.
Oh, and we haven't even mentioned that it is a damn-fine watch, too!
SAVE £30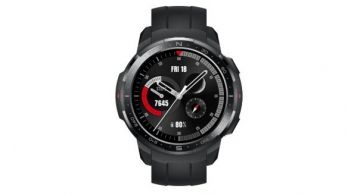 HONOR Watch GS Pro (Charcoal Black)
£219.99 - was £249.99
HONOR's ultra-slim sports watch with a 25 day battery life, voice calling, music playback and sleep tracking in an attractive charcoal black. Currently there's a £30 saving to be had.
View now at Argos
SAVE £30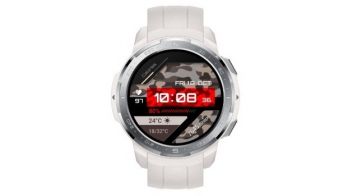 HONOR Watch HS Pro (Marl White)
£219.99 - was £249.99
HONOR's ultra-slim sports watch with a 25 day battery life, voice calling, music playback and sleep tracking in white. And you can save £30 on the usual asking price at Argos.
View now at Argos
Related Reviews and Shortlists