ShortList is supported by you, our amazing readers. When you click through the links on our site and make a purchase we may earn a commission.
Learn more
Xiaomi 11T Pro review: a super speedy mid-range masterclass
With game-changing charging tech, this affordable phone stands out.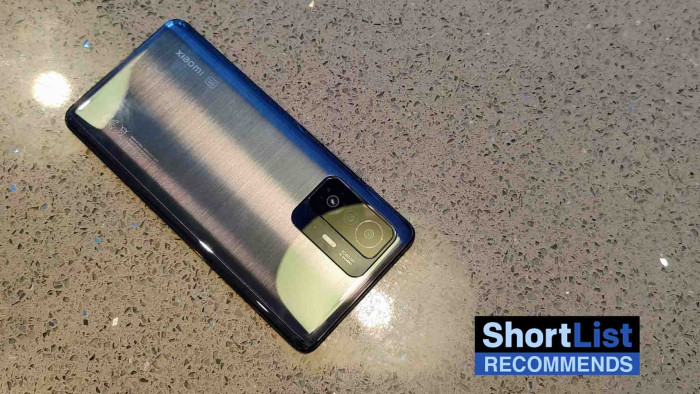 It's no longer all about Mi for Xiaomi. The phone giant has ditched the Mi moniker, opting for a cleaner name for the Xiaomi 11T range.
These mid-range phones are variants of the Xiaomi Mi 11 series, offering faster (blisteringly so) charging and some impressive specs at a price that is very competitive.
While there are a few niggles along the way, Xiaomi is once again showcasing to the world just why it has had such a stellar year, which has seen it overtake Apple as the second biggest smartphone manufacturer - just behind Samsung in the list.
We have been playing with the Xiaomi 11T Pro for a few weeks now - here are 5 things to know…
1. The Xiaomi 11T Pro is one big phone The first thing you notice about the Xiaomi 11T Pro is that it is one big handset. The screen is massive, at 6.67-inch. It's AMOLED and is only blemished by a punch-hole camera at the top centre of the screen.

The screen is flat (no curves here, unlike its predecessor) with a bit of a bezel, but it's pretty much edge to edge and lovely and bright, too. Xiaomi is quoting 1,000 nits brightness and we aren't going to argue.
In the hand it sits comfortable, but being left-handed it was a bit awkward to use. This is because Xiaomi has insisted on putting the fingerprint sensor on the right-hand side of the device via a button - which is all well and good for you right-handed folks but us using the devil's hand means that you may struggle a little.
The 11TPro has an interesting speaker setup, with speakers at both the top and bottom of the device. Another niggle is that there is no 3.5mm jack (at its price point, this may have been welcomed by some) but Xiaomi has seen fit to put an IR blaster on the device, so if you fancy using your phone as a remote then you can. Anyone?
2. It's a great-looking phone... just mind the fingerprints We are really impressed with the flat screen of the phone. It might be too big for some but we are never going to complain about having too much real estate. Plus, it was comfortable to use and the weight is fine at 204g. We would have liked more than the 1080p it offers but coupled with a 120Hz refresh rate, and Dolby Vision, it's crisp and clear.

The back of the phone is stylish but it loves to pick up a fingerprint or two. This isn't a huge issue but for those who like their handsets to be pristine, you might want to invest in a phone case. The colours are great, though - it comes in white, blue, or grey (reviewed) - and the camera bump on the back is one of the nicest we have come across. It's highlighted by a black lozenge and nestled on the top left of the device.
3. The 11T Pro packs an almighty processing punch To make sure that the phone doesn't suffer when you put it through its paces, Xiaomi has added a Snapdragon 888 chip and we are very happy about that. It's a powerful processor, one that is usually reserved for the more premium handsets, and it shows.
Whether playing games on the thing (a bit of CoD: Mobile), doom scrolling or listening to music (Bluetooth only, mind), there's a real smoothness to the way the phone works.

We're also big fans of HDR10+ on the device. This really pushed up the quality of our movie watching - even though the screen isn't 4K, the addition of HDR really improves on colour clarity.
The addition of Harmon Kardon tuned speakers (as mentioned, on the top and bottom of the device) really does add an oomph when you are listening to something not through headphones. This doesn't mean you can use the speakers on the back of the bus, mind - that's always going to be a no-no!
4. The cameras are decent, cinematic even The headline grabber here is that Xiaomi has opted to add in a 108MP lens (thanks to some impressive processing) to the Xiaomi 11T Pro. While you should never be dazzled by big MP numbers, in our test this really is a decent lens, taking bright and detailed pictures.
This camera is backed by an 8MP wide-angle sensor and a 5MP tele-macro lens, which has a 2x zoom.
If you fancy yourself as the next Spielberg then having 8K video on board (that can be shot with HDR 10+) really is impressive. There is also a pro video mode to back this up with a number of movie flourishes and a 'one-click AI cinema' mode.
5. This is one of the fastest charging phones we've ever tested 20 minutes. That's all it took to charge the Xiaomi Mi 11T Pro, thanks to its 120W Xiaomi HyperCharge tech.
Nope, that's not a typo: from empty to full it's the speediest we have ever charged a phone and it's pretty jaw-dropping. And Xiaomi even quotes that it should take even less time, 17 minutes so you might even find your handset charges quicker.
Having this sort of charging speed changes your whole outlook on how you use a phone. We found ourselves no longer charging overnight but just giving it a small burst in the morning while we showered.
And even when you don't charge, you will get around 15 hours out of the handset. Charging was not a worry on this phone and it's rare that we say that.
Xiaomi 11T Pro review: Final Verdict Xiaomi is riding high in the most popular phone manufacturer rankings right now and it's easy to see why. The Xiaomi 11T Pro proves once again that it knows how to create a mid-range handset that has been supercharged with premium specs.

Granted, we would have preferred a 4K screen and for the phone not to be quite as chunky. But with its powerful camera, ridiculously good charging capabilities and speedy processor it's a fun phone to use - and one that pretty much eliminates battery life worry.
Related Reviews and Shortlists