ShortList is supported by you, our amazing readers. When you click through the links on our site and make a purchase we may earn a commission.
Learn more
Sonos Sub Mini review: a big sound in a small-ish package
5 things to know about the latest big-sounding Sonos release.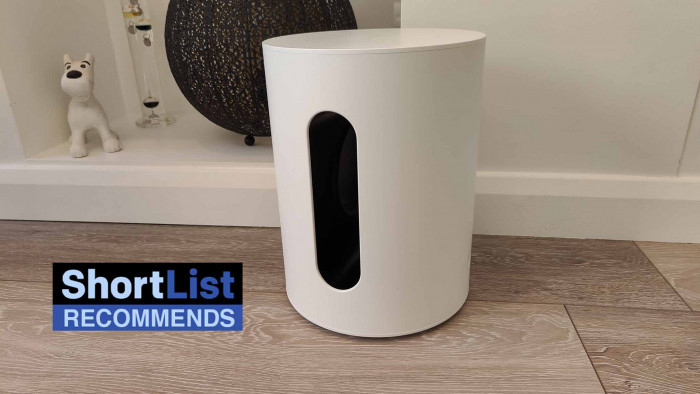 Sonos has been on a mission of late to make sure that smaller spaces don't miss out on big sounds and its latest release, the Sonos Sub Mini, is testament to this.
Its mini adventure started with its soundbars. The Sonos Beam was a brilliant smaller-sized soundbar, compared to the Arc, with big ambitions. It was suited to TVs from 32 inches and above and the only trick it was missing was Dolby Atmos compatibility. The second generation thankfully remedied this.
For those who wanted a cheaper alternative, the newer Sonos Ray proved an ideal fit - a soundbar that pared back the smarts and focused on making your movie nights sound better.

Now, Sonos have taken this a step further and added another component to its small-sized AV setup, The Sonos Sub Mini.
UPDATE: We've updated our Sonos Sub Mini review as the subwoofer is out now to buy from Sonos. Previously it was only available for pre-order.
As the name suggests, this isn't Sonos' first rodeo in the sub sector. It's nearly a decade since Sonos unleashed its original Sonos Sub on to the world, a device that was praised at the time for its big bass and wireless capabilities. A second gen version was released in 2016 and refreshed once more in 2020.
And now on to the latest addition, the Sonos Sub Mini: is it a Sonos device that will appeal to the masses? Here are five things to know…
---
1. Its design is familiar, beautifully so The original Sonos Sub is a square slab, with its powerful speaker system found in the middle of the device. It is a bulky, thing (15 inches in height and width) and is meant for a powerful home cinema setup - the fact you can pair two subs together for deeper bass proves this.
The Sonos Sub Mini is certainly not a replica of the full-fat Sub. It's been given a round design so that it 'blend' into the home furnishings of your room that little bit more. This isn't a slab to stare at, but a piece of audio equipment that wants to be heard and not always seen.
Given the Mini title, we were actually expecting something a little smaller but its dimensions are still sizeable. It measures 9.1 in (230 mm) in diameter and 12 in (305 mm) in height. Think the size of an office pedal bin and you are close.
The rounded design does make it far more aesthetically appealing than the original, though, and certainly doesn't scream "AV GEEK!" at you.
As you can see from the images, the white version of the Sub Mini (it also comes in black), fitted into our dining room setup well and within a few hours of it being in that room it was already part of the furniture.
We are fans of the new design - it has a lot in keeping with the design of Sonos smaller solo speakers, such as the Sonos One.
Weight wise, it is far lighter than the original Sub which was a portly 16kg. The Sonos Sub Mini is a far more svelte 6.35kg.
2. Setup is simple and quick Connecting the Sonos Sub Mini to your existing Sonos system is effortless and all done through the Sonos app. NFC is used to link the device up and there's no having to mess around with adding in your Wi-Fi password, as you have already given Sonos those details.
When it is ready - there will be an update which takes a few minutes - then you are asked which Sonos device you would like to set your Sub Mini up with. If you don't do this, then it stays as not assigned in the Sonos app.
From unboxing to trying the Sub Mini out, it took under 10 minutes which we were impressed with.
If you want to hard-wire the sub for a better internet connection, then you can also do this with an Ethernet cable. This will restrict a little where you put the Sub Mini, though. Not that it matters...
3. Where you place the Sub doesn't matter (too much) This is a sub that's designed for a more compact setup, but everyone's rooms are a little different so where you place the Sub Mini may be different from where we placed in (in front of the TV, two metres from our arm chair).
It's great then, that you can fine tune Sub Mini's sound with Trueplay. This audio tech has been around for a while now (since the launch of the redesigned Play:5) and it detects and adapts the speaker's sound for reflections off of walls and furniture. The idea is that this will give you the best listening experience for your room and setup.
It really does work, we waved our iPhone around the room after setup and it meant that the bass was better served than what it sounded straight out of the box.
4. Sound is powerful, rattling the bones not the box To try the Sonos Sub Mini out (sorry neighbours), we first loaded up Disney Plus and put on Andor. The deep rumblings of the space battles really got the Sub Mini working, with the sound more expansive than when we tried it without the Sub Mini working.
There is EQ customisation in the app, if you fancy your bass to be a little more booming but we were happy with the sound as it was.
The Sub Mini can get as low as 25Hz and this was certainly tried when we swapped Andor for Spider-Man: No Way Home.
There is a deep bass used throughout Michael Giacchino's score and we really perked up with the foreboding rumble.
The great thing about the Sonos Sub Mini is that it really does keep the bass within its confines - we heard no annoying rattling from the device, thanks for the sealed cabinet, just precise booms coming from the dual 6-inch woofers.
5. And it's not just for movies We found assigning the Sonos Sub Mini to other speakers really easy in the app, so while we initially tried out the Sonos Sub Mini with the Sonos Beam, we also hooked it up to our Play:5 and tried the sub with our music collection.
Up first was, obviously, Fleetwood Mac's The Chain. The bass in this one was crisp and reverberated nicely around the room. Massive Attack's Angel gave it a real test and the Sonos Sub Mini passed admirably. We couldn't let the sub go without giving Passing Me By by The Pharcyde a whirl.
Again, the sub handling the lower frequencies while the Play:5 focused more on the mid-range and high frequencies meant the sound was richer for it.
Sonos Sub Mini: Final Verdict The Sonos Sub Mini is perfect for those whose TV room isn't huge. And because of this, Sonos is recommending that the Sub Mini is used in conjunction with one of the following Sonos devices: the Sonos Beam, Ray, One, One SL and Play:1.

It's still a sizeable device, though, and at £429 / $429 the price is premium enough for you to think: do I really need a sub in my Sonos setup? When it came to our tests, however, the results were a resounding: YES!
The Sonos Sub Mini is available now from Sonos.
These are the best Sonos speakers: find the right one for your setup now.
Related Reviews and Shortlists