ShortList is supported by you, our amazing readers. When you click through the links on our site and make a purchase we may earn a commission.
Learn more
OnePlus 8T review: 5 things to know
OnePlus has released many a phone of late, but it's still offering surprises.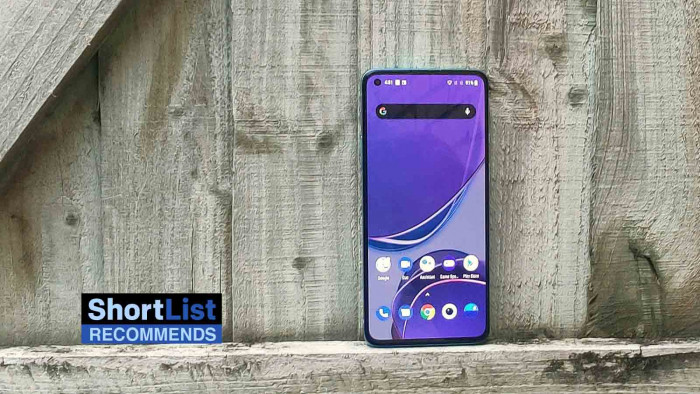 OnePlus has a new flagship, the OnePlus 8T. It's been something of a whirlwind year for OnePlus. Usually a company that releases just two ranges we've had an extra handset to play with and recent news that its co-founder Carl Pei has left the company.
There's the OnePlus 8 range (the OnePlus 8 and OnePlus 8 Pro) and the affordable mid-range maestro, the OnePlus Nord. Given we billed the 8 Pro as OnePlus' greatest-ever flagship, the OnePlus 8T has a lot to live up to.
Coming a mere day after the iPhone 12 launch, does the OnePlus 8T have enough to shine? We've been playing with the phone for some time now - here's 5 things to know about the handset…
1. Flat-screens are back with the OnePlus 8T The OnePlus 8T has the first-ever 120Hz flat-screen display. This is a departure from the OnePlus 8 which had curved edges. To give the display its proper name, it's a 120Hz Fluid AMOLED which measures 6.5 inches.
The flat screen does take some time to get used to - there's definitely an edge to it that takes some getting used to when you are holding it, but the advantages are there - viewing in bright sunlight (yep, we found some), there wasn't the glare you get from curves. And it really does help when playing games on the device - and, as you'll find out, you will really want to play some powerful mobile games on this thing.
Colour-wise, things ping as you would expect. Its peak brightness is 1,100 nits which means that sunlight really isn't an issue here.
OnePlus has been tweaking the brightness behind the scenes too, so it will adapt better to the environment you are in. It is boasting 8,192 levels of brightness - this is noticeable when you toggle the brightness bar (which is now bizarrely controlled by an AI algorithm) as it's super smooth.
The 120Hz screen is one of the smoothest on the market and means that transitioning from different apps, Netflix and the like is completely glitch and judder free.
2. The OnePlus 8T is definitely in charge We really did have an 'holy shit' moment when using the OnePlus 8T and that is to do with its charging. For this phone, OnePlus has introduced a Warp Charge 65 charger. The downside to this is that it's taken wireless charging off the menu.
But back to the charging: our handset was down to 12% and we plugged it in and could see in real time the percentage going up - it's that fast. The science behind this is "twin-battery charging technology" which fills the 4500 mAh up with juice super quick. In our tests, the phone went from empty to full in around 40 minutes. To go from 12% to nearly 60% it did this in 15 minutes.
This is genuinely ground-breaking technology and while we feared the phone would heat up because of this, OnePlus has added a brand-new cooling system in the phone. There's 12 temperature sensors on board so this phone is getting its temperature checked more times than a school kid in their primary. We felt a little warmth near the USB-C slot but that was it.
3. Design is refined, not radically different OnePlus certainly hasn't made any daring design decisions with the One Plus 8T. It's given the phone a slightly brighter colour scheme (when compared to the OnePlus 8) but retains the anodized aluminum frame. OnePlus reckons that the new colour "takes advantage of diffuse reflection" but we just reckon it reduces annoying fingerprint splodges.
It's worth noting that there are two colours tied to different specs (more on this below). Aquamarine Green is the higher specc'd model and glossy, Lunar Silver has a matte finish.
As mentioned, the straight edges of the screen are the biggest change on the front and there is more of a bezel around the screen because of this.
The pin-hole camera is still present and correct, as is the physical flick switch on the side to change it from silent to sound. A fingerprint scanner is built into the screen, as before, and there is no headphone jack.
Flip the phone over and it's great to see that OnePlus has tidied up the camera array. Where, on the OnePlus 8 Pro, the camera is in the middle with sensors to the side, the camera bump is more of a lozenge on the top left and it incorporates all of the lenses and sensors. It's much neater in our opinion.
4. The monochrome lens is back There are four cameras on the OnePlus 8T but it is the relaunch of the monochrome lens that makes us very happy.
It is exciting to see the lens back and makes us think that OnePlus is going back to basics with its innovation. To give this context: a monochrome lens was a feature of the OnePlus 7 but it was replaced by a software feature in the OnePlus 8. This was disappointing as a bulked up filter can't really do the same as a dedicated lens.
OnePlus then tried to get creative with one of the lenses on the OnePlus 8 (which had a macro lens) and the OnePlus 8 Pro (a weird colour filter lens). Neither really worked so it's great the monochrome lens is back - it takes brilliant B&W photos with real contrast in the images.
This lens is complemented with a 48MP main camera with optical image stabilization, a 16MP ultra-wide angle lens, and the dedicated macro lens we just mentioned.
The ultra-wide is really impressive, offering 123-degree shots and the phone's image stabilisation has really been ramped up when it comes to video.
There is also a new bokeh effect for video portrait mode which is fun but not really needed.
When it comes to the cameras, the biggest upgrade from the OnePlus 8 here is definitely the monochrome lens and we are glad it is back.
5. There's 5G and a whole lot of power here The OnePlus 8T is a 5G phone which will come as a surprise to anyone who watched the Apple iPhone 12 launch as Tim Cook pretty much made it sound like Apple had invented 5G.
To get those speeds it's added in the top 5G chip at the moment, Qualcomm's Snapdragon 865. Interestingly, Google side-stepped this chip to make sure the Pixel 5 is affordable but the OnePlus 8T has it and is a similar price (if you go for the 8GB RAM / 128GB storage option).
There are two storage options on board and these are tied to the colours: Lunar Silver is 8GB RAM / 128GB and Aquamarine Green is 12GB RAM / 256GB storage.
We are really impressed with OxygenOS 11 as well. This is the closest you are going to get to a pure Android experience via a manufacturer's skin and there are some really nice new features on board. The include an always on clock option and improved Zen move and better one-handed gestures and voice notes that can be transcribed straight on the phone.
Couple this with a decent Dark Mode and what you have is a really intuitive operating system.
OnePlus 8T: Final Verdict
The OnePlus 8T is another souped-up powerhouse from OnePlus. It is a phone that sits high among its peers for tech specs and camera functionality. While in the OnePlus line-up, it doesn't quite hit the heights of the OnePlus 8 Pro but it is well ahead of the OnePlus 8 and Nord when it comes to specs.

It's a near flagship for OnePlus and another impressive phone from a company that seems to be releasing new handsets for fun right now.
The OnePlus 8T is available for preorder on OnePlus.com now and through Amazon and the like from 20 October. The Lunar Silver version (8GB RAM / 128GB storage) costs £549, the Aquamarine Green variant (12GB RAM / 256GB storage) is £649.
Related Reviews and Shortlists