ShortList is supported by you, our amazing readers. When you click through the links on our site and make a purchase we may earn a commission.
Learn more
iPhone 15 Pro Max review: 5 things you need to know
Apple's latest super-sized Pro phone is the undisputed champion of the line-up...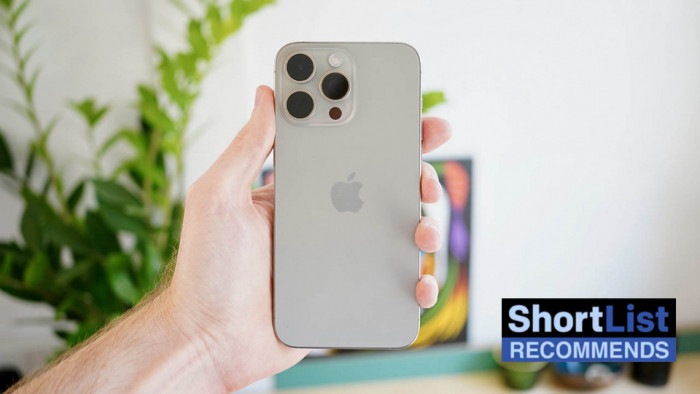 We're not exactly sure where Apple is at with its classic 'tick-tock' smartphone update cycle. This was where Apple used to follow-up a major iPhone upgrade with a lighter one. However, the iPhone 15 Pro Max is certainly giving us 'tick' vibes thanks to an extensive list of upgrades.
It's built from a new space-grade material, features both a new button and a new port, and it even diverges from the standard iPhone 15 Pro with a unique telephoto camera.
Apple still charges £1,199 for the entry model, just like the iPhone 14 Pro Max, but this time it comes with double the storage.
We've been using Apple's latest super-sized range-topper for several days now - here are 5 things to know about the the iPhone 15 Pro Max.
---
1. Apple makes a strong case for titanium Apple has changed the fundamental composition of its flagship smartphone range. Out goes the shiny stainless steel, in use ever since the iPhone X, and in comes a matt titanium frame.
Our model comes in a new Natural Titanium shade that looks pleasingly chic and sophisticated, but the main advantage here is the material makes the iPhone 15 Pro Max both stronger and lighter than before. The sheer heft of the Max range has always made it a tricky customer to live with day to day, and this latest model still won't appeal to fans of smaller phones, but it's undoubtedly an improvement.
It helps that Apple has actually shrunk the phone's footprint somewhat thanks to thinner display bezels in the Pro models, and that it has also rounded off those sharp metallic edges. All of these thoughtful enhancements combine to produce a large phone that's much more pleasant to hold and carry than previous Max models.
2. The iPhone 15 Pro Max is ready for Action If you've come to know and love the iPhone's ring/silent switch, as we have, Apple's decision to remove it for the iPhone 15 Pro Max may cause some mild trauma. Its replacement is a simple clicky Action Button, situated in exactly the same spot, and it's both better and worse than what we had before.
As a straight-up ring/silent switch replacement, it's not as good as the outgoing provision. The long press of a button – no matter how well implemented – will never replace the tactile immediacy of a slider, especially when you're fumbling around in your pocket to silence an incoming call.
However, the new Action Button is a much more flexible tool than the ring/silent switch. While it defaults to a familiar mute function, you can also programme it to open the camera (our preferred use), switch to Focus mode, open the flashlight, start a voice memo, open the magnifier, or run bespoke functions via the Shortcuts app.
3. The iPhone 15 Pro Max gives you all the lenses Count up the lenses on the back of the iPhone 15 Pro Max and you'll arrive at the usual three, but there are sweeping changes to the way Apple approaches photography hidden within.
The most obvious development is the introduction of a new, larger 5x telephoto camera that zooms in much closer than even the 3x camera of the iPhone 15 Pro. Your mileage will vary as to how useful this is, but 5x images taken with this new camera are impressively sharp and stable, and are far more competitive with the top-end Android crowd.
Arguably more important is Apple's switch from 12MP to 24MP images when shooting with the main 48MP sensor. Using a fancy new hybrid image processing technique that will almost certainly be copied by Apple's competitors, regular images now pack in more detail than ever with no loss of shooting speed or features.
This has the knock-on effect of significantly upping the size of image files (at least with regular 1x images taken in good lighting), so it's probably a good job that the iPhone 15 Pro Max starts off with 256GB of storage. Thanks to the flexible way in which Apple's new method processes images, you can set the default focal length between 24mm (1x), 28mm (1.2x), and 35mm (1.5x) with no discernible loss of detail. This is admittedly more likely to be of interest to avid photographers than everyday users, but then this is Apple's Pro-est phone after all. Besides being way more flexible, and taking flat out better shots, the iPhone 15 Pro Max has gotten even easier to use. You no longer need to select Portrait mode when shooting people or pets, but can magically apply the effect afterwards.
Here are a few extra images we took with the iPhone 15 Pro Max, taken with the zoom, standard and ultra-wide cameras: 4. Thanking EU kindly for USB-C Thanks in part to EU objections, Apple has been forced to make the switch from its proprietary Lightning connector to the widely used USB-C standard. This basically means the iPhone 15 Pro Max – and the entire iPhone 15 range for that matter – now uses the exact same port for charging as most laptops, tablets, Android phones, and other smart devices.
Only the iPhone 15 Pro Max and iPhone 15 Pro get the benefit of USB-C 3 data speeds, however, making the connection 10 times faster than any other iPhone model. This lets you do fancy things like recording ProRes video directly to an external storage device at up to 4K and 60fps – a pretty niche use case, admittedly.
Unfortunately, what this doesn't mean is a boost to charging speeds. Hopefully that'll come with future models, but at least the iPhone 15 Pro Max still enjoys great battery life.
We were able to get two full days of light usage on a single charge, while a seriously intensive day with hours of YouTube, web browsing, and iPlayer usage still didn't completely drain the iPhone 15 Pro Max before bed time.
5. Apple's custom processor turns Pro
It goes without saying that performance on the iPhone 15 Pro Max is unimpeachable. Apple's custom processors are the envy of the smartphone business (and indeed the laptop and PC businesses) for their mixture of speed and efficiency.
What's interesting here is Apple has ditched the 'Bionic' moniker and adopted 'Pro' for the first time with the A17 Pro. Perhaps that can be explained by the fact this is the first smartphone chip built using the teeny-tiny 3nm production process. Using smaller transistors means Apple has been able to squeeze more in to the same space, boosting performance whilst reducing power usage.
In practical terms, there's really nothing that can make use of the iPhone 15 Pro Max's power right now, other than those advanced image processing tricks mentioned above. Over the coming months, however, a batch of console-quality games will be coming to the phone.
The likes of Resident Evil 4 Remake and Assassin's Creed Mirage will soon be playable on the 15 Pro and 15 Pro Max, complete with advanced hardware ray tracing lighting effects the likes of which we've only really seen on current-gen consoles and high-end PCs.
Apple iPhone 15 Pro Max: Final Verdict
The iPhone 15 Pro Max is without doubt Apple's best smartphone yet, with a refined design, console-troubling power, and a camera system that leaves other iPhone models in its wake.
For the first time in several years, Apple's expensive super-sizer isn't just bigger, it's also better.
Related Reviews and Shortlists