ShortList is supported by you, our amazing readers. When you click through the links on our site and make a purchase we may earn a commission.
Learn more
Google Pixel Tablet review: 5 things to know
Sitting on the dock of the display, with Google's latest tablet...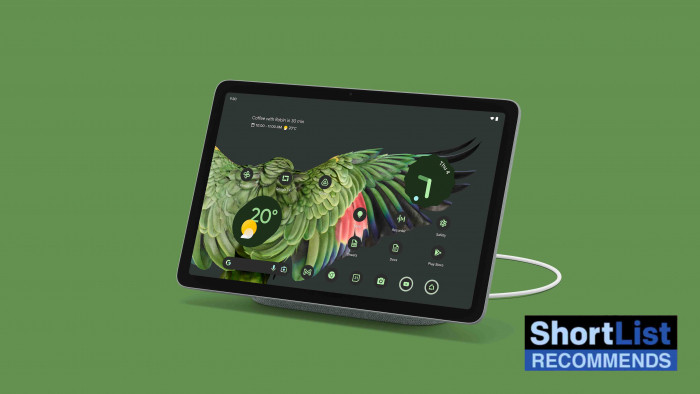 2023 has been a bumper year for Google products. We've already had the Google Pixel 7a, a brilliant simmered-down version of the Google Pixel 7. We've got the Google Pixel Fold to look forward to and the latest release is the Google Pixel Tablet.
The Google Pixel Tablet is a device that's two-fold. It's a tablet first and foremost but it also acts a hub for the home, thanks to its speaker dock accessory.
This puts the tablet in direct competition with Amazon's Echo Show 10 (and its very own Google Nest Hub Max) and gives Google a nice USP over its big rival, Apple and the iPad.
But is a dock enough to make you choose Android over iPadOS? We've been using the Google Pixel Tablet for a few weeks now - here are five things you need to know...
---
1. First, let's chat about the tablet
The Google Pixel Tablet has a 10.95-inch display, with 2560 x 1600 resolution. Its 16:10 aspect ratio means that it's decent for streaming stuff. The tablet has four built-in speakers - they can be seen as small slits at either end of the table - and comes with Google's own Tensor G2 chip.
The tablet comes in three colours: Porcelain, Hazel and Rose and the back is made from nano-ceramic coating, which felt a little like rubber to me. This does mean that when holding it you don't feel like it is going to slip out of your hand at any time.
Turning the tablet on and you can see that there is a slight bezel around the screen, which is about a cm in size.
There are two buttons on top of the device, one for volume control and an on/off button.
Flip the tablet over and there is an 8MP rear camera on the device, which has the same specs as the front-facing camera. I also notice four magnets near the bottom of the device, near Google's G sign - these are to connect the tablet to its speaker dock.

2. Now, about that speaker dock
Tablets that come with accessories aren't a new thing but these are usually some sort of stylus or a cover. Here Google has taken a punt and gone for a speaker dock.
It's a genius approach as this isn't just a fancy looking charger but a base that turns the tablet into a hub for your home.
As mentioned, Google has previous experience with this. It has a few varieties of its Google Nest Hub range. But these are designed to stay put in your home, acting as the brains to your smart home. Here, Google has melded hub with tablet and it's a great idea.
The Pixel Tablet Charging Speaker Dock not only keeps your tablet charged 24/7 it also has, yep you've guessed it, a speaker integrated so it can act as your sound system for a room (if this is the case for you, then I would recommend a smaller room but more on that in a bit) and is a great stand for video streaming and the like.
The design of the dock is pretty simple. It has an oval shaped front that the tablet sits on, with four metal buttons that help 'clip' the tablet on to the device. It has a cloth back that hides the speaker gubbins and this also has a little G logo.
Unlike the tablet, the hub has to be hard wired into the mains for it to work.
Interestingly, Google will be selling these docks separately. In theory this means you can have one in different rooms, so you can clip your tablet on to them wherever you are.
This once again proves that Google is really looking at this device as equally a tablet and a home hub, with different uses for both. 3. Punchy performance on and off the hub
This is the first tablet to have Google's Tensor G2 chip which sounds great on paper, but this is the same chip that can be found in its current line-up of phones. Does it have enough grunt then to power a bigger screen?
In short: yes. There was little to no lag in any of the things we tried with the tablet. It didn't even get that warm in the hand when we were using it for long periods.
Google loves to tout the AI powers of its chip and you can see these at work with the tablet/hub combo. The chip means that streaming is of a high quality - we tried YouTube and Netflix on the device and there were rich, glitch-free streams on both. It also means that video calls are of a high quality.
These were really fun to do on the tablet when in Hub mode. Google Meet was a joy to use in this mode which is not a thing we normally say when taking work calls. Multi-tasking was decent, too, and things like voice typing was buttery smooth.
The biggest AI flourishes on the Pixel 7 was the chips ability to help with erasing people out of the backgrounds out of our photographs, as well as the ability to unblur some shots. This is a feature that is also available on the Google Pixel Tablet, but taking photographs on a tablet has always given us the ick so this was a feature that was of little use to us.
4. The hub is the star
Google has played a blinder by adding the hub with its tablet. Now, we aren't knocking the tablet - it's a lot of fun to use. The addition of Android 13 means that it has one of the best OS out there and while we would like to see more tablet-friendly apps, Google has made sure that its suite is tablet ready. It's nice to see the likes of Spotify and WhatsApp all tablet ready, as well.
Add the hub into the mix, though, and this becomes a glorious all-dayer of a device. It can be your alarm clock when in Hub mode, then you can use in the morning to read the news on, watch Netflix on a commute then read a book on it when you are heading back home.
Once home, put it back on the dock and you can catch up with mate over its video calling, listen to music or just play around with your smart home controls. It's a fun, does-everything device.
Now, it's not all gadget glory - the speakers on the hub are good for a small room but I found the sound lost itself in a bigger space.
Multi-apps are decent, though, and you can resize them easily enough through dragging and dropping.
It still doesn't have the might of Apple when it comes to an app store which is perfectly aligned to the tablet format but Google is getting there and it now feels like there is a viable iPad option for those who don't want to switch to Apple.
When you do switch to Hub mode, you can use Google Assistant to get the hub to do things for you, such as play your music and get the latest news headlines and the like. If you are using Google Home, then the smart home experience is seamless through the hub and it's a lovely way to see all the things you control in one place.
Compared to Amazon's Echo Show the device feels far less closed down, too, as you can pretty much use any app when in hub mode (even if they are optimised for tablet or not) and not just a select few.
5. Big battery life
There is some power behind the Google Pixel Tablet. Google has put an 8GB of RAM in there, as well as a 128GB or 258GB storage. This is plenty for your needs, I reckon, and it doesn't seem to impinge on the battery life.
We got a decent 10 hours' continuous use out of the tablet but the need to recharge was never really there, given that we were docking the thing most nights so we could use the hub capabilities.
The dock is the charger as well, but you can just charge the tablet through USB-C if you are using the device on holiday or away from your home for extended periods. Google Pixel Tablet: Final Verdict
The Google Pixel Tablet is a joy of a device from Google. I think if it had just released the tablet on its own, then it would have gotten lost in what is a strong market right now for Android-based tablets (Samsung and OnePlus offer some stellar rivals).
The addition of the hub, however, is a stroke of genius and taps into an area that Google has been strengthening for years now: home automation.
Couple this with it being a solid music speaker and a great streaming device and Google has come up with the perfect pairing for its tablet - a hub that let's you pretty much do it all.
The Pixel Tablet begins at £599 ($499/A$899). This includes the charging dock - and is available from Google's official store now.

Related Reviews and Shortlists