ShortList is supported by you, our amazing readers. When you click through the links on our site and make a purchase we may earn a commission.
Learn more
EXCLUSIVE INTERVIEW: Richard Hammond's best Grand Tour bits
From crashes to 'taches - the Grand Tour presenter shares his toughest driving challenges.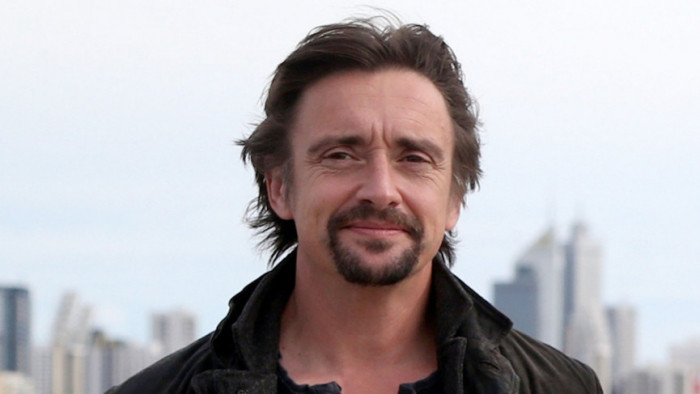 The Grand Tour's Richard Hammond is something of a one-man danger machine. Over the years both vehicles and mountains alike have seen fit to eject him, he's attempted to drag race a Eurofighter Typhoon in a Bugatti Veyron and he's even tried to cross the English channel in a DIY boat made out of a car - all in the name of entertainment.

Now, though, Hammond - known affectionately as 'the Hamster' - is set to face his toughest challenge to date.
In aid of Movember - a 4-week period in which lacklustre facial shrubbery becomes totally acceptable in the name of charity - the former Top Gear presenter is revving up to rival the magnificent 'tache exhibited by racing legend and fellow Brummie Nigel Mansell.
Joining a celebrity line-up that includes presenter Tim Lovejoy, comedian Ben Miller and Radio 1 DJ Dev Griffin to name but a few, the stars have channelled their favourite 'tache-laden sporting heroes to raise awareness of men's health as part of the month-long charity initiative.
"Mansell's is a spectacular example of the breed," declares Hammond of the Formula One Champion's moustache. "I like a bit of facial hair, but I have had some terrible hair styles over the years though. I just have terrible hair, so what can I do?! And no, before you ask, I don't die it - I'm always bloody asked!"
Following his (first) infamous Top Gear crash nearly 13 years ago, Hammond was forced to tackle a host of physical and mental health battles head on. "I was brain injured, so spent a lot of time having to examine my own mental health issues," he says. "A large part of it is in your mind and your willingness to talk about it, so only by considering it openly and discussing it will you actually understand the challenge of addressing directly." "And then two years ago, I smashed my left knee to pieces crashing a car in Switzerland," he notes seriously. "It takes some recovery. The thing is, you're not always either perfectly healthy or desperately unwell. You can have moments and times and periods when your mind isn't working as well as you'd want it to."
Needless to say, his reputation for smashing up vehicles does his insurance policy no favours. "I always look forward to the question: Have you had any crashes?" he declares triumphantly. "Put it this way, my car insurance is not cheap, but I do have a lot of stupid old motorcycles on my policy."
And now, with a new Grand Tour special ready to air on Amazon Prime and a follow-up already in the works, it's safe to say we can expect more spectacular crashes and outlandish stunts to hit our screens in the coming months.
Remember, whatever you grow will save a bro - so be sure to sign-up on the Movember site and take part in the month-long event. Whilst you wait, it's time to discover Richard Hammond's 6 most challenging Grand Tour moments...
1. That bridge in Columbia "In Columbia, I was driving across a bridge, a wooden bridge. I was in a American pickup truck that was just about an inch or two narrower than the bridge - and I'm not very good with heights. And, you know, sometimes you might have to exaggerate your fear in order for it to communicate televisual-ly. In this instance, I didn't because I was completely shaking from head to foot. I was terrified. So, yeah, that was a particularly challenging moment."
2. The inferno on a Swiss mountain "Then there was the time I exited a Swiss mountain backwards in an electric car - I was also upside down and on fire. The hardest bit associated with that - in fact, the hardest thing I've had to do in the history of The Grand Tour - was to ring my wife from a spinal board, next to a blazing supercar, at the foot of a Swiss hill, just as the air ambulance was landing. Just to tell her: 'hey, you're going to see this all over social media, I've been in a crash, but don't worry, I've broken my leg and a few bits 'n' piece but I haven't hit my head. I'll be alright."
3. The time he got drag race fomo "I had to stand by the side of a road in the States while Jeremy and James had a drag race. I wasn't allowed to race because the people who lent the car to us - they're called Hellcat - well it isn't legal to race it on the road in drag spec so they just wouldn't let me do it. We did have a drag race later on on an airfield but it's that fear of missing out."
4. That Mozambican motorcycle "I have to include riding a motorcycle across Mozambique. I fell off so many times, even Jeremy said on camera that he got bored of watching me fall off because it was just endless. I remember falling off it - it must have been the 10th or 15th time - and I went sailing through the air towards a hedge. And I remember, as I started to slide - it was incredibly slippery dust and I had road tyres on my bike - I just said 'Oh no, not again!'. And then you hear me say to camera 'Oh, I'm in a hedge, that's a first!'."
5. The morning after the wrap party "After we wrapped season one, filming was complete and we had a big wrap party - it was the final show, the final bit with the tent in Dubai. The next morning I had to get up and drive through a wall in a thing called a Ripshaw - which is a bit like a civilian tank. Obviously a wrap party on a series like that is quite a big event. I hadn't been drinking heavily, because you can't drink and drive, but I had been up very late, so trying to drive that through a wall whilst a little bit tired was quite a challenge."
6. The forthcoming special "I can't give anything away about the forthcoming special but there was one moment in that. I can't give you that one because it will give away the whole bloody show which is annoying! You'll just have to see the next special..."
Additional image credit: Raw Pixel.

Related Reviews and Shortlists