We all want to save the planet, and no effort towards that end is too small. One easy way to help the environment is to cut out single-use packaging, and one of the most common forms of single-use packaging is your standard water bottle - that's where this best reusable bottles guide comes in.
UPDATE: It's not official yet but Canada could be about to ban the use of single-use plastic as of 2021. This reiterates the importance of things such as reusable water bottles.
How many times have you bought a new bottle of water when you could have just filled a bottle of your own up from the tap at home? Billions of bottles of the stuff are sold in the UK every year, so you're not alone.
Still, even if you've committed to getting your hands on a reusable bottle, you might not know where to begin. We've given you a hand here, by picking out 10 of the best on the market in order to help you get started.
Remember to upvote your favourite.

Want to get fit? These are the best Fitbit options for you.
Best reusable water bottles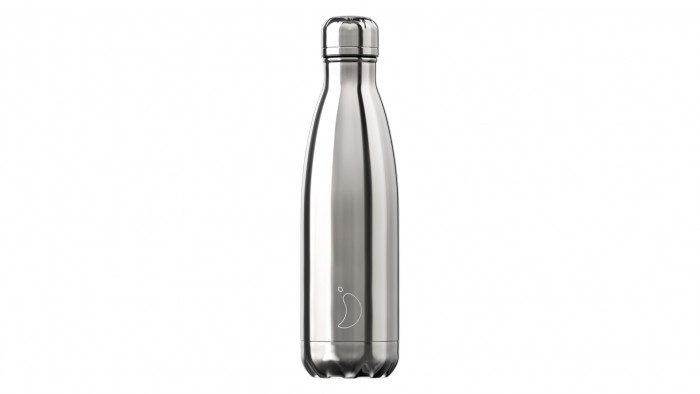 Chilly's has made big strides in producing a bottle that both does its job well and looks sleek when doing so. This one comes in four sizes – the smallest at 500ml and the largest at 1.8l – so you have different options if you're buying a bottle with a view to using it at the gym or to cut down on trips to the water-cooler at work. And the ability to keep water cool for 24 hours means it's suitable for either.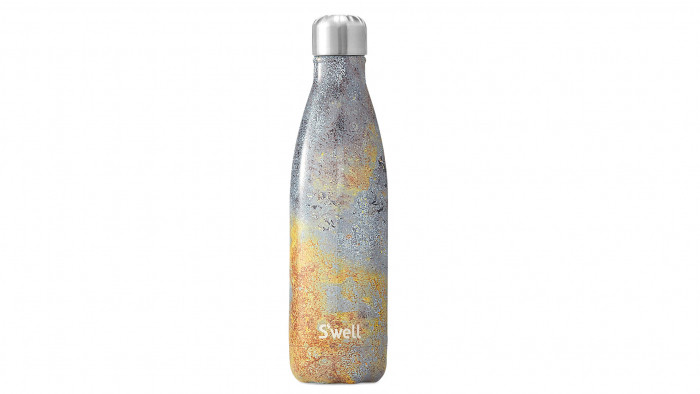 If you want your bottle to stand out from the wealth of clear or metallic designs on the market, S'Well ticks the 'stylish but understated' boxes with its Fury bottle. It is designed to stop it 'sweating' on everything else in your bag, and the wider-than-average rim means you can even chuck in some ice cubes with no trouble. It keeps hot drinks hot for 12 hours and cold drinks cold for 24.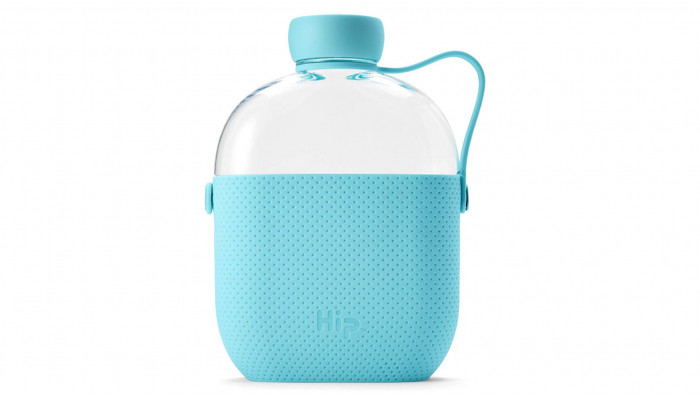 It's essentially a hip-flask, but for water rather than for a sneaky swig of whisky on the go. The Hip Water Bottle is less ungainly than some larger bottles when it comes to fitting it in your pocket, and has an integrated cap to ensure you won't end up losing the thing over and over again. Proof that reusable water bottles don't even need to be the same shape as the single-use ones we're trying to eliminate.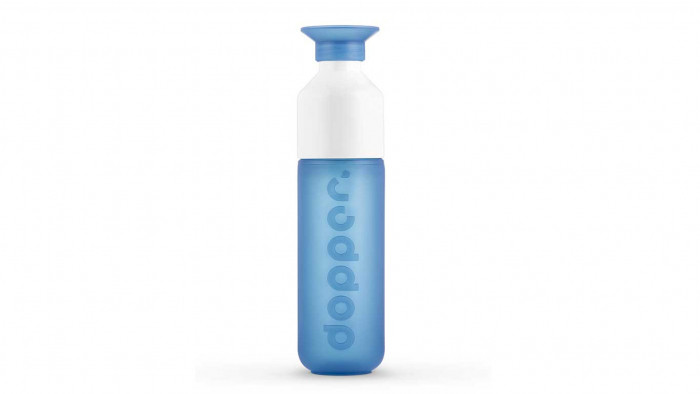 Reusable bottles don't have to be exclusively for on-the-go use. With Dopper's original design, you can drink direct from the bottle, or remove the top and – voila! – you've got a small cup to sip water at your desk. Also, thanks to Dopper's partnership with charitable organisation Simavi, every bottle you buy helps support clean water initiatives elsewhere in the world – suddenly, reducing single-use bottles isn't the only way in which you're making a difference.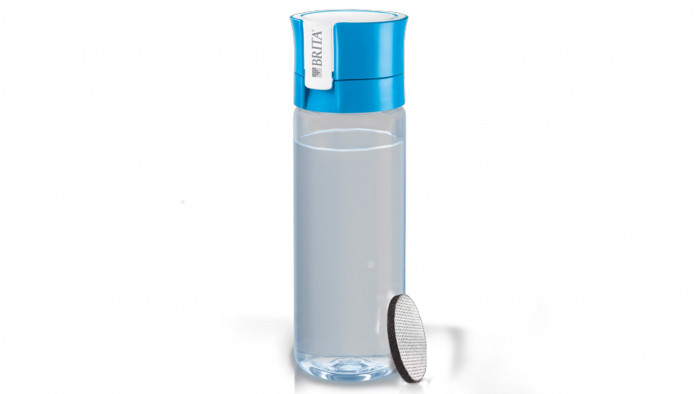 If you live in a part of the country where tap water is drinkable but sub-optimal, a built-in filter might be the most important thing for you. Brita's Fill&Go model has this, filtering tap water as you drink. Just like the at-home Brita jugs, you'll need to replace the filter after a while. Brita says each is good for around a month, or 150L of filtration. That's a lot of gym trips.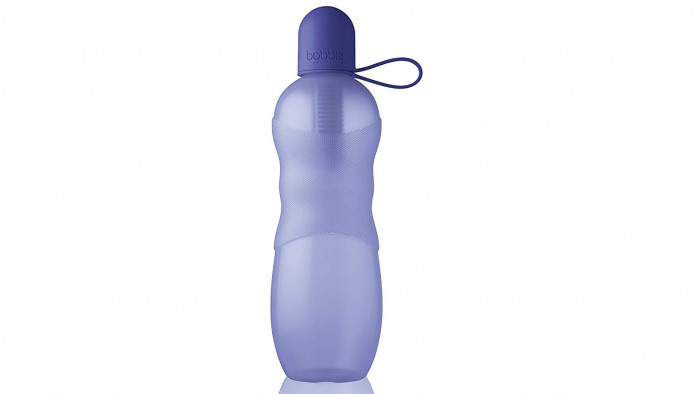 If you're the forgetful type, you've probably lost count of the number of times you've left the gym sipping from your water bottle, and only realised minutes later that you left your bottle-cap behind. The Bobble Sport bottle solves this problem with its soft integrated cap, which you literally can't misplace because it's attached to the vessel. Oh, and it has an integrated and replaceable filter, if you're not a fan of the tap water in your area.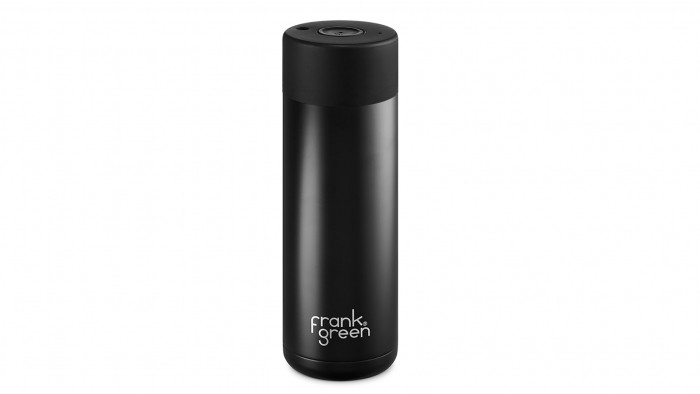 This definitely scores points for durability, and the colour select tool on Frank Green's site makes you feel powerful as you customise the colour of your button, lid and base from10 options. The Australian-founded company also uses smart technology to let users pay for drinks by swiping your bottle (or reusable coffee cup), which is pretty cool, though this is yet to come to the UK at the time of writing.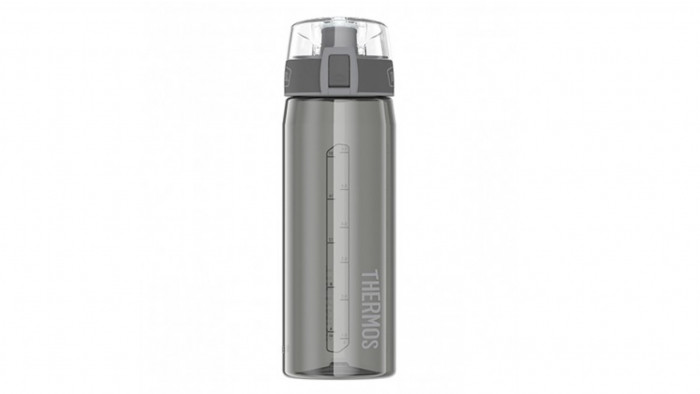 Thermos has been in the reusable bottle game for decades, and still makes its flasks for those who prefer for their hot drinks to stay hot. However, they've made strides in the reusable water bottle game too. The flip-up lid is very handy for drinking on the go – just press a button to release it – while the bottle is dishwasher-safe to make the 'reusable' part a great deal more straightforward.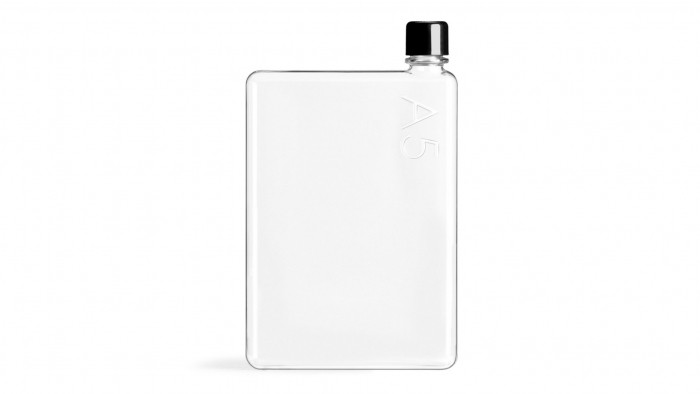 Yes, that's "A5" as in the paper size, because this flatter bottle is designed to fit into your work bag like a notepad. The flat design still allows for a 750ml capacity, while its creators boast of the "Tetris style fit" that allows you to slip it into a full bag in a way you couldn't with a rounder, wider bottle of the same volume. A6 and A7 sizes are also available.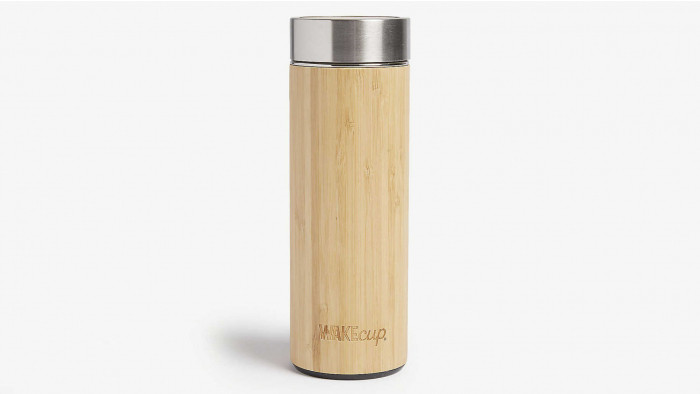 It's not always a choice between stainless steel, glass or plastic – WAKEcup's model is made from organic bamboo (ok, yes, and a stainless steel inner wall, but still). The sustainable cup pledges to keep cold drinks ice cold for up to eight hours and hot drinks hot for up to four, while 10% of profits go to eco charity The Marine Conservation Society. WAKEcup recommends you hand-wash this model to preserve the look.