ShortList is supported by you, our amazing readers. When you click through the links on our site and make a purchase we may earn a commission.
Learn more
Weezer have released a surprise covers album and we're stunned it's taken this long
Toto *and* TLC? You spoil us, Weezer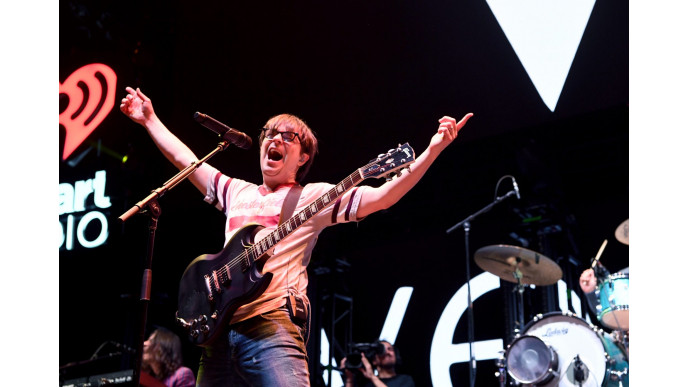 If we hadn't seen Weezer's trajectory with our own eyes, we wouldn't believe it was real.
The Los Angeles band went from their critically-acclaimed 90s beginnings, highlighted by breakout hit 'Buddy Holly' in the mid-90s, through to the sort of band that charts with a cover of 'Africa' by Toto after a Twitter joke got out of control.
With all this in mind, their decision to randomly drop an album full of unlikely cover versions shouldn't come as a surprise, and yet…
The Teal Album is their fifth self-titled release known by the colour of the sleeve, after The Blue Album, The Green Album, The Red Album and The White Album, with The Black Album set to follow in March.
It's the band's 12th album overall, at a rate of about one every two years, and proves Weezer are unlikely to run out of new colours any time soon if they've decided teal is within their remit. As long as the internet needs sating, they'll be up to the task.
There's a studio version of 'Africa', as the opening track no less, but it arguably only gets weirder from there on out.
The album has a distinctly 80s flavour, with versions of 'Billie Jean' by Michael Jackson and 'Sweet Dreams (Are Made of This)' by The Eurythmics, among others.
However' there's also room for a 90s banger in the form of 'No Scrubs', originally by TLC.
You can find the full tracklist below:
It seems like Weezer have fully transitioned into 'wedding band', taking the well-trodden path from wuss-rock to nerd-rock to dad-rock, but is it all bad?
If it gets more people listening to them (even ironically) while keeping a chunk of the original fan base, can it really be all bad? It feels like their trajectory already makes no sense, so leaning into the new image might be the healthiest thing they can do.
(Images: Getty)
Related Reviews and Shortlists