ShortList is supported by you, our amazing readers. When you click through the links on our site and make a purchase we may earn a commission.
Learn more
Is it problematic to watch porn?
We speak to porn stars, porn directors, and a psychosexual therapist to work out if it's OK to enjoy online porn any more I was a young teen – maybe 11 or 12 – when I started watching porn. I remember sneaking onto the family computer – an old-school bulky white machine – and excitedly typing the letters 'N-A-K-E-D' and 'P-E-N-I-S' into Google Images and being agog at what I found. My little gay boy brain basically combusted at the sight of a male torso back then.
But it's when I bought an iPod Touch a few years later that my porn use became a bit more advanced. I'd spend hours watching short gay porn clips and reading gay erotica online at night in bed – often being exhausted at school the next day because I didn't get enough sleep.
It's tricky to know if it became an obsession and an addiction or if it was the normal behaviour of a hormone-ravaged teen.
And like other younger people raised online, my chronic porn habits meant that when it came to having real-life sex, I struggled. How was regular sex going to match up with the unending possibilities of online porn?
---
In 2018, anyone can now access limitless amounts porn for free on multiple devices at any time of the day.
PornHub is one of the world's most popular porn sites and is the 28th most visited site on the internet as of 2018, with more than 80 million daily visits. That's more than LinkedIn and Ebay.
In fact, PornHub is now such a part of the cultural mainstream that they recently drafted in Kanye West to serve as creative director of the first-ever PornHub Awards.
But porn is also prolific on social media sites such as Twitter and Tumblr - and also on Reddit, which has pages and pages devoted to it.
The Tory government has also promised to bring in porn age verification laws in 2018 (though this has been mysteriously delayed) and, more generally as a society, we're having a much-needed rethink about confronting implicit biases based on gender, sexuality and race.
So post-#metoo, is it still okay to watch online porn in 2018, even though we're not always entirely sure where our porn comes from? Or should we all be a bit more conscious before getting off?
---
Porn and #metoo
"I've had people try to take advantage of me and other people around me," 28-year-old gay porn actor River Wilson tells ShortList.
"I know some performers have made assault allegations against other porn performers on Twitter – but the industry basically turns the other cheek."
As in Hollywood and the media, the porn world has been racked by sexual misconduct and assault scandals – and they've even implicated world-famous, household names like James Deen, Ron Jeremy and Topher DiMaggio.
So how safe are the people who perform in the porn we watch?
"There were times on set with people where I was like, 'This is not a good situation. This is not safe,'" former adult performer Lisa Ann, who became famous for parodying Alaska governor Sarah Palin in six adult films, told The Guardian in 2016.
"Everyone's a ticking time bomb, and a lot of it is linked to the drugs. A lot of this new pain comes from these new girls who have to do these abusive scenes, because that does break you down as a woman."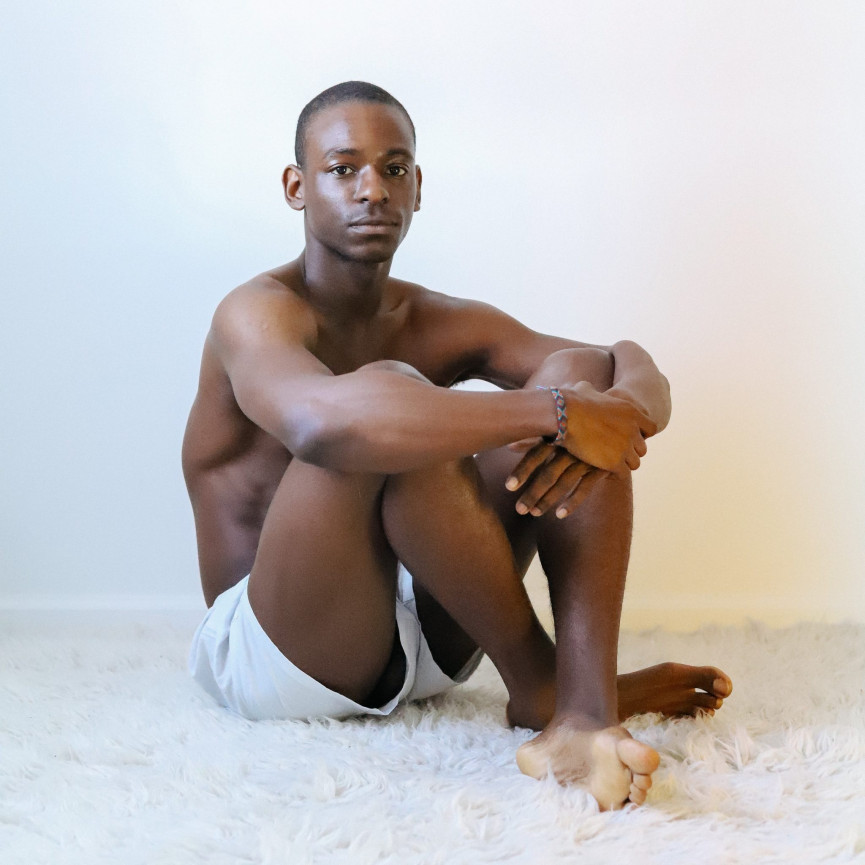 And Wesley Woods, a Los Angeles-based porn performer and stand-up comic, feels that the porn world needs to do more to protect performers.
"The porn industry is an extension of the entertainment sector and just like any other industry there definitely are people who don't treat others well.
"The #metoo movement has brought an important focus on consent in our industry."
Dr Lucy Neville, a lecturer at University of Leicester who writes about porn, erotica and sex work, argues that while there are undoubtedly parts of the porn sector that don't treat performers well, we shouldn't cast the whole industry off as a monolithic, abusive block.
"The stories that came out about James Deen a couple of years ago [when multiple women came forward with allegations of sexual misconduct including rape] show that porn, like much of the media industry, still has a way to go when it comes to safeguarding workers, particularly women," the Girls Who Like Boys Who Like Boys author says.
"However, some production companies hold themselves to extremely high standards, and the level of open discussion around consent and boundaries is far beyond what you would find elsewhere in media production.
"I would urge consumers to pay for their porn via reputable production companies – that way there's a really good chance the stuff you're watching has been produced in a way where performers and crew are listened to and respected."
"Porn makes girls think that ordinary sex is men who are going to cum all over their face"
There are also questions about 'amateur' pornography – films not produced by studios – and whether we can be sure this sort of porn is always totally consensual.
How can we be sure, for example, that the performers aren't being coerced or that the material hasn't been leaked without the consent of everyone in the video?
Last year revenge porn officially became a punishable offence in the UK, after thousands of victims came forward to police, but many cases still go unreported.
"A lot of the women I spoke to in my study prefer 'amateur' porn to studio productions, because for them it seemed so much more obvious that all parties were having a good time – with people in real life relationships posting clips of themselves genuinely enjoying each other as part of a community of porn fans," Dr Lucy says.
"But if you're concerned that what you are watching might depict non-consensual sex, then I would suggest only watching porn that comes from reputable sources. Take kink.com for example – most of their films include actors speaking frankly to camera about their boundaries and how they negotiated their kinks – and debriefing afterwards.
"I don't think it's particularly hard to be an ethical consumer – just as it's not difficult to buy fair trade coffee or clothes that were produced in factories which pay workers fair wages."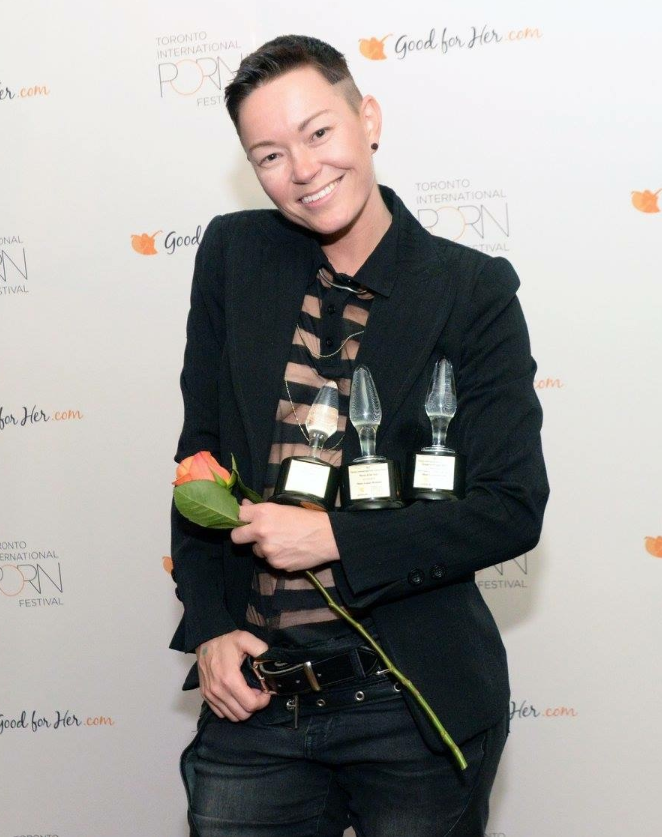 Jiz Lee, 38, is a gender non-binary porn performer and producer who lives and works in the San Francisco Bay area and is the forefront of a new porn movement that places the concerns of performers at the very centre of their work.
Lee, editor of the book Coming Out Like a Porn Star, says: "As a performer, I'm able to choose everything from my co-stars, to the directors and projects, to how I want to have sex - from health considerations to sex acts.
"While I may be a voice of optimism, working in this industry does have its obstacles. I hold a firm stance that we can and must improve our conditions from the inside-out, to 'be the porn you want to see in the world,' working to create better working environments and to help the general public become more porn-literate and to reduce sex worker stigma."
---
Is it okay to enjoy porn when it's so white, straight and muscle-centric?
"The biggest problems I find in this industry are diversity, lack of proper representation, biases and the portrayal of certain ethnic groups," porn actor Wilson, who lives in Montreal, tells ShortList.
"And even though everyone sees it, no-one really gives a shit. And if I'm too vocal about it all then I may not get any jobs so I just tend to try focus on changing things from the inside."
Indeed, most mainstream porn sites heavily prioritise white performers. And when non-white people are featured they're often fetishized in non-so-subtle – and sometimes explicitly – racist ways.
AsGlamourpoints out, recent titles like Black Wives Matter, Asian Buffet #2, and Sex-Mex show perfectly how non-white performers are so often reduced to derogatory and offensive stereotypes in mainstream porn.
"For young queer people, porn can be beneficial, showcasing a varied mix of bodies and sexualities having access to fun and pleasure"
"Absolutely porn has problems with racism, transphobia, femmephobia and fatphobia," says Dr Lucy. "But so does pretty much every media product you can buy or consume.
"But I think the current explosion of 'free' porn in the age of the internet has really democratised access to sexual imagery – porn is no longer the arena of straight white cis men like it was in the days of Penthouse and Playboy.
"Women, people of colour and people with different body shapes can all access images of people like them having sex easily and privately. This can be really empowering for previously sexually marginalised groups.
"It's also really opened up the discussion of sex and sexually explicit media, which I also think is a good thing. Our culture around sex can't change for the better unless we start talking about it."
Shine Louise Houston, a San Francisco-based director of more inclusive pornography, is well aware of the need for porn to do better at representing its audience in a healthier, more progressive way.
"I started my company, Pink and White Productions, because I felt there was a real need for adult film that reflects my community and the kinds of bodies and desires - namely queer and trans folks and people of color - who are not typically depicted in porn, or depicted in ways that the performers themselves feel adequately reflect their sexuality.
"In porn, as in most everything else, anything that's 'normal' tends to be white, cis, straight, vanilla, and often from a male perspective, and anything 'outside' what's considered the norm becomes niche. This creates these different categories, where if you want something outside the norm, you really have to dig to look for it. It's just not what's marketed.
"My work often doesn't adhere to the dominant opinion of what's 'sexy' - because I think it's important to show that brown and black bodies can be viewed in a way that's beautiful, desirable - in a way that's not harmful or othering. We hope our work can celebrate these experiences through content that is rich in diversity without tokenizing difference."
---
Hasn't online porn just changed the way we think about sex for the worse?
A common criticism of online porn is how misogynistic it can be – sometimes violently so – and the effect that unrealistic and sometimes unhealthy depictions of sex have on how we think about sex in the real world. 
Marian O'Connor, a psychosexual and relationship therapist at Tavistock Relationships who's been working with couples and individuals for 29 years, tells ShortList about what can happen when people find themselves relying on extreme, hardcore porn.
"From my experience as a relationship therapist, I can say that issues related to pornography have become very much more common compared to 30 years ago or 20 years ago.
"It's got to a point where when a couple say they don't go to bed at the same time and that he likes to watch the TV until 2 o'clock and then he comes to bed, then I always think, 'Well, he's probably watching pornography.' It does seem to be terribly common.
"I think the easy access to quite exciting pornography does cause problems because with some people I do find that there is quite excessive use of porn – some people watch quite hardcore pornography for several hours a day, often at work or on their lunchtimes on their phone. And this means that ordinary sex just isn't exciting enough.
"They might be using quite an overexcited rubbing technique as well when they masturbate, which means that when they try to have either vaginal sex or anal sex it doesn't feel quite right."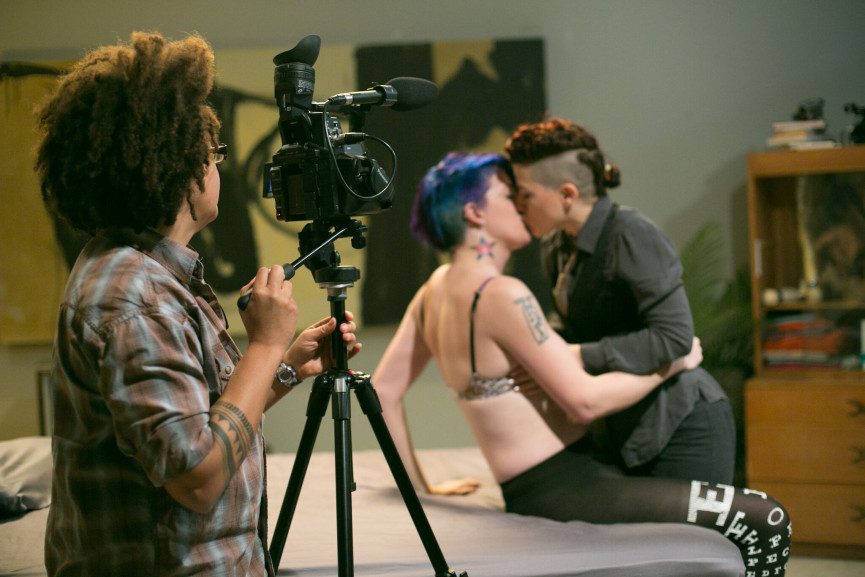 Marian also explains how porn has raised specific issues for her gay clients, too.
"Of course, I'm talking about heterosexual couples but this is an issue that happens a lot in gay couples, where you'll get gay couples who both know that each other masturbates and they'll do quite a lot of masturbation to a lot of porn and they won't have sex together. I suppose it's when it's being used as a substitute for intimacy that you start to wonder about the addiction - when it's being used rather compulsively.
"And a lot of young gay men, too, can feel really quite intimidated; they see in porn that they should be hard, they should ready for sex, they should be able to penetrate. A lot of gay porn is about penetrative sex but a lot of gay men will say, 'Actually, I don't like penetrative sex. I don't like giving it and I don't like being penetrated. I like mutual masturbation, touching, kissing.'
"I think porn puts a lot of pressure on men - both heterosexual and gay - to be somehow very macho in their sex life."
Marian goes on to describe how she thinks porn has changed the way we fundamentally look at sex, especially among younger people who have grown up with such easy access to it.
"I'm an adult therapist and I see people who are 18 or over who've been exposed to quite a lot of pornography from an early age and I think it really does affect normal sexual development.
"It can be quite traumatic - some of the images - for a young person exploring their sexuality. It can feel quite dangerous and scary.
"Suddenly seeing pubic hair can be a real turn off for boys"
And Marian thinks porn could be contributing to unreasonable expectations of girls and women.
"Both boys and girls will have an idea that girls in porn films will have no pubic hair and it can feel really quite disgusting for a boy who is expecting a particular sort of woman, to suddenly see public hair. It can be a real turn off.
"I suppose it's a bit like a woman who is expecting this rock-hard penis to see a little ordinary penis - it can feel quite a shock. And it can actually turn men off an ordinary, shy woman.
"So instead of sex being about all the senses, it becomes just about 'penis into vagina' and quite sort of rigid, hard sex.
"And it can stop people knowing how to have a proper sexual experience. Girls, for example, who think that ordinary sex is men who are going to cum all over their face. And boys who think that an ordinary sexual experience is girls saying, 'Take me any way you like' without any need to be stimulated."
She also says that porn can put a lot of pressure on women to behave in an aroused way even before they are aroused and to act out fake orgasms.
"I think porn may also have a role in building an expectation that women are supposed to achieve an orgasm all the time.
"Women can have an orgasm during sex but in fact most women will achieve an orgasm during sex through pleasuring and clitoral stimulation. It's something like 40% of women who will achieve an orgasm through penetrative sex while 99% will through clitoral stimulation. It's quite normal for women not to achieve orgasm during intercourse. But there can be an expectation in porn that it happens 100% of the time."
It's not all doom and gloom, though. Marian thinks there is a role for porn to be used as a means of exploring one's sexuality – even as a couple.
"For some people who've got very negative ideas about sex - who've for some reason shut down any idea that they could be sexual beings – I might suggest watching a film that turns them on.
"Finding and watching porn together can be quite fun. It can be a form of sexual expression. If a couple finds it works for them then why not? They can lather themselves with cream and have a laugh together and feel sexual and watch a porn movie together."
"I love porn, I love sex, I love flirting"
Is porn art, though?
"Of course porn is art!" porn performer Woods firmly declares. "I absolutely love working in porn, being a sexual being and pushing forward the agenda of sex positivity in an area of life that's usually viewed as taboo or dirty.
"I love porn, I love sex, I love flirting, I love learning what makes someone go."
River Wilson, who's made 26 porn films so far, was similarly emphatic: "I love being an adult entertainer; it's something I took my time to get into and once the decision was made it was like I made it home.
"I do love watching porn too. I consider certain types of porn and erotica to be art, including folks like Erika Lust's Xconfessions and Noel Alejandro's films."
And as River Wilson points out, sex and erotica have long played an important role in popular culture from Madonna's 'Erotica' album and Britney's 'Baby One More Time' outfit to the films Boogie Nights by Paul Thomas Anderson and Anatomy of Hell by Catherine Breillat.
---
What's the future of porn, then?
One interesting recent development in the world of online porn is the rise of private, pay-for pages often linked to social media accounts. The site OnlyFans is one popular example.
Jiz Lee, who's been working in porn since 2005, says: "We're seeing a few new directions in the industry, made possible due to more affordable equipment and technology, and in response to the saturation of free/stolen porn on tube sites. There are more filmmakers creating adult films with cinematic elements, and a returning interest in theatrical narratives - complete with cinema screenings and erotic film festivals around the world.
Lee, who earns up to £1,000 for a scene, added: "Economically, performers are taking advantage of social media follow-ship, utilizing clip stores and subscription sites to capitalize on their own uploads, a kind of 'Uber-ization' of porn. And technological media shifts have created opportunities in virtual reality and other developments. It's important to remember that porn is not a monolithic entity, but a broad and wide-ranging industry that is constantly evolving."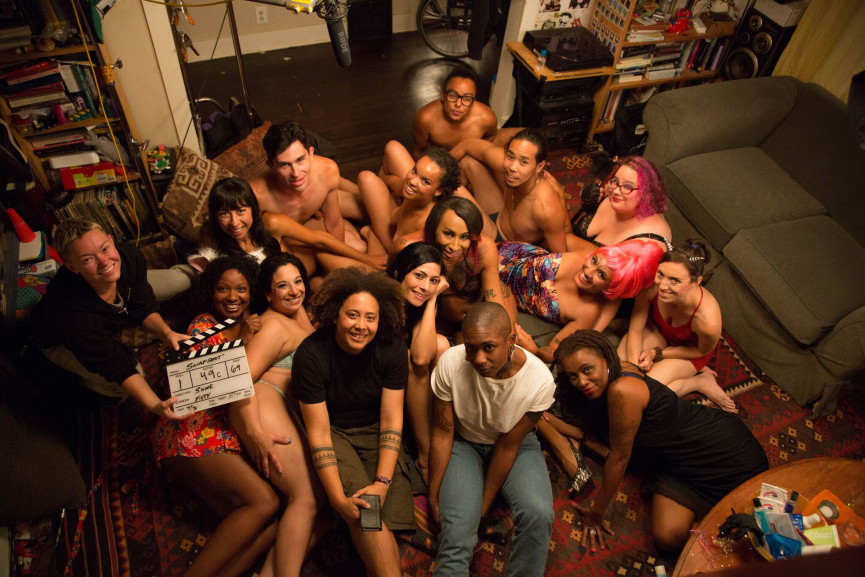 ---
So what's the answer? Is porn problematic or not?
As Dr Lucy suggests, online porn can be both good and bad – but we probably shouldn't blame it for all of society's problems.
"For young queer people, access to porn can be beneficial, showcasing a really varied mix of bodies and sexualities having access to fun and pleasure.
"For young cis straight boys, arguably a lot of the 'free' stuff you can access easily on PornHub can have a pretty toxic influence. But I am wary of blaming the 'porn bogeyman' for our society's issues with young people and coercive sex or poor attitudes towards consent.
"Porn is not sex education, it's entertainment, and if we want our young people to have healthier attitudes towards sex and sexual relationships it is up to us to provide better education for them."
Porn is, of course, rooted in fantasy but the safety and conditions of porn performers are very real concerns and it's the responsibility of porn watchers – like you and me – to take responsibility for this.
We're all now happy to pay a few quid a month for our Netflix and Amazon subscriptions, so the time has probably come to be more willing to pay for our porn, too.
Basically, I think we need to see the Netflix, Hulu and BBC iPlayer of porn. Yeah, I said it. Why not even publicly fund the production of high-quality pornography? Not only would it hands-down get more views than any episode of Bodyguard but it would go a long way to build a healthier national conversation about porn and sex.
We can't turn back the tide on online porn – and nor should we. Let's just all be more honest about how we're using it and where it's coming from. 
(Images: Pink and White Productions / JJ Geiger / Toronto International Porn Festival)

Related Reviews and Shortlists