ShortList is supported by you, our amazing readers. When you click through the links on our site and make a purchase we may earn a commission.
Learn more
10 things to know about Mission: Impossible - Dead Reckoning, according to its stars
ShortList chats exclusively to the cast of the new Mission: Impossible.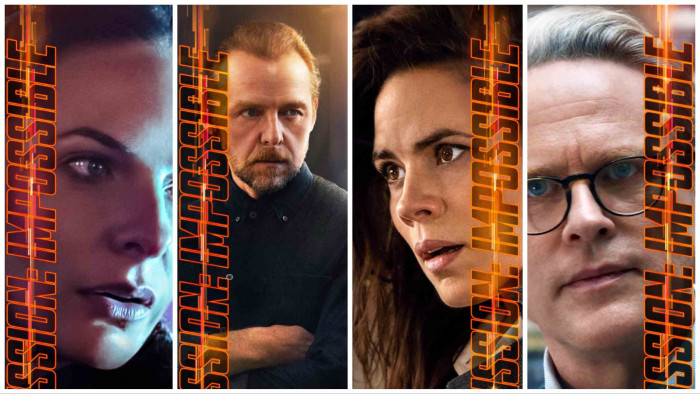 It's that time of the year again when Tom Cruise saves the box office. Mission: Impossible - Dead Reckoning is here and it's a belter of a blockbuster.
It's a fantastic film, packed with twists and turns, a car chase to rival The Italian Job, familiar faces and some new faces (that are also very familiar).
The movie has some of the biggest-ever stunts performed by Tom Cruise, in a franchise that defies all expectations by being seven movies deep and still getting better with age.
ShortList was given an impossible mission recently: to meet the stars of the film without getting, well, starstruck.
We failed miserably but we did manage to get out of them some great tidbits about the movie (don't panic, there are no spoilers below).
So, here is Simon Pegg (series regular Benji), Hayley Atwell (new to the series, playing thief Grace), Rebecca Ferguson (M:I agent, Ilsa) and Cary Elwes (Denlinger) on Tom Cruise, making the film and the perils of trying to blink...
Main image credit: Paramount Pictures

--- 1. Cary Elwes on joining the franchise...
"For me, it was a dream come true. I was a fan of the TV series - I never missed an episode. And then I became obviously a fan of the film franchise. My wife and I never missed one of those. And so, you know, I feel like I've kind of manifested it.
"When they rung me, I said to them: 'guys, you had me at hello'."
2. Cary Elwes on M:I stunts
"Personally, I'll leave all those stunts to the professionals but Tom Cruise is the greatest stuntman, not just one of the great actors of all time. He's the greatest stunt guy of all time. Nobody's ever going to top him and he keeps raising the bar for himself." 3. Hayley Atwell on auditioning for Mission: Impossible
"By the time you come on to Mission Impossible it's such a well oiled machine, particularly because the last two are McQ [director, Christopher McQuarrie) and Tom's babies - they have worked together on this for so long that they have a symbiotic relationship.
"It doesn't matter what they want, or what their ideas are, they look back and they go: 'Is this what the audience wants?' And so by the time I came into it, with the screen test they said they didn't have a character or a script for the part. They wanted to find the actor they wanted to work with and then work out what the character would become. And so it becomes a very collaborative experience."
4. Hayley Atwell on having a car chase in a Fiat 500
"The real star of the car scene is the Fiat 500. We nicknamed her Trixie because she had a mind of her own, she goes by so fast. When Ethan's kind of turning on the windscreen wipers and all of that, I didn't know that was going to happen.
"My reactions throughout are in the moment where my character Grace doesn't know who this person is but she is trusting him because he's just saved her from a smashed car, then when we take off he crashes immediately, which was also improvised. It was an accident. It's meant to go in one direction and it didn't because it's so sensitive.
"Tom kind of stopped and he improvised it so brilliantly. This is Ethan Hunt, of all people, being undermined by Fiat 500. I think it makes him so much so endearing."
5. Hayley Atwell on fight training
"I was training for five months full time. The programme was designed by Wade Eastwood and Sam Eastwood and overseen by Tom and McQ. They would come in and they would check how I was doing, what I was liking. We did mixed martial arts and knife work and guns. Lots of that was working out what my character's style was.
"Tom would come in and say things like, 'It'd be quite interesting as if she has an origin story of being a pickpocket and an opportunist, that maybe she's scrappier in the fights.'
"So she's learned on the job, but she's picked up things as she's gone along, as opposed to having been trained in one particular style. When it was time to get on set, I was at a level where I was for fit purpose. So I could be dynamic enough to pivot and adapt to whatever it was that they want me to try out that day." 6. Simon Pegg on his reaction when hearing what stunts Tom Cruise was doing
"As we call it, Monday! You know what, it's a weird mixture of a shrug and genuine surprise. But it's come to the point now when it isn't surprising because you know they'll go to those lengths. So they could list the craziest stunt ever [that will be in the movie] and you'd be like, 'yeah, figures.'
"I watched Tom do the bike stunt [in Dead Reckoning] and it was, you know, heart in your mouth scary. It really was."
7. Simon Pegg on the continued success of the Mission: Impossible franchise
"I think the series' resistance to entropy is entirely because Tom and McQ will not just settle into a routine, they try and push it further every time. They're always growing. They would be the first to admit that they are very much students of cinema. Tom's an eternal student - he's always learning."
8. Simon Pegg on becoming a M:I series regular
"You're thankful that you get the one movie. Then I got a call for Ghost Protocol and JJ Abrams said, 'Hey, how would you feel if Benji was a field agent?"
"What am I going to say to that? 'Nah?' [laughs] So I've had the opportunity to grow this character over five films and play him through various stages. I've aged with him." 9. Rebecca Ferguson on her character, Ilse
"Ilsa is a phenomenal character. I mean, I love the way Tom and McQ present characters. I remember them being very excited about the entrance of new characters and how much they lift everyone around them. It would be easy to be selfish with his own character arc but Tom is the complete opposite. It's about building everyone around him."
10. Rebecca Ferguson on the hardest bit of M:I... blinking
"We're doing this rifle scene in the movie and because McQ has worked with weapons in another job he did prior to this, he was telling me what he knows - which is everything about angles, especially how to hold a rifle.
"So I go down with the gun and the camera's there and he's looking at me and he goes, 'Great, now just blink with one eye and I go [makes a strange, definitely not blinking face]. I try again [makes a different face but still not blinking].
"Eventually McQ says: 'Okay, let's get an eye patch…'"
Mission: Impossible - Dead Reckoning Part One is out in cinemas 10 July.
Related Reviews and Shortlists