ShortList is supported by you, our amazing readers. When you click through the links on our site and make a purchase we may earn a commission.
Learn more
Samsung Galaxy Fold 2 review: much more than a phone
5 things to know about Samsung's latest foldable.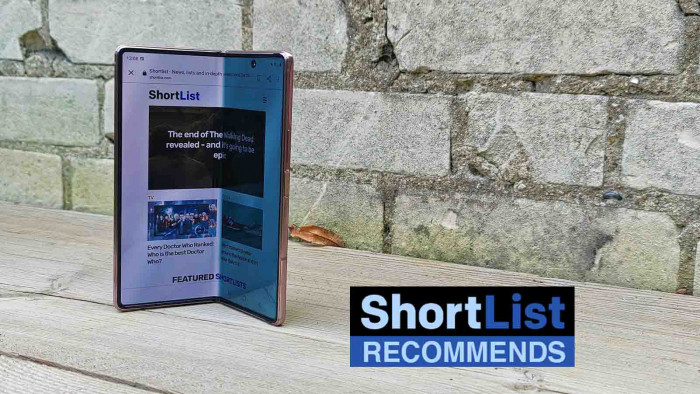 When the first Samsung Galaxy Z Fold came out it was a conversation starter. Whip it out in the pub - as we did, frequently - and immediately those around you will ask 'what the hell is that?' That's because it looked like the future of phones.
The Samsung Galaxy Z Fold wasn't an iterative update from a phone giant but a true redesign of what a phone should be, a phone that folded out into a tablet.
The problem was (for us anyway), it ended up being a tablet that folded into a phone - the tablet side of the Fold was much more desirable to use; folded, and as a phone, it was a little underwhelming.
The arrival of the Samsung Galaxy Z Flip proved that Samsung could make a foldable phone that is fantastic to use, but we still pined for another Samsung Galaxy Fold that could perfect both the phone and tablet side of things.
Enter the Samsung Galaxy Z Fold 2, a device we have been using for a while now and we are pleased to say that Samsung has tweaked and refined, creating a device packed with 'wow factor'.
Here are five things you need to know...
---
1. We are in love with the screen(s) 7.6 inches. That's the size of the screen when you fold the Samsung Galaxy Z Fold 2 out fully. It might be a mere 0.3 inches bigger than what was found on the original Fold but it makes a difference. The screen real estate is just phenomenal and it's the same size of the original Fold, too which means that the bezel has been significantly reduced.
It's a handset that's geared up for the likes of Instagram (which looks just gorgeous on the screen), YouTube (more on this in a bit, but it's a great screen size for this) and even Twitter, although you may want to doom scroll on a smaller screen given how the world is right now.
Quality-wise, it's fantastic. Officially it's Super AMOLED (1768 x 2208 pixels) but that doesn't mean much until you start to play games and watch movies on the thing. It's got HDR 10+ so movie watching is sharp, with a real depth to colours. We watched the bright and breezy Cobra Kai on it and it pinged off the screen - the detail was so good you could see the grooves and lines in Daniel LaRusso's now weathered face - Karate Kid, no more.
Gaming is a lot of fun, too. Not only does the big screen make gaming a joy, the Z Fold 2 is still comfortable in the hand so it doesn't feel like you are gaming on something like an iPad.
The refresh rate of the screen is also a revelation - it tops off at 120Hz and that basically means no judder. The performance of this handset is smoother than James Bond ordering a Martini in a casino. The good news is that you can ratchet this refresh rate all the way down to 11Hz when you want to conserve power and the like.
And then there's the second screen, which is a lovely segue into our second thing to know.
2. It feels like an actual phone now It really does! Our niggles about the Samsung Galaxy Z Fold have all-but disappeared thanks to Samsung paying real attention to making the front screen on the Samsung Galaxy Z Fold 2 better in every way possible.
The biggest change is the size. The screen now measures an impressive 6.2 inches… but this is diagonal, so what you have is still a very narrow screen but at least one that makes proper use of the front area when folded.
We like to think of the Samsung Galaxy Z Fold's front screen as a window - a lovely window, but it meant you couldn't really do much but open a few apps, see message replies. The front screen of the Samsung Galaxy Z Fold 2 is a door to all the phone offers. The bigger screen means you can use the thing properly without unfurling it.
Yes, it's still a little tight to type but flip the handset to landscape and then the issue disappears. You can even watch YouTube videos this way without wanting to poke your eyes out, but we recommend going unfolding to get the full effect.
Making the front screen fit pretty much all of the folded Fold is a really smart move and rids us of the niggles we had with the original device.
3. The Fold is much more functional
Functional, ugh, that's a rather boring word. But what we mean here is that the phone now has a lot more uses, thanks to some sly software touches from Samsung and hardware refinements.
Refinement is key here. Samsung hasn't radically changed the look of the Fold for the Z Fold 2. Instead it has reduced bezels and focused on key areas that were a little troubling first time around.
The main one being the hinge. We may well have said in our intro that we 'whipped out' the Fold on numerous occasions, the truth is we delicately opened it, hoping that the thing wouldn't snap in our hands. It was never going to but it didn't feel robust enough to be a phone you sling in your pocket and go about your day to day, without fear of a breakage.
The Samsung Galaxy Z Fold 2 feels much more robust. The hinge has been given a makeover and it feels far sturdier than before. There's a lovely stiffness to it and the gap between the screen when folded has significantly reduced.
We still wouldn't recommend going into the sea with this thing but it feels far more rigid than before. And this includes when prodding the screen - there was a little bit of bounce when tapping away on the original and we haven't felt that at all while using the Galaxy Z Fold 2.
When it comes to the plastic protector, that is still on the screen (and shouldn't be removed) but it's far less noticeable than before.
The other functional aspect is the Flex feature. This is fun to use, even if it's way underused by apps at the moment. It essentially means that when you fold the Fold halfway, then apps like the camera and YouTube will offer up a two-tone approach - a screen on the top and controls on the bottom. The apps that use this showcase a feature that has lots of potential but we just wish there are more around. We're sure Samsung is talking to developers right now about this as if it gets this functionality right then it's a brilliant USP to have, compared to standard handsets.
4. There is a ton of power behind Galaxy Z Fold 2 If anything there is too much power, er, powering the Samsung Galaxy Fold 2. It's like having a fully fledged computer in your pocket, thanks to Qualcomm SM8250 Snapdragon 865+ chip (in non-geek speak, the best processor you can have in your phone), 12GB of RAM (pretty much all the power you need to go back to the future in a DeLorean) and 256GB of storage (okay, for the price we would have liked 512GB).
All of this means that you can have multiple apps running, take a Google Duo call (using the Flex functionality, naturally) and do things that would have any laptop sound like a hovercraft and it does these with ease.
Couple this with 5G, which if you can get it is a speed revelation, and a decent battery life thanks to the 4500 mAh (not the best, but we didn't have issues) and this is a bulked up, ready for what the world throws at it handset.
We were also impressed with the stereo speakers. While the bass was found lacking, the sound they belt out is rich and loud - even when outside.
5. Cameras are cool but there's better out there We feel the same with the Samsung Galaxy Z Fold 2 as we did with its predecessor: the cameras are cool but it's just not the right device to be the ultimate camera phone.
Samsung has tried its hardest, though, adding five of them to the thing. These include two 10MP selfie cams that offer up decent detail, probably too much for this at-home-for-far-too-long journalist can handle.
The other three are found on the back and are: 12MP variants of an ultrawide, telephoto and standard lens.
The images we took were absolutely fine. Colours are rich, detail is there throughout and we're impressed with the ultra-wide capabilities. But the ergonomics of the handset make it a little tough to take photos with.
Some software touches really do work, though. The addition of Dual Preview where the front screen acts like a preview screen, so the person you are shooting can see themselves, is really well done. And the aforementioned Flex feature works really well on the camera app.
Video is 4K and also vibrant - it was great to use the big screen as a viewfinder when shooting video so there are definite plus points.
Samsung Galaxy Fold 2 review: Final Verdict We have to commend Samsung for taking its most innovative product and improving on it in small but very significant ways. The Samsung Galaxy Z Fold 2 is a fantastic 5G phone, an innovative tablet and really does point to what the future of handsets should be.
It has more than enough hardware grunt for you to use it as an occasional laptop replacement and its new front screen is an absolute joy to use.
The Samsung Galaxy Z Fold 2 is finally the phone that turns into a table that we wanted, and not the other way around. You do have to pay a hefty price for the privilege, though (£1,799 outright which makes the eyes water) but it really does feel like the future in your hand.
You can pre-order the Samsung Galaxy Z Fold 2 on EE now.
Related Reviews and Shortlists