It's just gone 3pm in London and Chris Hemsworth isn't entirely sure whether he's coming or going. "We hear you're getting on a plane in two hours," ShortList mentions. "Am I?" he responds, genuinely puzzled. "I never really know where I'm off to these days."
This geographical unpredictability is an indication of just how quickly things have changed for the 27-year-old Melbourne native. Back in 2007, Hemsworth was best known for playing impossibly tanned personal trainer Kim Hyde in Home And Away. He was a popular figure among Australian females and British students, but one that would certainly have known the destination of any plane he was about to step on to.
Here in 2011, however, Hemsworth is simply too busy to check his boarding cards. He's currently being whisked frantically around the globe to promote Marvel's latest offering and, in his own words, enjoying "getting sent scripts for the first time in my life and having parts offered to me instead of banging on doors".
This month sees him swinging hammers as the titular Nordic superhero in Kenneth Branagh's Thor — a role he'll be reprising next year alongside Samuel L Jackson and Robert Downey Jr in Joss Whedon's much-anticipated The Avengers. It's all a far cry from the shores of Summer Bay but, as ShortList finds out, that doesn't mean he's forgotten his soap-opera roots…
Do you still get called Kim?
When I land at airports in the States, people are like, "That's Thor!" But I got into England this week and the first thing I heard was, "Hey, it's Kim!"
Does that bother you?
No, I think it's great. I had so much fun on Home And Away and I learned a lot from it. I appreciate it more now having left Australia. I think to myself, "God, that was a good job — I spent all day on the beach!"
There are a few ex-Neighbours and Home And Away actors in Hollywood — is there rivalry between the two different groups?
No, but there should be, shouldn't there? We should be like two warring gangs — one from the beach, the other the suburbs.
Which of the two do you prefer? Be honest, now…
Home And Away. But my first ever acting job was in Neighbours. I had one line. The café had been robbed and I came in and said to Steph, "What happened? Has anyone called the cops?" Then I called the cops. That was my entire Neighbours experience. I remember taking it so seriously — I even called the director and said, "What's my character's motivation here? Do I have any further scenes with Steph?" He was like, "No, you're basically an extra. Now shut up and get on with it."
Have you seen your former Home And Away co-star Ray Meagher [Alf] in the Priscilla musical?
No! But he's coming back to Sydney for the Thor premiere. I love that guy — I've always kept in touch with him. He's the Odin [Thor's father, the God of War] of Summer Bay. Seriously, he's the Anthony Hopkins of that set. I was as nervous meeting 'Alf' for the first time as I was meeting Hopkins on Thor. Ray's always been so supportive. Even on Home And Away, he used to say to me, "Go to Hollywood — you'll succeed over there." I'd love to go back and do an Australian film with him. He's played Alf for so long that it'd be great to see him do something else — like a grungy, washed-up alcoholic or a criminal [laughs].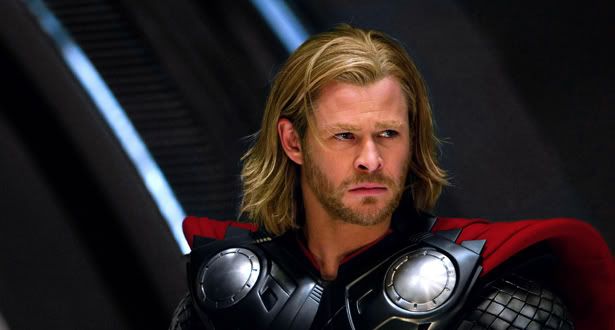 How was the training regime for Thor?
Pretty full-on. My previous training had all been cardio-based — surfing, swimming and running. I'd never really lifted weights until I got this part, looked at the comic and noticed that Thor was a f*cking huge 600lb guy. It was good old Schwarzenegger-style body-building and eating tons of clean protein from then on.
Did you pick up any notable injuries during filming?
I'd come off set with all sorts of bumps and scratches — I didn't even know where half of them were from. I remember one Sunday rehearsal with Tom [Hiddleston, who plays Loki]. Tom's character had a whip and I was like, "Give me a crack at that." I was doing my best 'Indiana Jones' with this whip and suddenly I whacked myself right in the eye with it. There was a huge welt across my face and it felt like my eye was hanging out of its socket. This is one day before we're due to start filming. I rang Ken [Branagh] and he said, "Don't tell anyone — just ice it. Fingers crossed." Luckily, after about five hours of pressing ice on it, the swelling went down.
What was it like working with Branagh on his first action film?
He was fantastic. Ken has a love for storytelling from Shakespeare through to Superman, so he knows his characters back-to-front. He's a funny guy, too — we had this great sarcastic humour between us. I'd throw out the most ridiculous ideas, like, "Hey, Ken, what if Thor had a gangsta limp, or something?" He'd respond in a totally deadpan way — "I really appreciate that suggestion, Chris… but no."
Thor's such a well-loved character. Have you had Marvel fanboys coming up to you, saying...
[Interrupts] "Please don't f*ck it up?"
Well… yeah.
[Laughs] There's a huge, dedicated fan base for this character and obviously you want to please them and try to be true to how they see him, but there's also a point where you have to grab the wheel and make it your own. If you listen to thousands of people's opinions, you'll end up with a very disjointed performance.
Your brother Liam was also up for the role of Thor. Was it awkward when you were offered the part?
We're fiercely competitive, as all brothers are, but in this business you've got to support each other, because most of the time you're being told "no" more than you are "yes". We were never being considered for the role at the same time, either. He was the first person I called when I found out I'd got it and he was as happy as I was.
You're one of three brothers — we're assuming that there were plenty of fights growing up…
Yeah, we were always scrapping. We lived in the bush, so we were constantly out making slingshots and bows. I remember properly laying into my older brother Luke in a parking lot when we were about 14 just because he wouldn't give me a throat lozenge [laughs]. But back then, we didn't really know how to fight. When we all started boxing, we picked our battles more carefully. We thought, "Nah, we're going to kill each other if we carry on like this."
As an Aussie, did you enjoy England's woeful performance in the recent Cricket World Cup?
I don't really watch cricket — I've always found it pretty boring. I grew up playing AFL [Aussie rules football] and I lived by the coast, so I surfed a lot. I've lost touch with AFL recently, but I still surf regularly.
Aside from football, what do you miss most when you're out in Los Angeles?
Being able to get away from work. Living in Hollywood is strange because the whole town is built around the movies. When you're an actor in Melbourne, you're the odd one out. In Hollywood, everyone's in the industry and everyone knows each other's business. But aside from that, I miss meat pies. Meat pies and Australian beer.
Thor is at cinemas nationwide now
(Images: All Star, Rex Features)