ShortList is now ad free and supported by you, the users. When you buy through the links on our site we may earn a commission.
Learn more
Forget blazing – it's brewing that looks to be all the rage amongst stoners in 2016.
Now that 24 states have legalised medical marijuana, green-fingered weed lovers in the US have become uncharacteristically productive and invented a line of coffee products that could make your morning commute a whole lot more relaxing.
California-based Ganja Grindz has become the first company to sell marijuana-infused coffee beans, filters, pods and tea bags to multiple states in the US, and promise to help you "brew your buzz" by using the most potent cannabis oil available.
Going one step further and jumping on an uber-cool trend that has the hippest of London coffee shops in a vice grip right now, Seattle's Le Herbe has created a cold brew with organic beans that are steeped in marijuana extracts for 24 hours. Each 330ml bottle provides approximately 10mg of the psychoactive constituent THC, the thing in weed that chills you right out.
Of course, these aren't the first edible weed products to hit the streets in recent years. Everything from cookies and fizzy drinks to chocolate bars and gummy bears are now available to the casual smoker who wants to combine his love of weed with the basic human need to consume food and drink.
But this one's got us scratching our heads: surely the reason you drink your coffee is to drag you from your The Big Lebowski-style morning brain state and dressing gown, as opposed from making us all turn up to work at 9am looking like The Dude?
The Ganja Grindz owner, who goes by the stonerific name of Haze, reckons his gear will still give you all the "fired-up focus" of your normal brew, but with enough added chill to approach and plan your day with a sense of calm. In fact, the caffeine hit from you coffee may even cancel out the sleepiness that usually comes with smoking weed, and may produce a heightened hallucinogenic experience.
Hallucinating on the 08.03 into Waterloo? We'll stick to the regular Americanos, thanks.
[Images: All Star]
Latest
Food And Drink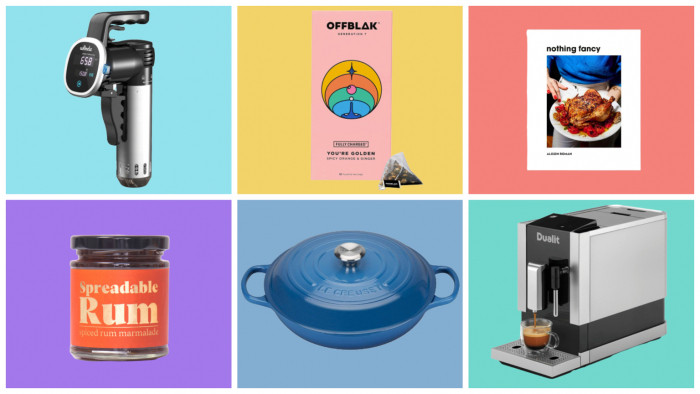 The best gifts for foodies this Christmas
Food And Drink
Best Black Friday 2020 alcohol deals: great booze deals
Related Reviews and Shortlists