The best laptop speakers don't sound great. Even iMacs aren't exactly the last word in audio refinement.
We've looked into the best computer speakers out there, to get you genuinely good sound from your laptop or desktop.
Our advice? Don't just stick to classic computer speakers if you have plenty of space to play with. You should also consider active studio monitor-style units, which will sound cleaner and clearer. And some companies have got up to speed with this idea, releasing studio monitor style speakers with mainstream features like Bluetooth.
Read on for our top computer speaker picks. And don't forget to upvote your favourite.
Done with your laptop? Read up on the best soundbars for your TV.

Best computer speakers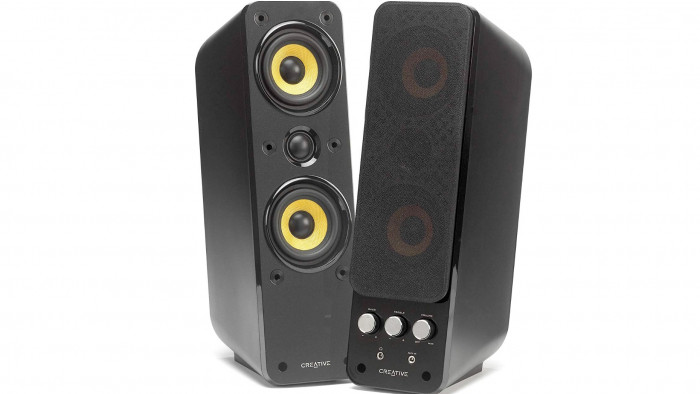 Some areas in tech seem to progress at the speed of light. Computer speakers? Not so much. The Creative GigaWorks T20 Series II have been around since 2011 and are still a top buy.
They are neat, smart-looking desktop speakers with clean sound and good bass considering their size. You don't get a subwoofer, though, so you won't hear any floor-shaking explosions with this pair.
There is a headphone jack right on the front of one of the units, which is dead handy for late-night listening.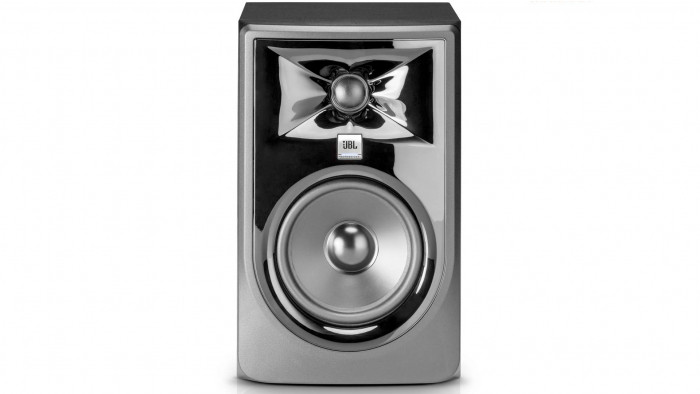 The JBL LSR305 are not your average computer speakers. They are actually active studio monitors, the size of a hifi bookshelf speaker but with built-in amplification. And as such, they sound a cut above anything else here.
They're clean, clear, powerful and detailed. Picking a studio monitor comes with its own set of issues, though. There are 6.3mm jack sockets on the back, and you'll need to find away to connect them to your PC. Separate sound interface? A cable with a 3.5mm headphone socket to a pair of 6.3mm jacks? Either should do the trick, just make sure you're sorted before these boxes arrive.
There are two other aspects to mention. Like other studio monitors, the price you see is per speaker. And as there's no grille the JBL LSR305 aren't perfect for households with kids bearing poke-happy fingers.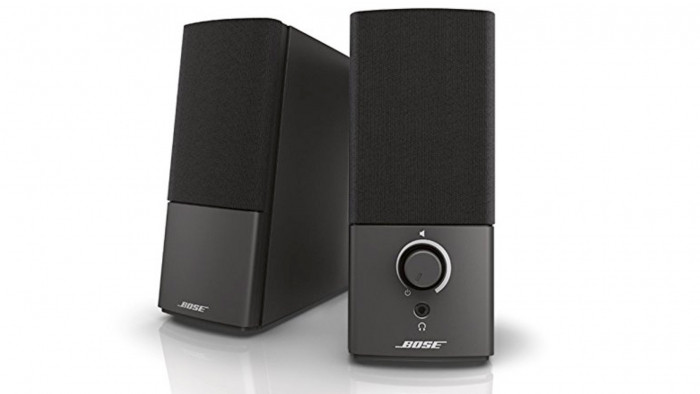 If you're after a classy accompaniment to your laptop or desktop, the Bose Companion 2 Series III are the ticket. Like just about every Bose product, these speakers are ear-charmers. And they look a lot more grown-up than the average computer speaker set.
We consider these the more restrained alternative to the Creative Gigaworks speakers, whose yellow drivers and bright chrome knobs add a loud style that might turn off a few of you.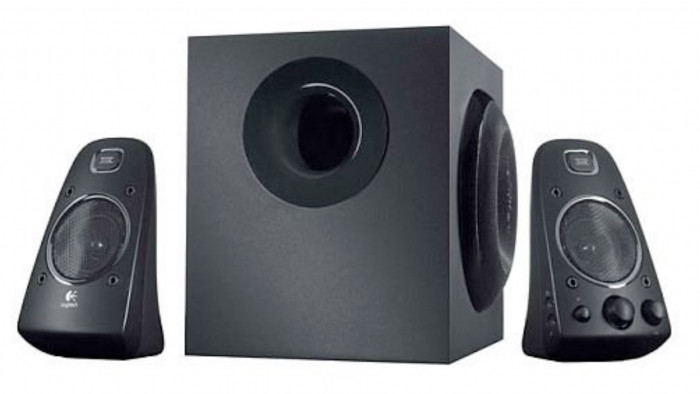 Back when computer speakers were more popular, Logitech was considered the master of them. The Logitech Z623 is a classic model that has been around for almost a decade. It still stands up.
You get a big, powerful subwoofer for real low-frequency punch. Just make sure there's enough room under a desk to stash it. And a pair of satellites fill in the rest of the frequencies. Want Logitech's full-bore set? Also check out the Z906. This is a brilliant surround system now available at half price.
However, it doesn't have USB input so you'll need a digital audio output to make full use of all those speakers. And not many laptops have one of those these days. The Logitech Z623 just need a headphone jack.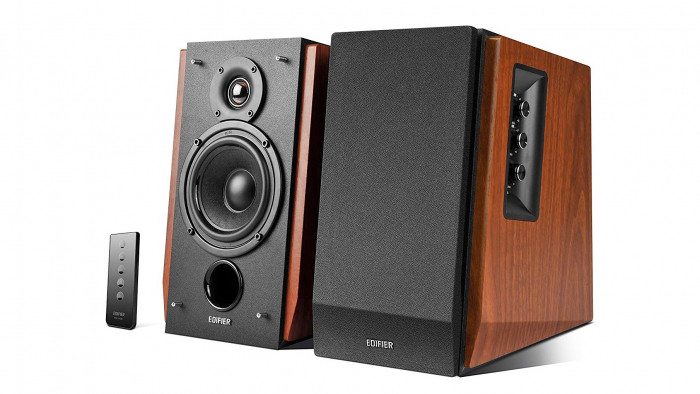 These are some of our favourite computer speakers, for a bunch of reasons. First, their wood veneers give them a touch of class you don't get elsewhere, and their upward-tilt design makes them easier to position than some with a similar studio monitor-style design.
The Edifier T1700BT are also a studio monitor and computer speaker hybrid. You get big but accurate sound, Bluetooth, and you only need to connect your laptop or desktop to the one speaker. If you want to hook them up to a 3.5mm headphone jack, you'll need to get hold of a jack-to-phono cable. You'll find them on Amazon and eBay for a few quid.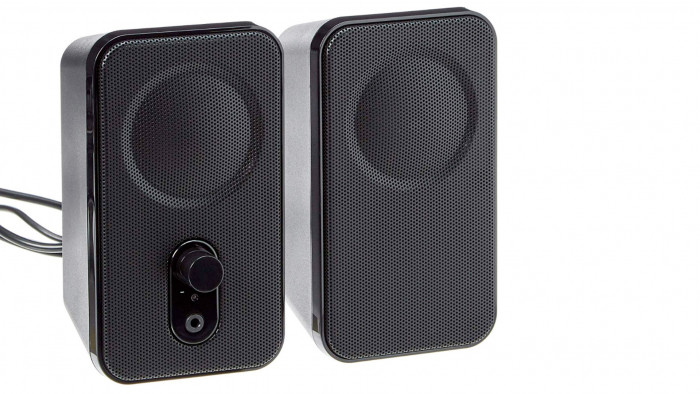 These own-brand Amazon speakers aren't going to blow your mind with their sound quality. However, they are cheap, simple and pretty good-looking for a set of speakers under £20.
They plug into your desktop or laptop's headphone jack. If you want something similar that uses USB instead, consider the Logitech Z120. Those speakers use a full-size USB connector: great for most Windows laptops, not so good for MacBooks.