ShortList is now ad free and supported by you, the users. When you buy through the links on our site we may earn a commission.
Learn more
Following the untimely death of New Zealand rugby legend Jonah Lomu, aged 40, ShortList's Sport Editor Ben Isaacs reflects and why he was truly the greatest player the sport has ever seen...
He saved rugby from itself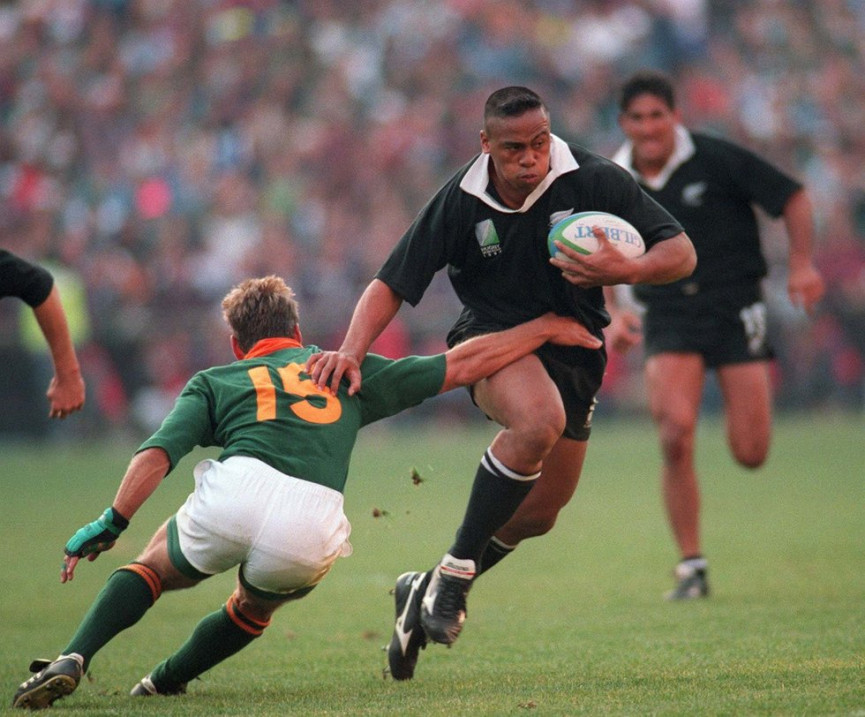 In 1995 rugby was struggling to stay relevant in most countries. In the UK, the formation of the Premier League and Sky's wall-to-wall coverage of it had put football even further ahead of all other sports.
Rugby was going through needling growing pains as it transitioned into professionalism - clubs were barely making ends meet and newspaper coverage of the sport was more likely to be about political infighting than match reports.
The Rugby World Cup staged that autumn in South Africa became more about the Rainbow Nation's sporting rehabilitation and national healing but the Springboks' win wasn't the key event.
Jonah Lomu's coming out party against Ireland in the group stage made him not just the biggest name in rugby but one of the most electrifying sportsmen on the planet. He scored four tries against England in the quarters, leading Will Carling to label him 'a freak' ­ and we all knew that was a compliment.
Nelson Mandela handing the trophy to Francois Pienaar may have saved the nation of South Africa but it was Lomu's stunning play that saved the sport.
He came back from serious illness
A year after the 1995 World Cup, Lomu was diagnosed with a serious kidney disorder, causing him to miss substantial playing time. But he fought his way back to fitness and played for the New Zealand sevens team at the 1998 Commonwealth Games, winning a gold medal.
Worse was to come however with the revelation in 2003 that he would need to go on dialysis. But even this didn't stop him and he underwent a kidney transplant in 2004 that, temporarily at least, allowed him to return to rugby. Pound-for-pound, Lomu was undisputedly one of the toughest (and most genuine) players in the game.
We all played his videogame
For many Lomu was to rugby what John Madden is to American football - a Trojan horse name on an addictive videogame that taught sceptics about the subtleties of a complicated sport.
The 1997 release from Codemasters allowed you to play the sport like Lomu did - action-packed and thrilling; a far cry from the drudgery of previous attempts to marry rugby and gaming.
In truth, unlike Madden, Lomu had minimal input in the game design but there's no doubt that without his name and image on the cover few people would've taken a chance on it. It's still the best rugby game ever made.
He plied his trade over here
With a target of making the New Zealand squad for the 2007 Rugby World Cup (despite not having won a cap since 2002), Lomu did what few All Blacks ever do: he moved to the Northern Hemisphere in the hope of furthering his career rather than padding his bank balance.
Many British clubs were interested but it was Cardiff that won his signature in 2005. He thrilled crowds at the legendary Arms Park and made his mark for Cardiff in the Heineken Cup, the sport's equivalent of the Champions League. However he broke his ankle near the end of the season while setting up a try against Border Reivers and never did make it back in to the international squad.
He never stopped loving the sport More than anything Lomu wanted to stay involved. In his final years of playing he turned out for a team in the French third division and in 2008 even played a charity match for tiny Aberavon Naval because of friends he made while at Cardiff.
His body rejected his new kidney in 2011, forcing a return to dialysis and removing any chance of playing, even for fun.
He was a familiar face during the recent Rugby World Cup. ShortList was lucky enough to spend some time with him.
"For someone as huge as Jonah Lomu ­ both his size and stature­ it was surprising just how quiet and unassuming he was meeting him in the flesh," says ShortList Editorial Assistant Alex Christian.
"As much as he spoke about rugby and the upcoming World Cup it was clear his biggest passion remained the All Blacks and what that shirt represents to so many New Zealanders. When I asked him who the All Blacks' star man was he replied, 'There isn't one, if they're good enough to wear the All Blacks shirt then they're a key player in my eyes'."
But, in our eyes no one was more key than Lomu himself. Without his impact on the game, Rugby World Cup 2015 wouldn't have been the spectacular success it was. Not to mention the sport as we know it.
There will never been another like Lomu.
Related Reviews and Shortlists