ShortList is supported by you, our amazing readers. When you click through the links on our site and make a purchase we may earn a commission.
Learn more
Why Dare 2b is the ultimate sportswear brand you need to know about
SPONSORED: Plus, Jenson Button tells us about his career and his Dare 2b Edit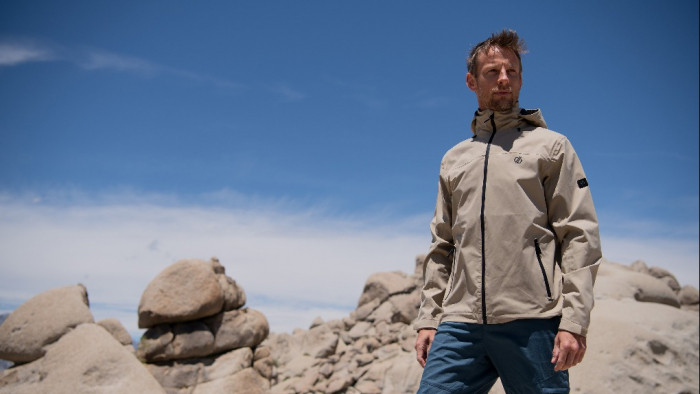 With the sun beginning to appear, the great outdoors is where we should all be right now but don't even think about opening that door without refreshing your sportswear wardrobe, with help from Dare 2b.
However you choose to keep yourself fit, Dare 2b is there for you, creating the best-looking workout gear for those who want to push themselves to their limits and then some.
With over 20 years' expertise in the design and production of technical activewear, Dare 2b believes in the energy of sport and this ethos can be found in every stitch of its fabric.
Whichever product you end up buying, you'll be safe in the knowledge that a dedicated in-house team have combined innovative fabrics, skilled construction and trend motivated colour ways to produce the collections available.
---
Win £300 worth of Dare 2B Products
Dare 2b has teamed up with ShortList to offer one lucky reader £300 worth of Dare 2b goodies. That's right, you can now win £300 worth of Dare 2b products now. To be in with a chance of winning, enter this fantastic competition by heading straight to Dare 2b's Instagram page. Good luck!
ENTER NOW FOR YOUR CHANCE TO WIN
---
Dare 2b was born out of a passion for the outdoors. Like you, it likes to do things differently. It's a bold, straight talking and forward thinking multi-sports brand that has all the specialist products you need to get the best from your workout.
The clothes on offer have been inspired by real-life experiences and the influence of its global partners.
Celebrity collaborations
Two of those incredible partners have been busy of late, with their fantastic ranges that feature both affordable and attainable athleisure.
First up is Formula 1 legend Jenson Button. He has collaborated to help create Mountain and Everyday Outdoor Edits for Dare 2b.
The Edit is a fantastic hybrid of premium performance designs and wearable lifestyle pieces, creating a superb range of technical outerwear which is certain to be the must-have collection of Summer 2022.
Take the ever-popular Touchpoint Jacket. Part of Dare 2b's Consciously Made collection - the material used is derived from 11 plastic bottles. This waterproof is perfect for all weather conditions and is packed with innovative technology.
There's AEP Kinematics technologies within, which gives the jacket some much-needed 360-degree stretch, while Seamsmart makes sure that no seams are present on the jacket.
This is just one of 25 key styles available, with other athlesiurewear available in the collection including the ace Switch Out Recycled Waterproof Jacket and The Righteous Tee returns. The dare 2b x Jenson Button edit is available now, with items starting from just £20.
View Now: Dare 2b x Jenson Button Edit
But don't just take our word about the Jenson Button Edit, here we exclusively speak to the F1 Champion about his fantastic Dare 2b collaboration and his amazing career … ShortList: Congratulations on the Dare 2b collection, how did the collaboration / partnership come about?
Jenson Button: A few years back I entered my own team into the Baja 1000 with some friends and we were looking for like minded brands to come and join the adventure and Dare2b were one of those brands! It was a great way to kick things off and ever since then we've really developed the relationship around being active outdoors which I love. A big part of my life in LA is being outside and making the most of the trails and the parks with the family and our 3 dogs so it really is the perfect fit.
ShortList: The collection is packed with outdoor staples, what's the one piece of clothing from the Edit you are proud of the most?
Jenson Button: The collection has so many great outerwear pieces for different outdoor adventures. My favourite item would have to be the Mountaineer Recycled Wool Hybrid Jacket, I absolutely love it. I wear this on most of my outdoor hikes, it's very comfy but also includes high tech features you would want in an outdoor jacket. It also comes in a few different colours but the ferne green is my favourite. It's a great jacket for any type of outdoor activity!
ShortList:There is a big push for sustainable clothing in the collection, how important is that to you?
Jenson Button: It's great that that's how things are moving and brands as well as consumers are doing more and more on the topic of sustainability. It's incredible to see the innovation that's borne out of a desire to be more sustainable and to challenge what's already on the market and the status quo.
ShortList:You had a fantastic career as an F1 driver, is there a memory you always go back to when thinking about your time on the grid?
Jenson Button: I work with Sky on a number of races throughout the year so I get to relive various moments depending on what track we're at for that particular race. Of course 2009 is always a happy place to sit and remember. It was a special time for us all and I'll of course always be incredibly proud of what we achieved.
ShortList:What piece of advice would you give ShortList readers when it comes to them following their own passions?
Jenson Button: Life's too short to not at least try.
---


Another fantastic Edit is by broadcaster and author, Laura Whitmore. The Dare 2b x Laura Whitmore Active Edit is part of the #MoveHappy campaign, which is all about having clothes that hug and hold your figure so whatever your sport, wherever you can 'move happy'.

The 21 items in Laura Whitmore's Active Edit certainly allow you to do that. Available in a pastel pink and lavender colour palette, there are a number of sports bras, squat-proof leggings, sports tops and outdoor jackets to choose from.
A particular highlight of the Edit is the practical and waterproof Lambent Jacket, which comes with Waterproof ARED 3000 fabric that will keep you dry whatever the weather and a hood with drawcord detail. While the range also boasts the debut of Dare 2b's first ever swimwear collection, a capsule of performance inspired swimsuits and bikinis that designed to be worn whether you are hitting the local lido or fancy a bit of wild swimming.
As with the Jenson Button Edit, sustainability is the key here, with the fabric yarns in the Make Waves Swimsuit made from recycled plastic bottles.
Sizes for the clothes range from 6 – 20 with selected pieces available up to size 28. The dare 2b x Laura Whitmore Active Edit is available now, with items starting from just £20.
View Now: Dare 2b x Laura Whitmore Active Edit
---
Whatever your sport, wherever you do it Dare 2b is there with the clothes to get you on your way. To find out more, head to Dare 2b's official site.
Don't forget to enter the competition for your chance to win £300 worth of Dare 2b products, and find out more about Dare 2b's innovative clothing technology here.