At the time, Italia '90 was viewed as something of a failure.
Its matches generated the lowest number of goals per game in any World Cup - 2.21 per game, a record that still stands - saw a then-record 16 red cards issued and was the last tournament to feature the legal back-pass, a device which was used extensively by sides aiming to stifle their way to a penalty shoot-out, of which the tournament saw four in the knockout stages. The trophy was won by an almost comically-stereotypical ruthlessly efficient West German side, who defeated a negative, cynical Argentina (led by a fading Diego Maradona) in the final and it was widely agreed that we should all move on and forget about it.
But to me, it was the greatest thing I had ever seen in my life.
My friends and I had discovered football over the course of the season prior to the tournament, seeing a dominant Liverpool side - who, it later transpired, were at the end of their reign of glory - win the league from a second-placed Aston Villa, for whom David Platt scored 24 goals from midfield, while the young and highly-tipped Graham Taylor organised them from the sidelines. Meanwhile, Gary Lineker, in his first season with Tottenham Hotspur having transferred from Barcelona, led the First Division goalscoring charts. Live league matches on television were a rare thing - with Match of the Day highlights and FA Cup games the only extra drug to be given to our addled young minds.
Luckily for us, it was that year's FA Cup which really caught the imagination, as a certain Alex Ferguson needed a Mark Robins goal in a third round match against Nottingham Forest to save his job, before the latter stages of the competition saw thrilling semi-finals and an incredible final, before his Manchester United team finally overcame a brave Crystal Palace side following a midweek replay at a mystical Wembley.
However, next up was a tournament I knew only from 'History of Football' compilation VHS cassettes and black-and-white footage of a Russian (actually, from Azerbaijan) linesman awarding England a very important goal in 1966, but one which I understood to be the pinnacle of the game: The World Cup.
It was impossibly exciting. In school, our teachers leapt on the enthusiasm we all had for this mysterious tournament by encouraging us to learn the flags and the capital cities of the 24 competing teams - knowledge I still retain to this day (capital of Uruguay? Montevideo of course) - and must have been initially staggered at our sudden and unexpected interest in geography.
The tournament was to be hosted in Italy - a place we all knew as the modern-day powerhouse of football and home of glamorous-sounding teams and players we'd never seen play live - there were no foreign league matches on the television, and this was the post-Heysel disaster era of English clubs being banned from European competition, so we couldn't watch them play in those matches either.
Meanwhile, football in our own country didn't have much of a reputation with the wider public. The aforementioned Heysel tragedy, as well as the Hillsborough disaster a year earlier had left the British public - wrongly, as it would eventually turn out - with the impression of football fans as nothing more than hooligans, watching hoofball football in dilapidated old stadiums fit only for penning in these 'animals'. For those with an interest, there was no great hope of Bobby Robson's England team progressing far in the tournament - after all, his previous tournament of the 1988 European Championships had seen the Three Lions slump out in the group stage with three defeats out of three. Six days before the start of the 1990 tournament, Bobby's boys could only draw 1-1 in a warm-up game in Tunisia and the knives were out from the tabloid press.
None of this mattered to us.
I still recall willing the school day to hurry up and finish so I could get home to watch the opening ceremony followed by the first game: the holders, and legendary footballing nation of Argentina, led by the undisputed greatest player in the world Diego Maradona, against Cameroon, an African country we'd never heard of until we unfolded our tournament wallchart from Shoot magazine.
Naturally, they were expected to brush off the challenge of these minnows with ease, but, in what is still one of the biggest shocks of all-time, the Indomitable Lions went toe-to-toe with the Argentines; François Omam-Biyik netting for 10-man Cameroon before they withstood a late barrage, which culminated in the hands-down greatest foul of all-time by Benjamin Massing to ensure that Claudio Cannigia could not, and would not score an equaliser. It reduced his side to a mere nine men, but they clung on, to record a famous victory.
What a game it had been. But it wasn't just the match itself that caught my attention. It was the noise, the colour and the atmosphere of the cauldron in which the game had taken place: the San Siro in Milan. I knew that this was the home of not one, but two of the great European sides: the Rossoneri of AC Milan, and the Nerazzurri of Internazionale. I knew it was big - a capacity of almost 80,000 people - and I knew it was famous, but this was something else. I'd seen Wembley and Anfield on the TV, but this was so much more exciting; so much more exotic, far-flung and impressive.
The giant, pneumatic piston-like pillars which ringed the exterior of the ground, looking for all the world like they could power the stadium into the stratosphere at a moment's notice; the brutalist red scaffolding which supported the roof and the interior corner 'towers', which were linked by level upon level upon level of seating which seemed to reach into the sky forever. It was incredible.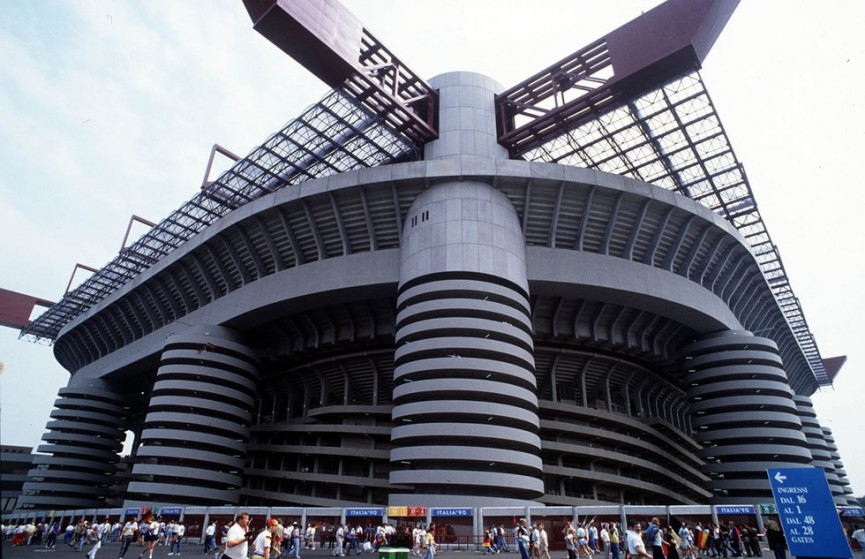 Home nation Italy played their games at Rome's impressive Olympic Stadium, while England journeyed around Cagliri, Bologna, Naples and Turin, but the San Siro was the place that caught my young imagination. Just think how amazing it would be to play on that pitch, in front of that many fans, in such a cathedral of football.
It would go on to host five other matches at Italia '90, including a similarly notorious game involving West Germany and the Netherlands in the second round, which saw one of football's great injustices, as Holland's Frank Rijkaard spat twice at Germany's star Rudi Voller - with both incidents missed by the referee.
Both Rijkaard and Voller received red cards for two yellow cards in as many minutes - both deserved for the former, and both thoroughly undeserved for the latter. Luckily, justice was done with West Germany eventually winning 2-1 and destined to meet England - who had recovered from a slow start to qualify for the knock-out stages with a slender victory over Egypt, then begun to lure in the public with a last-gasp winner from Aston Villa's David Platt against Belgium - in the semi-finals.
Before that - ultimately heartbreaking - match-up, England took on those heroes of the San Siro, Cameroon, in a thrilling quarter-final which relied on Lineker's cool head from the penalty-spot to enable the Three Lions to silence the roar of the Indomitable ones, scraping through 3-2 after extra-time.
England were to lose out on penalties, but not before the tournament had gripped the imagination of the watching English public, who hailed their new hero Paul Gascoigne, as his tears in Turin couldn't fail to move the hardest of hearts.
The whole tournament had reawoken the love of football in the wider English population and, for me, Italy was the romantic heart of the modern game. Two years later, Football Italia would begin showing on Channel 4, spurred by Gazza's move to Lazio to join David Platt and Des Walker in Serie A, with the impossibly intellectual and suave James Richardson reporting each week from an Italian cafe whilst casually summing up the latest thoughts of La Gazzetta Dello Sport.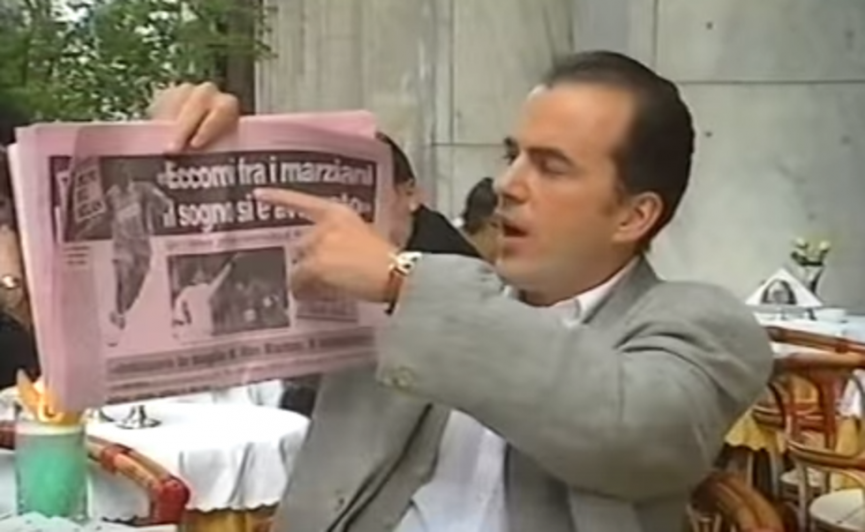 I watched epic Milan derbies with the stands crammed full of crazy fans and dreamed of one day visiting the San Siro when I was older.
I didn't realise at the time, but it would be 26 years before my dream finally came true - but it was a match that more than justified the wait: the 2016 Champions League final between bitter city rivals Atletico and Real Madrid.
Walking down the road toward the stadium, I caught a glimpse of that famous red scaffolding, then a pillar, and then, finally, the whole glorious structure. It was every bit as imposing and grand as I had imagined. Naturally, I had brought along a shirt befitting my childhood dream: a France '98 vintage fake Italy shirt, complete with Roberto Baggio's name on the back, bought on a school trip to Venice that year. 18 years on, it still fitted. Not bad. Not bad at all.
I was just a bit excited.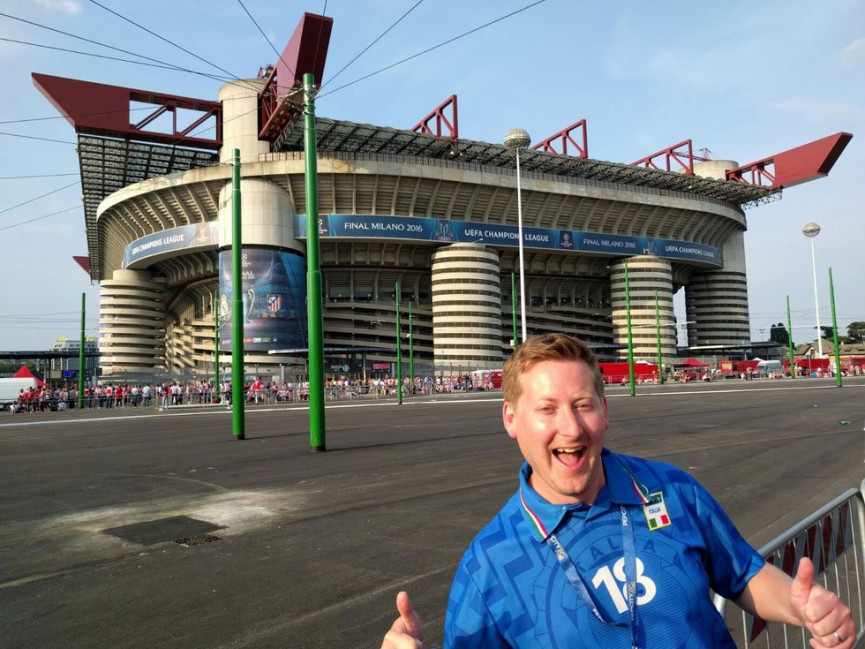 Entering the stadium by climbing up and up one of those famous towers - much like heading up a spiral staircase in an old cathedral - I eventually made my way out into the arena: it was everything I had been hoping for.
The stands sloped at a pleasingly steep angle, creating that intimate, close-to-the-pitch feel essential for creating a fevered atmosphere. The tension, and the excitement was palpable. The roof towered over us, with the stadium bathed in early evening warmth, awaiting the battle to come.
Luckily for me, I was stationed right next to the Atletico fans, who were determined to out-sing their more illustrious and moneyed opponents, and gain revenge for the Final two years previously, when an injury-time goal had denied them victory, before they ran out of steam in extra-time, Real cruising to a 4-1 triumph. Their first appearance in the final of the European Cup in 1974 had ended in similar fashion, with an equaliser in the last minute of extra-time saving Bayern Munich, who would then thump them 4-0 in a replay.
Clearly, hearing these tales of woe, and, moreover, being British, I would support the underdog. It would be third time lucky for Atletico. This time, they would triumph.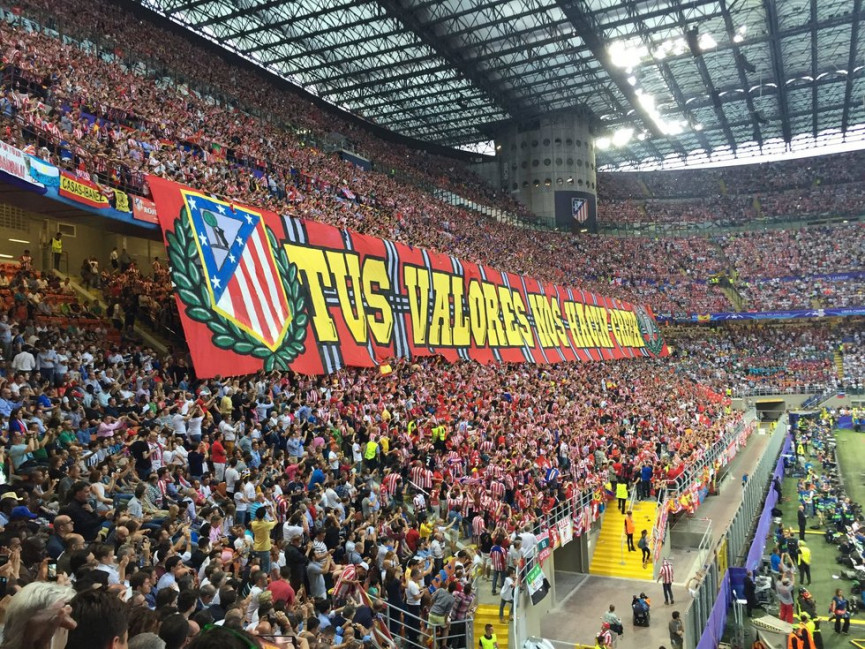 First up though, Alicia Keys was brought out to play a few tunes to get everyone in the mood - it was no Italia '90 opening ceremony - flowery footballs and all - but the songs were good, and it gave the groundstaff the chance to demonstrate some absolutely killer pitch drape clearance techniques following the conclusion of her performance. Those guys had that stage cleared like lightning.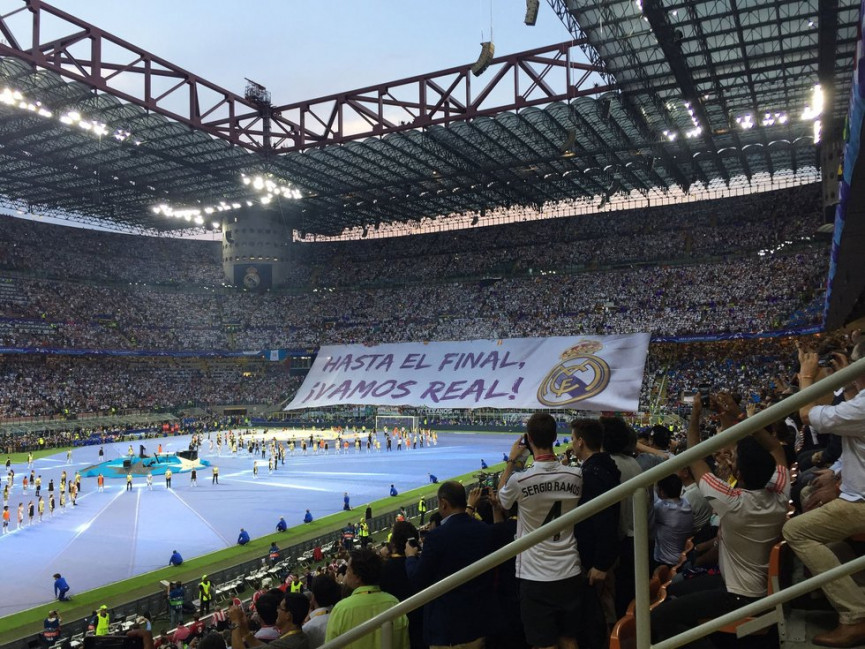 And so, the match.
Well, it seems that, 26 years on, the famous old stadium was about to witness another scene of injustice - not quite on a par with Rudi Voller's red card, but bad enough - as a spirited Atletico recovered from a nervous start and an early, offside goal, to take the game to their opponents, substitute Carrasco smashing in an 80th minute equaliser, but, ultimately to be denied in the cruellest of manners: the dreaded penalty shoot-out, with Ronaldo, who had been anonymous throughout, despatching the final penalty and - naturally - taking his shirt off. Again.
Three finals, three defeats, but their fans sang with gusto throughout, and - befitting a stadium which I had held in almost religious awe ever since that World Cup, consoled the unfortunate Juanfran as he came to beg for their forgiveness for the sin of missing the decisive spot-kick.
What a church. What a ground. It had been worth the wait.
And never was I more sure of anything in my life: forget England hosting a World Cup, let's get it back to Italy: pronto.
(Images: Rex)
ShortList was hosted by Pepsi Max. Check out their latest football videos on their YouTube channel here