Stop eating junk at work and try these new high-protein recipes from Protein Pow's Anna Sward
In the past two years, the world of ready-made protein snacks has exploded. Their popularity stems from the fact that more men appreciate the benefits of including protein in their diet: it keeps you fuller for longer, contributes to maintenance and development of muscle mass, aids pre- and post-workout recovery and keeps your energy stable.
So, I would advise you to include protein snacks in your diet, but don't buy ready-made snacks. Why not? Because you can easily make them. And make them far better. By making your own, you avoid shelf-life-extending ingredients, artificial flavourings and sweeteners, and bulking agents. You can also make them match your flavour and macronutrient preferences.
Now, you might say: "I can't be bothered to make my own snacks." Or, "I can't cook, so I'd mess it up." Or, "I bet it's really complicated." Or, "I just don't have the time."
You're wrong. Making protein snacks is quick and easy – just put an hour aside on a weekend. You'll have snacks for the week ahead. Here are three recipes to get you started.
---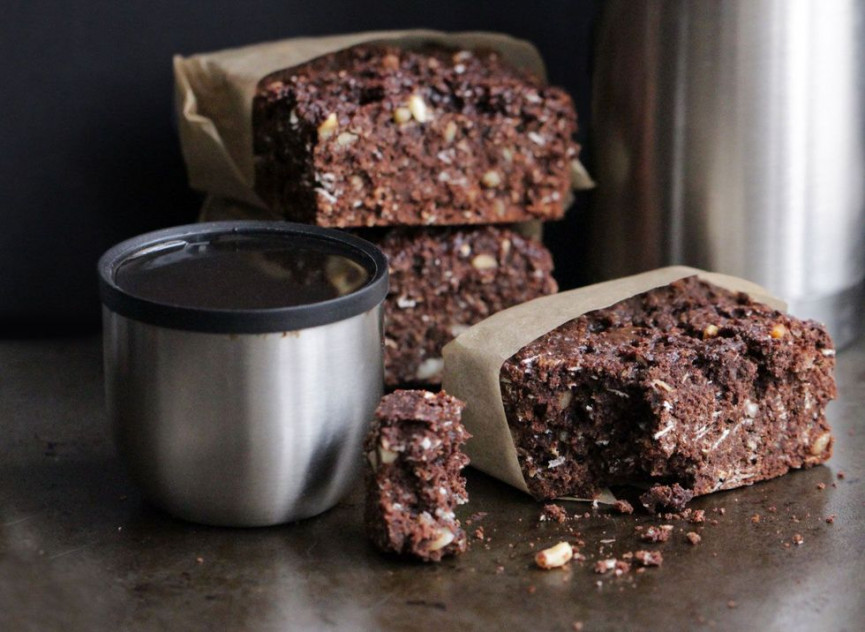 Dark Chocolate & Almond Butter Protein Cake
Makes 6 slices
- 108g rolled oats
- 6 tbsp almond butter
- 120ml milk (almond or rice milk work best)
- 60g cocoa powder
- 60g chocolate whey protein powder
- 60g ground almonds
- 4 tbsp agave syrup or sweetening syrup of choice
 Directions
1. Using a fork or spatula, mix all the ingredients together.
2. Bake in a silicone bread pan at 160C for about 25 minutes (it's best if you take the cake out when it's cooked on top, but a bit moist in the centre).
3. Once the cake has cooled, remove it from the pan and slice it into six squares, or rectangles.
---
Cherry Coconut Protein Truffles
Makes 8 truffles
- 8 glacé cherries
- 30g vanilla whey protein
- 2 tbsp milk (again, almond or rice milk work best)
- 30g coconut flakes (save 15g for the coating)
- 1 tbsp coconut flour
Directions
1. Using a food processor, blend all ingredients until you get a dough you can shape with your hands. If you find it's too sticky, add more coconut flour. If it's too crumbly or dry, add more milk.
2. Shape eight small balls (or truffles) out of this dough and roll them on to coconut flakes.
---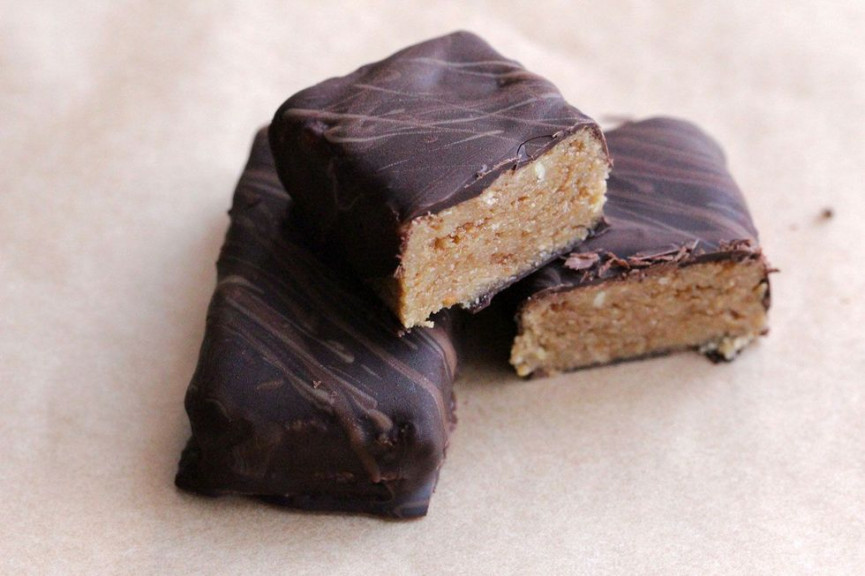 Dark Chocolate & Peanut Butter Protein Bars
Makes 4 small bars
- 1 tbsp peanut butter
- 60g vanilla whey protein powder
- 30g ground almonds
- 30ml coconut milk
- 3 tsp coconut sugar
- 40g dark chocolate
 Directions
1. Mix ingredients (except chocolate) until mixture becomes a dough. Divide into four balls.
2. Shape the balls into bars.
3. Melt the chocolate, dip your bars in it to coat them.
4. Place the bars on a lined tray.
5. Put in the fridge for a couple of hours until set.
(Images: The Ultimate Protein Pow(d)er Cookbook by Anna Sward)