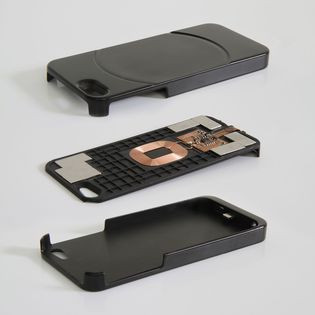 If wireless charging is the future of our mobile batteries, then the Spira is the future of our wireless chargers. 
Part wall-mounted interactive picture, part magnetic induction charger, this block of brilliance is the work of Alice Robbiani, created for a project at the University of Contemporary Design and Applied Art.
By sliding your iPhone in a specially made case that incorporates the charging socket, the Spira transforms the function of charging into something a little more artful. An accompanying app can vary the "artistic" representation of the phone's charge level - such as a gradual trickle of balls that fill the screen as the battery tops up. Rotate the phone and it turns the display into a clock. Meanwhile, the additional heat of the charging process changes the background of Spira wall unit, shifting from black to reveal a detailed pattern thanks to its thermocratic ink. Watch it in action below...
And before you ask - no, we've no idea what happens if someone calls you while your phone is hanging on the wall. Presumably the magnet is strong enough to keep it in place should it try and vibrate. We'll be writing emails to Robbiani begging her to turn this design project into something purchasable.