ShortList is now ad free and supported by you, the users. When you buy through the links on our site we may earn a commission.
Learn more
Though most of us probably don't use libraries nearly as much as we should - damn you, the internet, with your instant, non-papery information - libraries can be absolutely wonderful places. Full of stories, nice and quiet, and free for everyone.
Here we present some of the most breathtaking libraries in the world. Gaze upon them, then go to your local library and make use of its glorious facilities. Maybe even hug a librarian - but ask first.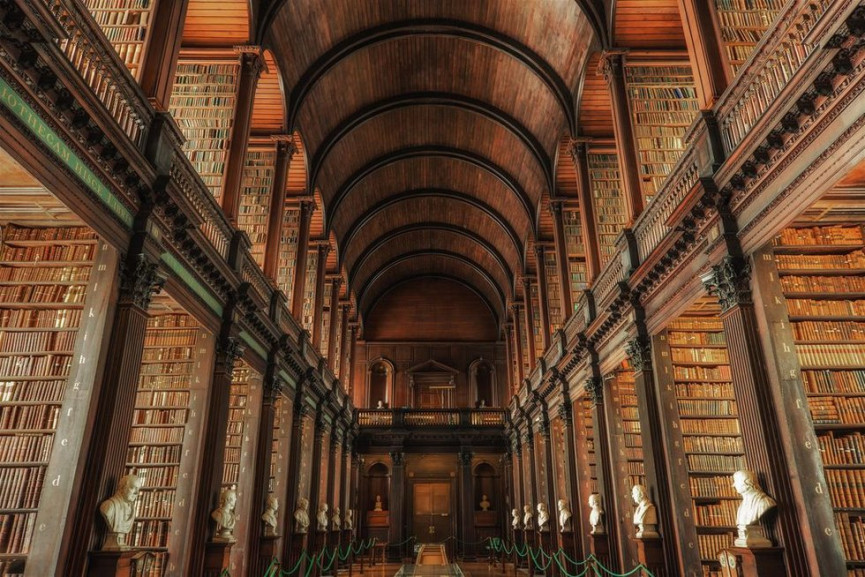 TRINITY COLLEGE LIBRARY, DUBLIN, IRELAND
Built in the 18th century, Trinity College Library is an absurdly beautiful two storey building of oak shelves absolutely packed to bursting with every book you can imagine (almost literally, as it's Ireland's copyright library, meaning anything published in the country has to have a copy sent there). A very similar looking library turned up in Star Wars: Episode II: Attack of the Clones. The makers claimed any similarity was coincidental, but you could hardly blame them if one of the most beautiful libraries in the world had inspired the most beautiful library in a galaxy far, far away.
(Image: photodesk.at)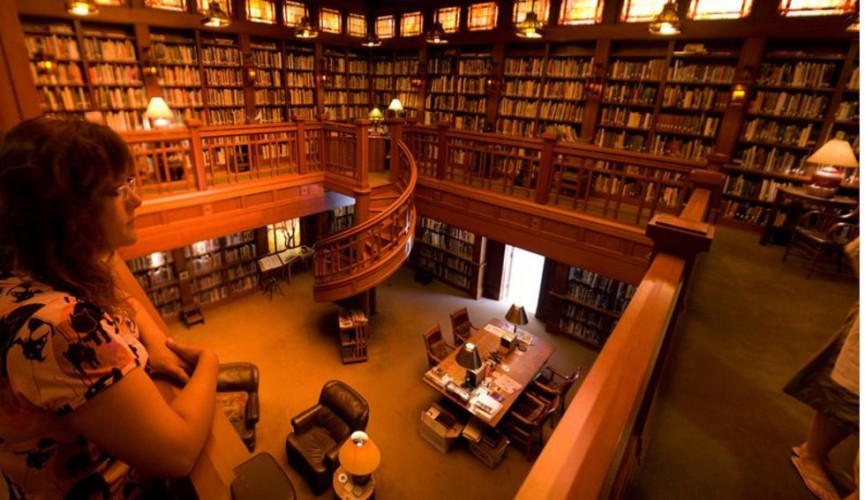 SKYWALKER RANCH LIBRARY, SAN FRANCISCO, USA
Speaking of Star Wars, this is the staff research library at Skywalker Ranch, George Lucas' headquarters in San Francisco. It's not really open to the public, so that sucks significantly.
(Image: Michael Heilemann)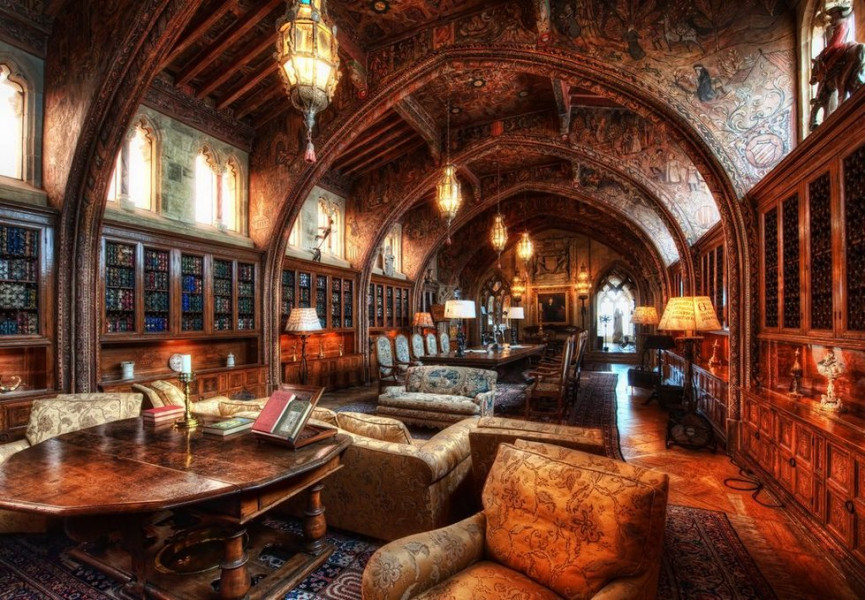 HEARST CASTLE GOTHIC STUDY, CALIFORNIA, USA
William Randolph Hearst was one of the richest men in America, making a fortune in newspapers, and had a fittingly enormous castle to live in. Within the enormous building is this rather grand study, filled with shelves of books sitting coyly behind fancy iron work. Frankly, concentrating on any book while sitting in such an opulent room would be tricky.
(Image: stuckincustoms)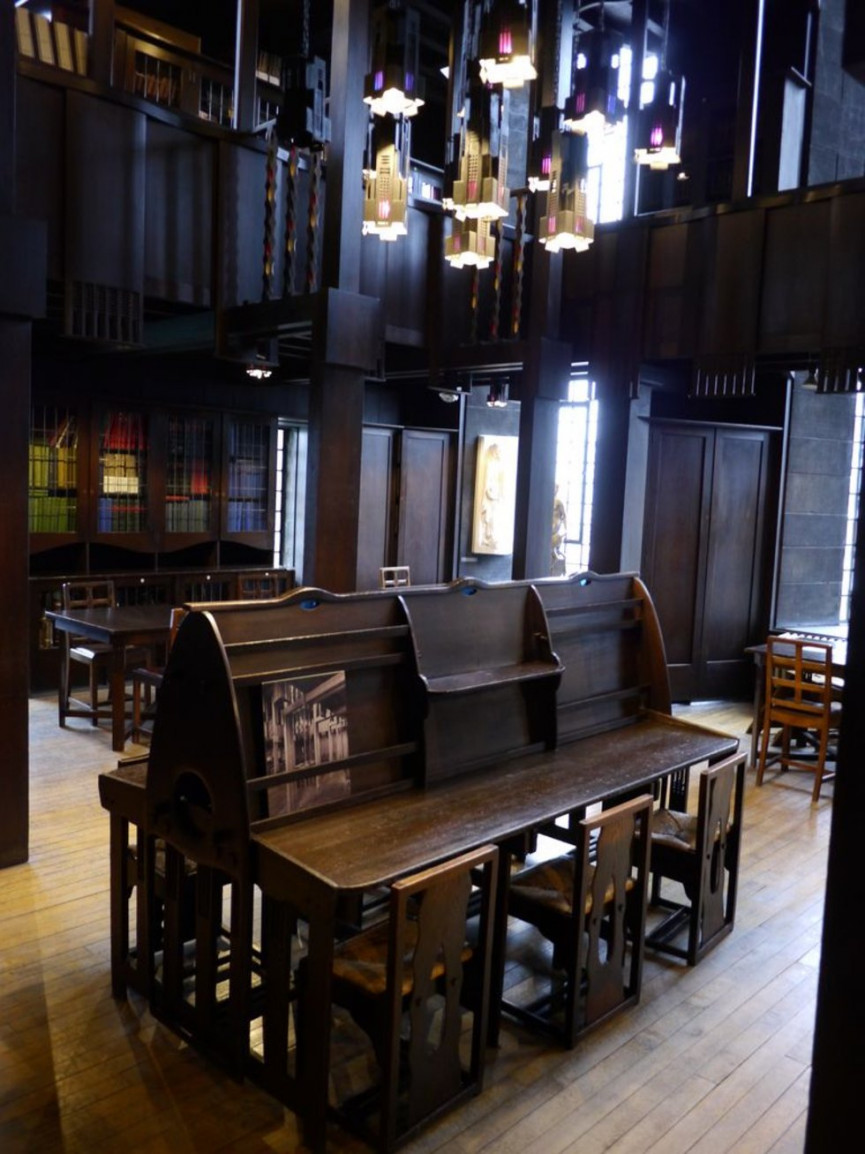 THE MACKINTOSH LIBRARY, GLASGOW, SCOTLAND
Small but beautifully formed, the Mackintosh Library at the Glasgow School of Art was, as the name suggests, entirely designed by Charles Rennie Mackintosh. Tragically, it was destroyed in a huge fire in May 2014; nevertheless, we remember it here in this list and perhaps in the coming years it can be rebuilt back to its former splendour.
(Image: thejustifiedsinner)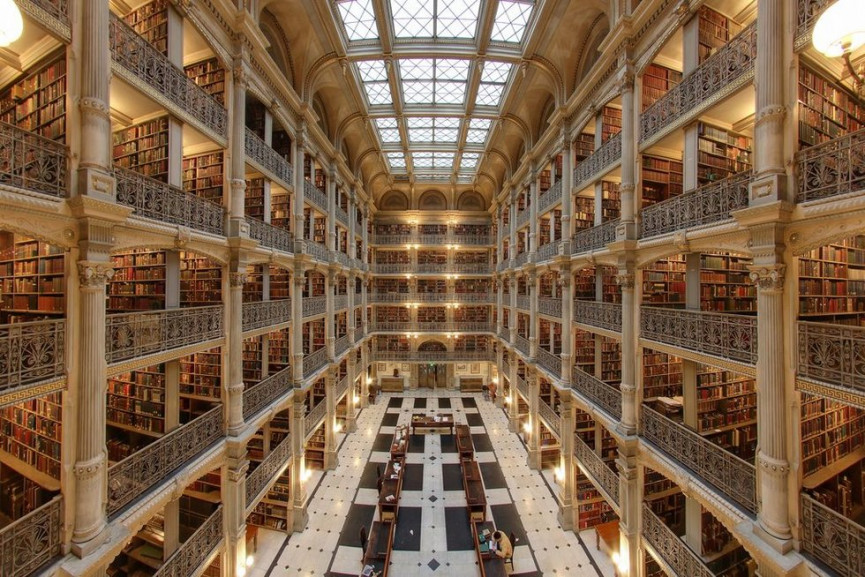 GEORGE PEABODY LIBRARY, BALTIMORE, USA
There are over 300,000 books in the George Peabody Library at John Hopkins University in Baltimore. But they all look so nice it seems a shame to remove any.
(Image: Matthew Petroff)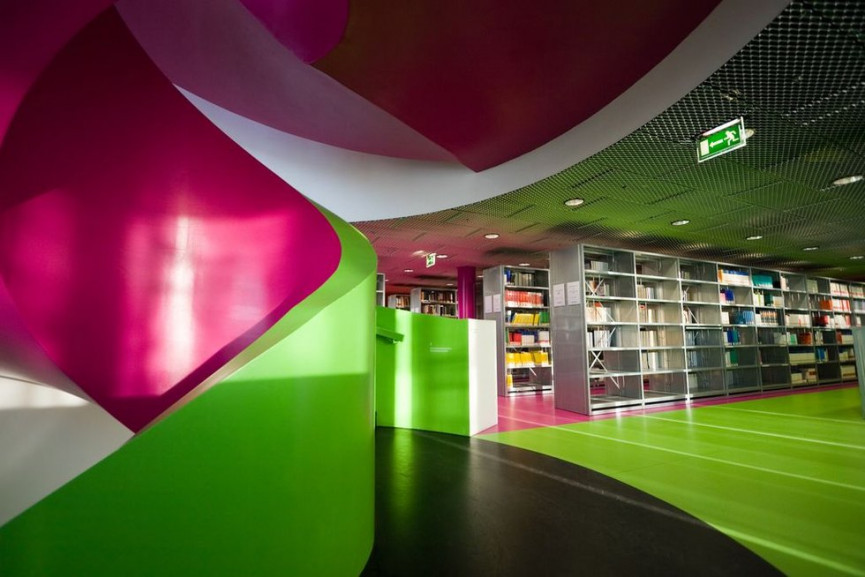 COTTBUS LIBRARY, BRANDEBURG, GERMANY
From outside, the Cottbus Library is an amoeba-shaped monolith of etched glass, which lights up magically once the sun goes down. Inside, the books are housed amid a riot of eye-searing colours. A library doesn't have to be ancient to be striking.
(Image: cgommel)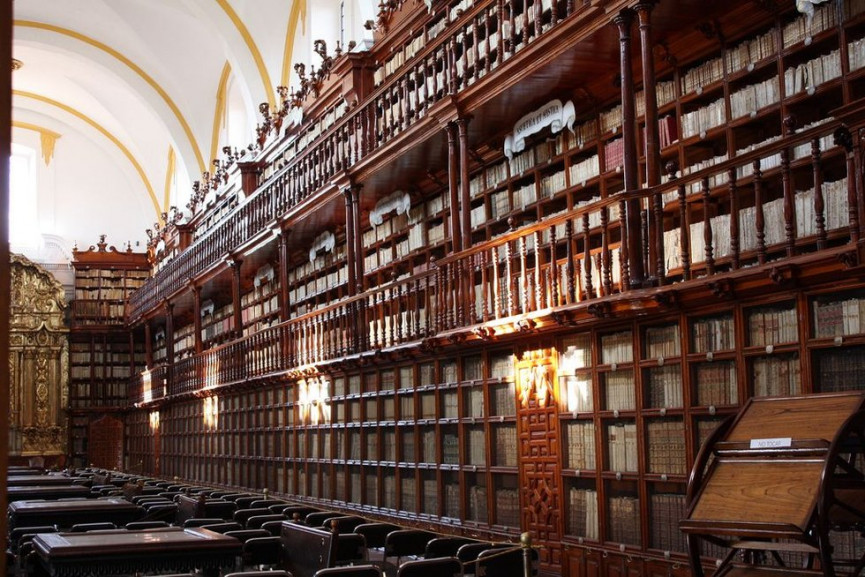 BIBLIOTECA PALAFOXIANA, PUEBLA, MEXICO
Mexico's first public library, Biblioteca Palafoxiana was founded in 1646 by book-loving bishop Juan de Palafox y Mendoza. It wasn't completed until 1773.
(Image: linkogecko)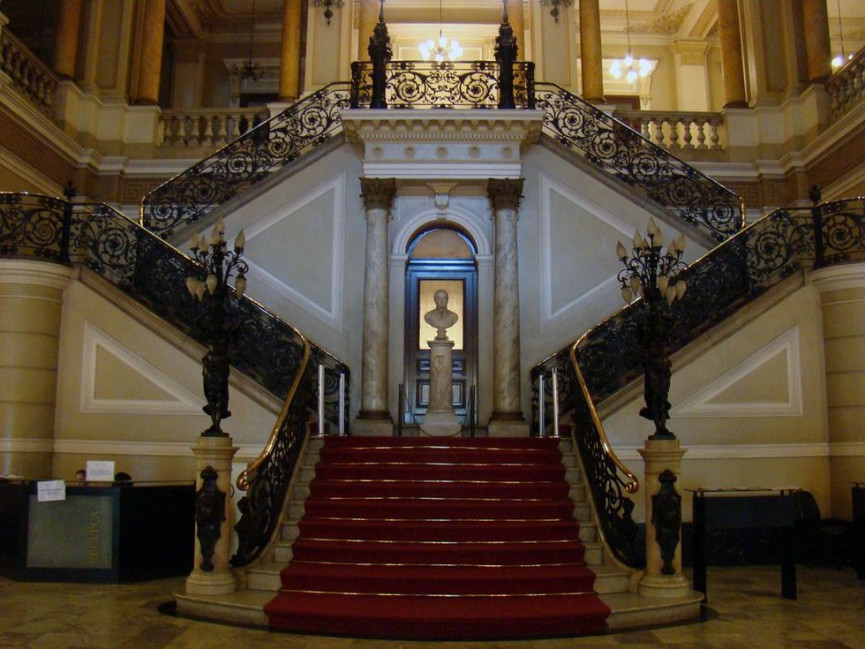 NATIONAL LIBRARY OF BRAZIL, RIO, BRAZIL
The National Library of Brazil was built after an earthquake decimated Lisbon. Determined to preserve the Portuguese literature put at risk, it was decided to move much of it to Brazil. The grand building is the largest library in South America and the seventh largest in the world.
(Image: Rodrigo_Soldon)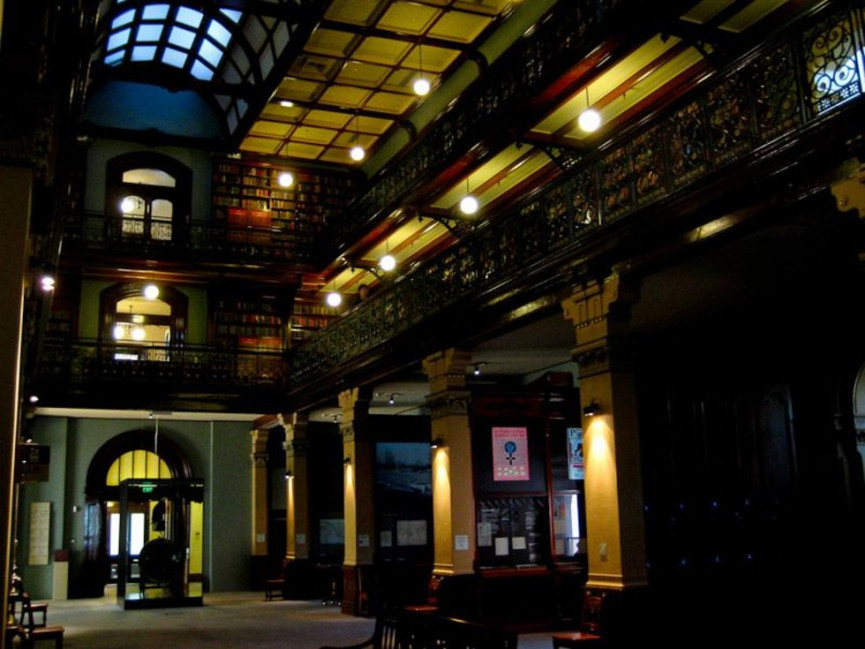 STATE LIBRARY OF SOUTH AUSTRALIA, ADELAIDE, AUSTRALIA
The most spectacular part of this library is the Mortlock Wing, which took 18 years to build and was finally opened in 1884. The books are only for reference so please don't arrive expecting to take anything home, especially since you don't even live in Australia.
(Image: John Banbury)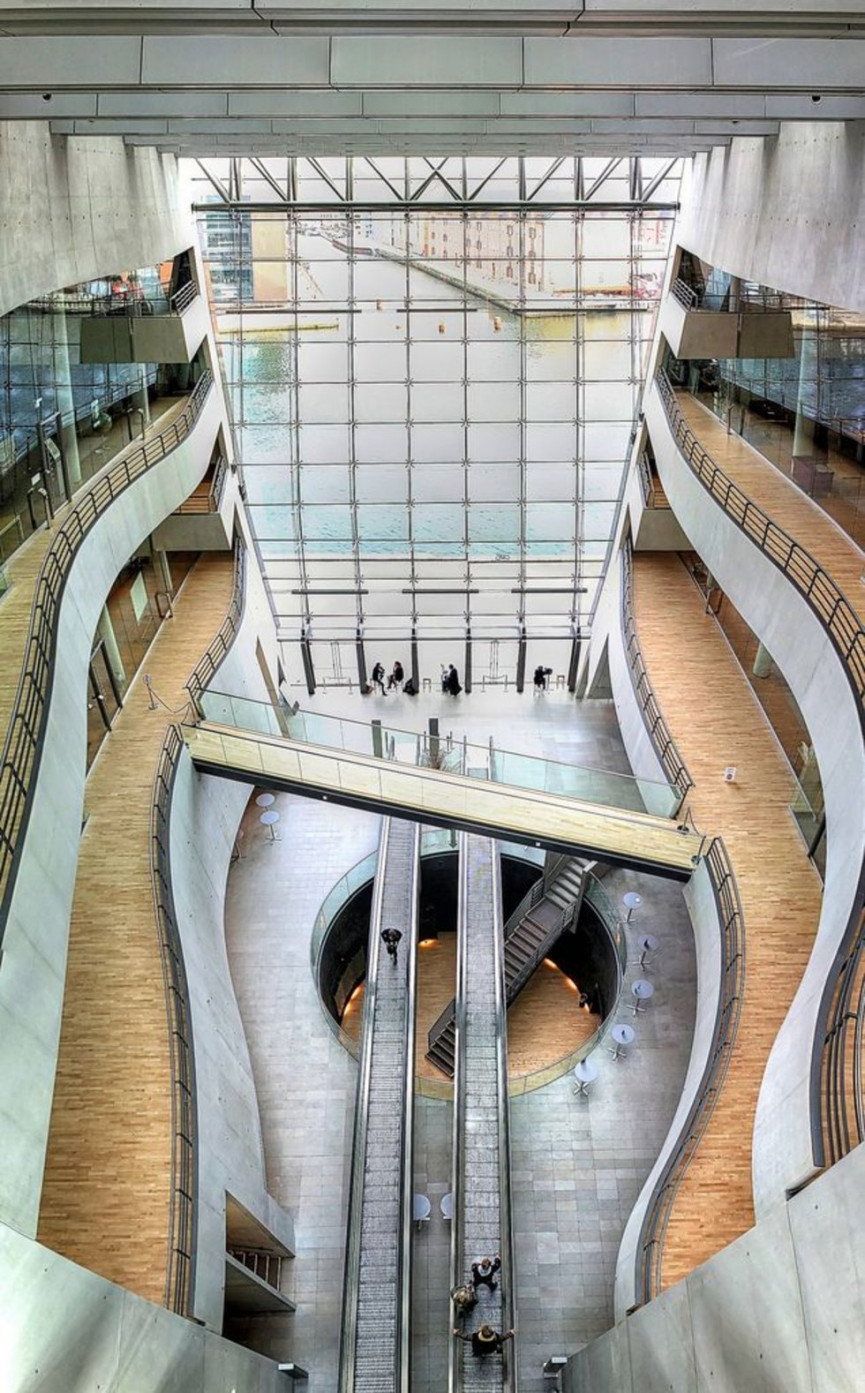 ROYAL DANISH LIBRARY, COPENHAGEN, DENMARK
The rare library in which the newer parts are the more remarkable. Though the original library was built in 1906, it was later added to in 1999 with an extension known as The Black Diamond. The hyper-modern addition looks like Darth Vader's greenhouse and, being Danish, is exceptionally cool.
(Image: Alexandro Lacadena)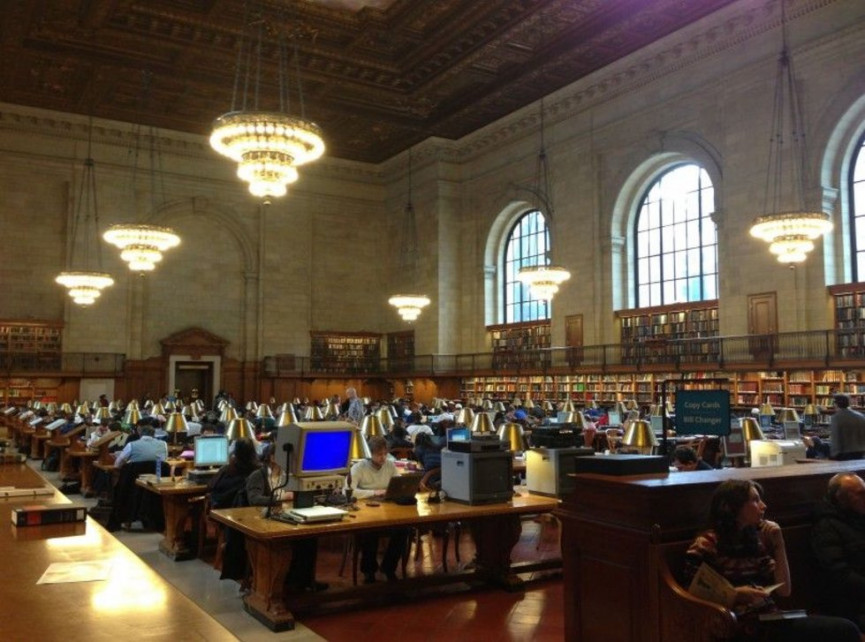 NEW YORK PUBLIC LIBRARY, NEW YORK, USA
Sure, it's one of the most recognisable historic buildings in the world and home to many extremely valuable books, but if we're honest, when we read New York Public Library we thinkGhostbusters.
(Image: Rex)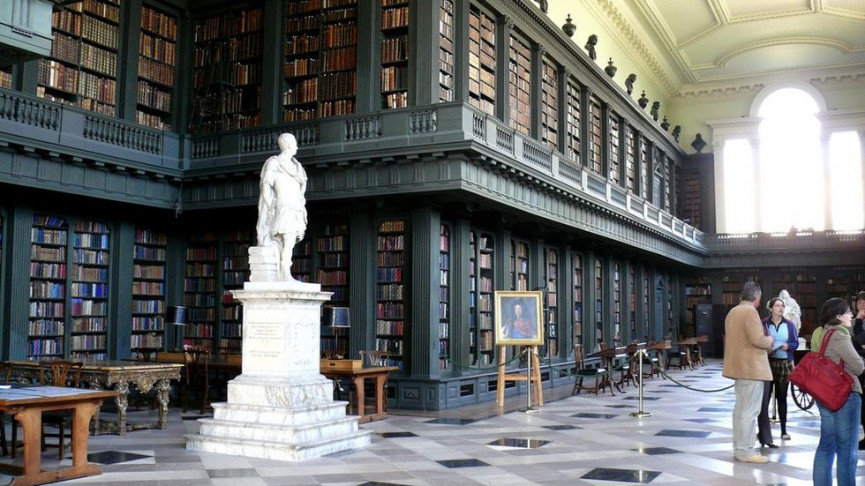 CODRINGTON LIBRARY, OXFORD, ENGLAND
The library at All Souls College in Oxford has been around since the 1700s. If all university libraries looked like this you'd have trouble getting students not to use them.
(Image: Timber Wolf Studios)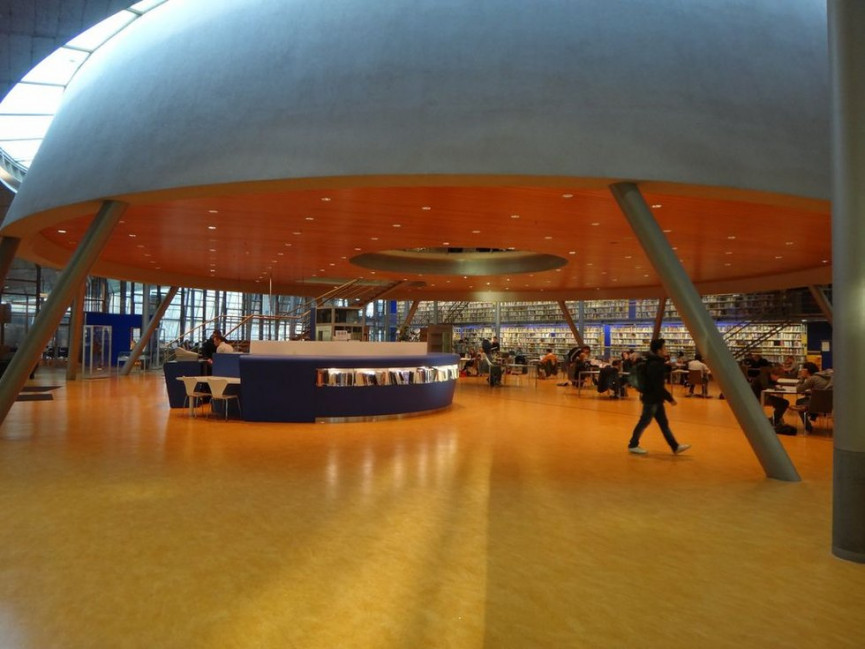 DELFT UNIVERSITY OF TECHNOLOGY LIBRARY, DELFT, NETHERLANDS
That round structure is the beginning of a giant cone that pierces through the grass-covered roof, meaning this university library looks from a distance like a space age Hobbiton.
(Image: Nick Sherman)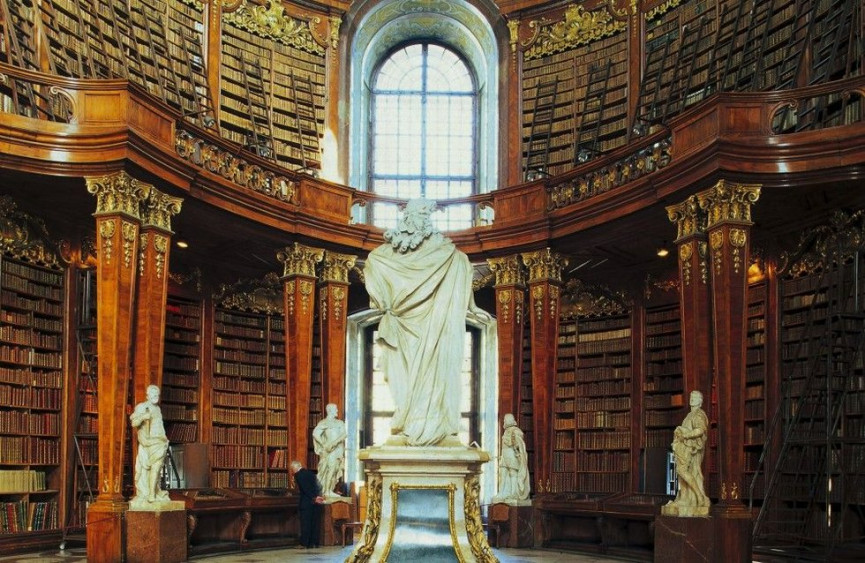 AUSTRIAN NATIONAL LIBRARY, VIENNA, AUSTRIA
Not only an absolute stunner, but also absolutely huge, with around 7.4 million books on its shelves.
(Image: Rex)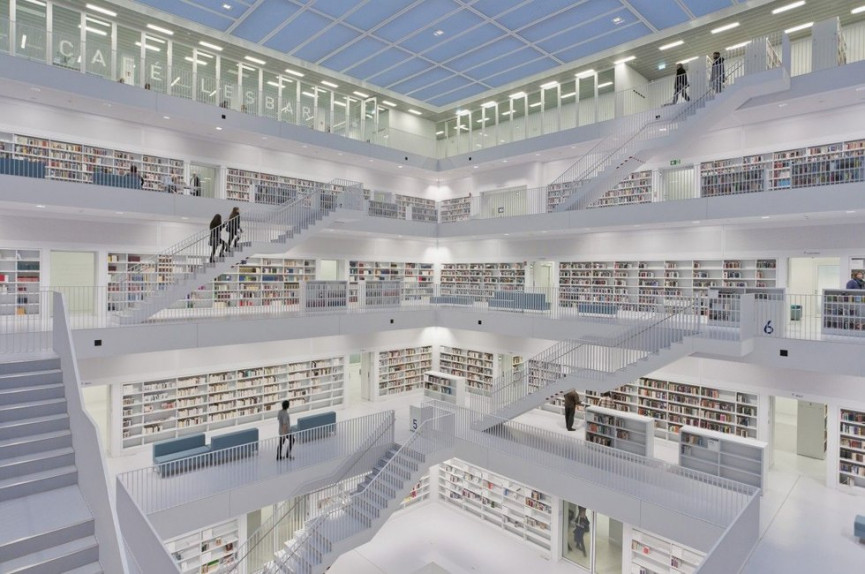 STUTTGART CITY LIBRARY, STUTTGART, GERMANY
If Apple made libraries.
(Image: Rex)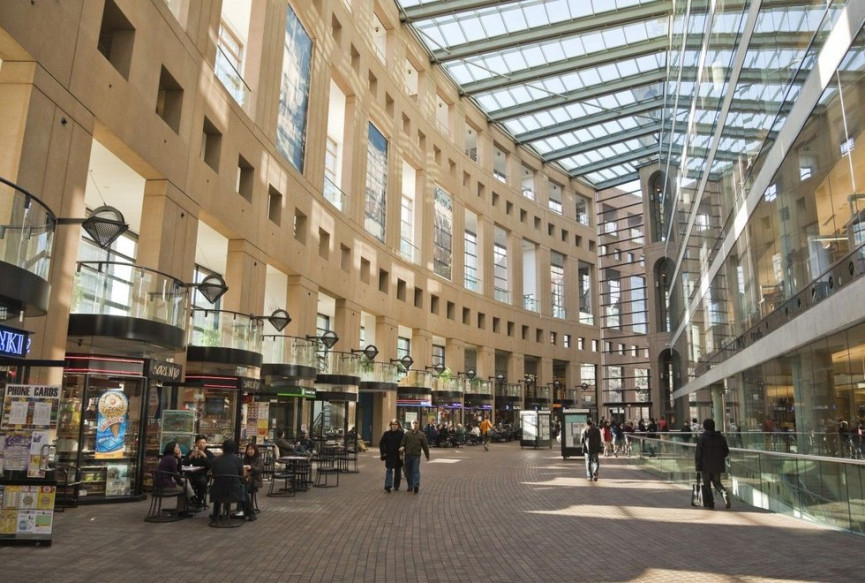 VANCOUVER PUBLIC LIBRARY, VANCOUVER, CANADA
Looking like a Colosseum that's slowly unravelling, the Vancouver Public Library occupies an entire city block in Downtown Vancouver. Built in 1969, it provides several floors stacked with books and newspapers, plus unusually for a library, retail space on the ground floor.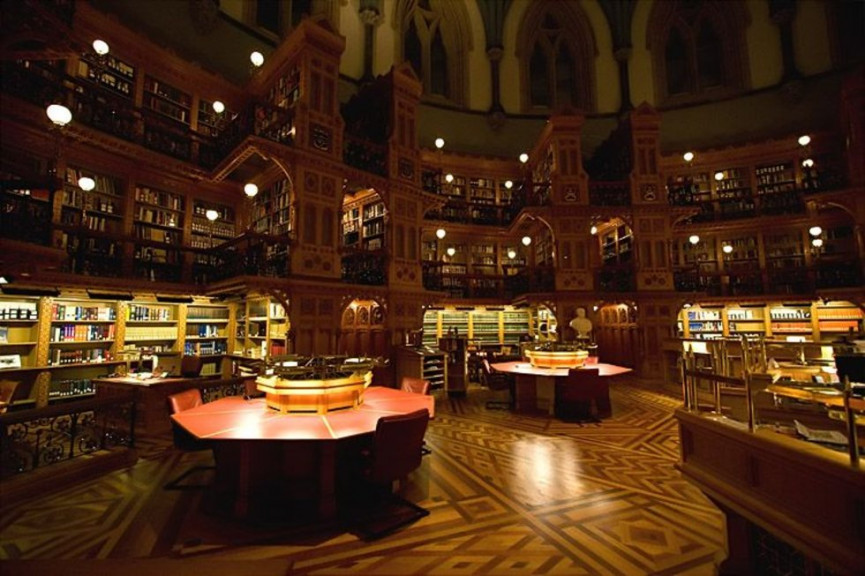 LIBRARY OF PARLIAMENT, OTTAWA, CANADA
The Library of Parliament building, with its 16 flying buttresses and its wrought iron roof is such a popular landmark in Canada that it makes an appearance on the Canadian ten-dollar bill. It's the last untouched part of the Centre Block on Parliament Hill, which was largely burned down in 1916.
(Image: Reza Vaziri)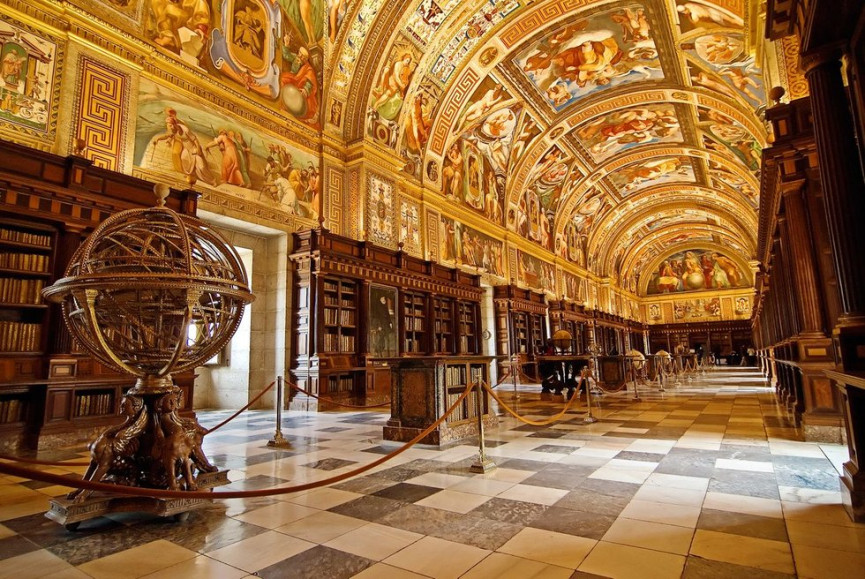 LIBRARY OF EL ESCORIAL, SPAIN
Not everything about monks is low-key. This is what their libraries look like. At least it's what the library at the Royal Monastery of San Lorenzo de El Escorial looks like. Jazzy.
(Image: cuellar)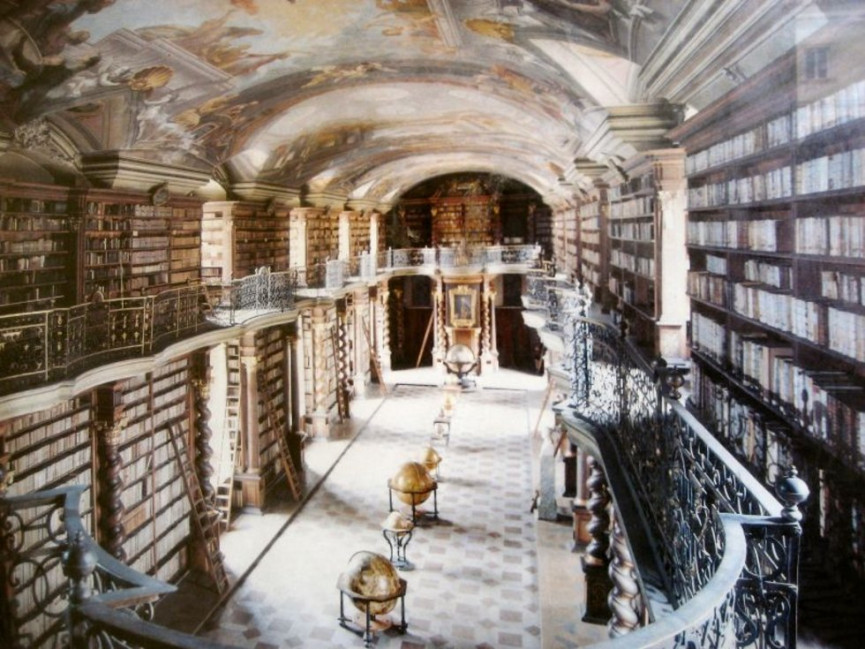 CLEMENTINUM NATIONAL LIBRARY, PRAGUE
Just look at it. It looks like a wizard lives there.
(Image: Christian Bredfelt)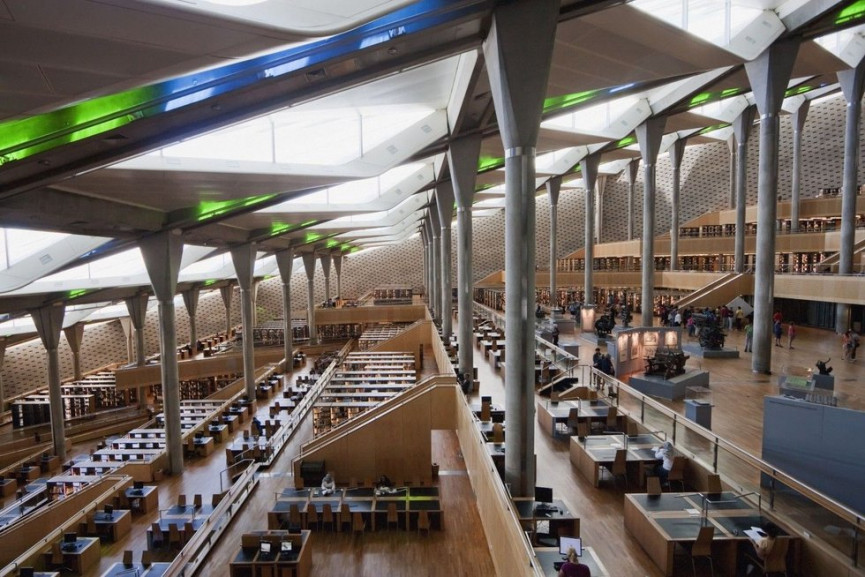 BIBLIOTHECA ALEXANDRIA, ALEXANDRIA, EGYPT
A vast, glass-roofed building on the shore of the Mediterranean Sea, the Alexandria Library has shelf space for eight million books, four museums, four art galleries and a planetarium, among many other bells and whistles.
(Image: Rex)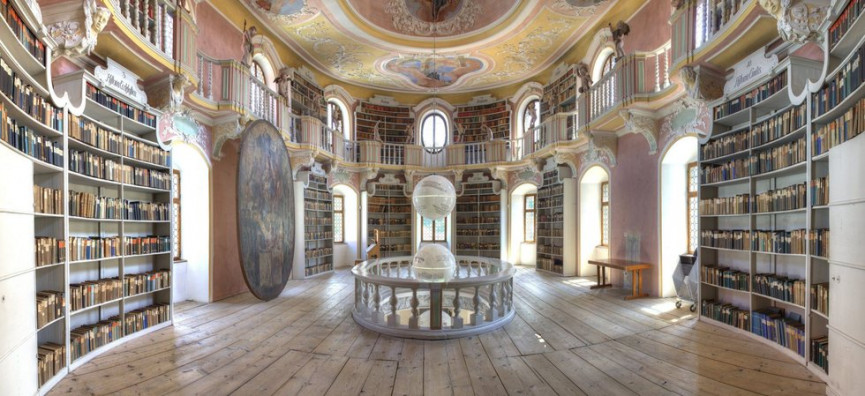 FUESSEN LIBRARY, BAVARIA, GERMANY
Another monastery library. If you want a nice library, get some monks in.
(Image: Rex)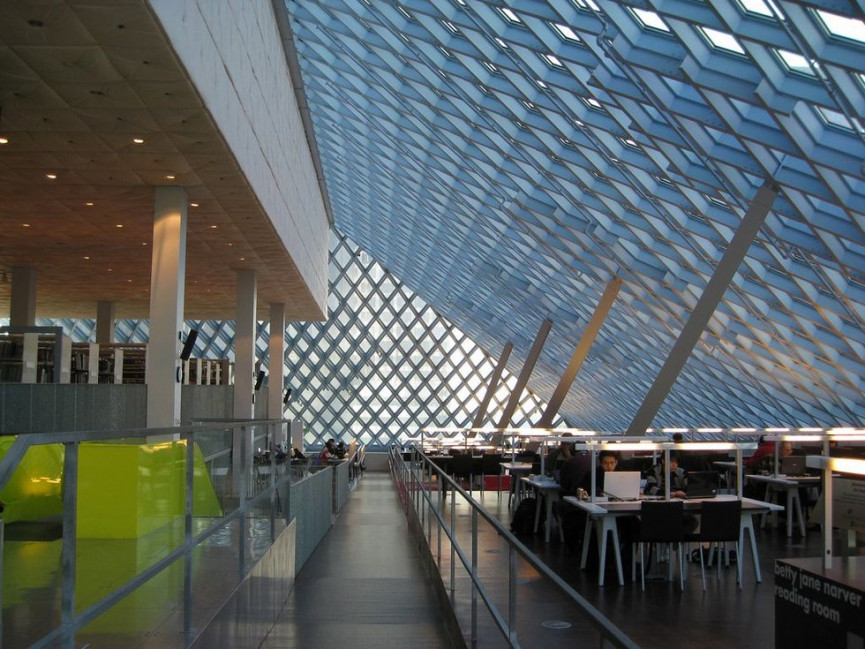 SEATTLE CENTRAL LIBRARY, SEATTLE, USA
Looks more like a very expensive hotel than a library, with its graphic glass structure and occasional bursts of colour and pattern. Reaction was mixed when it opened in 2004, but it's been hugely popular with the public.
(Image: Chris Yunker) BIBLIOTHEQUE SAINTE-GENEVIEVE, PARIS, FRANCE
Of course a Parisian grand library would be incredibly stylish. Built in the mid-19th century, is beloved for its iron roof.
(Image: Rex/Will Pryce)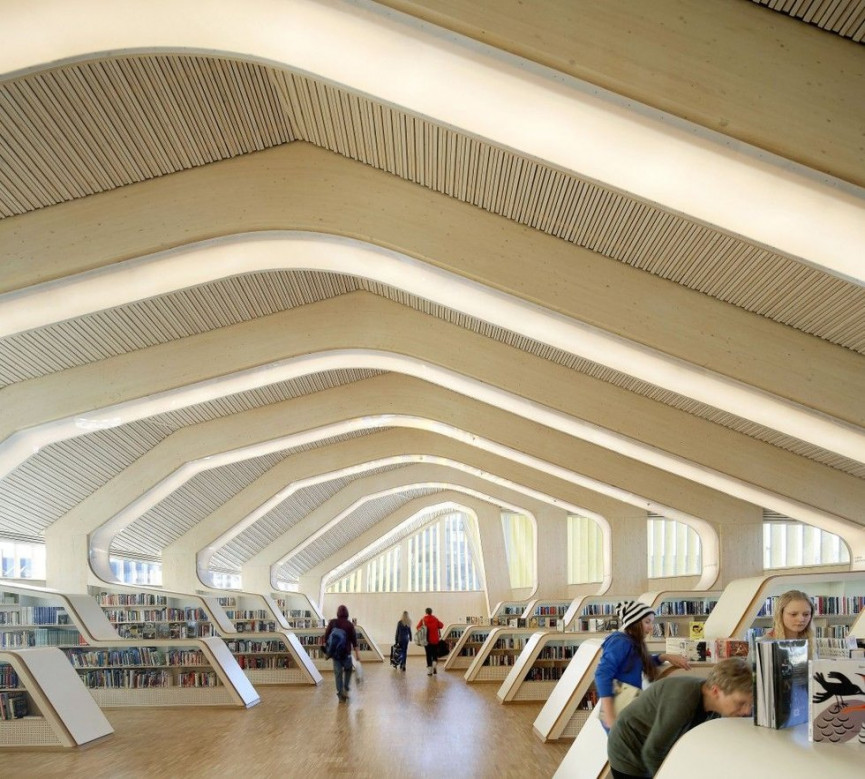 VENNESLA LIBRARY, VENNESLA, NORWAY
Huge and sculptural, like the skeleton of some giant alien creature, the Vennesla Library has shelves and reading 'pods' built directly into the building structure.
(Image: Rex)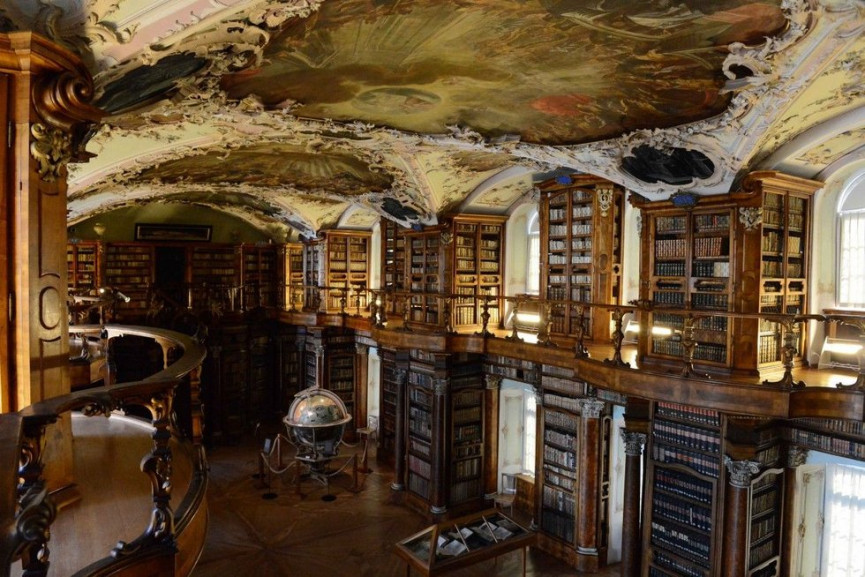 ABBEY LIBRARY OF ST. GALLEN, SWITZERLAND
Boasting the oldest library collection in Switzerland, this ornate library has texts dating back as far as the 8th century.
(Image: Rex)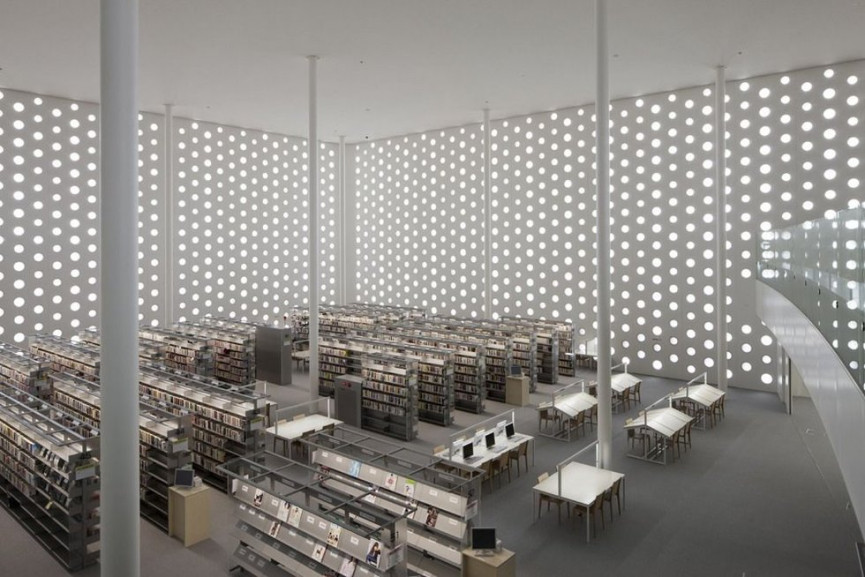 KANAZAWA UMIMIRAI LIBRARY, KANAZAWA, JAPAN
Approximately 6,000 holes are punched in the exterior of this serene study space.
(Image: eager)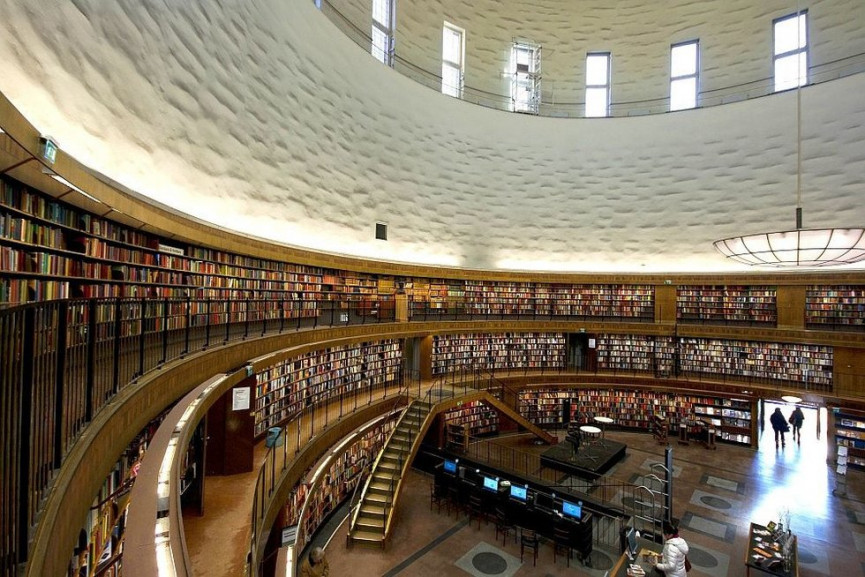 STOCKHOLM PUBLIC LIBRARY, STOCKHOLM, SWEDEN
You know what this library has that most others don't? Roundness.
(Image: Wojtek Gurak)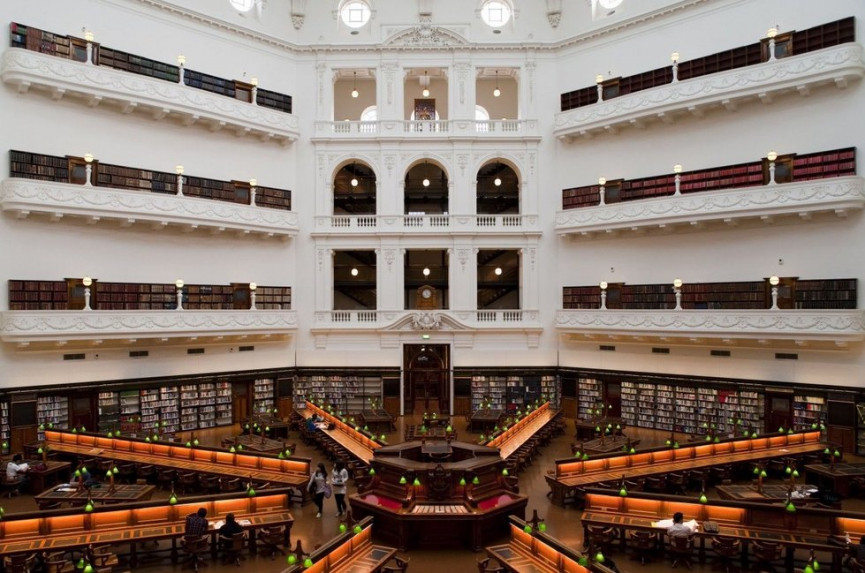 STATE LIBRARY OF VICTORIA, VICTORIA, AUSTRALIA
At the time it was built the reading room in this stunning library was the largest in the world. It's not now, but it's still pretty flipping impressive.
(Image: Rex)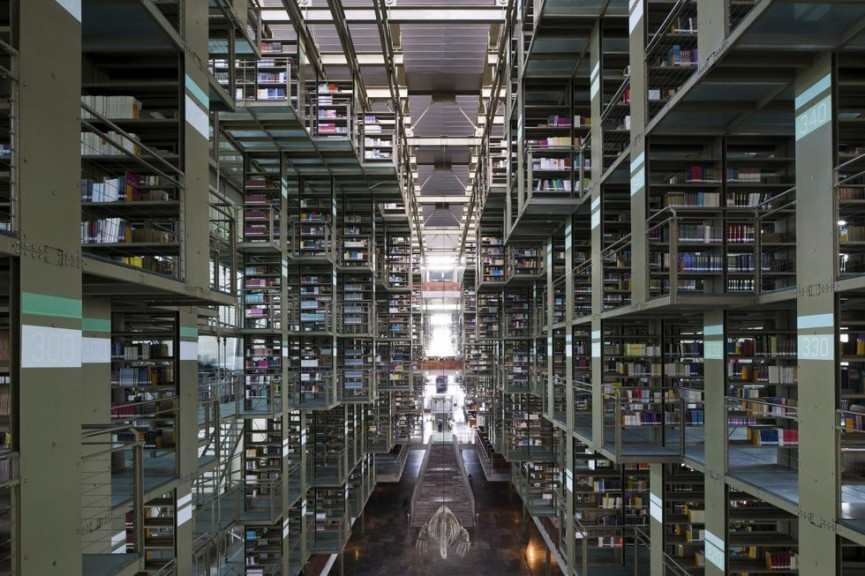 JOSE VASCONCELOS LIBRARY, MEXICO CITY, MEXICO
You see that shape down at the bottom of the photo. Know what that is? It's a giant sculpture of a whale skeleton. You'd get a lot more kids into libraries if you put a few more massive animal skeletons in them. Take note, everyone else.
(Image: Rex)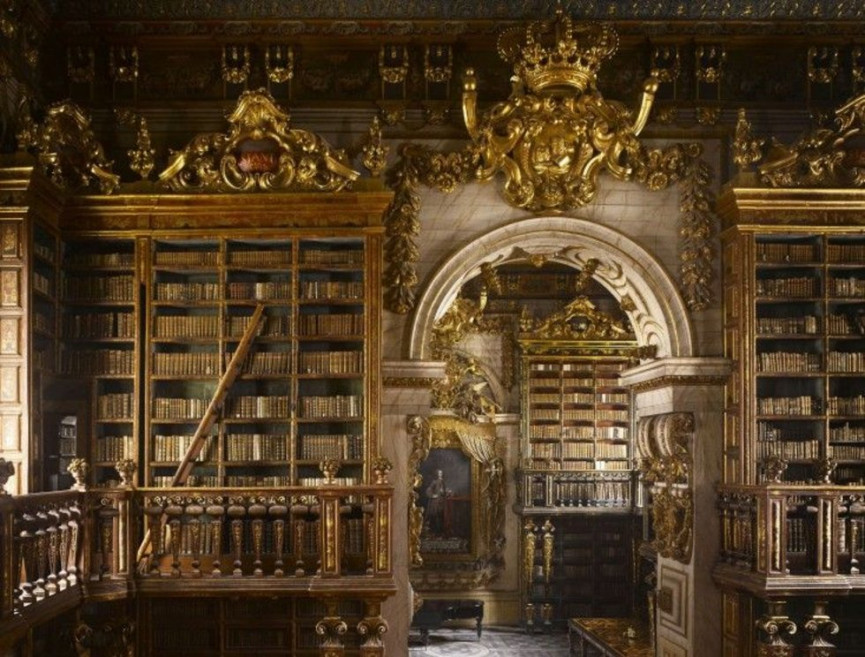 BIBLIOTECA JOANINA, COIMBRA, PORTUGAL
A relatively small library built for King João V in the 18th century, Biblioteca Joanina makes up for its size with opulence. Its three library rooms are filled with shelves built from exotic woods and an awful lot of gilt.
(Image: Rex/Will Pryce)
Related Reviews and Shortlists