ShortList is now ad free and supported by you, the users. When you buy through the links on our site we may earn a commission.
Learn more
Remembering Pierre van Hooijdonk, the original football 'striker'
What really happened at Nottingham Forest? As Dmitri Payet refuses to play for West Ham, we take a look back at the story of the original striking footballer: Pierre van Hooijdonk
I always remember the first thing I thought upon hearing the name Pierre van Hooijdonk: "Wow, that'd cost a lot of money if you wanted to get his name on the back on your shirt."
Now, of course, utter the name Pierre van Hooijdonk and the first thing anyone thinks is: "That Dutch guy who went on strike at Forest."
Forget his utterly phenomenal career record – 335 goals in 551 games across 18 years at club level, and a highly-respectable 14 in 46 for the Dutch national team – his contribution to Celtic winning their first trophy in six years at the end of his debut season at Parkhead and his 34 goals in the First Division for Forest which took them up to the Premier League – no, people just remember him refusing to play for the club for four months in 1998.
And whenever anyone else puts themselves in the same position – Carlos Tevez, Dimitar Berbatov, Kieran Dyer – even Paul Scholes – and now Dmitri Payet at West Ham – out comes van Hooijdonk: the striking daddy of them all.
Even in the unlikely situation that this isn't the first thing that comes to mind for football fans, they'll almost certainly refer to his comment in a column that '£7,000 [extra] is enough for a homeless person, but not enough for a top-class footballer' when he was angling for a pay rise at Celtic.
All in all, a bad egg, right?
But – and this may shock you in the famously unbiased world of football – all is not necessarily as it appears once you dig below the surface a little. For a start, that quote above, repeated ad infinitum on listicles featuring the striker across the internet. The man himself explained to FourFourTwo only last year that, like many celebrity columns, he didn't actually physically write it; instead being interviewed over the phone by a ghostwriter who would flesh out the material.
According to van Hooijdonk, "I wanted to make a comment to explain to the supporters that I wasn't talking about peanuts. I said: 'OK, the offer they have made is a lot of money for ordinary people, but for a top Celtic player it isn't, because people like Di Canio and Thom are paid more'." As in the case of Danny Dyer before him, he made the cardinal mistake of not bothering to read the column before it went out under his name. Misguided and foolish? Yes, but – beyond the usual arguments of the ludicrousness of footballers' wages – not an unreasonable point; after all, he ended up scoring 52 goals in 84 games for Celtic – was it that outrageous an ask to be on a par with the top earners at the club?
The story of his infamous strike is not altogether straightforward either. He joined Forest in March 1997 for £4.5m but couldn't prevent the club being relegated from the Premier League. Considering the size of the fee, and the fact that the gap between the Scottish and English Premier Leagues was not what it is these days, he would have been entitled to angle for another move to a Premier League side. In fact, through a modern lens, this would have been a wholly unremarkable thing to do.
Instead, he stayed and fired Forest to an immediate return to the top flight, scoring 34 goals, before appearing at the 1998 World Cup Finals, where the Dutch narrowly missed out on making the final. This was a player at the top of his game, ready to return and prove himself in what was becoming the best league in the world.
However, this is where it gets foggy.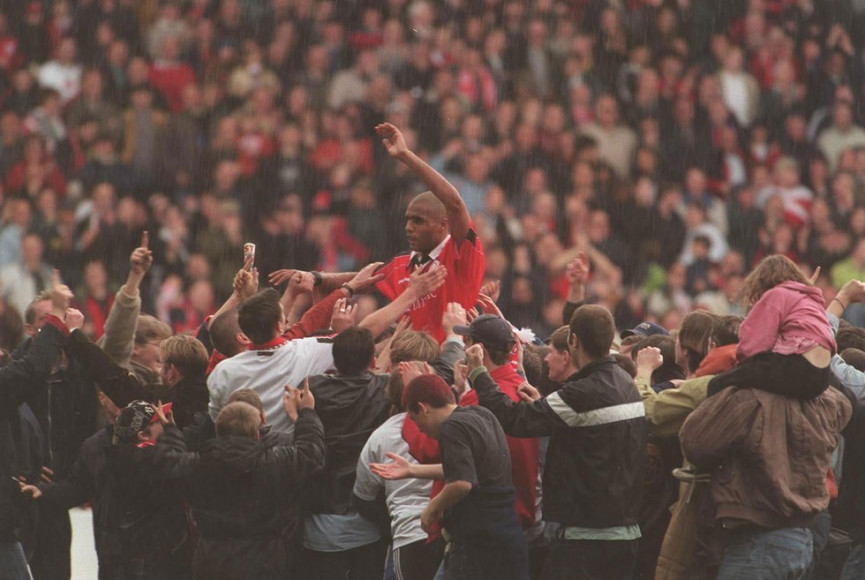 According to the man himself, he had, in fact, had the chance to leave during Forest's promotion year, being offered a move to PSV Eindhoven in December of the season – however, he agreed to stay on condition – which was accepted - that he was allowed to leave at the end of the season, once he had taken the club up. All the while, he was unhappy with the training methods of Forest manager Dave Bassett, saying, "He wasn't a good coach. We never had a game where we had a tactical accent on attacking or defending, nothing. Just 'enjoy it'… Anyone could have got promotion with that team… We were doing fuck all in training. People say we became champions, but so what? If you were to change all the managers in the league for cats, at the end of the season there will still be one champion and three will get relegated. Does that mean the cat who is champion is fantastic and the three who got relegated are shit?"
However, the club backtracked on their promise, pricing interested clubs out of a move. Meanwhile, important players were sold around him – Kevin Campbell (who had netted 23 goals in the promotion season) to Trabzonspor and Colin Cooper to Middlesbrough (who had been promoted alongside Forest and would surely be one of their direct rivals at the bottom of the table the next season), something which van Hooijdonk described as a "broken promise".
And thus, the seeds were sown for confrontation.
As the above quotes show, van Hooijdonk is a straight-talking man (in the same interview he describes how when he joined Celtic, "I was shocked by the standard. If we'd played NAC Breda [his former team in Holland], we'd have lost big time.") Moreover, he was clearly a man who set himself high standards, and wanted to improve as a player. Could he allow himself to be betrayed by a club who'd broken promises, keep working with a manager he did not respect, and play in a team he knew weren't good enough – and for owners who had arguably betrayed their own fans by weakening the side?
We all know what happened next: he went on strike and back to Holland for fully four months, training with his former club NAC Breda.
As revealed in a BBC interview, neither Bassett nor the Forest director Irving Scholar went out to Holland to talk to the player and convince him to return. Van Hooijdonk maintains today, that despite doing a well-paid job, "It still doesn't give you the right to screw me around. I had no problem with the club fining me two weeks' wages every time that I wasn't there. I didn't want to get paid for doing nothing, but I wanted a solution to it all."
In the world of football, particularly at that time, there was no doubt who the bad guy was. Fans expect unquestioning loyalty from their players, and van Hooijdonk should have ignored all of the above and played on to get his move. The manager was – clearly – in no doubt that his actions were wrong, saying he was "disgusted", while the players seemed to be of similar mind: when van Hooijdonk finally returned after his wish of a move was granted by Scholar, following a meeting in Monaco, his first goal back, against Derby, saw him shunned by his teammates, who celebrated with Scott Gemmill, who had provided the assist, instead.
Yet, looked at objectively, the strike looked much like any other industrial strike: the withdrawal of labour in protest at certain treatment, at personal cost to the striker, leading to a resolution that suited all parties. After all – all Van Hooijdonk ended up with was what he was originally promised by his employers: a transfer, following a stint of unarguably excellent service.
These days, of course, you would assume that it would have all been handled very differently. No one wants a player that doesn't want to play for them any more, and he would have been shipped off far earlier than he eventually was. Yet a player forcing a move undoubtedly does lose the owning club money – they are compromised as potential purchasers know they have to sell, therefore they can offer less. We'd bet our bottom dollar that Dmitri Payet will end up being sold for a cut-price fee – although Slaven Bilic certainly has a touch of the Dave Bassett stubborness about him, so we can't rule out the possibility of him rotting in the reserves for the rest of the season.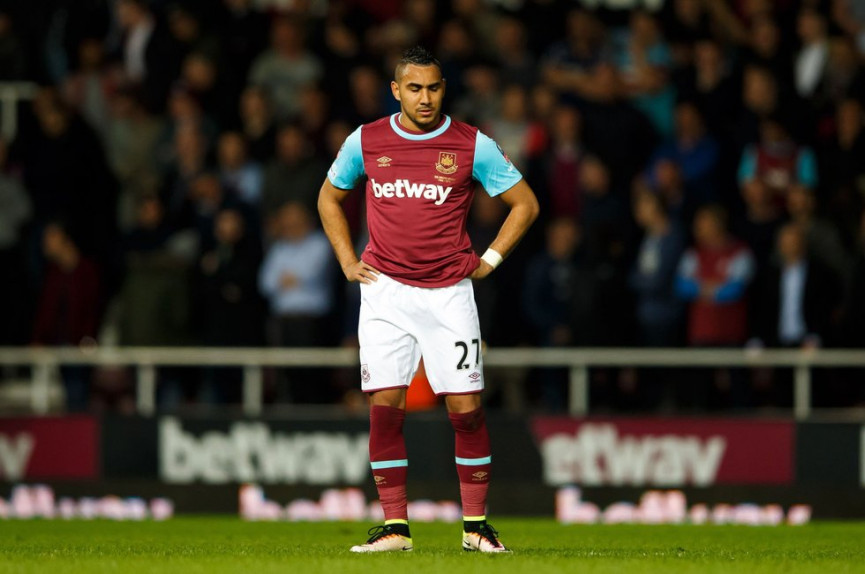 But really, Van Hooijdonk was a sign of things to come: treating football like the pure market that it is, without any sentimentality. He knew his worth; as the club's star player, he knew he had the leverage to force the issue, and he was unafraid to use it – much like Payet is doing today.
Ironically, of course, Van Hooijdonk overplayed his hand. By striking so long, he earned himself a reputation as a troublemaker, and eventually managed only a move to Vitesse Arnham. Had he stayed and played, he'd have kept himself in the shop window and perhaps earned a move to a bigger club.
Again, though, the situation is perhaps not that simple, as he explained about his return to Forest, saying "When I started playing again I gave everything – but that [extra] five per cent you get when you're buzzing... it wasn't on purpose but it was missing. The heart wasn't there any more." Moreover, could he have trusted Forest to have kept their word when they'd already broken it once? But then – again – when joining Forest, van Hooijdonk had signed a five year deal with no quick release clauses. If he'd wanted flexibility, he could have demanded it then – surely he only had himself to blame for being tied to the club, even were not to his liking?
Indeed, upon signing that contract he offered the immortal quote - contrasting his contract dealings at Celtic with his new employers - saying "I have been very impressed with [Forest directors] Phil Soar and Irving Scholar. They have shown me there is another way of dealing with contracts - the right way."
Whether van Hooijdonk looks back and regrets his actions or not, we're sure he'll at least have a chuckle at that.
(Images: Rex)
Related Reviews and Shortlists