ShortList is supported by you, our amazing readers. When you click through the links on our site and make a purchase we may earn a commission.
Learn more
"I woke up and could not have felt more empty": Jonny Wilkinson on glory, success and mental anguish
The England rugby legend reveals all about the quest for happiness Jonny Wilkinson used to live his life like a Hollywood movie. He was the star, obviously, surrounded by a glittering cast of supporting characters. At 18, he became the England rugby team's youngest cap for 71 years. Two years later, in 2000, he single-handedly KO'd the mighty Springboks kicking all the points in a 27-22 victory during that now-famous tour of South Africa.
Then came the World Cup final against Australia in 2003.
The final seconds of extra time, the score at 17-17. The ball pops from the ruck and into his hands. He drops, he kicks. He instantly becomes the most famous rugby player on Earth. Narrative arc complete.
And yet… "By that point I'd ticked off every goal I'd set myself," he says. "That final was my Hollywood ending. I walked into the sunset after that game, the credits came up and the next morning I woke up and could not have felt more empty."
He was a World Cup hero and heartthrob-in-chief of one of the greatest stories in British sporting history. Rather than bathe in his glory, he sank into depression. "You realise that the credits come up on the film and it's not like the next film starts with the hero waking up in bed and he's got a bad knee and no food in the fridge."
Wilkinson's voice drops an octave when we move onto the topic of mental health. He talks slowly and earnestly as he relives his old memories. If, that is, you can even call them his. "That lifting of the World Cup happened to another me in another time," he says. "Although, the beauty of it is that I have access to all that information through memory. I can remember it, I can enjoy it and I can attach myself to it as much as I like. But I also know, deep down, that that didn't happen to this me."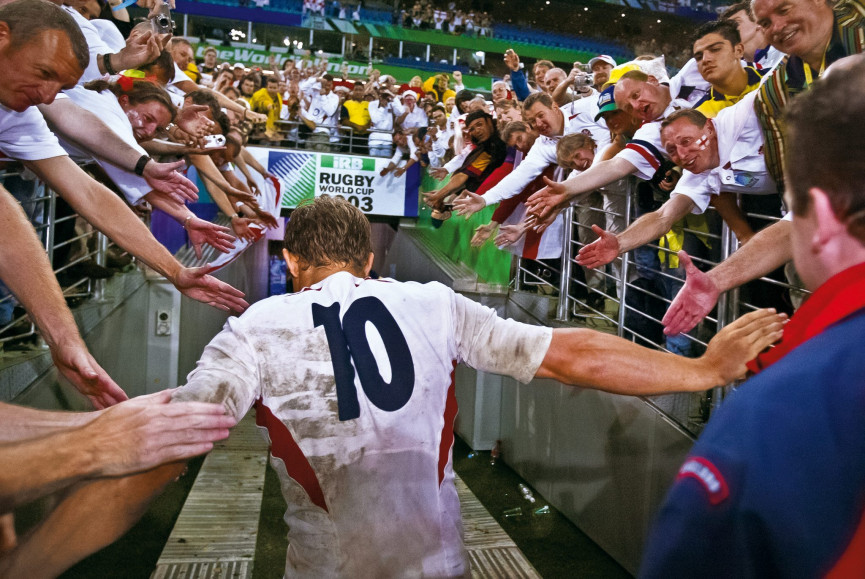 Turns out there are two Jonny Wilkinsons. Actually, there are more than two. Best to let him explain: "What I have realised is that this me, now, is brand new. He's not connected to other mes in the past. I have all the information on those other versions of me, but I'm not attached to them by a rope with a sign that says, 'You are from there, therefore you must go here.'"
World-Cup-winning Jonny's battles with depression and anxiety are well-documented. He has described locking himself in toilet cubicles minutes before games, a "shivering wreck", or screaming into the water of his jacuzzi to try to banish his demons. "Without knowing it, I had built this identity around all these assumptions, definitions and beliefs about what I needed to do to be a good man, a respectable person, a successful sportsman," he says. "All these rules, as I got older, became more black and white, and I was left with an insurmountable barrier."
That barrier, distilled to its essence, was a crippling fear of failure. As his career soared, his mental health plummeted, and he tumbled deeper into the echo chamber of his own mind. "As this perfectionist rugby player who couldn't bear to lose, I had this idea that who you are starts when you're born and ends when you die, and if anything bad happens then it stains that identity forever," he says, adding, "but there was a world out there, outside of the identity I had created, that I was constantly trying to get to but was held back by the man I had become."
He retired from professional rugby in 2014.
Professional sport is an extreme existence, all visceral highs and lows. For many ex-pros, those vicissitudes can weigh heavy on the mind. "When you finish a career in professional sport, it can feel like nothing will ever make you as happy as the career you had," he says. "And as that happens you can start to feel alone, disengaged, unable to be happy any more. You're held by this idea that this or that was your best moment and you've got to beat it. Suddenly you've got to try to sail around the world alone, or own the most beautiful house on Earth, or learn to fly a plane. All these things, in the end, you realise that the destination is empty." This realisation came quickly for Wilkinson, perhaps thanks to a lifetime of overwhelming monomania. He was finally freed from the exhausting and seemingly futile quest for perfection to tackle his mental health issues head on. Spiritualism helped, as did Buddhism and quantum physics. "I went from thinking I could be an important person by winning things to realising that winning things doesn't make you important," he says. "I realised that, in fact, it's better to be no one. Because that is freedom. As soon as you have an identity, you have to work to keep it alive."
World-Cup-winning Jonny was, is, and probably always will be considered one of the greatest English rugby players of all time. But that Jonny's dead now, or at least locked in the lightless basement of New Jonny's mind.
Now, New Jonny makes and markets kombucha – fermented black or green tea that's said to improve gut health, help with diabetes and insomnia and generally improve mental and physical wellbeing. He's called it No1 Kombucha. "It embodies the idea of a journey," he says.
"It's about going searching for number one, and bringing out the best in you and your health."
He says it's the culmination (not the end!) of his own journey of self-discovery. "The beauty of being alive is never arriving. When you arrive, you are stuck, like I was after winning the World Cup in 2003. When you are on your way somewhere, there is always excitement and possibility. Keep seeking, keep enjoying, keep expressing your passion."
Are you happy, Jonny? "The thing is, if you find it, then you're back at your destination and that's not where you want to be," he says. "That's why I describe happiness as an ever-expanding journey of opportunity. If you're looking for happiness in things around you, you'll get some pleasure, but it will fade. Then you must look for something else. It becomes an endless search to top your last high. Happiness isn't outside, in destinations, outcomes or results. Happiness is already inside you."
But are you happy? He chuckles: "I'm aware from an outside perspective that I'm in a very fortunate position. But I pay respect to that by not allowing it to determine my identity. So yes, I am extremely happy now, and that's all that counts."
Wilkinson's No1 Kombucha is available exclusively in Sainsbury's; no1kombucha.com

(Images: Tom Shaw/Getty/Rex)

Related Reviews and Shortlists