To some it might not seem like a big deal. 'Some' being those with a full head of hair, those lucky, unnatural b*stards.
But what is the right thing to do when you start to see patches or when your hair starts to thin rapidly? In 2016 you no longer have to head straight for the razor as a cure (although some men look decidedly better bald e.g. Jason Statham), as there's a plethora of alternatives out there.
You may be 15 or you may be 50, it doesn't matter, baldness and thinning hair can affect you at any moment in your life, so know what your options are if it does strike.
Best for getting it over and done with: shaving it off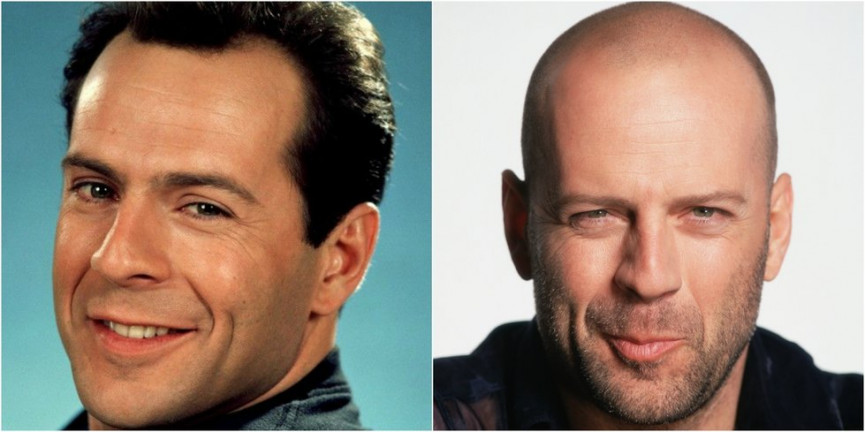 The obvious decision, but this is a look that suits a certain amount of men more than luscious locks.
Just take a look at Bruce Willis for example, that pitiful pile of floof he had on his head in the Nineties was abysmal, now he looks twice the man with a shiny noggin.
Another plus point of being hair free is the amount of money you'd save on haircare products. Because you have none. It'd also save you a hell of a lot of time in the morning sorting out your barnet.
But before you just dive straight in with the clippers, make sure you're going to suit it, because there's no going back. Try out a haircut simulator app and see what you look like.
Best for long term results: hair transplant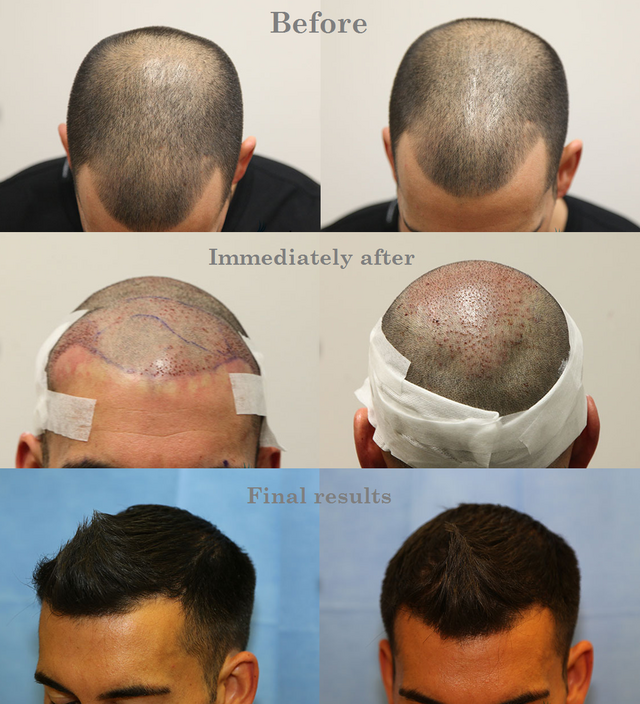 A lot of people think hair transplant and almost automatically picture Wayne Rooney's botched job. This isn't always the case, it doesn't always look like some med student has stapled a road kill cat to your head.
We spoke to Dr Thomy Kouremada Zioga, Hair Transplant Surgeon at The Private Clinic of Harley Street, to find out what getting a hair transplant actually means.
So what is the procedure of getting a hair transplant?
Follicular Unit Extraction (or FUE) is a minimally invasive hair transplant technique, carried out under local anaesthetic. The patient is awake during the procedure but experiences no pain due to the anaesthetic administered.  The procedure involves taking individual hairs from an area on the head where hair is plentiful and not affected by DHT hormone and transplanting these hairs onto affected areas . Compared with older, strip methods of hair transplant, the FUE technique is less invasive and less painful for the patient. The FUE procedure also requires no scalpels or stitching, making the healing and recovery time much quicker.
How long does it take?
The duration of an FUE procedure can vary. It can last between 2-3 hours when treating a small affected area but in some cases, where there is a vast amount of hair to be transplanted, it can take up to two days. It all depends on the number of hairs that need transplanting.  
How much does it roughly cost to get one done?
The cost of a FUE hair transplant procedure differs depending on the number of hairs to be transplanted and the technique that will be used. The cost begins normally around £2.50 per hair, meaning the average total cost of the procedure is likely to be between £10,000-£13,000.
What are the logistics of maintaining the quality of a hair transplant?
It is important that for the first few days after the procedure, the patients do not touch the new hair. They must spray the new hair every 30 minutes whilst awake for the first 4 days. Using the spray bottle provided with sterile normal saline solution this will keep the transplanted area hydrated and will speed up the healing process. Washing the hair after four days is essential as scabbing needs help to loosen and come off.
How long do they last?
While the procedure is walk-in, walk-out and the patient will be in a position to return to their day to day activities soon after, the results of the treatment will not be fully visible for about 12 months after the procedure has been carried out. Of course, the growth comes progressively and in most of the cases the results look very good even after 6 months.
The results of a hair transplant procedure are permanent. To ensure this, the experience and skills of the surgeon is crucial. The surgeon will need to be experienced in order to foresee potential future hair loss patterns and to be able to offer you very natural results. It is of high importance that the surgeon provides an individual plan for life regarding the treatment approach and resolution of hair loss in long terms. 
Can any man get a hair transplant?
The hair on the back and sides of the head is usually thicker, stronger and more densely packed due to the fact that they have another DNA and are not affected by DHT, the hormone that provokes hair loss, hence it makes for ideal grafting material. If hair from this part of the head is removed and transplanted to the affected areas, it retains its own genetic characteristics and will continue to grow naturally for life. So the main criteria for patients' suitability as a hair transplant candidate depends on the quality of their donor area.
With the use of a special magnifying apparatus, the doctor can measure the degrees of hair loss in various areas of your scalp. As long as you have some stable hair on the back and sides of your scalp, you may be eligible for hair restoration transplants.
Best for a quick fix: hair disguise spray
It's like spray paint for your hair, essentially. But don't worry though, it doesn't run if it rains, it'll only come out when you apply shampoo to your scalp, so there's no chance of having an inky face by the end of a first date if you're a professional sweater.
We spoke to its creator and celebrity hair stylist Jamie Stevens to find out more:
So what's the deal with this magic spray of yours?
MR. Disguise Spray works by delivering colour pigments directly onto the scalp for instant coverage and is formulated to blend with existing hair to give the appearance of thicker hair.  Water resistant  polymers in the formulation help prevent colour from running, however my top tip is to dry the spray with a hairdryer once applied, as this improves water resistance helping make it sweat, rain and gym proof.
I'm incredibly proud of MR. Disguise Spray; it's been championed as a "hair transplant in a bottle" as within minutes it can give the appearance of having a full head of hair. The feedback from men who've used it so far can be quite emotional; I know how much it's helped them and can help their confidence.
Can you use it daily?
Yes, it's safe and simple to use on a daily basis. Very quickly it can become part of a morning routine. 
How did you develop your products?
The range is unique, it combines my knowledge of styling and haircare with some of the most scientifically advanced formulations to help combat the appearance of male hair loss across the three key categories; Thicken, Disguise and Style.
Until now, most hair-loss products would need to be used with other traditional styling products. I wanted MR. to offer a new and complete solution, so even my styling range is specifically formulated to work with and look great on thinning hair.
Best for guys on a budget: caffeine shampoo
No, you cannot just wash your hair with Nescafe, so stop that terrible dad joke now.
There's proven studies from the University of Jena in Germany(because of course Germans would discover this) that caffeine can penetrate the roots of the hair, which can protect them from negative testosterone impacts and from premature hair loss.
Brands like Alpecin have incorporated this finding into a caffeine shampoo, a weird looking hair product that makes your scalp a bit tingly, but that helps thinning hair grow back over time.
Check out real life testimonials written by Amazon reviewers, because you can always trust those guys, even if it's just for a laugh.
Best for the future: 3D hair printing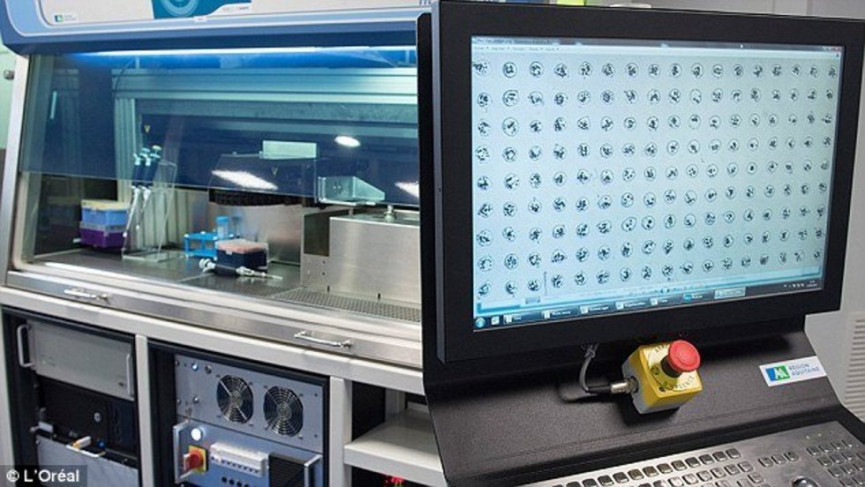 It was recently announced that L'Oreal is working with scientists from biometics firm Poietis on a treatment which allows them to create hair follicles with a 3D printer which could then be put on a patient's head.
It begins with a digital map that determines where living cells and various tissue components should be established to create the desired biological structure, taking into account how the cells will grow over time. 
All this vital information is then turned into a set of instructions for the 3D printer, which will lay down tiny drops created from cell-based bio-ink (created from tissue taken from alopecia patients after hair surgery) section by section.
Then the ultra-futuristic fun really begins, as the printing procedure involves bouncing a pulsing laser off of a mirror and through a lens which will hit a ribbon containing the vital bio-ink, leading to a droplet falling into place (10,000 of these micro-droplets can be created every second). 
Then you play the waiting game, as the completed organic tissue would then need a certain amount of time to mature before the hair follicles begin to grow. How long that is unknown at this time, as this process is said to be about three years away from being properly developed.
And if all else fails